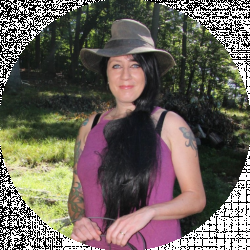 Latest posts by Samantha Biggers
(see all)
Dogs enjoy having a space that is all for them. While there are some dogs that could care less about a fancy dog bed, there are some that definitely like to have something between them and the ground. Here are some of the reasons you should get a raised dog bed and introduce your dog to it. Scout also has some great suggestions for raised dog beds for any pooches personality and lifestyle! No matter what your style is, though, you can't go wrong with a basic staple like the K9 Ballistics Chew-Proof Cot. It's sturdy, easy to clean, and comfortable.
K9 Ballistics Cujo Cot Raised Aluminum Bed (Pre-Assembled) Green – XX-Large (35″x50″x6″)
Benefits to Your Pooch
There are a ton of benefits of a raised dog bed to your pooch.
Better for Sensitive Dog Skin
The airflow and coolness that a raised dog bed helps prevent skin conditions from becoming worse and reduces the likelihood of hot spots during the warmer months of the year. Also since it is easier to keep clean your dog stays cleaner so you are not tempted to give them more bathes than what is good for their coat and skin.
Provides Cooling Air Flow in Hot Climates
A raised dog bed is substantially cooler than one that is on the ground. For additional cooling. you could even add in a gel cooling mat to help soften the surface if it is one of the thin hammock style fabric raised dog beds.
Makes It Easier for Your Dog to Get Up
Senior dogs and those that are larger and less agile have an easier time getting to a standing position when they have a raised dog bed. The cooling effect and the orthopedic support factors can provide substantial improvements in the comfort and happiness of your dog.
Benefits to You
There are benefits to you too!
Easy to Clean and Less Prone to Damaging Floors
You can get under some raised dog beds to vacuum without even moving anything. Raised dog beds stay cleaner and are less prone to mold and mildew since they are easier to keep dry. There is not a risk of moisture damaging floors or causing odors that are hard to get rid of.
Raised Dog Beds Are Easier to Move From Room to Room If Needed
While you may not want to disrupt your dog's space, there may be a time when you need to move their bed to another room or you may be going on an extended vacation and taking them and their bed with you. A raised bed can be broken down into a few easy to move pieces and allows you to show your dog what space is theirs where you are staying instead of them being unsure or getting into areas they should not.
Good for Dogs That Love to Destroy Soft Stuffed Beds
A raised dog bed either doesn't have a mattress or pad or it has one that offers firm and even support and is not made of fluffy stuffing that can make a huge mess if your dog decides to turn their bed into a chew toy.
Easier to Prevent Flea Infestations
Fleas love to get into the soft stuffing of some dog beds. A raised dog bed often has a mattress with a cover that can be easily washed. The inner mattress is made so that fleas have a hard time establishing themselves. There is a reason why so many dog boarding facilities exclusively use
raised dog beds.
Versatile for Beach Vacations
Hitting the beach is a lot of fun for your dog but if you spend a lot of time out there then your dog may want a place to lay beside the sand. If not you are going to have to deal with a sandy dog when you get back to wherever you are staying. A dog bed in the shade would make any dog have a better time at the beach.
Choosing a Raised Dog Bed
There's a lot to choose from when it comes to a raised dog bed. Let's look at some of the various options available out there to fit all dogs.
Sofa Style Beds
These beds are really adorable because they look like designer couches that you might want to buy for yourself. Sizes vary a lot and you want to make sure to look closely at dimensions because if your dog is too long for the couch, it is going to be impossible for them to lay in a comfortable way that is good for their joints and hips.
Elevated Cots
These are the most basic raised dog bed out there. They are basically a thin but supportive woven fabric that allows for maximum airflow. These are very reasonably priced so for those that have more than one dog, they are an excellent choice. You can always add a mattress to the top at a later time or during the cooler months of the year.
Elevated Cot With Attached Shade
These are designed to use when your dog needs some extra shade and cooling. This is the choice for a lot of dog parents that are heading out on vacation. They are very lightweight and keep your dog from getting so sandy at the beach.
Tip: Large Sizes Can Be Used for Multiple Smaller Dogs That Like to Cuddle
If you have dogs that like to curl up together than a raised dog bed can provide a very economical and comfortable bed. Large sizes of pet cots and a mattress add up to a bed that can provide multiple dogs with years of comfort and support. Not only that but raised beds a good buy to start with, if your dog does manage to wear out a cover, you can get a replacement for a lot less than the cost of a new complete bed. This also means that those with dogs that can be a bit destructive once in a while don't have to fear their dog chewing up a dog bed that is hard to replace.
Luxury Raised Dog Beds
Just like buying a couch for your living room, there is definitely a selection of designer and luxury dog beds out there. These beds are usually made to strict specifications and quality standards. Scout covered everything you need to know about the best LL Bean beds for dogs which are made in the United States and known for offering years of use.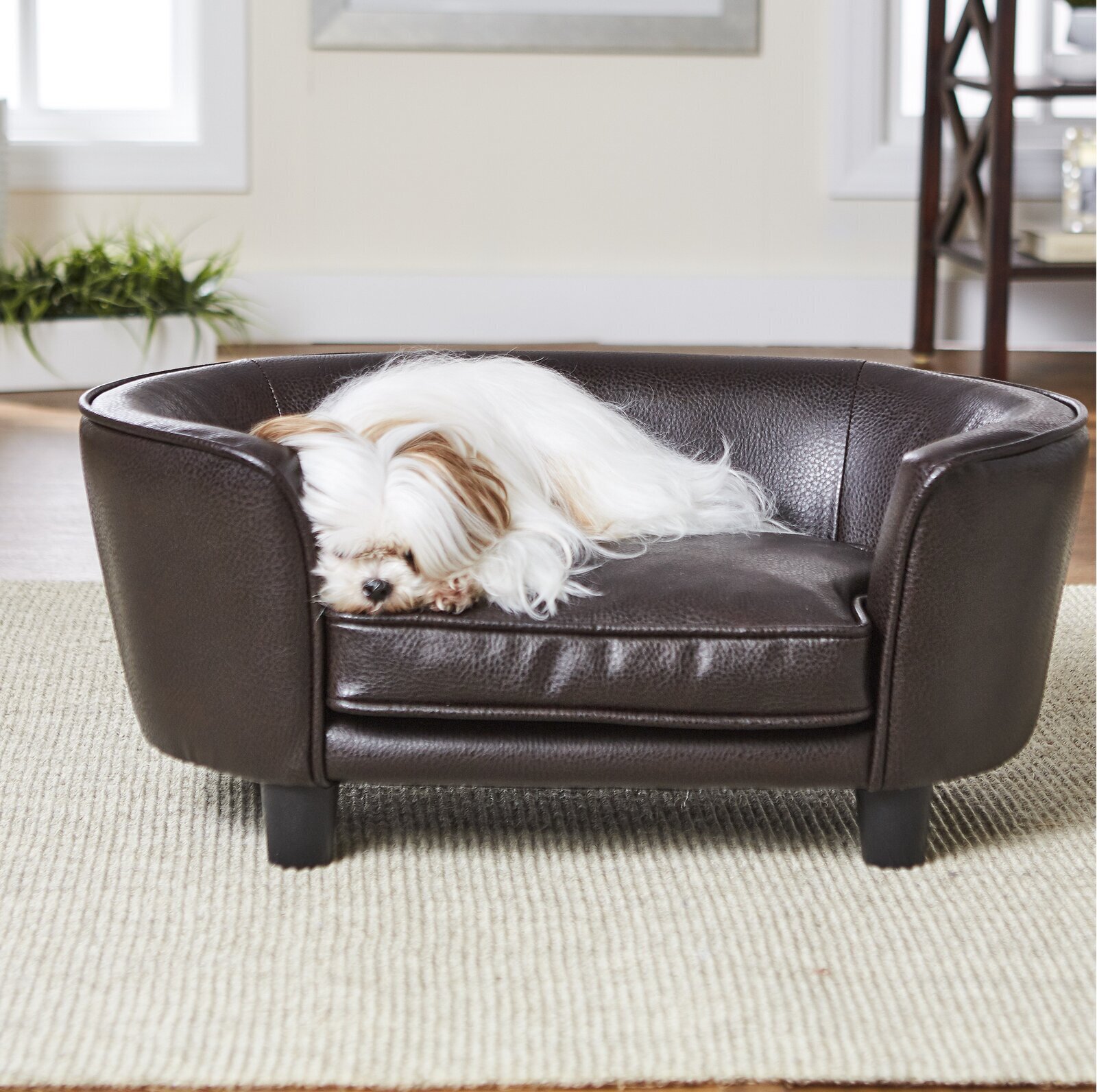 This dog bed looks like a designer leather couch from the Arts & Crafts school of design. At $200 this is a piece of dog furniture that is made to look good and last. The substantial size makes it suitable for several dogs. The bed can fit a single dog up to 100 lbs. The easy to clean bed can just be wiped down with a damp cloth or the cover can be removed for a more thorough cleaning. The 2-inch legs allow for airflow so bed stays mold and mildew free.
Product Spotlight
These are our favorite raised dog beds.
K9 Ballistics
Cujo Cot for Power Chewers
Somehow this dog cot company can offer a 120-day chew proof guarantee. This means that if you are ready to give up on having a dog bed for more than a few months, you should try out this bed. For a cot style bed, it is one of the more expensive options with the smallest size costing $100 and the largest $175. There are various leg heights offered. The largest size comes with 5-inch legs which allow for greater comfort for really big dogs that find some cots a bit too low for optimum getting up and down.
K9 Ballistics Cujo Cot Raised Aluminum Bed (Pre-Assembled) Black – XX-Large (35″x50″x6″)
K9 Ballistics Soft Dog Bed Options
For dogs that really prefer a mattress on their elevated dog bed, K9 Ballistics has a lot of options that come with 90-day chew proof guarantees. You can create your own custom bed by combining a mattress that fits your chosen Cujo Cot.
K9 Ballistics TUFF Crate Pad (Large (47″x28″), Black)
Switching Your Dog to an Elevated Bed
Some dogs may take a little time to realize that the new elevated bed is for them. If you have taught your dog to stay off of the furniture when in the house then they may be hesitant to just jump on a raised dog bed out of fear they will get in trouble. Offer them a treat to entice them to give it a try and then pet and talk to them as they settle into their bed. They really need to know that it is okay!
Continue reading:
7 Best Dog Bed Ideas For Great Dane (DIY Options)