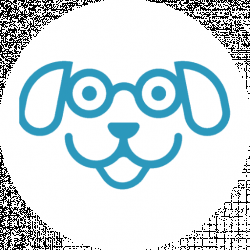 Latest posts by Scout Knows Team
(see all)
Fromm is one of the oldest dog food companies around! They have a good reputation, but it's always worth reading up before you decide to change your pet's food or select food for a new pet. We've scoured the net for all the info on Fromm dog food reviews, and condensed it into our own info-packed review for you. Let's leap right in!
At A Glance
Parent Company: Fromm Family Foods LLC
Started: 1904 (as a company to breed foxes and cultivate ginseng! Their first pet food was produced in the 1940s)
Headquartered In: Mequon, Wisconsin, USA
Types of Food: Wet or Canned, Dry, Treats
Real Meat in First 5 Ingredients? : Yes
Ever Recalled? : Yes
A Deeper Dive Into The Brand
Fromm is a fifth-generation family-owned business, so you know they've put a lot of time and effort into their products! The first inklings of what they called "The Company" came about in 1904 when the four Fromm brothers (Walter, Edward, John, and Henry), then in their early teens, came up with an idea for a business that involved breeding the finest silver foxes ever seen, and cultivating high-quality ginseng for the East Asian markets.
After seeing some success in breeding silver foxes, they made the decision to open their own food manufacturing plant in 1925, in Mequon, Wisconsin. The 1940s saw new innovations in the manufacturing process and, with the help of a biochemist, Fromm became the first company to come up with a way to cook meat and grain together, thus producing the first-ever all-granular pet food. On the back of this, Federal Foods, Inc., was opened in 1948 to produce pet foods, with their first products going on sale the following year.
Fifty Thousand Foxes Can't Be Wrong
Considering their business began with foxes, Fromm had plenty of opportunities to do feeding trials on their own animals, which is exactly what they did when creating their dog food. Tested on their own animals (both foxes and dogs), their tagline reflects the success of their feeding trials – "Fifty thousand foxes can't be wrong!"
The 1970s saw Fromm working on lifestyle-specific recipes, such as "High Stress" formulas for working dogs. They pioneered the use of mixed tocopherols as a natural preservative in the 1980s, which has been adopted by many other brands today.
More Isn't Better, Better Is Better
The 90's saw Fromm experimenting with lower protein content but higher -quality protein sources, which spawned the tagline "More Isn't Better, Better Is Better". Results from their feeding trials suggest that their new formula is more easily digestible than rivals' recipes. In 1995, Federal Foods was renamed Fromm Family Foods, LLC (and was by now a fourth generation family-owned company).
From there, they have gone from strength to strength and remain one of the most reputable brands on the market. With over 100 years of knowledge, testing, and improvement under their belts, they are certainly one of the most well-established companies out there!
What Is the Variety Of Foods They Produce?
Fromm makes a wide variety of foods. Their Four-Star range are gourmet recipes and formulas and come in a large range of flavors. The Gold range is their life-stage and lifestyle variations, and they have offerings for all dogs, from puppy to senior. These come in three categories – Heartland Gold (grain-free red meat), Gold Coast (grain-free ocean fish), and Fromm Gold (poultry-based). Their Classic Recipes are based on the original Fromm family recipe from 1949 and are made from chicken, brown rice, and eggs.
Their Pâté recipes come in 17 flavors and can be eaten on their own or as a complement to a dry food. Lastly, their Fromm Family Remedies are family favorites aimed at digestive support and contain selected ingredients to maintain digestive health. Their treats come in two varieties – Four-Star, and Crunchy Os.
More Than Most
The variety of Fromm foods also sets them apart from many others on the market today, and means that no matter what breed your dog is, what their health is like, or how old they are, there will be something for them!
Dry Foods:
The Fromm Four-Star dry foods are their gourmet offering and come in 15 flavors. The Gold series provides complete and balanced nutrition for all life stages, from puppy to senior, as well as a weight management food. The Classic recipes are the good old formula from way back in the 1940's when Fromm first began!
Four-Star Dry Entrées
Gold
Classic Recipes
Wet Foods:
Fromm's canned food offerings are almost as varied as their dry foods. Four-Star is again their gourmet range, coming in four different flavors. Their Pâté range consists of 17 different flavor options and is the perfect addition to a dry food. The Family Remedies are specially formulated to aid in digestive health.
Four-Star Can Entrées
Pâté
Family Remedies
Treats:
A recipe range is not complete without some great treat offerings! You can choose from 7 gourmet treat options in interesting and unique flavors, and three Crunchy O options. Your pup won't get bored with this variety of treats!
Four-Star Treat Recipes:
Crunchy Os
Recall History
Fromm has had one recall. In March 2016, all 12 oz cans of Gold canned food pâtés were voluntarily recalled by the company and were analyzed. They were found to have elevated Vitamin D levels, which can cause some health problems, although there had been no reports of any health issues as a result of this. Fromm decided to recall the food as a precaution.
One recall in over 100 years of operating speaks to the quality of Fromm's food!
Best Fromm Dog Foods
We've reviewed one Four-Star dry entree, one Gold recipe, one pâté, one Four-Star treat, and one Crunchy O treat flavor, to give you a good all-round idea of the quality of Fromm's foods.
Generally, recipes from the same range are very similar in ingredients and nutritional value, usually just with a different protein source. You can apply the info in these reviews to any flavor in any of the recipe ranges fairly accurately!
First Five Ingredients:
Beef
Beef Broth
Dried Egg Product
Lentils
Peas
Other Notable Ingredients:
Flaxseed
Chicory Root Extract
Taurine
Dried Tomato Pomace
Real meat is the first ingredient, which is a big plus for this formula. Other protein sources include beef broth, beef liver, pork liver, and pork meat meal. This is all good high-quality protein, in addition to dried egg product and a little bit of protein from chickpeas and other veggies. Carbohydrates are made up of whole fruits and vegetables, which goes a long way towards improving digestibility and health.
The only ingredients that may be slightly questionable are dried tomato pomace and taurine. Although these two are controversial, there is no definitive research proving that either are bad for pets. It is definitely worth doing your own research though, especially as taurine is said to be linked to heart disease in dogs.
It's also grain-free, which can help for pups with sensitive stomachs. That, in conjunction with the fact that the ingredients are raw, whole foods, makes this a high-quality dog food.
Specs:
399 calories per cup
30% protein
18% crude fat
6.5% crude river
10% moisture
Our Verdict:
All in all, Scout recommends this food! Grain-free, packed with protein and healthy carbs, and with added vitamins and minerals and probiotics, this entree is comprised of quality ingredients and is bound to taste great!
First Five Ingredients:
Beef
Pork Meat Meal
Please
Lentils
Chickpeas
Other Notable Ingredients:
Dried Tomato Pomace
Flaxseed
Salmon Oil
Brewers Dried Yeast
Taurine
This grain-free food is geared towards large breeds of 50 pounds and upwards. Made with real red meat, meat meal, and real fruits and vegetables, this is a protein-packed meal that will promote your dog's health and wellbeing. Salmon oil and flaxseed add a shine to your dog's coat and some lubrication to their joints, and vitamins, minerals, and probiotics aid digestion. It's also fairly high in fiber.
Apart from dried tomato pomace and taurine, the only other ingredient that may raise some eyebrows here is brewers dried yeast. Some see this as a nutritionally pointless by-product that can cause intestinal upset, while others see it as a beneficial supplement to your dog's health. In general, though, unless your dog is sensitive to yeast and tends towards yeast infections, it should be A-okay in small doses.
Specs:
389 calories per cup
26% protein
14% crude fat
6% crude river
10% moisture
0.5% Omega 3 Fatty Acids
2.5% Omega 6 Fatty Acids
Our Verdict:
When it comes to large breed pups, their needs can be a little different to other pups. This food provides a good dose of high-quality protein and carbohydrates, although there could be some added glucosamine. Not a bad option at all for a large breed!
Firat Five Ingredients:
Lamb
Lamb Broth
Sweet Potato
Lentils
Lamb Liver
Other Notable Ingredients:
Salmon Oil
Locust Bean Gum
Xanthan Gum
Real meat once again makes up the protein in this wet dog food, with real vegetables such as carrots, peas, and sweet potato making up the carb content. These are high-quality ingredients that are good for your pup's stomach, and this food is packed with nutritional goodness.
One of the great things about this food is that it is free from carrageenan, which gives it an instant thumbs up! Fromm uses locust bean gum and xanthan gum as thickeners, both of which are healthier than carrageenan. Salmon oil once again adds healthy stuff in terms of fatty acids.
Specs:
337 calories per can
8% protein
6% fat
1.5% river
78% moisture
Our Verdict:
This canned dog food contains good protein, carbs, and comes in a large variety of flavors. Feed it to your pup by itself or mix it with their kibble!
First Five Ingredients:
Parmesan cheese
Pea flour
Potato flour
Tapioca
Whole peas
Other Notable Ingredients:
These little oven-baked treats contain a variety of vegetables with a hint of Parmesan and oregano. The ingredients are high-quality and packed with goodness, so your pup can not only have something tasty but filled with nutrition too!
They are grain-free but contain tapioca, so if your pup is sensitive to it you may have to find another treat. Great for training, or simply treating your pup when he's being a good boy!
Specs:
12 calories per treat
12% protein
5% fat
5% fiber
12% moisture
Our Verdict:
Give these a try and see how your pup likes them! Available in many different flavors, your pooch won't get bored with these!
First Five Ingredients:
Chickpeas
Peas
Chicken
Potatoes
Pea Starch
Other Notable Ingredients:
These little treatsies are a nice mix of chicken, blueberries, and tapioca. They're wholesome, healthy, and infamously crunchy! Once again the quality of ingredients is impressive and is exactly what you should be feeding your dog to improve or maintain their health while still allowing them a delicious treat.
Coconut oil is a nice touch that promotes health and wellness and adds a shine to your pup's coat! Blueberries are also high in antioxidants, making this a "recklessly crunchy" but definitely healthy snack!
Specs:
2 calories per treat
22% percent protein
8% fat
6% fiber
10% moisture
Our Verdict:
A healthy, tasty treat that would be great for training or simply rewarding your pet for doing things right. Give them a try in all three flavors!
Fromm Customer Reviews
Customers generally have good things to say about Fromm's various foods. Because most of Fromm's food is available at pet stores and various places online, it is a good idea to ask your local store what customers have to say about it before buying.
What Do Fromm Dog Food Reviews Suggest That People Like About This Brand?
This is high-quality dog food, and there will definitely be dogs that benefit from eating it. Fromm is also a very reputable pet food company, so it is naturally recommended by people in the know. Look at both positive and negative reviews though – each has their merit.
My pup is growing like a weed but not getting fat.

pnc
This food was recommended by both our trainer and our breeder.

Anything books
Great food at a great price from a US company!

Coach
Best and most healthy food on the market. Expensive but quite worth it!

Amazon Customer
If you have a large breed puppy, this is the food for you.

Andrew
What Do Fromm Dog Food Reviews Suggest That People Dislike About This Brand?
Remember, not every food is going to suit every pup. It depends largely on your dog's disposition and health, as well as personal preference! Pups can be fussy too about taste and texture. Take note of negative reviews, but keep in mind that it may not be the quality of the food that is the problem.
My puppy developed horribly digestive upset and the vet suggested we change his food.

Kate Grover
I'm dumping half a bag because it makes my dogs stool very loose and causes foul smelling flatulence.

Ernest Hemmingway
It's not worth the price.

Christine Lang
Every time I use this food my pup gets the runs.

C. Stone
Conclusion
Fromm dog food reviews suggest that this is a well-loved brand. Their variety alone means that they have products suitable for dogs of all ages, sizes, and life stages. Their flavor range means that your pet will never be bored!
The Fromm family food is suitable for all dogs of all shapes and sizes. Whether your pup eats anything and everything, thrives best on a limited ingredient diet or is on a prescription diet, you'll find a Fromm pet food for them.
Fromm Scout to you, this food is highly recommended for your pup, whatever breed, health, or size they are!
Continue reading:
Addiction Grain-Free Mega Large Breed Dry Dog Food Review
Nutro Wholesome Essentials Large Breed Lamb Dry Dog Food Review