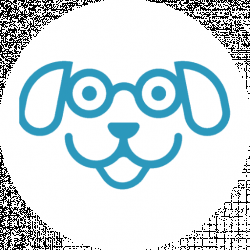 Latest posts by Scout Knows Team
(see all)
Schnauzers were first bred in Germany as work dogs. They were intended to manage cattle, and they definitely kept their high levels of energy and intelligence until now, when they mostly chill around the house and impress judges at dog shows.
Now…
In order for them to lead a happy and fulfilling life, they need the proper amounts of carbs to sustain their activity level, as well as protein to support their muscular system.
Please keep reading for our reasons why Blue Buffalo Wilderness Salmon Recipe Grain-Free Dry Dog Food is the best dog food for Schnauzers, as well as 4 other perfectly viable options for your little companion's specific needs.
Top 5 Best Food For Schnauzers Reviewed
Blue Buffalo is well-known for its clean formulas, quality ingredients, and the high level of care they employ when creating their patented recipes. This particular brand is filled to the brink with the highest level of quality ingredients.
Their main source of protein in this recipe is deboned salmon, which is as luxurious as it can get. Salmon is a great source of lean protein, supporting their little muscles with the least amount of saturated fats which can cause heart issues down the line.
This is especially important for Schnauzers since they are very active and a healthy type of protein is absolutely imperative in their diets. The salmon is supplemented with chicken meal and peas, which provide optimal levels of carbs as well.
In addition to the main ingredients, this brand contains several other types of healthy fats, which support your little friend's energy levels throughout the day. Blue Buffalo has patented a special formula called "Life Bits", which is their proprietary blend of vitamins, minerals, and antioxidants.
They have included this special formula into the brand we are reviewing today, which is great because you know your Schnauzer has everything they need in order to lead a long, healthy life.
Another fantastic thing about this formula is that it is grain-free, which makes for a great option for those Schnauzers that, unfortunately, battle with sensitive stomachs and digestion issues.
Pros:
Grain-Free formula
The best source of protein
The perfect balance of protein and carbs
Special "Life bits" formula
Cons:
Minimal veggies
More expensive than other brands
This is the best option if you can afford it. It really contains all the best ingredients available on the market and it is specifically designed to be delicious and nutritious for all types of Schnauzers. The high levels of naturally sourced protein and the overall balance make this brand the perfect diet for an energy-filled dog, while also proving them all they need to grow big and strong.
Nutro has always delivered when it comes to healthy formulas. They pride themselves in non-GMO ingredients and quality sources of nutrients. This formula makes no rebate since it mainly consists of real lamb meal and chicken meal. This is great because you know your little friend has all the protein they need.
When it comes to carbs, Nutro has chosen to go with whole grain rice. This is easy on your friend's digestive system and it has a slow-release, which means your Schnauzer will maintain their energy level throughout the day and they will not go hungry between meals. They also included whole grain sorghum, which is a great source of fiber, for optimum digestion.
Another great thing about this formula is that they contain plenty of vitamins and minerals, especially Vitamin E. This one is known to promote cellular health, which is great because you know your dog will be happy and healthy for years to come.
One of the things I like most about Nutro is that if you're worried about their source of ingredients, you are able to trace all their ingredients. They provide information on all their suppliers, and this is the level of transparency you need when searching for the best dog food for Schnauzers.
Pros:
Best quality ingredients
Grass-fed lamb
Their fantastic source of carbohydrates and natural fiber
Non-GMO
Cons:
It contains some grains
No vegetables other than beets
Nutro is one of the best, environmentally conscious brands out there. They only use natural, quality ingredients, and this shows. All their formulas are delicious for dogs and this one is no different. It contains the perfect blend of nutrients your dog needs in order to wag its tail all day, every day.
With this formula, you can rest assured that your little friend is properly fed and happy, and nothing is clouding their happy existence as your sidekick.
Speaking of vegetables, I bet you already gathered this brand has them aplenty. Sweet potato, carrots, and blueberries can be all found in this formula, which means your Schnauzer will not miss any vital vitamin, mineral, and antioxidant.
The natural sugars in fruit also provide a great deal of energy for your friend, and they supplement the already high levels of energy your dog will get from the sweet potato.
Their protein source is also healthy and lean.
Real, deboned beef is not only delicious for your dog, but it also contains essential amino acids, which will assure you that your Schnauzer can hit the gym without a care in the world.
In terms of amino acids, American Journey Beef & Sweet Potato Recipe Grain-Free Dry Dog Food formula also provides Omega 3 and Omega 6 from the added flaxseeds and salmon oil. Bonus points for the salmon oils for the enriched taste that is sure to tickle your dog's tastes in the most sophisticated of ways.
This formula is also nice and clean as it contains no corn, soy, or other filler ingredients that do not provide much nutrition. It is especially important to keep this in mind when choosing the best dog food for miniature Schnauzers. As they have small stomachs, it is vital that their food is packed with the most nutritious ingredients so they do not become apathetic and refuse to exercise.
All breeds of Schnauzers need at least an hour of vigorous exercise per day, and this formula assures they are healthy enough to sustain that.
Low in carbs, and grain-free, this recipe is suitable for every little picky Schnauzer. Its great, quality ingredients provide all the necessary nutrients with none of the allergens.
However, please make sure you seek professional guidance if you suspect your dog might have a sensitive stomach or any kind of allergies.
Pros:
Great quality ingredients, without added by-products, corn, or soy
A lot of fruit and veggies for a balanced diet and healthy energy levels
Top choice of protein source
Omega 3 and Omega 6 for a healthy heart
Grain-Free
Natural amino acids
Cons:
Could have a higher level of carbohydrates
The kibble is a bit large
A fantastic option for those of you who know the struggle of a dog with a sensitive stomach. This formula assures that you will have no surprises and that your dog will be their happiest self all the time.
As the name suggests, this food is truly premium. If your Schnauzer likes chicken and your veterinarian did not oppose to this ingredient in their diets, this can be a fantastic option.
This formula is also miles away from those that use corn, alfalfa, soy, and other filler ingredients.
The main source of carbs in this Diamond Naturals Chicken & Rice Formula dog food is whole brown rice; a great choice, as you already know. The energy levels of your pup are also supplemented with grains and chicken fat. Extra energy means extra adventures and a boredom-free life.
This formula is nutrient-rich and highly digestible, and also enriched with vital vitamins and minerals.
It is fairly marketed towards all stages of life, which means it makes for the best dog food for a miniature Schnauzer puppy, as well as a giant Schnauzer senior. You know it contains a balanced blend of nutrients that support all areas of development in a pup. You also know a senior dog will get all they need in order to have a healthy immune system. It is truly the best of both worlds.
The kibble is also just the right size and consistency, as to not create dental issues and keep dogs of all sizes interested and happy.
For an old Schnauzie, that has enjoyed the hedonistic sides of life for a while, and that might need some extra tender loving care, this is the best option, although it might not be quite enough for younger dogs, as those are energy bombs and require higher levels of carbs and protein.
Pros:
Real cage-free chicken
Enriched with essential vitamins and minerals
Does not contain fillers such as soy, corn, or alfalfa
Contains real fruit and veggies
Natural sources of Omega 3 and 6
Cons:
Might not be a good choice for dogs with skin issues
The only source of protein is chicken
The kibble is perfect for older dogs, and the ingredients promote cardiovascular health and just the right amount of energy.
Blue Buffalo makes yet another appearance in our top 5 and this time with the most affordable brand of dog food. Although this is the cheapest option on our list, rest assured. It contains high-quality ingredients and it makes for a balanced diet.
The protein levels are optimal and are achieved by using a single animal source – real, deboned turkey. This is great for those dogs that do not like chicken. Turkey is high in amino acids and a really healthy choice, as it is lean and nutritious. This assures your little friend can support that desirable lean muscle mass. Fat pups might be adorable, but no one likes a diet.
In addition to the lean protein in this brand, you will be able to find other nutritious and clean ingredients on their list. Potatoes, peas, and fish oil provide healthy fats, carbs, and some additional protein. Schnauzers will appreciate this food because of the enticing taste and lack of filler ingredients.
This formula also has the patented "Life bits" which will make for long, happy life. Blueberries and cranberries are also present, and they provide not only vitamins and antioxidants, but some extra energy with their natural sugars. All in all, a really balanced and healthy diet, at a fantastic cost per pound.
With this formula, you know that your little friend is properly fed, and you will also save some bucks so you two can go on extra adventures.
Pros:
Most affordable
Contains the patented "Life bits" formula
Single animal source of protein
Grain-free, so suitable for sensitive dogs
Cons:
Could benefit from some more veggies
Not that many carbohydrates
For those of you not wanting to break the bank, but still provide your best friend with all the nutrients they need, this formula is stellar. It is packed full of vitamins and minerals for a healthy immune system. The nutrients are of high quality and the overall balance is appropriate for a Schnauzer.
Schnauzers Feeding Guidelines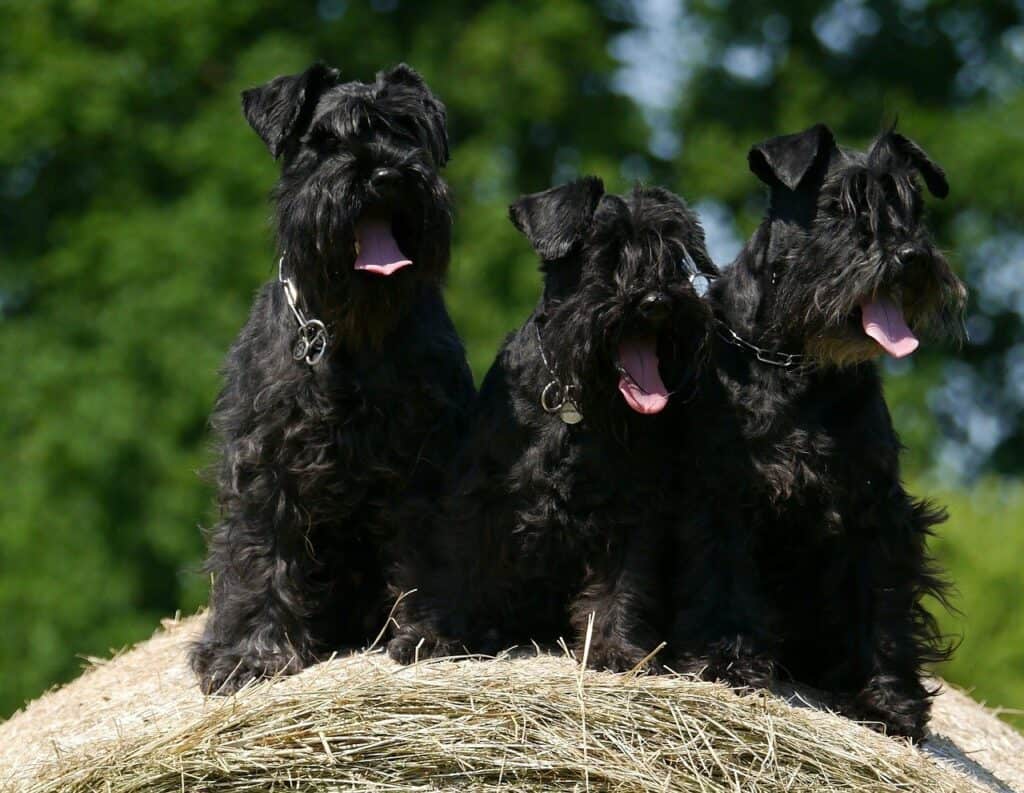 While it is normal to want to find the best dog food for your Schnauzer, it is really important to keep in mind that they need to be fed with a certain frequency and in a certain way. If left to free-feed, your Schnauzer, much like other dogs, will eat as much as you're giving them.
You would think this is great since they have an appetite, which means they are healthy. But you should keep in mind that your dog needs to eat a certain number of calories so they maintain a healthy weight. Feeding them too much can also cause a number of other health issues, such as digestive problems, pancreatitis, and bloating.
Always keep in mind the breed of your Schnauzer. They can be standard, miniature, and giant. It is also important to weigh them regularly and feed them according to their weight class.
A great source of information on how much and how often you should feed your Schnauzer is the Schnauzer Collective. You can always reference them later, as you get used to your best friend's feeding schedule. It is also really important to remember that while your dog might be begging for food all the time, they need 2-3 consistent meals a day, and no food should be left out for them to graze on.
Keeping this in mind, it becomes increasingly important to choose a brand of dog food that will keep them full all throughout the day.
Things To Look Out For When Choosing A Schnauzer's Food
By now you already know that you should closely look at the list of ingredients when selecting the best food for Schnauzers (or any other pet). While the long list of complicated names can throw you for a loop, there are certain ingredients you should look out for.
By-products of any kind are the lowest quality of protein, as they are parts of the animal that were rejected for human consumption. They are not really nutritious, so you should avoid them when choosing a brand. While the words "beef" or "chicken" might sound healthy, when they are followed by "by-product", you can certainly know that they are not really nutritious.
You should also look out for filler ingredients. These provide little to no nutrition to your dog and are used to increase the volume. Things like corn and corn derivatives, alfalfa, or soy are to be avoided, especially if you are looking for the best food for a Mini Schnauzer.
Larger breeds are not really affected by fillers, but smaller ones, like miniature Schnauzers, are. Their little stomachs can only fit so much food, so it is important that the food they ingest is packed full of nutrients. Another thing to look out for is high sodium content, as this can cause bladder stones in your puppy.
What Is The Best Food For A Miniature Schnauzer Puppy?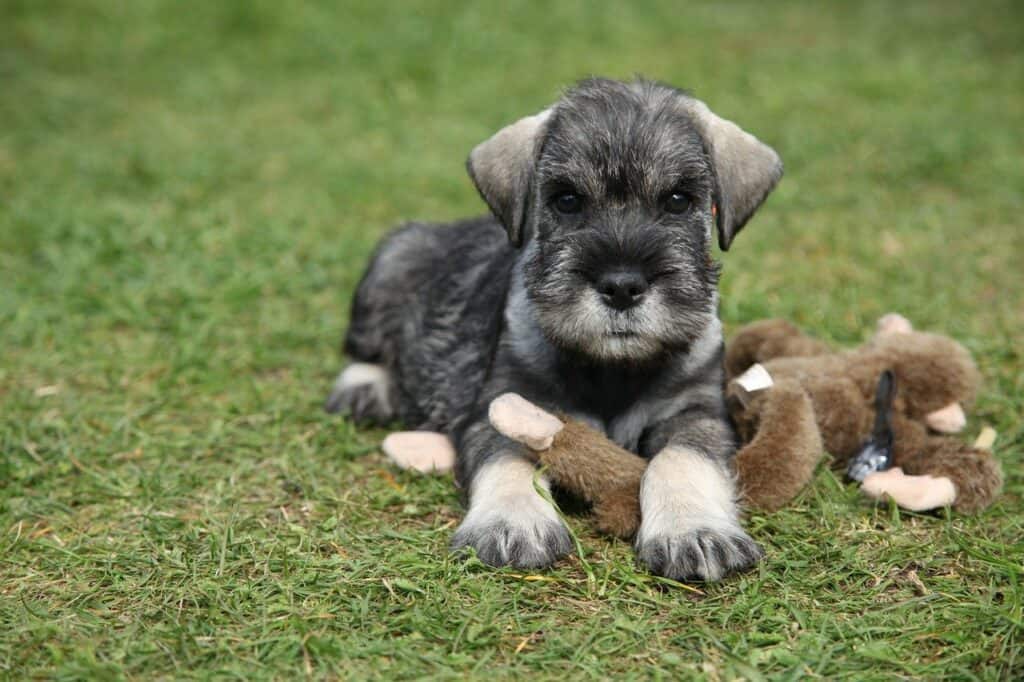 A miniature schnauzer puppy is probably the most handsome of creatures. With their little eyebrows and mustaches, affected demeanor, and joyful energy blasts, they are sure to win you over.
At this stage in their lives, they are really energetic and curious, so it is really important that their food packs a punch in terms of carbs, lean protein, and healthy fats. It is also vital to keep in mind that Mini Schnauzers need small kibble, so they can easily eat them. The wrong size of kibble can cause plaque and other dental issues, not to mention a frustrated puppy that cannot easily chew.
One of the best brands we found for a mini Schnauzer puppy is the number one choice – Blue Buffalo Wilderness Salmon Recipe Grain-Free Dry Dog Food. The kibble is small enough for a pup and the ingredients are fantastic for a growing puppy. Please remember to check the calorie rate for your chosen brand, and feed your puppy no more than 480 calories per day.
Common Health Issues For Schnauzers
Ultimately, you should really choose a brand of dog food considering the health issues this breed is most likely to get.
Vision issues – Schnauzers are predisposed to cloudy vision and cataracts, especially as they get older. In order to avoid this for your dog and assure he will always see you smiling at him, a few things are in order. Firstly, please make sure he is always at a healthy weight and their diet does not predispose them to diabetes. A brand of dog food rich in antioxidants and amino acids is essential to assure their eyes work well.
Hypothyroidism – a low thyroid function can happen in all Schnauzer breeds. This makes them become apathetic and tired. In order to avoid this, choose a diet rich in fruit and veggies. Alternatively, you can look for foods rich in greens and seeds. They contain natural steroids that regulate your dog's hormones.
Hip Dysplasia – your Schnauzer can have join issues down the line. In order to avoid this, please choose a diet that contains healthy amino acids and Omega 3 and 6 acids, as they strengthen the bones and connective tissues.
All these conditions and a lot more can be avoided if you find the best dog food for your Schnauzer. Try to avoid fillers and make sure the brand you chose mostly consists of animal-sourced protein and vegetables.
Your veterinarian can help with tips for your specific condition. For example, if your Schnauzer has a skin condition, or if his fur is not as shiny as before, your vet can recommend fish oil.
You can supplement your dog's diet with a wide range of seeds, oils, or little treats throughout the day. However, please keep in mind how many calories they need per day and try not to feed them over that.
What I Don't Feed MY Schnauzer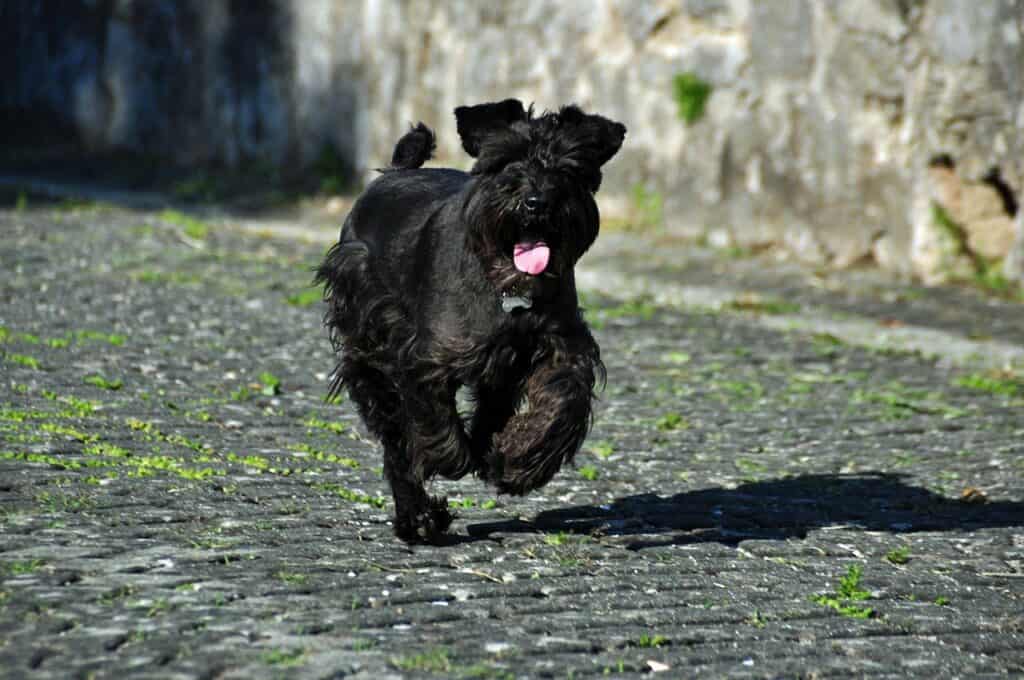 My miniature Schnauzer enjoys slices of bell paper, frozen carrots, and all types of berries as treats. They will probably eat whatever you give them, and as with most things, they are especially interested in forbidden treats.
There is a long list of snacks that dogs cannot enjoy, and this rings especially true with smaller breeds. A tiny amount of toxic food can cause some real damage in a dog that only weighs 20 pounds, so never leave snacks unsupervised around the house. Especially if your dog is as ill-mannered as mine. 🙂
Some things you should never feed your Schnauzer include chocolate, bones, grapes, mushrooms, apple cores, etc. You already know all this. Some things you might not know are toxic for dogs are onions and garlic, which can cause anemia for your little friend.
Potato peels can damage the digestive system. Walnuts and Macadamia nuts are equally damaging, while nutmeg can even cause death for some small breeds.
And before we conclude this review, let's watch how Remus, a Mini Schnauzer making progress towards how his life is supposed to be – after being rescued.
Takeaway
Caring for a Schnauzer is a great responsibility, but the stress of the day is quickly melted away by your adorable friend. We've learned that it is really important to have a balanced diet containing lean protein, healthy carbohydrates, and non-saturated fats. Since they are prone to a number of health conditions, choosing a brand rich in vitamins and minerals is also essential.
Blue Buffalo Wilderness Salmon Recipe Grain-Free Dry Dog Food is the best option considering all I've mentioned above. It has the best source of animal protein for a Schnauzer, complete with the "Life Bits", which will assure your companion will have the longest, happiest life they can.
It comes as no surprise that the Best Value Option is made by Blue Buffalo, as well. Blue Buffalo Basics Limited Ingredient Grain-Free Formula Turkey & Potato Recipe Adult Dry Dog Food contains quality ingredients and the patented formula, with a better price, for those of you who are on a budget.
I hope this article helped you in finding the best dog food for your Schnauzer, and remember: he's not begging because he's hungry, he's begging because it's in his DNA. 😉
Continue reading:
Why I Chose Annie the Mini-Schnauzer
The 5 Best Dog Food For Corgis And Their Puppies (2022 Edition)