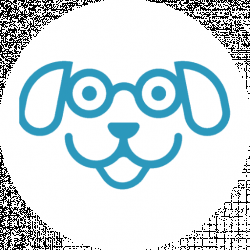 Latest posts by Scout Knows Team
(see all)
Any pet parents will know that looking after their pet's health is absolutely paramount. There are a variety of different ways to help your pet stay at their maximum levels of health and happiness. But one of the most important is taking care of your dog's diet.
There are a variety of health concerns which can be helped out by taking a closer look at your pet's diet. Choosing the correct nutrients for your pooch can mean you can take care of things like weight loss or management, or help take care of animals with specific allergies. But it's even more important to choose the right pet food if your animal suffers from a condition such as diabetes.
If you want some homemade options, here is a list of the best homemade diabetic-friendly meal. It is healthier if you prepare the food yourself and your dogs will love you for it.
Top Choice
No products found.
Top 5 Rated Low Glycemic Dog Foods
| Recommendation | Low Glycemic Dog Food |
| --- | --- |
| Top Choice | No products found. |
| Runner Up | No products found. |
| Budget Choice | No products found. |
| Best For Allergies | No products found. |
| Best Ketogenic Option | No products found. |
Our Top Pick: Zignature – Limited Ingredient Turkey Formula Dry Dog Food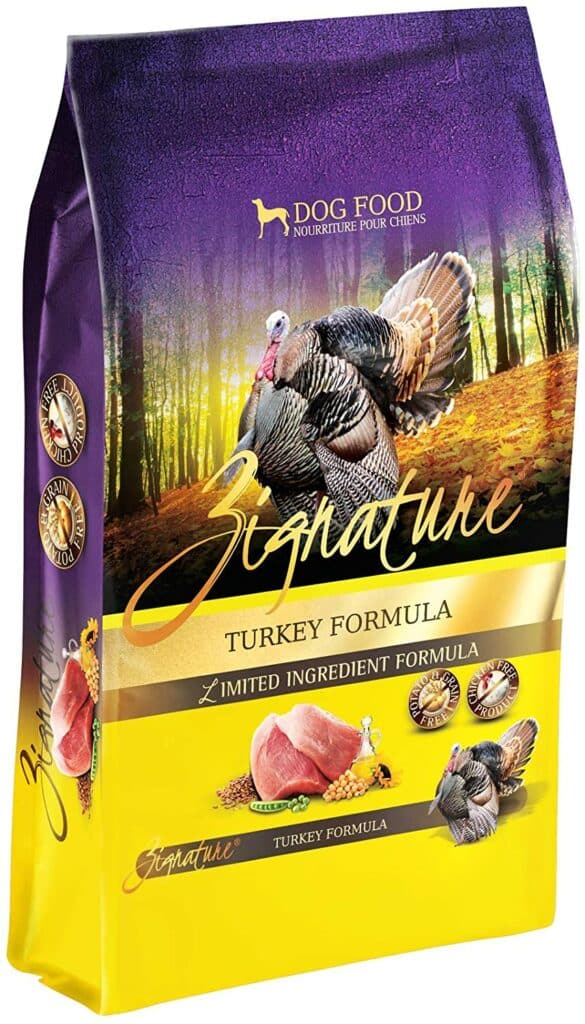 The formula is based around turkeys, which are natural prey in the wild, making is a healthier choice. It's naturally low in fat, making it great for weight management and general doggy health. It's also packed with natural minerals your pet needs. This option is a grain-free food and is packed with fiber, making it ideal for maintaining your dog's blood sugar levels.
Pros & Cons
The limited ingredients make this a perfect grain free food for pets with other allergies, as it doesn't contain potatoes, soy, or yeast.
The fact this food is sugar-free is also ideal both for dogs diagnosed with diabetes, and for owners who are concerned about diabetes down the line.
This option is also ideal for pets with allergies. It can help them better maintain a non-itchy skin and softer, shinier coat.
The downside to this option (alongside most other food options for dogs with diabetes) is that it's pricier than other foods on the market. But the idea is, by preventing future health complications now, you'll likely save money in the long run.
Our Runner-Up Pick: NUTRO Limited Ingredient Diet Adult Dry Dog Food
No products found.
This is a great option for any animal who has specialised dietary requirements or even a prescription diet. It primarily consists of lamb and sweet potato, two ingredients with high protein and complex carbohydrates, and contains fewer than ten ingredients to minimize any possible reactions. It's free of allergens like corn, soy, wheat, or dairy. It's also free of chicken and beef, making it a great option for diabetic dogs by maintaining blood glucose levels.
Pros & Cons
Those who have pets with skin allergies love this food for minimizing irritation and allowing them to look healthy and strong.
This food is particularly ideal for animals with genuine grain allergies, who may not be able to find such a well-balanced food elsewhere.
This food can also be a good choice for pets with persistent stomach issues, thanks to minimal and easy to digest ingredients.
Some report that this food has a strong and fairly unpleasant smell, although pets don't seem put off. It's also worth noting to only serve a small amount of this food and time and keep it in an airtight container, as it is prone to going stale rather quickly.
Best Budget Pick: Instinct Limited Ingredient Diet Grain Free Recipe with Real Lamb Natural Dry Dog Food by Nature's Variety
No products found.
This product is made of very limited ingredients, combining one protein with one option in terms of fruits and vegetables. This makes it ideal for dogs who are suffering from stomach issues or other allergies. Lamb is high in protein and filled with the fatty acids that any pet needs for maximum health. It combines freeze dried raw ingredients with kibble to allow you the best of both worlds in terms of health, price, convenience, and taste.
Pros and Cons
This is a great option for dogs who are intolerant of beef or chicken.
It combines the convenience of dry food with the health benefits of high protein raw meats.
This is a particularly versatile type, as it can be served to your pooch as a meal, or saved and used as treats.
Some report that their dogs aren't quite so keen on the taste of this option. Because of its lower price, some worry that the ingredients aren't as high quality as some of our other options on the list.
Best Option For Allergies: Ps For Dogs 100% Hypoallergenic Dog Food
No products found.
If you have a pet which suffers consistently with skin allergies, in particular, this might be the right option for you. A low-fat diet with minimal carbs isn't just a great choice for maintaining healthy levels of blood sugar but can have a hugely positive impact on the dog's skin and coats. This product is specifically designed with skin allergies in mind and promises through its low glycemic ingredients list to effectively manage skin rashes and bumps. It can also reduce the overgrowth of yeast, which can prevent over-licking which in turn causes irritation. It's can also have a positive impact on a pet who has an unfortunate, unpleasant smell.
Pros and Cons
The minimal ingredients list is specifically chosen not to contain anything potentially irritating to a pet with allergies. It's a great one stop shop for any animal with specific skin sensitives.
For many dogs with allergies, they have a long and unpleasant road involving many different types of medication. This food can help your pooch out without any of the potentially painful, adverse (and expensive) side effects of a range of medicines.
A high protein option such as this can have positive results even for dogs who aren't suffering from skin issues or allergic reactions. Avoiding high glycemic foods can help dogs with weight management and just allow them to feel (and look) their very best.
One of the biggest issues people face with this product is the high price – particularly when you factor in the relatively small size of the bag. For a smaller pooch, this may be a good option, but for pets who eat a lot, the cost of this option may simply be too high to consider feasible.
Best Ketogenic Dog Food: Ketona Chicken Recipe Dry Food For Adult Dogs
No products found.
This product particularly focuses on being lower in carbohydrate. Even when compared to other grain free options, this has an incredibly low carb formulation. This makes it great for lightening the glycemic load. It contains more than forty-six percent crude protein, with less than five percent carbs and starch, and less than half a percent glucose or other sugars.
Pros and Cons
This option is one hundred percent made in the USA, with responsibly farmed chickens plus added vitamins and minerals for maximum healthiness.
Going for high protein and low-fat foods such as this can help achieve a positive result on your dog's weight. It can also help maintain healthy blood sugar for diabetic dogs.
There have been many interesting discussions about the specific benefits of a ketogenic diet for dogs – with many believing that they can prevent or even cure cancers.
Some customers report that their dogs simply do not enjoy the taste of this food. It's all very well getting the healthiest option on the market, but if your pet won't actually eat it, this could make the whole thing a moot point.
---
Buyer's Guide
When purchasing a low glycemic option, there are several factors you likely need to consider. We've broken down these potential problems into this handy buyer's guide, to help you though the choosing and purchasing process.
Why go for a low glycemic dog food?
There are many reasons you may wish to consider purchasing a low glycemic meal for your pet. The primary thing associated with low glycemic diets is diabetes, as these options can help maintain healthy blood sugar levels. But low glycemic options can have other helpful impacts, too. For more and more pet owners, going for an option like this can make a huge difference to any dog's health and happiness.
What issues can a low glycemic dog food help with?
Alongside treatment of diabetes, there are many other things low glycemic diets can help you out with. They can be an invaluable tool in helping with a dog's weight loss or maintenance. Being overweight can be of huge detriment. So successfully managing their weight through food choices can be a huge help in the long run.
Low glycemic options also tend to be grain free and free of other ingredients which are known to be problematic for certain dogs. This means they can be a great option for animals who have particular allergies. Whether its digestive issues or skin sensitivities, if you have a pet in need, it could be well worth trying a low glycemic food option.
Canine Diabetes
Canine diabetes can effect up to one in two hundred. A diabetic pet can't produce enough insulin to balance their blood sugar levels. This can mean they end up with an excess of blood glucose levels.
Diabetes in dogs can be genetically predisposed, but it can be aggravated by poor diet. Many of the options on the market are bulked out with cheap filler ingredients, meaning they're higher in fat, carbohydrates, and sugar than is healthy for your pet. Going to low glycemic foods can be an excellent choice. But with so many diabetic options on the market, it can seem impossible to make a decision between them. Luckily, our guide to the best low glycemic option is here to help. Looking to purchase healthier? Look no further!
There are many factors to consider when making your low glycemic purchase. You need to know exactly what you need from your choice. Are you looking for a wet or a dry option? Does your pet have very specific needs, such as a grain-free diet, or a high-fiber diet? You'll also want to consider things like your animal's personal tastes, plus your budget, alongside other, more specific concerns. Our handy guide is here to help you out along the way!
What about additional dietary requirements?
It's important to note that not all low glycemic options are created equal. There are many which are better tailored to particular needs. Not doing additional research will always be more likely to lead to purchasing disappointments. Some pets will have issues with even complex carbohydrates. Others will require high fiber, while some will thrive on higher protein. It's also worth taking into account the types of meat your animal prefers or can digest the easiest.
How to consider full ingredients lists
Generally speaking, it's better to go for low glycemic options with a shorter ingredients list. The more ingredients you recognize or can pronounce, the better. It's well worth getting cognisant of particular ingredients your animal has issues with, so you know consistently what to avoid. It's also worth noting that ingredients lists are in order or concentration. Whatever's at the top of the list is most prevalent in the food.
Other factors to consider?
One thing that's always important when choosing is knowing about portion control. Know the caloric content, and particularly the number of calories your animal needs each day. This can help you maintain a healthy weight and minimize any issues or complications relating to diabetes.
Think about your own dog
No one knows a pet better than its owner. So if you start to see patterns between different ingredients and doggy problems, take notice of them! They can seriously help you figure out how to best feed your pet in the future. You may also wish to consider things like your dog's own personal preference. There's no point purchasing a super healthy food your animal won't eat, after all. It can be worth taking other things into consideration, too. For example, an older pooch will likely fare better with senior dog food.
Are there any downsides?
Simply choosing a low glycemic option isn't enough to ensure your dog's health. You need to do your research on a specific product before purchasing. Low glycemic options can still be unhealthy. Choosing a grain free option when a pet has no issues with grains, for example, may not be the best option.
What about the pricing problem?
One of the biggest complaints consumers have when buying specialty options is that they're more expensive than other alternatives. Across the board, this is almost universally true. However, it may actually end up being a smart investment, particularly for those with health issues including diabetes. Maintaining health now and preventing future issues will likely be far less expensive than potentially pricey vet treatments and medications in the future.
Frequently Asked Questions
What is low glycemic dog food?
Low glycemic foods are those which have a lesser impact on blood sugar levels. Lower glycemic options are designed to maintain a healthier blood sugar level, which makes them particularly useful for treating dogs with diabetes – though they have other health benefits, too.
Do I need low glycemic dog food?
Low glycemic foods are generally considered to be more healthy across the board. But they're not strictly necessary unless your pet has a specific issue which you believe these types of food could address. Do your research before making any big change to your dog's diet.
Other Low Glycemic Dog Foods We Reviewed
Low Glycemic Dog Food For Small Dogs
Low Glycemic Dog Food For Seniors
Best Low Glycemic Dog Food For Small Dogs
Bil Jac Small Breed Select Dry Dog Food
No products found.
This simple formula of chicken, oatmeal, sweet potatoes, and corn is slow cooked. The low glycemic index of the food makes it easy to digest. It offers consistent fuel to give your small pet enough energy. It contains additional omegas and fatty acids to particularly help out with your dog's joints and coat. It's also free from potentially harmful ingredients such as gluten, wheat, sugars, and fats.
Pros and Cons
This food is particularly easy for smaller mouths to chew.
It's a super healthy blend of ingredients for smaller pets with particular health issues.
Some customers comment their animals weren't crazy about the taste of this product.
Best Low Glycemic Dog Food For Seniors
Nulo Senior Grain Free Dog Food With Glucosamine And Chondroitin
No products found.
This high meat and low carb formulation is also grain free. It's made in the USA and promises to have no filler ingredients. It is free from corn, wheat, soy, potatoes, tapioca, plus artificial colors and flavors.
Pros and Cons
This product is a particularly good option for weight loss in older pets. Seniors being overweight can come with severe health implications.
The kibble size is designed to be easier on older teeth.
The fresh ingredients of this product have caused many buyers to complain about the scent. This can be mitigated by keeping the bag sealed at all times.
Conclusion
Choosing a low glycemic option can be the key to solving many health problems. Finding the one which best suits your needs is key to making a smart and satisfactory purchase.
Have you ever tried using a low glycemic dog food? Do you have a favorite brand? Let us know in the comments below!
Continue reading:
Health Extension Grain-Free Salmon Recipe Dry Dog Food
Protecting Your Dog's Health: Vaccination Schedule