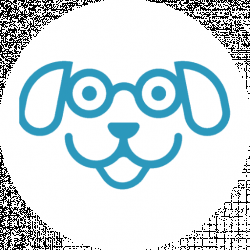 Latest posts by Scout Knows Team
(see all)
As pet owners, we love to show off our kid's, um, dog's best qualities. We will talk to anyone who listens about what a good boy he is, or how she learned a new trick, or how cute their snoring sounds at 3 AM. What isn't spoken about much, though, is their poop. If your pup isn't getting the nutrients they need from their food; they may have digestive troubles and go more often than is normal. We will be reviewing the best dog food for less poop, to get your pup on the straight and regular.
No products found.
While pooping a lot may not seem like a big deal, it can be a symptom of an underlying problem. The biggest culprit is usually your pet's food. New foods can disagree with sensitive stomachs, and sometimes even old favorites can suddenly start causing food allergies that mess with your pet's tummy.
If your pup poops more often than you think is normal, the first step towards fixing this is to change their diet. If they show no improvement thereafter, other things will need to be considered. But this is often the key to getting your pup's metabolism in better working order.
Top 5 Rated Best Dog Food For Less Poop
| Recommendation | |
| --- | --- |
| Top Choice | No products found. |
| Runner Up | No products found. |
| Budget Choice | No products found. |
| Low-Fiber | No products found. |
| Raw Food | No products found. |
Our Top Pick: Wellness Core Natural Grain Free Dry Food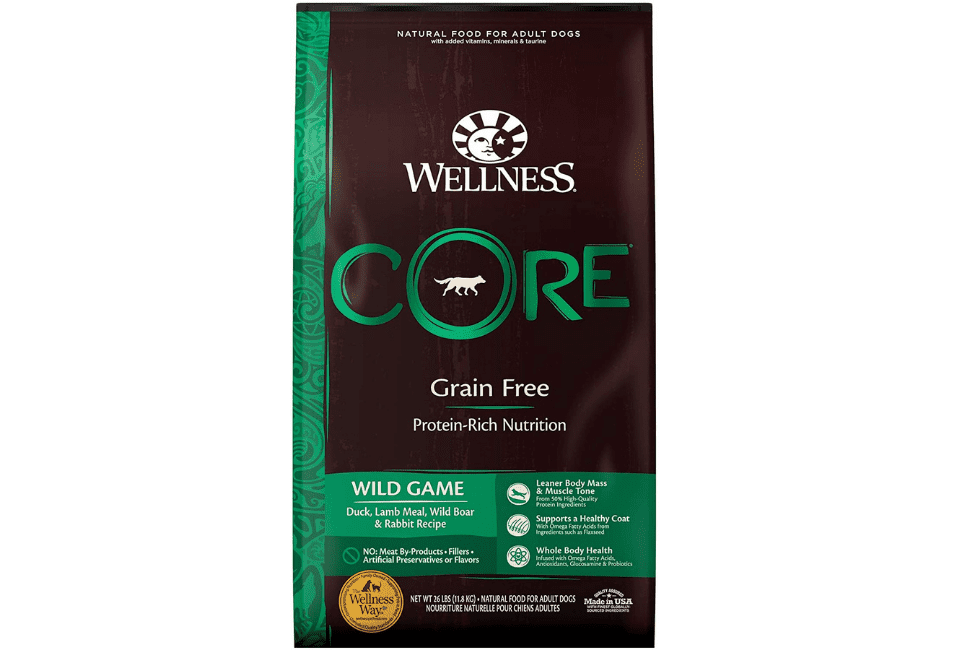 Wellness Core is a reputable dog food brand. This is a grain-free dog food that focuses on delivering high protein content and quality carbohydrates in the form of real vegetables. They also have added essential vitamins and minerals that help keep your pup's bones and teeth strong, and omega-3 and -6 fatty acids for a shiny coat!
If your dog has digestive issues, this dry dog kibble has no soy, corn, wheat, or meat by-products. This means that your pooch's sensitive stomach should have no problems processing whatever is in it.
This family-owned business's motto is "Unconditional love, uncompromising nutrition", so you can rest assured that when your pup eats Wellness Core, they're getting only the good stuff.
Pros
Grain-free and all-natural
Made with real vegetables for a great carb source
High in protein (34%)
Low fiber content (4%)
Added vitamins and minerals
Omega-3 and -6 fatty acids for a shiny coat
No meat by-products or artificial ingredients
Cons
Some problems have been reported with the ziplock seal on the bags
Our Runner-Up Pick: Hill's Science Diet Dry Food
No products found.
With over a thousand reviews on Amazon and a four-and-a-half star rating, you can be confident that feeding your pup Hill's Science's will be a good thing. This is specially formulated for dogs who have a sensitive stomach and skin, so allergens are avoided.
It is easy to accidentally select the option that is not grain-free, so be aware of that when buying. The grain-free option only comes in one size, unfortunately, but if your dog likes the taste of it and you're going to be using it frequently, you can buy it for a slightly reduced price through a monthly subscription. The with-grain option is also geared towards sensitive stomachs but can be less effective than grain-free.
With natural ingredients, quality protein, vitamin E, fatty acids, and prebiotics, Hill's aids in digestion and helps to balance gut bacteria (the good kind!)
Pros
Reputable brand
High in protein
No poultry by-product
Prebiotic fiber
All-natural ingredients
Contains vitamin E and Omega fatty acids
Cons
Be sure you have selected the right one on Amazon before you buy – there are options that are not grain-free and can easily be selected by mistake!
Best Budget Pick: Nature's Recipe Grain-Free Dry Food
No products found.
With a name like Nature's Recipe, you know your pup is getting some great, healthy stuff in their diet. This grain-free option is formulated from all-natural ingredients, with chicken being the primary protein source and sweet potatoes and pumpkin making up the carbohydrate content. Their dietary fiber content is low, which makes them great for less poop!
The absence of beef, corn, and wheat products mean this food is great for pups who suffer from food allergies. They feature guidelines on their packaging as to how much to feed your pet as well so that you can be sure your dog's body is getting the nutrients it needs.
It is also suitable for dogs of all ages and sizes, from small to large breed, and from puppies to adult dogs. Nature's Recipe also offers grain-free canned foods, if you'd like to give your pooch a treat every now and then or mix it with the dry pellets. It is also available in a few different flavors, such as lamb and salmon.
Pros
All-natural ingredients
Free from beef, corn, and wheat products
Easily digestible
High in protein (27%)
Fiber content is a maximum of 4.5%
Suitable for all breeds and ages
Different flavors available
Cons
Be sure to buy from a reputable seller to avoid problems!
Best Low-Fiber Dog Food for Less Poop: Earthborn Holistic Primitive Natural Grain-Free Dry Food
No products found.
Earthborn Holistic is as organic as you can get. Not only do they care about what your canine puts into their body, they care about the environment too and have BPA-free, recyclable packaging.
Packed with great protein and grain, gluten, and potato free, this high-quality dog food is easy on the stomach. Dog owners can't go wrong with this recipe, as your pup will not only be getting fantastic, delicious food, they'll also be getting extra all-natural supplements to keep their joints strong and supple.
As low-fiber foods go, this one beats them all. With a maximum fiber content of 2.5%, this is quite a bit less than others, which puts it as our top low-fiber option!
Pros
Healthy, all-natural ingredients
High in protein (38%)
Low in fiber (2.5%)
Balanced ratio of omega-3 and -6 fatty acids
Contains glucosamine for healthy joints
Environmentally-friendly packaging!
Affordable
Cons
If your dog is predisposed to heart disease, this food could worsen it
Best Raw Food for Less Poop: Stella & Chewy's Super Beef Dinner Patties
No products found.
Dogs with digestive issues may benefit from raw feeding. As the name suggests, this diet involves feeding your dog raw meats, fruits, and veggies. The idea behind this is that our pets' wild doggy ancestors ate raw, and didn't have fancy, supplement-enhanced, neatly pressed kibble. They ate raw meat, vegetables, and bones, and so naturally, the thought is that our pets would benefit from that too.
There is some controversy around the diet, but if you would like to give a try (after some research!) we can gladly recommend you begin with Stella and Chewy's Super Beef Dinner Patties. With near to 2500 reviews, these guys must be doing something right!
Packing a punch of 95% pure, raw beef (plus some organs and bone) and organic fruits and veg, this all-natural, grain-free product is minimally processed and as close to in the wild as your pup can get. No hormones, antibiotics or fillers make this a more easily digestible and nutrient-dense food.
Pros
Minimal processing
All-natural
High protein
Quality, natural carbs
Grain-free
No hormones or fillers
Cons
Do your research on raw feeding beforehand as it is controversial
Your dog may take some time to adjust if you are switching from a processed pet food
Buy only from reputable sellers – some can have issues
Slightly pricey
---
Buyer's Guide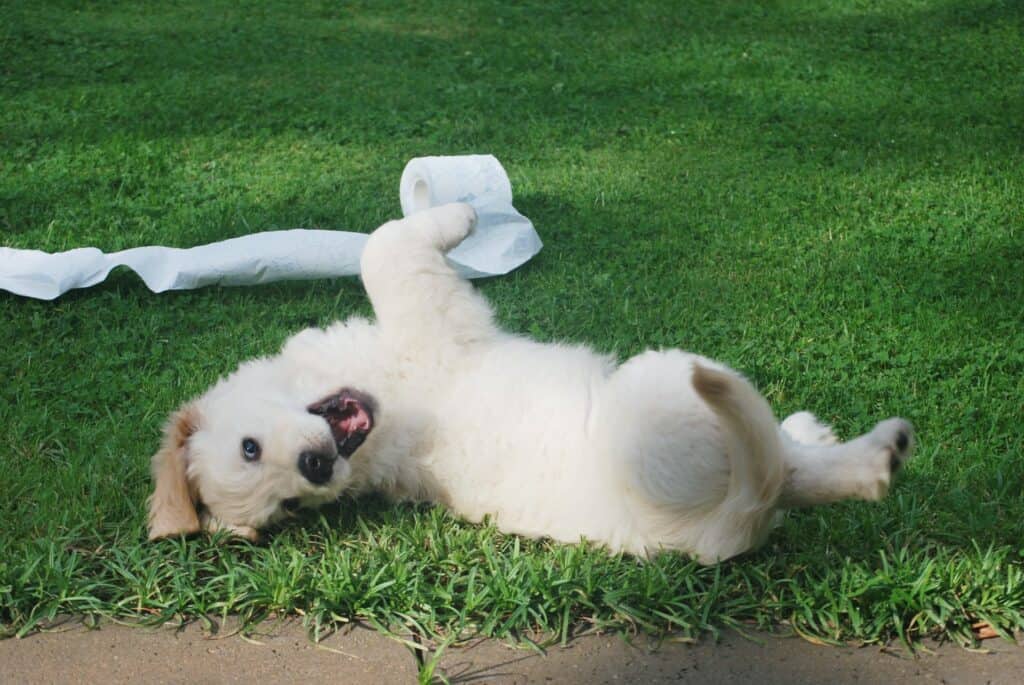 If your pup needs a diet change, you may be unsure of what exactly to do. First and foremost, figuring out if your pet's poop is healthy or unhealthy will help.
Once you've worked that out, you can begin taking the next steps to change their food and learn what makes a good quality, less-poop pet food.
How Do I Know If My Dog's Poop Is Healthy?
If you're concerned about the state of your pup's poo, you can do a quick little test by seeing how it passes the 4 C's. What are these 4 C's?
Color
Consistency
Coating
Content
Color
Dog poo should be a chocolate brown color (milk chocolate, not dark!) Other colors indicate various things, and the occasional off-brown stool is not an issue. If, however, your pup's poop is constantly off-color, this may be a sign of a bigger problem.
Consistency
Although this word can also mean how often your pooch goes, in this context it means how firm the poop is. Generally, the stool should be fairly firm with very little moisture or liquid in it, and easily picked up with a pooper scooper. As with the color, the occasional runny poo happens and should not be worried about. If it starts happening frequently, there may be cause for concern.
Coating
The best coating is no coating. Usually, if there is some sort of coating, it is mucus, and it can be detected by a trail of it being left behind when you pick up your dog's feces.
Content
There should obviously be no foreign matter in your pets waste. If you can see it, it most likely shouldn't be there. Sometimes, though, more details of the content can only be picked up under a microscope.
Poop Overview
Your pet's stool should be log-shaped, fairly firm, and with no coating or foreign objects in it. If that describes your pup's poop, you should be totally fine. Any changes in these states could be cause for concern, as well as if your pet has constant and consistent diarrhea or constipation. If you want to do some more in-depth poo-nalysis, have a read through this article.
It is also a good idea to take healthy, normal stool samples to the vet for analysis. That way, when you do take one that looks different, the two can be compared.
What Makes A Dog Food Good For Less Poop?
The best dog food for less poop is something called low-residue food. This means that the food contains all of the good stuff to give your pooch the nutrients they need, but not much fluff or filler material that can be hard to digest. Often, this food:
Is lower in fiber than others
Is high in protein
Avoids grain and other allergens
This means that your pup is getting a great dose of nutrients, and not a lot of the stuff in the food goes to waste … Literally. You can check out all the above numbers on pet food labels, and it is good to do your own research on low-residue diets before deciding on anything!
Frequently Asked Questions
How many times a day should my dog go?
It is normal for pets to go up to 5 times a day. This depends on things like age, general health, how often they are eating, and the quality of their food. Typically, a dog will poop shortly after it eats, so if you feed your pup 5 times a day, you can expect more pooping. Puppies also go more often than adult dogs do.
What should I do if my pet's poop looks abnormal?
Scoop it and take it to the vet for analysis. Only do this with fresh poo though – if it has been sitting outside for a while, parasites can get in and change the consistency and content. If it's too watery to pick up, see if you can get a bit into a container using a spoon, and take pictures to illustrate the consistency.

Also, take note of any other symptoms your pet may be having that could indicate some sort of problem. These should be mentioned to the vet, as they will help give a well-rounded view of what issues your pooch may be having.
What things apart from food can cause my dog to poop excessively?
While food is the easiest thing to change and a common reason for too much poop, other underlying things can be causing your pup to poop plenty. These include health problems such as canine colitis, bacterial infections, kidney problems, or intestinal parasites.

Stress can also be a big factor. If changing your pup's food doesn't help, then a visit to the vet may be in order. You should also do a bit of self-assessment as to whether or not there are factors causing your dog to be very stressed. Things like a recent relocation, new people in the house, new animals close by, or other changes in the environment can be stressful for pets.
Other Dog Products For Less Poop We Reviewed
Best Dehydrated Dog Foods for Less Poop
Best Dehydrated Dog Foods for Less Poop
Although dry kibble is considered the best type of food for your pup, there may be times when it isn't possible to feed them dry pellets. In cases where pets are old and can't chew or have had an injury to their face or mouth, dry food may not work.
Dehydrated food also might be good for pets with sensitive stomachs as it is quite easily digestible. You just need to add water (which aids digestion). they come in smaller bags but tend to make about 4 times as much once water is added.
The Honest Kitchen Human-Grade Dehydrated Limited Ingredient
No products found.
In the world of dog feeding honesty is super important, and these guys make it clear from the start that their values are good ones. Their label won't lie and shows all-natural, healthy ingredients that will go easy on your pup's tummy.
Made from only 6 grain-free ingredients, with 26% protein and 6.3% fiber, this food will be tasty as well as easy to digest. No by-products, artificial stuff, or GMO-ingredients make this a high-quality option for your pet.
Simply add warm water, let it sit for a few minutes, and present your fluff with their dinner! One bag makes approximately four times its weight in food.
Features:
All-natural, grain-free, and healthy
Only 6 ingredients
26% protein
6.3% fiber
No by-products or GMOs
Easy to prepare
Easily digestible
Spot Farms Human-Grade Natural Dehydrated
No products found.
A proudly Indiana-based company, Spot Farms have brought out a grain-free, dehydrated dog food recipe in turkey, pork, and chicken flavors. Their ingredients are high-quality and they make their food to the same standard human food is required to adhere to.
Real meat provides a good protein kick, and no artificial colors or flavors make it a healthy choice. Simply add water, stir until the consistency is suitable, and let your pup eat! One bag makes about four time its weight in food/
Features:
Grain-free
High-quality ingredients
Various flavors
Easy to prepare
Easy on your dog's stomach
High in protein
Conclusion
As dog owners, we want to make sure we are feeding our pups quality, healthy food. Your dog's life can be greatly affected by the food they're eating, and of course, we would all prefer for that effect to be in the positive.
If you've decided to make a change to your dog's food because their health is bad or because they are pooping too much, be sure to do the proper research beforehand and consult a vet's opinion. Food changes should be based on health-related issues, so take note of your pup's symptoms and behavior and make changes accordingly.
Have you tried any of the foods on this list? Or have you tried something, not on this list? Let us know your thoughts on the best dog food for less poop in the comments below!
Continue reading:
Angry Orange Pet Odor Eliminator Review