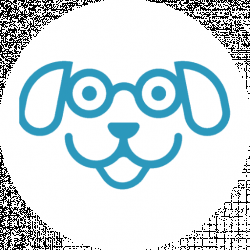 Latest posts by Scout Knows Team
(see all)
Beneful is a brand that falls under the Purina name. Purina is a well-known household brand name, but do you really know what's going into your pup's Purina food? In this Beneful dog food review, we will have an in-depth look at the company, its ingredients, its foods, and what people have to say about them.
At A Glance
Parent Company: Nestlé Purina PetCare Company (the original Ralston Purina combined with Nestlé's Friskies PetCare)
Started: 2001
Headquartered In: St Louis, Missouri
Types of Food: Dry, wet (fresh), baked snacks, other treats
Real Meat in First 5 Ingredients? : Yes (dry and wet food)
Ever Recalled? : Yes – 2016, wet dog food (more info here)
A Deeper Dive Into The Brand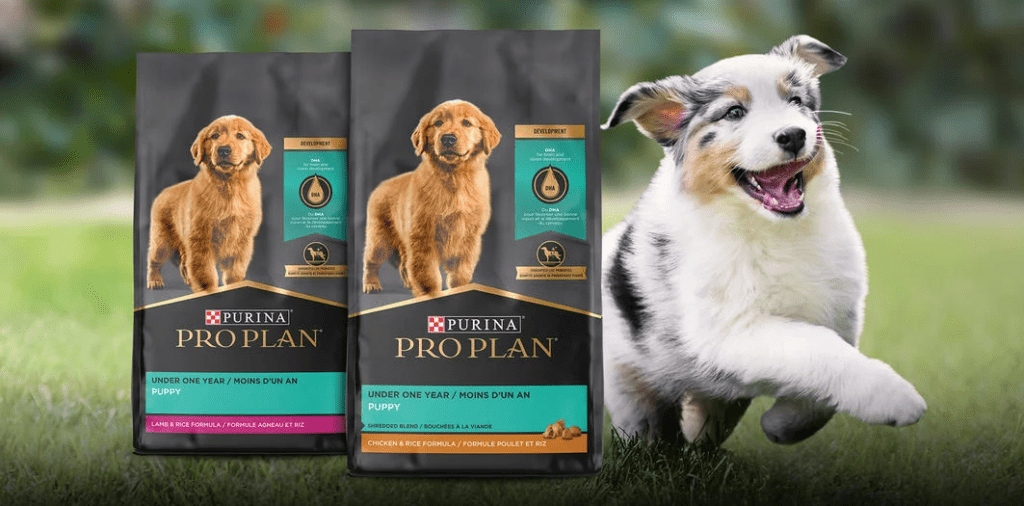 Purina has a long history, being founded in 1894 by William H. Danforth, George Robinson, and William Andrews. The company (originally named Robinson-Danforth Commission Company) was created with the purpose of feeding farm animals. They changed their name to Ralston Purina in 1902.
1926 saw them open a pet nutrition and care center in Missouri, which served to confirm the nutrition and value of their pet foods. Purina was the first company to produce dry dog food in the form of "kibble", with Purina Dog Chow being launched in 1956 (using a technology called extrusion to form the kibble shape).
They were also the first to make it known that puppies need somewhat different nutrients to adult dogs, and introduced their first dedicated puppy food (Purina Puppy Chow) in 1963. 1986 was an important year in the company, as they developed a process to make it possible to use real meat as the first ingredient in their kibble. Purina Pro Plan was the first food introduced that used this innovative process and could boast real meat as ingredient number one.
1986 was also the year that Ralston sold their animal feed business and committed themselves to make dog and cat food. In the years to follow, they launched an important study on dog feeding, introduced a hypo-allergenic dog food formula and a diabetic cat food formula, and established a Canine Reference Family DNA Distribution Center.
2001 marked a change when Ralston Purina was acquired by Nestlé. They continued to refine their procedures and produce new pet food formulas, and keep doing so even now.
Beneful Dog Food Brand
2001 is also when the Beneful brand was introduced as a Purina product. "Beneful" is said to mean "full of goodness", which is what they aim to produce – as stated on their website, "We believe in filling bowls with the goodness of healthy & the joy of happy".
Where Do They Source Their Ingredients?
As explained by Dave, the Purina Materials Manager, the ingredients that go into their pet food come from exactly the same place as the ingredients that go into the dog owners' food.
They work with a select few vendors from various locations, and these vendors need to be able to pass the Purina standards before being allowed to become suppliers. They source their meat from USDA-certified facilities.
What Is the Variety Of Foods They Produce?
The Beneful range contains a nice mix of wet dog food, dry dog kibble, and various treats. All of their recipes adhere to AAFCO standards.
Dry Foods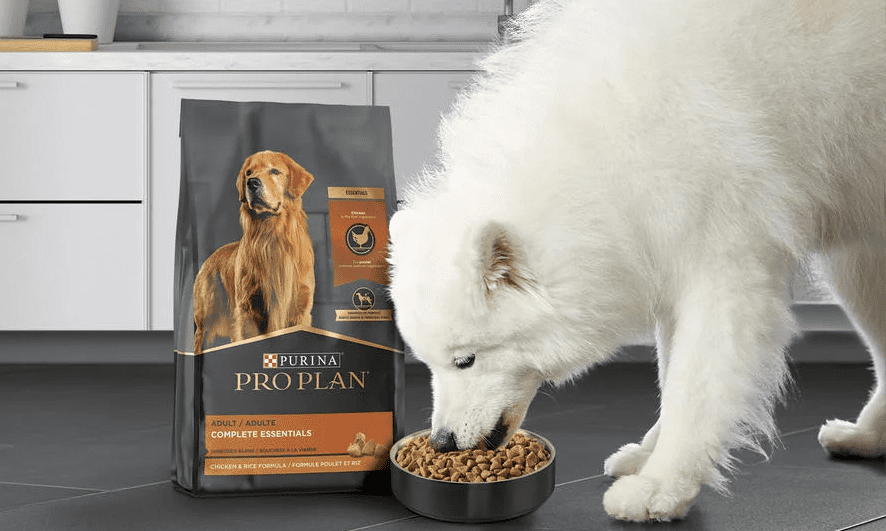 Beneful has quite a variety of different dry dog foods, each one slightly different. According to their website, you'll find good ingredients at the heart of each of these recipes.
Originals
Beneful Originals dog food consists of dry dog kibble, with real meat as the first ingredient.
IncrediBites
These two recipes are aimed at small-breed dogs specifically.
Grain-Free
With real, farm-raised chicken and hints of blueberries, spinach, and pumpkin, this grain-free food is the best choice for pups with sensitive tummies.
Simple Goodness
Meaty chunks mixed with real veg, in a "stay-fresh" packet.
Select 10
A 10-ingredient, selectively blended mix, with added vitamins and minerals.
Superfood Blend
An all-natural blend of superfoods like salmon, kale, chia seeds, and cranberries.
Playful Life
Slightly higher in protein than the others, Beneful Playful Life is ideal for very active dogs.
Healthy Weight
With 10% fewer calories than the Originals range, this food is specially formulated for weight loss and management.
Healthy Puppy
High in protein and contains a good dose of DHA, this puppy food is made with real farm-raised chicken. See our more comprehensive review below.
Wet Foods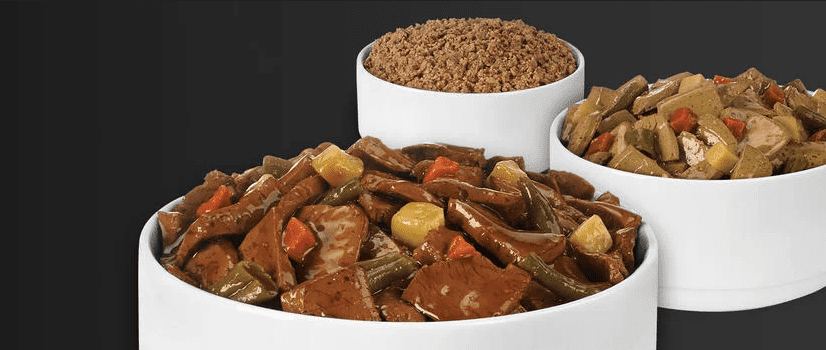 Beneful wet dog foods come in 4 different types and a variety of flavors.
Prepared Meals
These resealable tubs contain a wholesome meal made from real foods.
Medleys
These blended foods are made from real meat and vegetables, and served with a flavored gravy.
Chopped Blends
Made from real ingredients, the chopped blends are savory and less saucy than the medleys.
IncrediBites
For small dogs, this mix is real meat and veggies in bite-sized pieces for easy eating.
Treats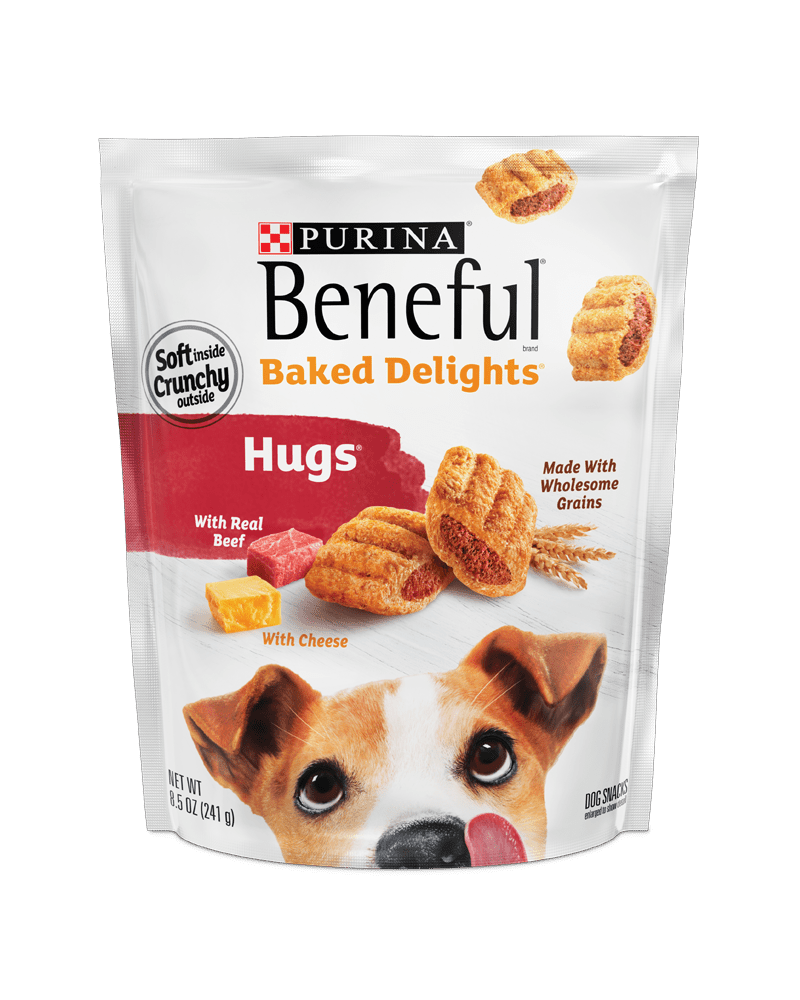 The Beneful brand has a nice selection of treats in a few different flavors. Your pup won't get bored with these.
Baked Delights
These are oven-baked, soft-centered savory bites, in peanut butter and cheese and beef and cheese flavors.
Break N Bites
These unique break-apart snacks come in crunchy and tender varieties, and 3 different flavors.
IncrediBites
The IncrediBite range is all about the little dogs, and these treats are geared towards your small breed.
Healthy Smile
Although these are still on the website, it appears that they may be either out of stock or discontinued.
Recall History
Beneful has had one recall of wet dog food tubs, in March of 2016. This included Beneful Prepared Meals 10 oz. tubs and Beneful Chopped Blends 10 oz. tubs (all varieties). The products with a Best Before date ranging between June and August 2017, and those with production codes starting with the digits 5363 to 6054 were recalled.
Purina released a statement about the voluntary recall on March 10th, 2016, and cited the reason for the recall as these foods not having adequate levels of certain vitamins and minerals. A Pro Plan brand food was also recalled at the same time. They did offer a full refund for any unused products falling into these categories.
Best Beneful Dog Foods
The Beneful range is quite a wide one, and each variety also comes in different flavors. We will do a brief review on one from each type of meal (dry, wet, treats), and a select few others that stand out.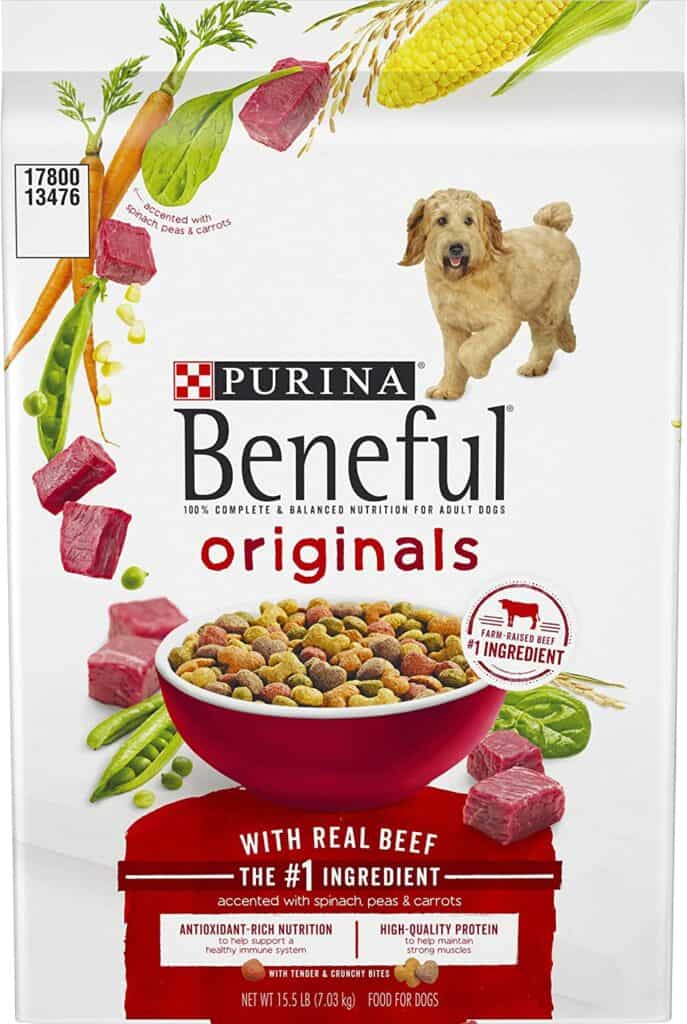 First 5 Ingredients
Beef
Whole grain corn
Barley
Rice
Whole grain wheat
The fact that real meat is the first ingredient gets a thumbs up. However, it, unfortunately, doesn't stick to that level of the nutritional value as the list goes. Corn, barley, and wheat are all grains that add little nutritional value to a dog's diet and can be considered to be cheap fillers. Rice offers no further explanation as to what type it is, meaning it's hard to accurately judge its value in this recipe.
Couple that with the addition of some other questionable ingredients (dicalcium phosphate, and the controversial menadione), and it just doesn't make for the healthiest stuff to be feeding your pup. Read our full review here.
Features
Real, farm-raised beef as the first ingredient
Too many fillers (can lead to food allergies)
Contains poultry by-product
Dried vegetables added
Some questionable vitamins and minerals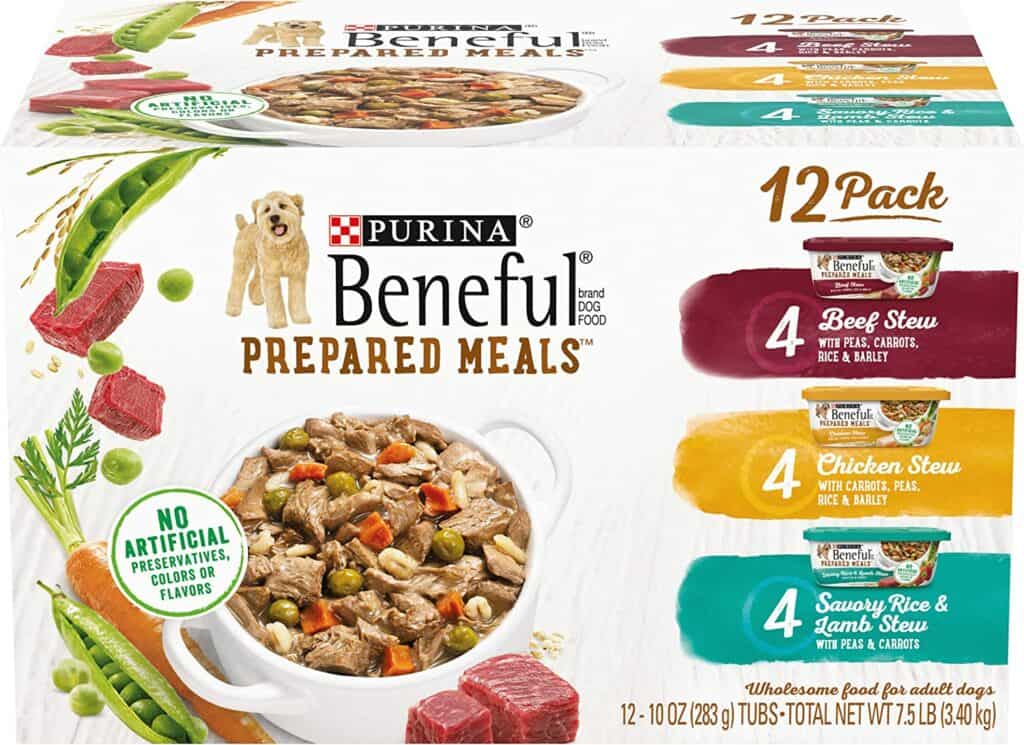 First 5 Ingredients
Beef broth
Beef
Wheat gluten
Liver
Meat by-products
Although there are 2 real types of meat and two meat products in the first five ingredients, the protein count of this stew doesn't seem to reflect that, suggesting that these may be in very small quantities. Wheat gluten may not agree with some pups' stomachs.
The vegetable content is pretty good, with peas and carrots coming in down the ingredient list, along with rice for more carbs. This gets points for containing real meat and veggies, but still has some unnecessary and non-nutritious fillers, such as wheat gluten and modified corn starch. Not a bad option if you're going to add wet food to your pup's diet.
Features
Real beef and veggies
Resealable tub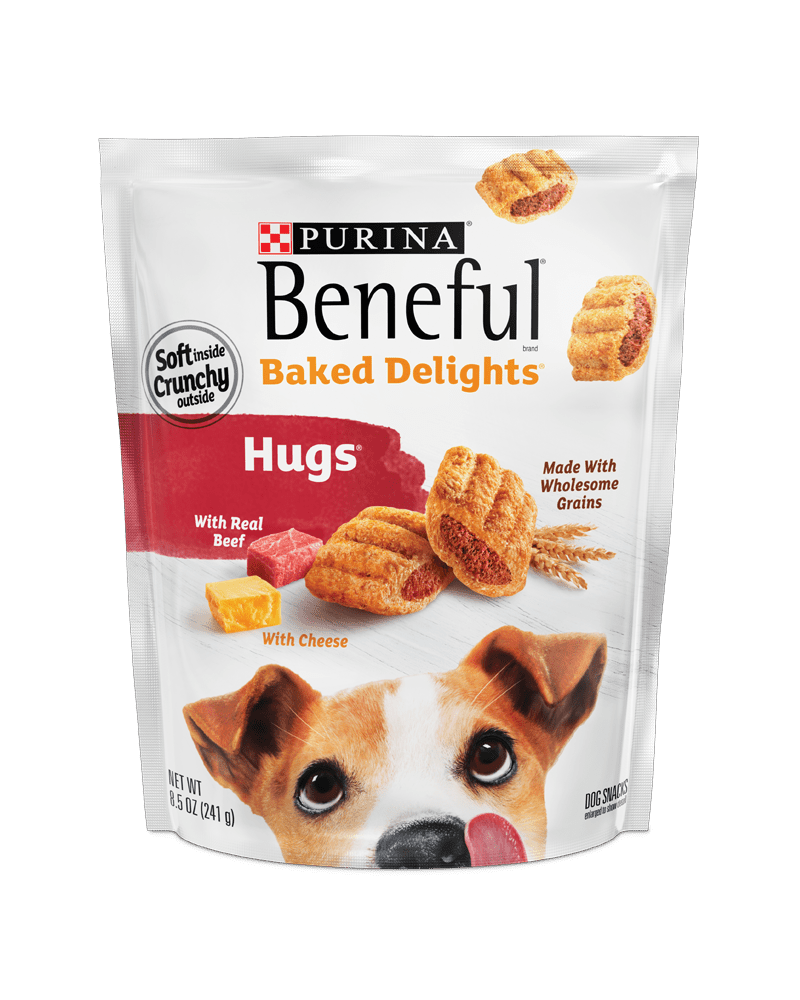 First 5 Ingredients
Brewer's rice
Ground wheat
Glycerin
Ground yellow corn
Wheat flour
The first five ingredients here are a mess of fillers. Brewer's rice is essentially a waste product that is produced when rice is milled. Ground wheat, yellow corn, and wheat flour are of little nutritional value, and glycerin acts as a binding agent but also offers nothing of value to a dog's food.
The protein comes in lower down the ingredient list, in the form of chicken by-product meal (if you're unsure of what "by-product" contains, this article by Dog Food Advisor will explain all), beef (low down the list, suggesting there's not much of it), and dried whey.
At the end of the day, if you're going to feed your pet treats, there are other more meaty, protein-rich ones out there. We recommend Earthborn Holistics Grain-Free Earthbites for something healthy and tasty.
Features
Contains poultry by-product
Contains little real meat
Many fillers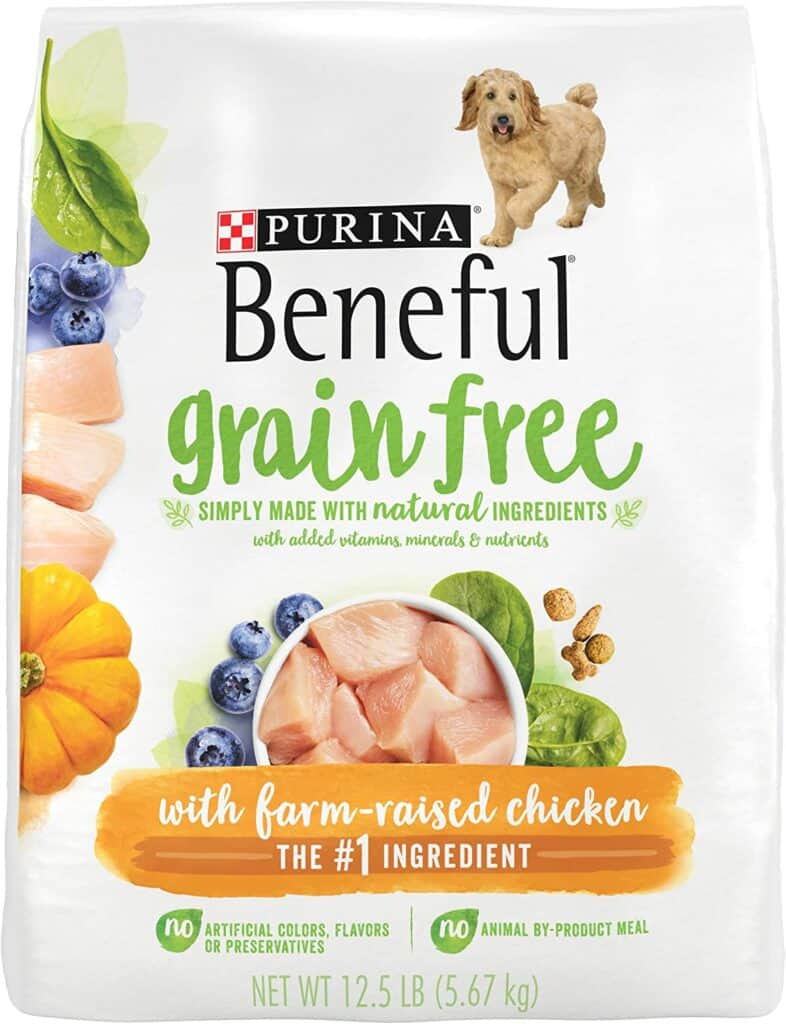 First 5 Ingredients
Chicken
Pea starch
Cassava root flour
Chicken meal
Soybean germ meal
The first five ingredients in this grain-free food are decent. Two good protein sources (chicken and chicken meal), and two fairly good non-grain carbohydrate sources (cassava root flour and pea starch) mean there are not as many useless fillers as the other dry recipes. Soybean germ meal can be a controversial one, but soy is a legume and not a grain. It is a plant-based protein and can add a little extra dash of to your dog's meal, but nothing significant. There are, however, some negative reactions to feeding pups soy products.
All in all, if you're determined to try Beneful, this should be the one you go for. It has natural ingredients and fewer fillers and should go easy on your pet's tummy (with the exception of a slight possibility of a reaction to soy).
Features
Grain-free
Good protein sources
Good carbohydrate sources
Contains soy, which may not be suitable for all pets
Best options of Beneful foods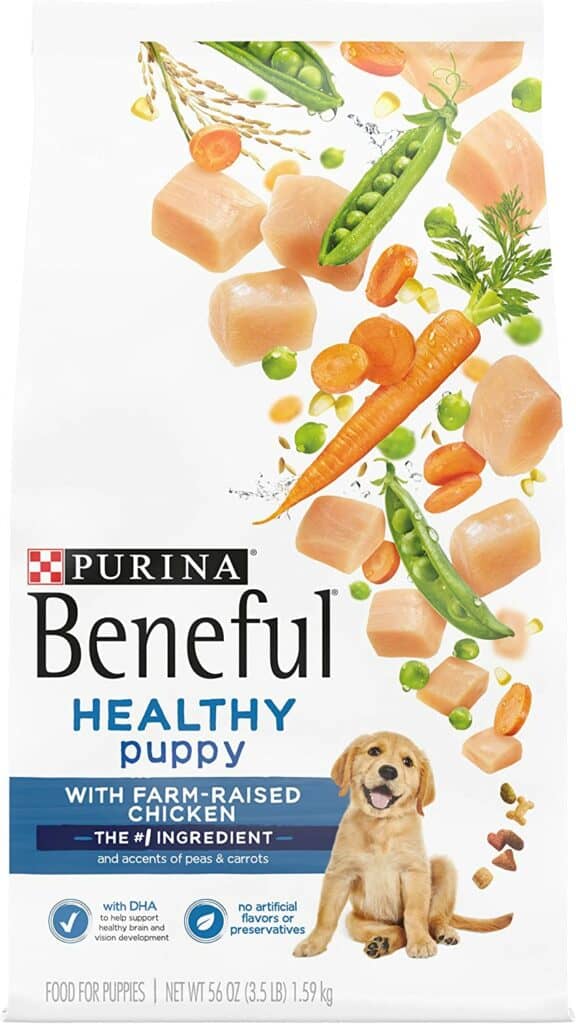 First 5 Ingredients
Chicken
Chicken by-product meal
Corn gluten meal
Whole grain corn
Barley
Real meat makes it the first ingredient again in this kibble, although the chicken by-product meal is not the optimal ingredient to follow it up with. The other three are all grain products that serve more like fillers than anything else.
While this Beneful puppy recipe does contain DHA, which is great for healthy eye and brain development, there's no glucosamine (meaning it is not suitable for large breed pups). We cannot in good conscience recommend this for a growing pup – it just doesn't pack enough nutrients, and while it may taste good, it doesn't give a growing dog what they need. Read our full review here.
Features
Real chicken is first ingredient
Contains more than one poultry by-product
3 grains are unnecessary fillers
Contains DHA
Lacks glucosamine
Purina Beneful Customer Reviews
The various Beneful dog food review seen on Amazon and Chewy are actually pretty good, despite the Beneful ingredients being questionable when it comes to your dog's health.
What Do Beneful Dog Food Review Suggest That People Like About This Brand?
My dogs will only eat this brand of dry kibble.

Josie
Our 3-year-old dog has thrived eating Beneful.

Muskie2
This was a much better price.

Shirley M.
My dogs love the flavors.

Barbara
Just the right portion size for my small breed.

Dena Barrett
What Do Beneful Dog Food Reviews Suggest That People Dislike About This Brand?
It gave my dog digestive problems.

Alan Simpson
I found a lot of complaints about this brand when I looked it up.

Mike
Not recommended – it contains whole grain and chicken by-products. Not good for dogs in general.

Alyssa Brocklesby
I will never purchase this again and will go back to something organic.

Tiffany
This caused my dog to be very, very gassy!

Katge
Conclusion – Beneful Dog Food Review
Scout Knows a high-quality dog food when he sees one, and cannot in good conscience recommend Beneful as a healthy option. Dog Food Advisor has its own Beneful dog food review if you'd like a second opinion, and of course, do more research!
Although real meat is the main ingredient in most of these recipes, the other ingredients in Beneful just don't quite make the cut when it comes to being nutritious for your pup. The fillers are abundant, and there aren't as many essential vitamins and minerals as there could be.
As pet owners, we need to make sure our pups are getting the best nutrition. If you're looking for new food for your pet, we have a Best Of 2019 list for you to check out, as well as plenty more brand reviews. We recommend having a look at Wellness Complete Health (we have a review on their Wellness Core range, and their canned dog food is super too), Diamond Naturals, and Blue Buffalo (dry kibble and canned food).
Continue reading: