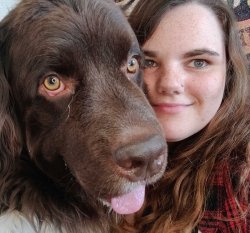 Latest posts by Miah Schmahl
(see all)
No home is complete without adding a furry friend, or at least that's what I think. To give them the best life possible, we want to provide them with every amenity within our grasp. For many dog owners, one of their biggest worries is if their dog is getting enough exercise or outside time.
Exercise can look like many things, but one of the most beneficial things is to give your dog off-leash time to roam and run around. It can also be one of the more difficult tasks even when you have plenty of space.
The problem is usually lack of space or lack of fencing. When dealing with the latter, fencing is often the issue.
If you want something that is well built and eye-pleasing, you will pay thousands. A wireless invisible fence can help bridge that gap and save money, but finding the best one for your needs can be difficult.
Luckily, my dog and I have researched this topic quite a bit. The longer our town's dog park gets delayed, the more I consider getting one. He just wants to run around like the giant bear he is, and I'm determined to give that to him one way or another.
Bottom Line Up Front
There are many options in the wireless pet fence world, from simple set-up and go options with minimal customization to full-on professional services. These are some of the best on the market.
I love the Compact Stay Play system for my dog, but the Boundary Plus service by Invisible Fence is very enticing. Alas, if I had a bigger yard or, I guess, a farm.
Top Picks
The Why and The How of Invisible Fences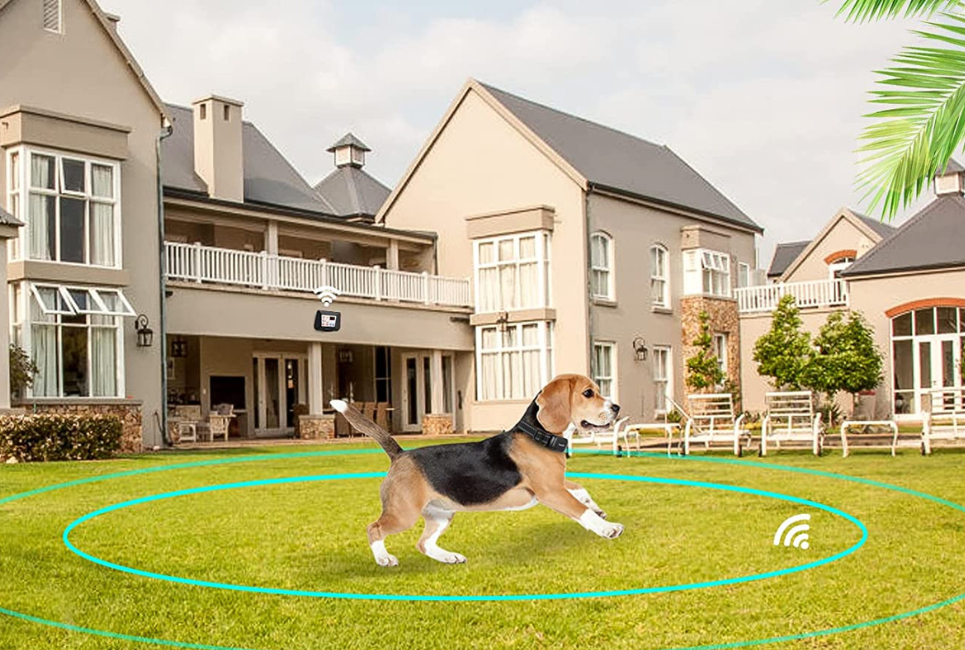 So what exactly is an invisible fence? Well, that depends on the type you are looking at, but in general, an invisible fence is a system designed to keep your dog in your yard using a combination of technology and training.
Depending on the type of fence you choose, the installation process, cost, and how it works will vary. In general, each system will have a collar for your dog that acts as the receiver and a transmitter that alerts you when your dog goes outside of the boundaries.
The transmitter will be placed within your home, emitting a signal that your dog's receiver collar will constantly look for. This is how the fence knows whether your dog is within boundaries.
How the boundary is created is what will vary the most. A wire fence will have a wire connected to the transmitter and run underground about 3-4 inches. Part of the installation is burying the wire where you want the boundary to be.
The upside to this is that you can easily create custom boundaries. Just want to protect your garden, or keep your dog out of the pool, then this is a great way to do that.
A wireless transmitter creates a radial boundary based on its location. You can't customize the boundary or set up specific areas in which your dog can and can't go within the radius, but you can typically adjust the size of it.
The upside here is that it's effortless to install a wireless invisible fence, and it's easy to move around or move with you when it's time to leave. This is an excellent option if you rent or live on land with a ton of space.
They typically cost less as well, which is always a plus in my book.
If your dog wanders outside of the boundaries, regardless of type, they will receive an audible warning, vibration signal, or static shock, depending on the settings. The idea is that your dog will return to its "safe zone "and eventually know the boundaries instinctually and simply not cross them.
Things to Note
Fair warning, invisible fences do not work on every dog. Generally speaking, I recommend them for dogs with good recall and basic training. Some dogs will simply ignore the collar, and others may find it to be too intimidating.
Always evaluate your dog and its history before trying any sort of shock collar or a system like this. Just like a regular fenced yard, an apartment situation, or a home with a dog or other pets, some dogs are not suited for specific environments.
Lastly, these systems cannot be used on tiny dogs and puppies. Dogs typically must be a certain weight and be at least six months old before a system like this is safe for them.
Picking The Perfect Wireless Invisible Fence
With the basic idea of how one of these bad boys works, there are a few considerations as you look at each system. In general, I looked for these things in each product I recommended.
What radius does wireless fence cover, and is it easily adjustable

Set up is simple and easy to manage without a professional

Quality of the components, especially the collar and battery life

Overall customer satisfaction

Price
Each of these criteria is important; however, a few are more critical than others.
The quality of the components is probably the most important for me because you don't want to buy a system that will break down quickly. The collar is perhaps the most crucial aspect.
While the transmitter can sit in a safe location in your house, the collar will be attached to your furry friend and will need to withstand their frolicking and joy.
The battery life also needs to be significant enough that it can at least last through a day of outdoor play. Not every dog will be happy, just an hour or two in the yard.
Of course, setup and radius size are also pretty high on the list. You need to make sure whatever system you choose will cover the space you need.
Additionally, setup and adjustments to the system should be easily made and not create a headache.
Lastly, the price is the next biggest factor. Some wireless fences cost a couple of hundred dollars; others cost thousands. Get the one that best fits your budget and has the most features you need.
For example, I'd prefer a fence system that allows me to check on my dog from my phone, but I also know this will cost more money, so I can forgo it if I have to.
Best Wireless Invisible Fence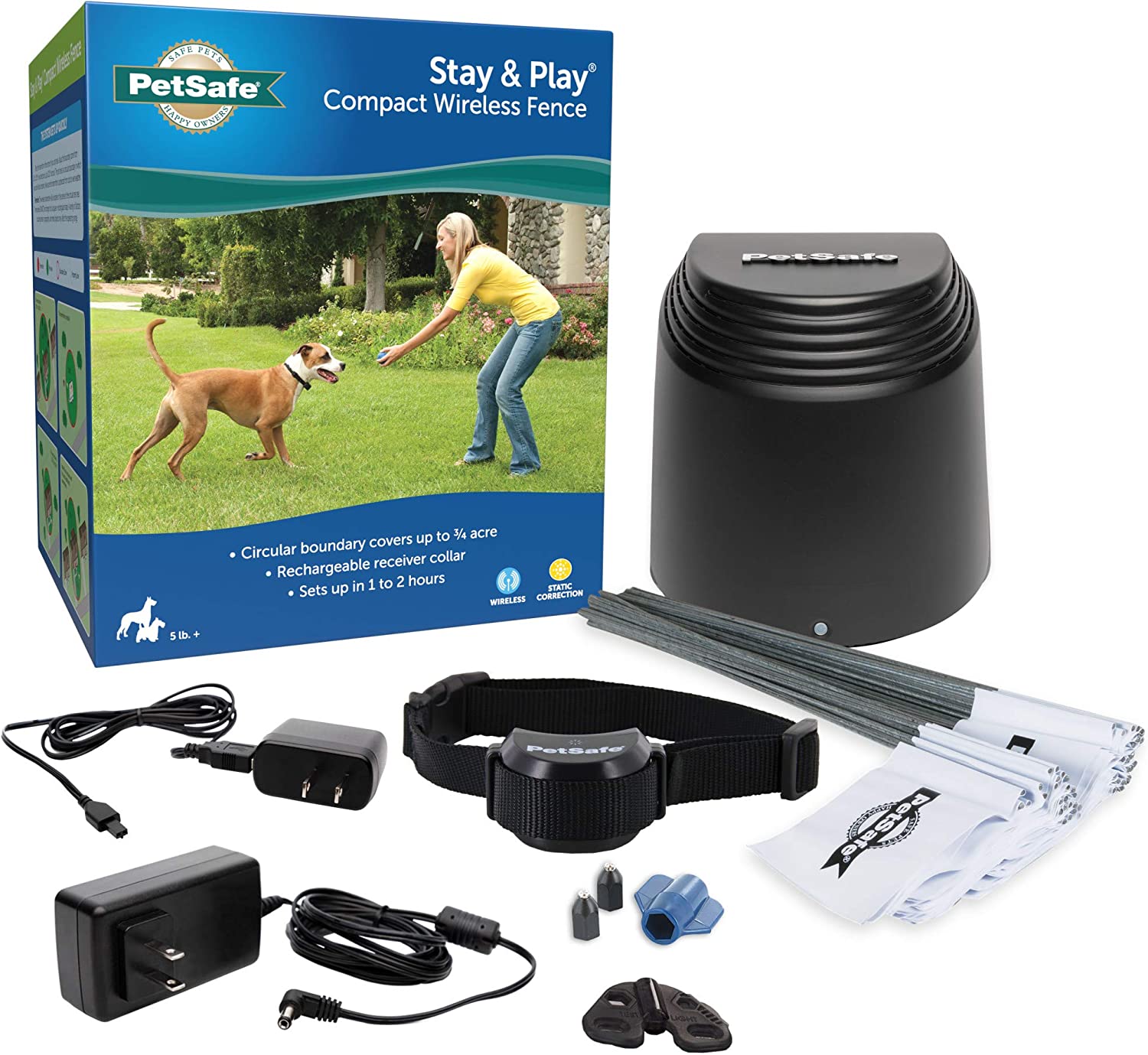 The Pet Safe Compact Wireless system is an affordable option to other more expensive fences, and it's completely portable, although it does require an outlet. The radius is pretty small at only ¾ of an acre.
The collar itself is rechargeable and lasts about 3 weeks with a 2-3 hour recharge time. Not too shabby compared to some other more expensive collars.
It has both tone and 5 levels of static correction; always choose the lowest setting possible and start with tone before using static.
The collar adjusts to fit most dog's neck sizes from 6-26 inches; it's also waterproof. It seems like the collar could be a bit flimsy if you have a particularly active dog.
Some users reported it breaking it off, and others said that the system was inconsistent in its feedback.
While I've never used a PetSafe Wireless Fence system before, I did use their head harness for a couple of years with my dog.
I never noticed issues with the clips, and they seemed to hold up to all manner of pulling. However, if I had added the extra weight of the receiver, I could see them wearing quicker.
Pros
Portable and extremely easy to setup

Long-lasting collar battery

Inexpensive compared to other options

Great for small yards

Connect multiple transmitters together as long as zones overlap 30ft

Additional collars are easily added
Cons
Collar seems a bit flimsy, and there are reports of it breaking

The system is prone to inconsistent feedback

Only covers ¾ of an acre

No app connectivity for monitoring from your phone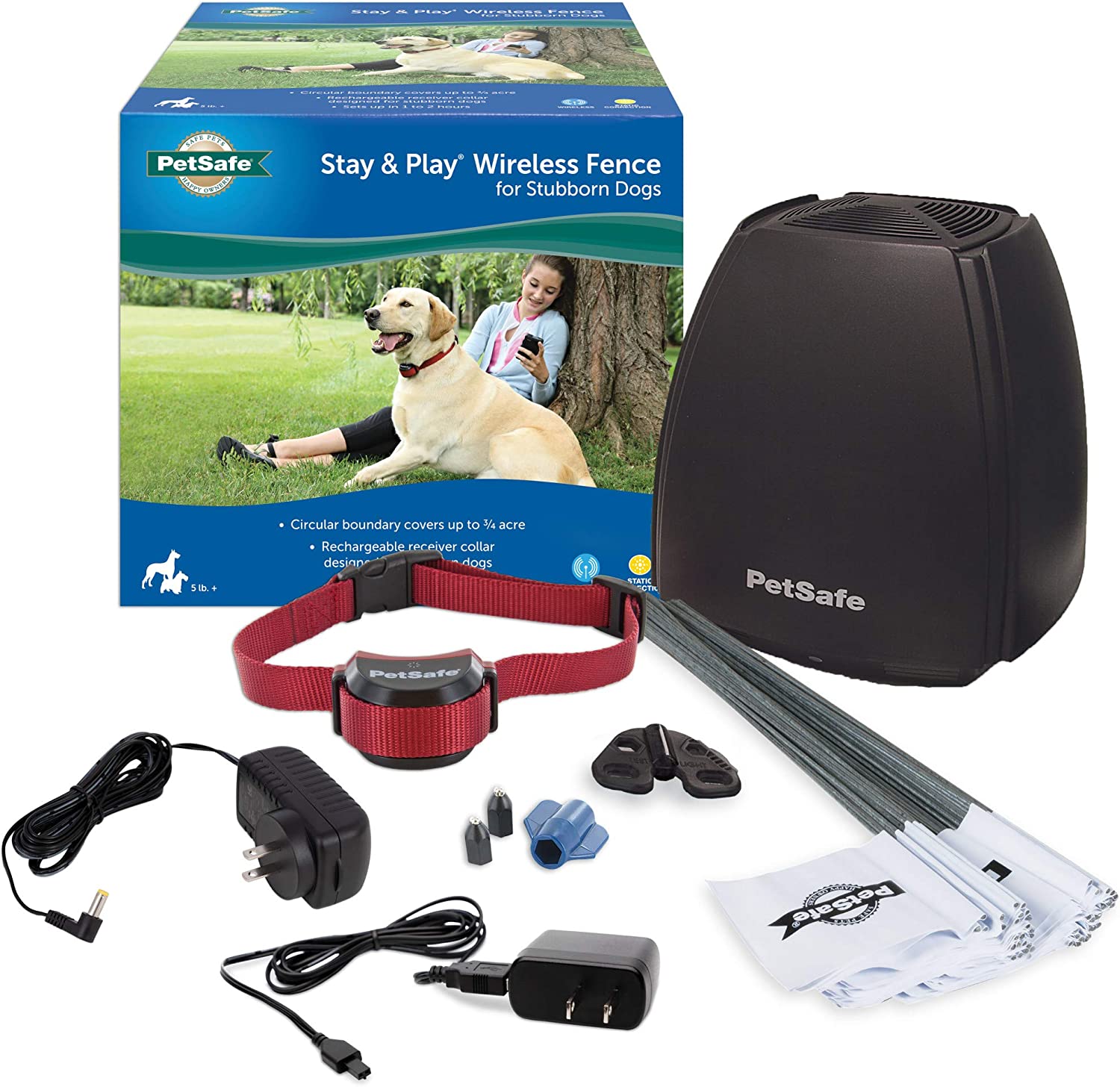 This system is pretty similar to the normal Compact Stay & Play wireless fence from Pet Safe. There are a few notable differences, though.
The radius and collar are similar in design.
This one comes with a red collar vs a black one, but that's about the only difference until you look at the features.
The static shock used for these collars is twice as powerful as the one used in the Compact wireless fence.
It's meant to be used with dogs who are stubborn from the get-go or don't respond to their weaker system.
Remember to get the collar with the least amount of power your dog will respond to.
I personally would go with the other option for my dog because my goal would be only to need the tone option. He's a sensitive boy, so I imagine the lowest setting would be enough.
Pros
Portable and easy to set up as long as an outlet is available

Additional transmitters and collars are easily added

Long last rechargeable collar battery

Inexpensive compared to other options

Great for small yards and traveling
Cons
Covers a small area not suitable for acreages

No app connectivity

Transmitter is prone to breaking or being inconsistent

Collar has been reported to break or fall off pets' necks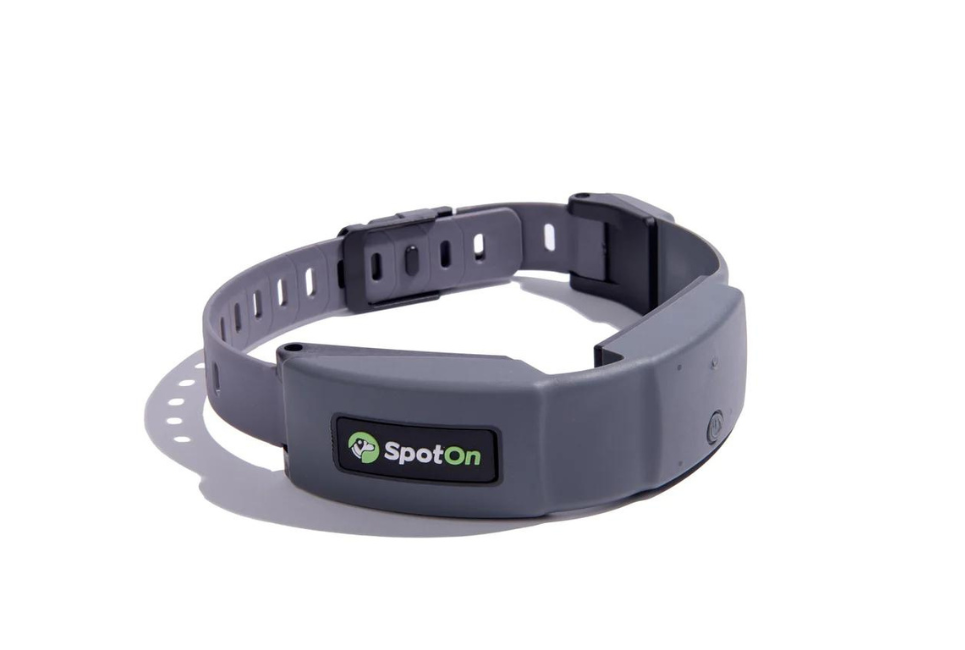 Unlike either PetSafe option, Spot On offers GPS tracking and a wireless fence that is perfect for everyone from a small yard to a home with 1000s of acres.
Instead of using a stationary transmitter with an adjustable barrier based on its location, Spot On's barrier is created specifically by you, almost as if you were burying the wire for a wired system.
You set the boundary by walking your property while holding the collar. Similar to other fence systems, your dog will hear a warning tone as they approach the barrier and then option vibrate or static warning if they cross it.
The collar has 30 levels of static shock and is rechargeable. It comes in 3 sizes:
Small – 10″ to 12″

Medium – 13" – 15"

Large – 16" – 26"
The charge lasts up to 18 hours when not actively tracking but only 8 hours when tracking. Due to the added strain on the battery, I'm not surprised by the time; after all, our phones don't last all that long either, and it's a similar setup. I am, however, still disappointed by this due to the overall price of the device.
The price is the ultimate downgrade here; at nearly $1500, you are paying an arm and a leg for a fancy collar.
Don't get me wrong, it serves its purpose, does the job, and overall has decent reviews, but it's a lot of money to shell out. If you have multiple dogs, well, forget about it; it's for the rich at this point.
Additionally, they require a connection to a wireless service provider. AT&T and Verizon are currently offered; this is purely for connectivity reasons, so choose the one with the most robust service in your area.
The kicker here is that this collar has app connectively, which means I could monitor my bub from any place in the house or even when I'm away from home.
This isn't necessary for me as my dog stays inside while I'm gone, and I have a camera to check in on him, but it's still nice to have the option.
For the price, though, I'd stay with a PetSafe system.
Pros
Collar only system, not transmitter, needed

App connectively

Easily set boundaries by walking it

Can be as small as ½ acres to 1000s of acres

Manage multiple collars from one account

Custom boundaries similar to a wired system
Cons
Very expensive

Will not work with a small yard

Collar has poor battery life

Subscription required for tracking features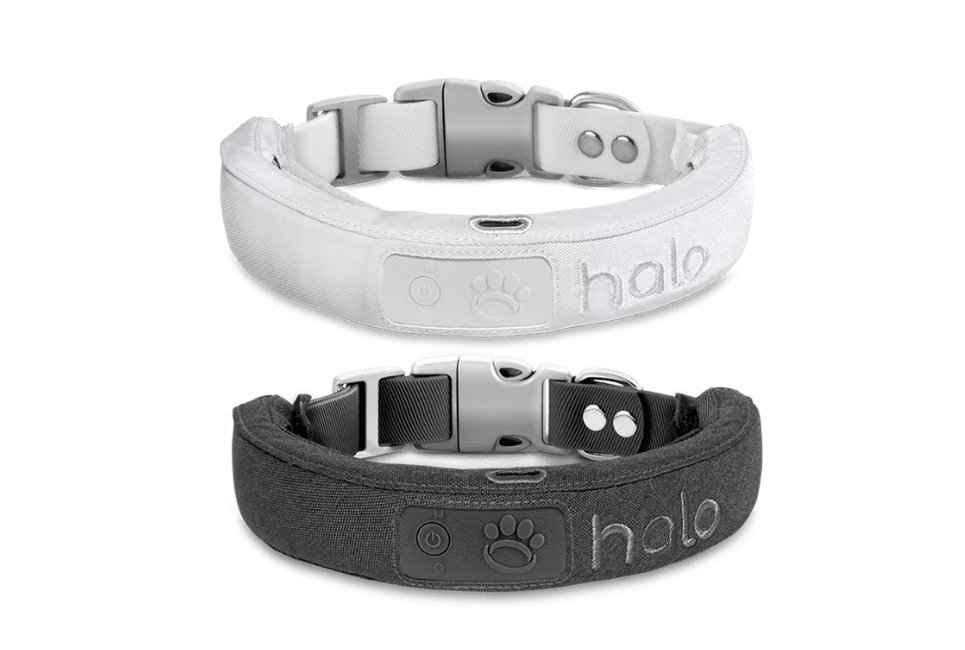 The Halo collar is created in conjunction with Cesar Milan. Halo offers the collar, and Cesar provides a version of training, I'm sure (we'll go with I'm not a fan).
The collar itself looks very promising, and it comes a great deal cheaper than Spot On despite working similarly.
Unlike Spot On, Halo's boundaries or fences are created right from your smartphone without the need to walk them yourself. Reports of how accurate and consistent the warnings are have been inconsistent at best.
You can also set up boundaries by walking the collar along it as well, which may be a bit more accurate.
The collars also come with beacons that you can place near unwanted areas like a garden or a shed to keep your dog away from them regardless of fence placement, a nice addition.
Some people seem to have great luck; others note that it is highly unreliable and their dog can't get used to it because the training and tones are inconsistent.
A good reminder that none of these systems will replace a well-trained pet or a physical barrier. Some dogs just don't care, and electronics are prone to failure.
The Halo collar has a one-size-fits-most design, with replaceable small, medium, and large straps, and comes in grey and white.
Small – 11″ -15″

Medium – 15" – 20.5"

Large – 20" – 30.5"
The battery is supposed to last up to 20 hours on a single charge. It took quite a bit of time to find that bit of info as a note.
The last perk of this collar is that it stores fences within its own memory, so even when camping, you can still use the collar as long you set up the fences beforehand on your phone.
Unlike the SpotOn collar, Halo collars do require a subscription to work.
Basic – $4.49 includes 20 automated wireless fences, basic tracking, and training content

Silver Plan – $9.99 includes Basic plus more customization, advanced activity tracking, historical data, and logs to track your dog's feedback.

Gold Plan – $29.99 includes basic and silver features plus premium training lessons, live sessions with experts, and Q&As.
Personally, I'd stick with the Silver Plan.
Pros
Very similar to the Spot On collar but for a fraction of the cost, $1,000 full price, typically $650 on sale.

Consistently being updated based on customer feedback

Training included in app

App connectivity

Affordable monthly plans for GPS tracking

Beacons allow for extra customization
Cons
Still expensive full price

Requires a subscription

Battery life is short, and its challenging to find that information

Cesar Milan
Boundary Plus by Invisible Fence
PetSafe has a lot of products, and they just happened to be owned by Insivibe Fence. Invisible Fence is a service that provides the installation of invisible fences and training for you both you and your furry friend.
It's an expensive solution, and you need both a pet evaluation and a quote to start the installation. The bonus is that you get in-person professional help every step of the way.
As a pet owner with quite a few memorable obedience class memories, in-person training is by far the most valuable for the human anyway.
The best part is that they can set it up per your lots specifications and your needs without interference.
The only real downside, outside of cost and effort with this system, is that it's really only suitable for large acreages. Small yards would benefit the most from either of the PetSafe options.
Pros
Professional set-up and training

Will only install for dogs who pass an evaluation

Add-ons available for gardens and pools

App Connectivity
Cons
Expensive, no price quotes on online

Not a lot of information about the materials or the collars
Training Your Furry Friend
After all the hard work of figuring out the best wireless invisible fence for you, your pet, and your home, it's time to set it up and start training your buddy to use it.
You can't just throw the collar around your dog's neck and expect them to understand what the warnings, buzzes, or shocks mean. At best, they will simply ignore, but more than likely, they will freak your dog out the first time or two.
Pet safe has a great in-depth article on training your furry friend to use a wireless fence. Here are the general steps:
Mark the invisible fence with flags and walk your pet within a few feet of them while praising them for staying within the boundary. Get them used to the barrier and where you are walking.

Do this for a few days, then put the collar on them in tone-only mode. Continue to walk them along the barrier, but this time, let him move into the containment area and hear the beep for up to 2 seconds.

Continue to do this and introduce static mode if you have to. Again, I recommend trying to stick to the tone-only mode or vibrate function if you have a fancier collar.

Slowly introduce distractions once you have a solid grasp of the boundary and what a beep means. This will help train his ability to focus on the beeps regardless of what is happening around them.

After a couple of weeks of this, let your dog off their leash and see how they do. Supervise them at all times until you feel they are trustworthy. If at any time you need to stop and take a step back in training, it's okay to do that. It's a foundation, and it's okay to smooth in any cracks.
Additional Tips
If you have more than one dog, make sure that the transmitter supports multiple collars.

Do not put the receiver on the pet for more than 8 hours, on pets younger than six months, or on overweight or underweight pets

Make sure the prongs are shorter for short-haired dogs and longer for long-haired dogs; otherwise, the shock or vibration will not work.

Check the batteries daily or weekly, depending on battery life. Always have backup batteries if you have a system with replaceable batteries.

Hang the transmitter on a well-accessible wall in the center of the house. The room's temperature should not be below the freezing point for the transmitter to work properly.

Ensure the receiver works properly and doesn't cause intermittent or confusing feedback.

Do not use this on aggressive animals as the shock, tone, or vibration may scare them.

If your little furry friend is stubborn, then consider buying the systems specially designed for stubborn pets.
Wrapping It Up
There are many options, and what works from person to person will vary. I would personally go with the Pet Safe Play Compact System for my dog.
However, if I had a larger acreage, I would hire the Invisible Fence to come out and install one for me. I'd rather be safe than sorry.
The SpotOn and Halo collars look very interesting and promising, but neither is exactly what I'm looking for. So in the meantime, The Compact System does the job.
FAQS
Question: Are Invisible Fences dangerous to dogs?
A: Inherently, no, it's how you use them. If your dog is scared of the shock or, on the other hand, could care less about it, then using an invisible fence is not the best idea. Additionally, static shocks,, while not physically harmful to dogs six months and older and weighing more than 6lbs, can mentally harmful to dogs who have been through abuse. Always use discretion.
Question: Underground or wireless fence?
A: That depends on your needs, underground fences are a bit more secure, but they cost more, take more time to install, and are harder to repair.
Wireless fences are quicker to install and typically portable, making them a bit easier to use. You can get wireless fence options that work very similar to underground fences, although it may cost a bit more to do so. Convenience typically comes with a price.
Question: Do wireless invisible fences work?
A: Only as much as your dog will listen. An untrained dog won't care about an invisible fence. It's up to you to train them, know them and build bonds and trust with them, so they listen.