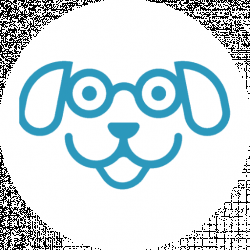 Latest posts by Scout Knows Team
(see all)
It's that time of year again in some parts of the world, my dear readers. It's dog sweater time! Whether you're giving gifts to dogs in your life or buying holiday outfits for your best furry friend, 'tis the season for dog sweaters.
And I think we all know the only reason dogs need sweaters. They're adorable!
Ok, ok, so there is more than that. Dog sweaters keep dogs warm in the cold weather. This is particularly true for small breeds or those without much hair. Additionally, there are dog jackets and dog rain coats to insulate canines from other weather and elements. Finally, dog booties can help your four legged friend enjoy his walk again when it's icy and frigid outside.
Also, though, dog clothes are incredibly cute. There are endless Instagram posts in your immediate future and impressive Christmas cards to boot. Also, ugly dog sweaters are a thing. They're fantastic. Forget Dogs Playing Poker, you'll get your own photo of the Ugly Dog Sweater Party you're about to send e-vites for.
Therefore, I submit to you a dog themed holiday gift guide of sorts, focusing on dog parkas, dog sweaters, dog winter coats, and other seasonal garments for your canine mini-me. If you stay tuned until the end, I've put together a little roundup of the cutest canine christmas clothes on the entire internet.
It was a tough job, but someone had to do it.
Warm Clothing Options For Dogs
It's pretty incredible how many options there are for putting clothing on your dog. It's a magnificent first world problem.
There may be more to dog outerwear than you think. You have a lot of options, some functional and some to do with taste and style.
Keep in mind that dogs often prefer simple styles without a lot of extras dangling off the material. Costumes or coats with giant hoods or other attachments could annoy or frighten your dog. For the most part, I've chosen examples that follow this guideline.
There are a few cute hoods though, cause I can't resist.
Let's unpack the never ending options for any of you new to dressing up your dog.
Dog Sweaters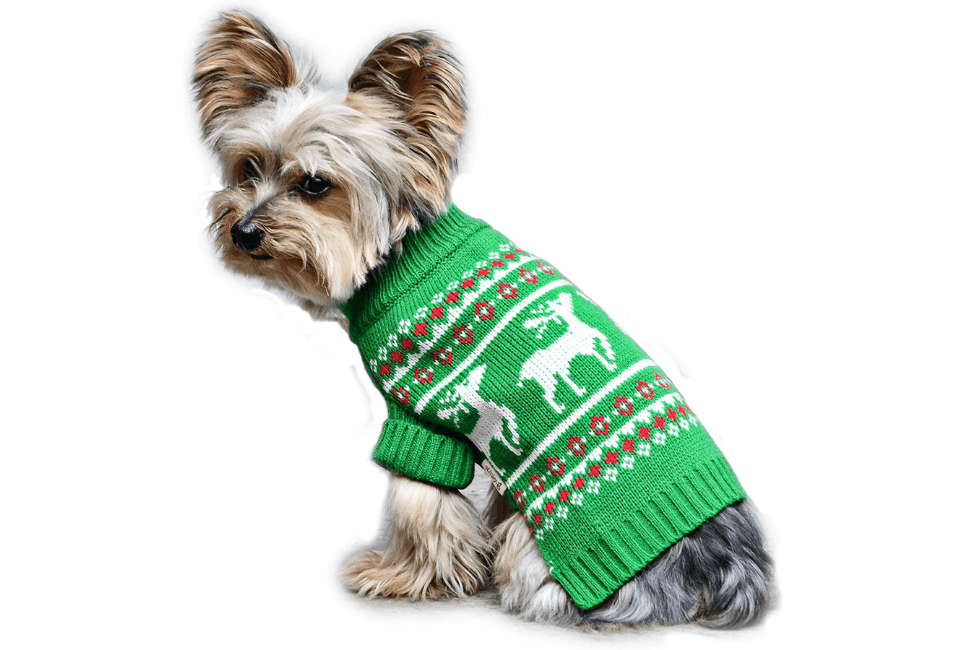 If you're crafty, you can knit your own dog sweater. For some of us, that's a Pinterest fail waiting to happen. Luckily, you can find lots of great sweaters ready to wear on Etsy and Amazon.
I love both this sweater and it's name: Stinky G Green Festive Reindeer Dog Sweater. It is, indeed, super festive. It isn't quite an ugly dog sweater for Christmas, but you could use it as such in a pinch. In fact, it's a good idea to buy items that do double duty like waterproof winter coats and cute sweaters that double as costumes.
New York Dog has everyone covered with a real ugly dog sweater, complete with marginally objectionable imagery! Dogs pee on things; it's a part of life. Your dog wants to show the world with their very own statement about how they feel about Frosty.
Ever seen a dog in a turtleneck sweater? Check that wish off the list cause you have now. This looks super cozy and warm on top of being cute and fashionable for nearly any occasion pants aren't required for. It's the opposite of an ugly dog sweater.
How about a made to order alpaca sweater for your dog? This is a really sharp looking piece of clothing that is modeled on a pit breed. It's nice to see how dog clothes will look on larger dogs since we usually see toy breeds in promo photos. There are a lot of buttons, but they're in smart places and this could be easy to get your dog in and out of.
If your dog is the sporty type, this hoodie looks just like something you'd see in any gym. I think this would be extra perfect for anyone who exercises with their dog. It's Rocky Balboa chic. All kidding aside, this is a very functional piece of dog clothing too. It can do double duty as a dog sweater and a light jacket for both indoor and outdoor use.
Dog Winter Coats, Dog Jackets, And Dog Parkas
In this section, I want to talk about dog outerwear made specifically for warmth. These items are sold as dog winter coats, dog jackets, and dog parkas.
Some of us wish our dogs were also cartoon characters. This Totoro fleece coat looks pretty comfortable and it is off the charts cute. It won't be great in wet weather or snow but on a crisp day I can actually see some dogs wanting to crawl inside this.
Same for my next pick. Have a Pokemon Go lover in your life? I can't even with this Pikachu hoodie. I'm really not sure how warm this would be in frigid weather either, but it is another soft and snuggly looking dog coat perfect for chilly days.
We'll talk about fit a little later, but some vendors make it easy to fit your dog. For instance, this sharp contemporary jacket is not only waterproof and fleece lined, it's made to fit an Italian Greyhound.
Just so you get an idea of the wide array of styles of dog coats, have a look at this incredibly well made faux wool jacket. It looks just like it might fit a child. It's a wonderful ribbed material in a lovely red color. Even the inside collar is detailed.
Raincoats For Dogs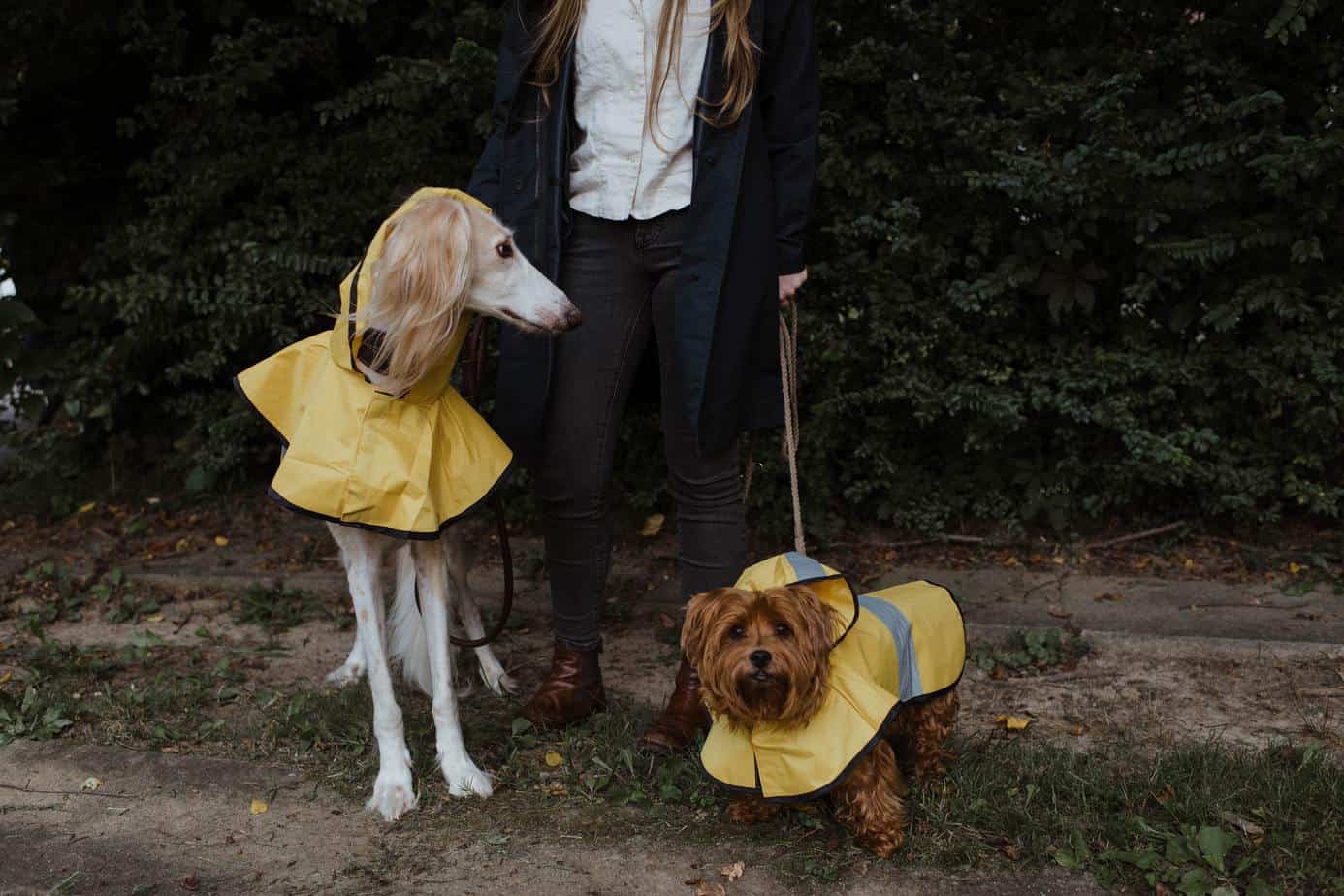 I had no idea that a raincoat could look so much like a blanket, but this waterproof cozy coat has shown me the light. The design is smart, with minimal pushing and pulling required to get your pet inside. This could be great first time purchase to get your dog used to wearing clothes if she doesn't already.
You've no doubt noticed that many of the winter coats are also waterproof. If the weather is warm in the springtime or your home has a milder climate than mine, something like this lightweight fleece lined raincoat may be just fine for most days of the year.
I like this style of dog coat because it's really versatile. It's appropriate for any casual occasion from a trip out to doggie daycare or a day at the dog park. I also think the way the coat is cut at the leg is really unique. The jacket has a name, and it's Billy.
Boots And Shoes For Dogs
Many dog shoes attach with velcro and some are heavier duty than others. These waterproof dog shoes for medium and large dogs are more like active, weatherized boots you might shovel the driveway in. They have tread to keep your dog from slipping and will keep his feet dry.
You also have adorable little rain boots or dog galoshes. These come in almost every color you can think of and are meant to keep your dog from sliding around on the wet pavement and to keep her paws dry.
For a special treat, you can find personalized dog boots to have your dog's name put on them. These are a really great gift idea and have a soul that should hold up to some wear and tear.
Finally, I picked out the most darling booties to show you. These look like they were personally made by grandma. They're probably best worn indoors since they are knitted. I'm imagining them with these dog pajamas which look exactly like a onesie.
Dog Clothing Guidelines Based On Dog Size
Some clothes reference dog breeds in the sizing. While this can be easier and often works just fine, if your dog isn't a perfect standard size for the breed, you could run into problems.
Nearly all dog clothing has measurements just like people clothes do. You'll measure your dog to ensure a good fit. To do this, follow these steps:
Get a measuring tape.
Measure the length from the nape of the neck to the base of the tail for the length of the coat or sweater.
Measure around your dog's chest behind his front legs. This is the girth measurement.
Compare your measurements to the measurements given in the manufacturing packaging or website regarding the coat or sweater.
Pick the size that corresponds to your measurements.
Now you have a coat that will fit your dog. It's pretty simple! If your dog's measurements are between sizes, opt for the larger size. This is the best way to be sure you can get your dog into the sweater or coat.
Boot sizes often refer to the size of the dog they are likely to fit. They are graded extra small, small, medium, large, and extra large. I recommend bringing your dog into a store to try on some boots. This will give you the best idea of what will fit your dog.
You can use what you learn to order dog boots online with a better chance that they will fit your dog.
How Often Should I Buy Dog Clothes?
Um, constantly of course! Sorry. I mean, how big is your budget?
According to the APPA, The US spent $14.28 billion on supplies/OTC medicine for their pets in 2015. Some of that spending is on dog clothes. It's hard to tell exactly how much, but the figure is astounding so we can safely guess the answer is: plenty.
You don't have to break the bank when it comes to dog clothes. Beyond a few essentials, you can really buy as many or as few dog clothes as you like. Some items will get heavier wear and tear and may need to be replaced more frequently than others.
Making informed choices will help you stretch your dollar.
What I Think You Need
I recommend having one of all of the following on hand in your dog's wardrobe:
A warm winter coat
A poncho or rain coat
Booties
At least one sweater
A Halloween Costume – I mean, once your dog is wearing clothes, I think this is the natural progression, don't you?
Once you have this collection, you'll just be adding to it or replacing things that wear out. When your dog is a puppy, however, you'll be replacing some things as they grow. In that case I urge you to shop the discount racks until your dog hits full size. You'll be upgrading a lot before then.
Just like humans, dogs will wear out active wear before something like a party sweater. If you take your dog on hikes or sledding, I think you can expect to replace the clothes worn for those purposes every few months.
Quality also matters. Something you buy from a sketchy online marketplace may be cheap, but it might disintegrate in the wash.
Dog booties are really varied in how long they last. Some are mostly thick socks, and those will probably wear out faster if you use them frequently. Others have real soles and should withstand some use before you need to replace them.
Finally, I think dog rain coats are as much for humans as dogs. It will really cut down on the shakes that happen once your dog gets inside and decides he doesn't want to be wet anymore.
I recommend that you make a note of when you purchase a particular item of clothing. When it's time to replace it, check your notes and see how long it lasted. That will give you a real guide for how long your dog's sweater lasted.
A Roundup Of The Cutest Christmas/Holiday Dog Clothes On The Internet
Now it's time for a bunch of dogs in adorable sweaters and coats! I'm impressed by the variety and all the owners' fashion sense.

This Maltese is ready for adventures in the snow and seems thrilled about it! She can stay warm and cozy while she plays.

Here is a pug who doesn't quite look like he's ready for a frigid frolic. At least he has his dog Santa coat to protect him! Pugs are actually a great candidate for dog coats and dog sweaters. Their short hair could use a little extra help to stay warm.

This little cutie is festive in a lightweight pink coat. It fits her perfectly- she's the picture of doggie fashion and embodies a classy holiday spirit. You don't have to go the ugly dog sweater route to be in style for the season.

I'm obsessed with this sweater. It's absolutely darling from the pattern right down to the button details. I'm sure it's like a warm hug for the dog wearing it.

I love the monochromatic color scheme going on here. This dog sweater is so delicate, it makes its wearer look like a true lady.

A beautiful burgundy sweater against the snow is a wonderful contrast to this dog's dark fur. She's dusted with a fine powder of snow to top off the look.

More Frenchies, please! This little nugget is nestled snug in his sweatshirt style sweater.

A sporty sweater for a sporty dog!

As you can see, this style of sweater is particularly flattering on Whippets.

Santa Claus is coming to town, and hopefully bringing even more Christmas dog sweaters! This little guy is ready for the festivities.

We've got Santa and his little elf helper all ready to put goodies under the tree.

Terriers have plenty of energy and this active dog coat will keep this one warm and dry while he burns some off.

What a sweet face on this Yorkie! This photo isn't even about the adorable sweater. It's all about this dog's angel face.

Aw, he looks so sad! It can't be about that precious sweater.

This dachshund takes preppy to a new level with his argyle patterned dog sweater.
Ready For Doggie Dress Up
In some ways, this is my Christmas gift to you all. In other ways, it was your gift to me! I had a total blast scouring the internet to find the cutest warm, holiday dog clothes out there. I've included a link to everything so you can buy it right now.
You can at least take some inspiration for gifts and holiday outfits for your dogs.
You know what I don't have after all of those hours of looking at dogs clothes? I don't have any of your dogs all dressed up! Send 'em ASAP- I need them! In fact, post them in the comments below so you can share with the whole class.
You can find me on social media too at ScoutKnows Facebook, ScoutKnows Twitter, or ScoutKnows Instagram. I can't wait to connect with you.
Happy holidays!
Continue reading:
9 Tips to Keep Your Dog Safe in Brutally Cold Weather
10 Adorable Pokemon Costumes For Your Dog (Including Charmander!)