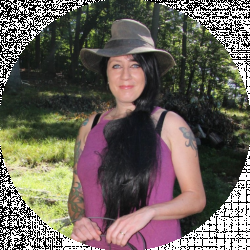 Latest posts by Samantha Biggers
(see all)
Our Recommendation
Scout loves the concept of dried dog food that is easy to store, ship, and more nutritionally sound than a lot of other foods. If you have limited storage space, it is easy to see how a dehydrated dog food would make a lot of sense! It is hard to not love that this food is an excellent alternative to cooking or feeding a raw diet when you are pressed for time.
The fact that the largest box weighs 10 lbs but becomes 40 lbs of dog food when mixed makes this a great food for those that are not up to lifting a heavy bag of dog food but don't like paying a premium for small bags. This would be a good choice for older dog parents or those with disabilities.
No GMO ingredients. For some, this fact alone is enough to justify buying this food.
No artificial colors or flavoring agents.
Free-range chicken is the first ingredient.
GMO-free barley for flavor and texture.
Flaxseed helps provide important oils for skin and coat.
Peas, carrots, bananas, and kelp round out this balanced and nutritionally complete dog food.
It would be cool to see more dog food companies go this route and have a dog food that you just add water to. Shipping costs and storage space would be a lot less expensive and create a smaller carbon footprint. Also, it is nice to find completely GMO-free dog food. Since a 10 lb box is equal to a 40 lb bag of dog food, this is not as expensive as a lot of quality dog foods. Plenty of other options cost $40-$50 for a 25 lb bag.
Give this food a try, but be warned that the smaller boxes are a lot more money per pound than buying the largest 10 lb size. Go ahead and get the big one because chances are your dog is going to love it.
Ingredients
Free-Range Chicken, Organic Barley, Potatoes, Organic Flax, Organic
Oats, Green Peas, Carrots, Bananas, Parsley, Organic Kelp, Celery,
Tricalcium Phosphate, Choline Chloride, Zinc Amino Acid Chelate, Vitamin
D3 Supplement, Vitamin E Supplement, Potassium Iodide, Potassium
Chloride, Iron Amino Acid Chelate, Copper Amino Acid Chelate, Sodium
Selenite, Thiamine Mononitrate.
The Honest Kitchen Revel Organic Whole Grain Dog Food – Natural Human Grade Dehydrated Dog Food, Chicken, 10lbs (Makes 40 lbs)
Nutritional Analysis
Pet food ingredients, nutritional values, and the way they are labeled for consumers are monitored by several organizations in the United States including the Food and Drug Administration (FDA) and the NGO, Association of American Feed Control Officials (AAFCO).
Each year the AAFCO publishes two sets of nutritional minimum standards for dog food intended to help specify if a food is suitable for:
1. Dogs in the growth & reproduction phases of life
2. Adult dogs maintaining a healthy weight and activity level
Caloric Content
485 kcal/cup
Guaranteed Analysis
| Nutritional Component | Value | Meets AAFCO Growth & Reproduction Standards | Meets AAFCO Adult Maintenance Standards |
| --- | --- | --- | --- |
| ____________________________ | ____________________ | ____________________ | ____________________ |
| CRUDE PROTEIN | 24.5% min | – | – |
| CRUDE FAT | 15.3% min | – | – |
| CRUDE FIBER | 3.4% max | – | – |
| MOISTURE | 6.4% max | – | – |
| LINOLEIC ACID | 4.4% min | – | – |
| CALCIUM | 1.6% min | | |
| OMEGA-6 FATTY ACIDS | 4.65% min | | |
| OMEGA-3 FATTY ACIDS | 1.19% min | | |
* – indicates not yet analyzed
Feeding Amounts
Depending on your dog's size and activity level, they may need more or less food than the recommended measurements in their daily feeding amounts.
| Weight | Daily Feeding (cup) Average Activity Level | Daily Feeding (cup) Active Dogs and Puppies | Water To Add |
| --- | --- | --- | --- |
| _______________________ | _______________________ | | |
| 1-10 LBS | 1/4 – 1/2 | 1/2 – 1 | 1/3-1 1/2 |
| 11-30 LBS | 1/2 – 1 | 1 – 2 | 3/4-3 |
| 31-50 LBS | 1-2 | 2-4 | 1 1/2-6 |
| 51-70 LBS | 2-2 1/2 | 4-4 1/2 | 3- 6 3/4 |
| 71-90 LBS | 2 1/2-3 | 4 1/2-5 1/2 | 3 3/4-8 1/4 |
Additional Feeding Guidelines
For dogs larger than 90 lbs add 1/4-1/2 cups food and 1/3-1/1/2 cups water per 10 lbs of body weight. Please remember that these guidelines are just general. Your dog's activity level and breed type may influence how much they need for a healthy weight and lifestyle.
Transitioning To Revel
Revel is not your typical dog food so you may want to make the change over a slightly longer period if you have a dog that is very sensitive to diet changes. Over the course of 7-14 days, gradually feed less of your old brand and more of the Revel. Your dog may prefer wetter or drier food, so you might want to adjust the water content accordingly.
The Bottom Line
This is probably one of the coolest dog foods that we have reviewed so far. Scout loves that it saves space and offers better nutritional. The minimal ingredients mean that even dogs that have sensitivities can eat this. The only drawback seems to be that you are going to want to let this absorb water for a few minutes before feeding so there is some wait time. You can always put some in a bowl and let it absorb while under refrigeration so it is ready to go. Just make sure to feed any dog food that has been mixed with water within 24 hours. This is not a food that keeps well after being mixed. Revel is suitable for puppies and pregnant dogs so it is really a dog food every dog!