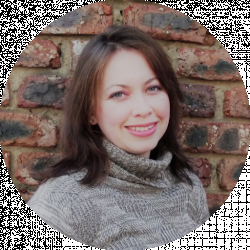 Latest posts by Talitha van Niekerk
(see all)
As a kid, my family believed in feeding dry kibble to the family pooch. Our dog, a massive Newfie, was a lazy and lethargic beast. I used to watch him scoff down his food, scattering kibbles all over.
Our dog had a skin problem, and when I finally had a dog of my own as an adult, I wanted to have a healthy, happy, and exuberant dog. Doing my research, I discovered how much your dog's diet can influence their health and lifestyle. Raw food is considered by many experts to be the best possible nutritionally dense meal for a dog.
Thankfully, dog owners don't need to go slaughter and skin a fish or a duck for their dog when it's mealtime. There are several fantastic raw dog food delivery services in the U.S., with Darwin's Dog Food Service being one of the better-known companies.
When I got my first puppy as an adult, I decided to give Darwin's a try, and I wasn't disappointed, even when I considered some of the more scary product recalls that the service has experienced in recent years. This is my unbiased review of Darwin's Dog Food Service.
What Is Darwin's Dog Food Service?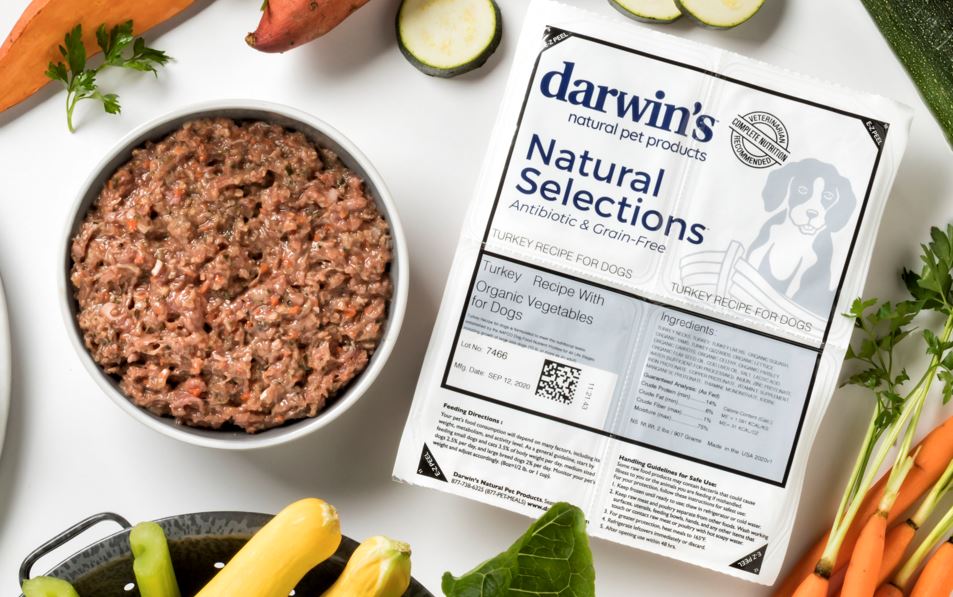 Darwin's Dog Food Service is an all-natural pet-food service. Dog or cat owners subscribe with them, and in return, fresh raw meals are delivered to your door. What makes them unique is that their meals are customizable. If your dog has a particular health issue, such as kidney failure, you can have the dieticians at Darwin's make up a specialized diet for your dog.
The meals that Darwin's designed are grain-free and based on a ratio of 75% meat to 25% veggies. This makes for a high-nutrient meal that is closer to what a dog is naturally supposed to consume.
Each meal you purchase for your dog from Darwin's has been stringently processed, tested, and standardized to meet the requirements of the Association of American Feed Control Officials (AAFCO).
Criteria for a Great Dog Food Service
Darwin's is not the only fresh or raw pet food company in the U.S. This got me thinking about what makes a great dog food service. This would be my criteria of whether I would recommend Darwin's dog food service to anyone else.
Efficient
A dog food service needs to be efficient. You can't shift from one dog food to the other because the dog food service company has not delivered on time. This would upset your dog's digestion. So a dog food service that is fast, reliable, and easily reachable is essential.
Fresh and High-Quality Ingredients
Fresh ingredients are what you are paying for, so you expect all ingredients in the dog food to be of the highest quality and fresh. Additionally, you want to receive the food in the same fresh condition it left the food plant.
Nutritionally Balanced Meals
You are trusting the dieticians of any foodservice you use to only provide balanced and nutritionally dense meals. When you purchase dog food from a dog food service, you want to be assured that the food is exactly balanced for your dog's needs. No two breeds have exactly the same nutritional needs, and there is a vast difference between what a large breed dog and a small breed dog eats.
Value for Money
Not to sound cheap, but you want to make use of a dog food service that is affordable enough so you can keep using the service and not simply revert to dry kibbles when your cash runs out.
Raw foods are more filling, so your dog will eat less, lowering the cost of feeding a raw food diet. This makes for a fair price point, but only if the meal prices aren't over the moon and if there is minimal wastage when you feed.
Packaging helps to reduce wastage with meals being packed according to meal sizes, so the dog food service needs to be innovative in how they pack their meals. Preventing spoiling is essential, and using dry ice and reliable delivery suppliers can help to ensure you use every pound you buy.
Darwin's Dog Food Product Line Overview
There are three main product lines for dog food with Darwin's:
Natural Selections
This is the premium recipe range, and it is 100% grain-free, with the beef sourced from grass-fed steers and naturally raised poultry and sheep. Since this equates to organic meat only, the meat is steroid, antibiotic, and hormone-free.
Meals in the naturals range are minimally processed, with only a light acid wash being used to cleanse the outside surface of the meat from bacterial contaminants like salmonella. With the help of in-house consultants, you can craft meals according to your dog's unique dietary needs.
Meats you can choose from include beef, chicken, turkey, duck, and lamb. The ingredients for each of these meal types are as follows:
Natural Selections Chicken Meals
Antibiotic-free meat: 74.58% (chicken, chicken neck, gizzards, and livers)
Organic vegetables: 24.64% (lettuce, carrots, sweet potato, celery, squash, and parsley)
Nutrient mix (oils): 0.78% (flaxseed oil, vitamins and minerals, and cod liver oil)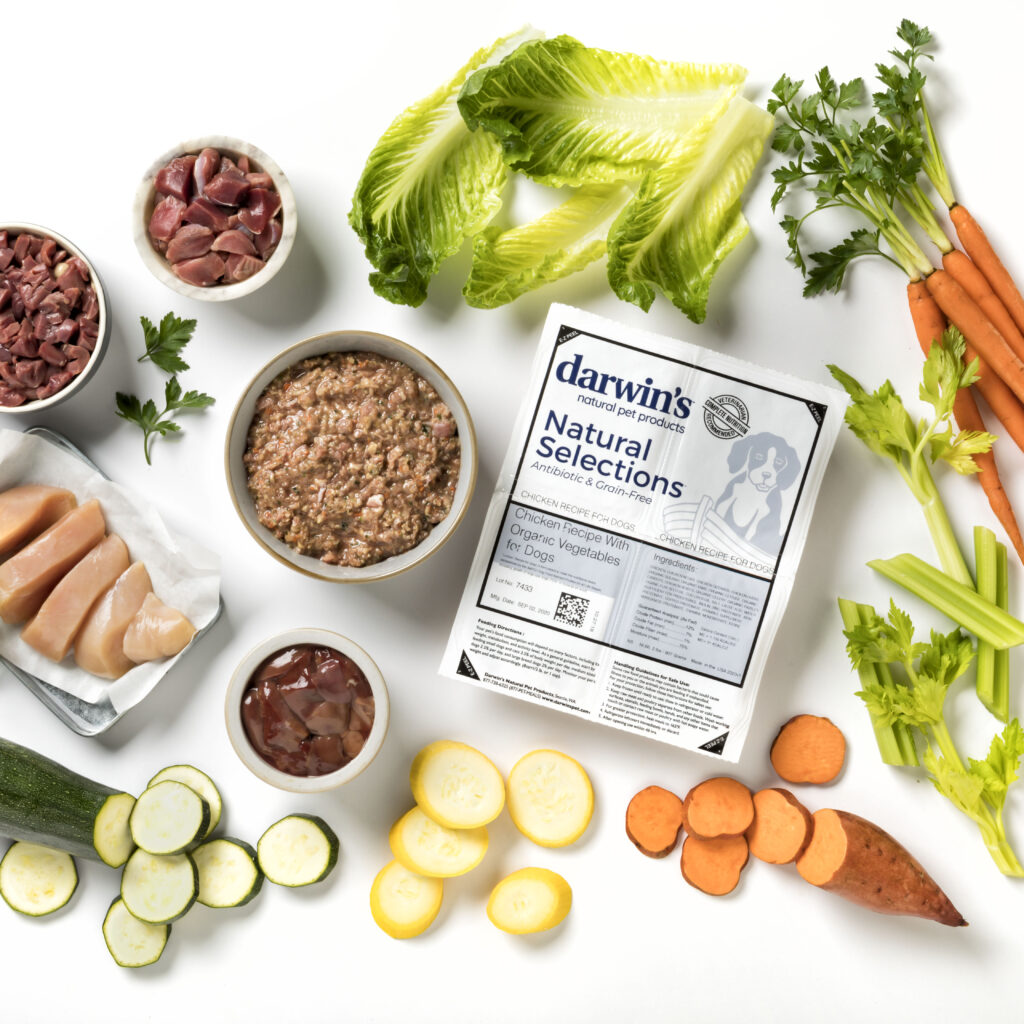 Natural Selections Duck Meals
Antibiotic-free meat: 74.16% (duck, duck heads, necks, gizzards, hearts, and livers)
Organic vegetables: 24.64% (lettuce, squash, sweet potato, celery, carrots, and parsley)
Nutrient mix (oils): 1.20% (fish oil, sunflower seed oil, and vitamins and minerals)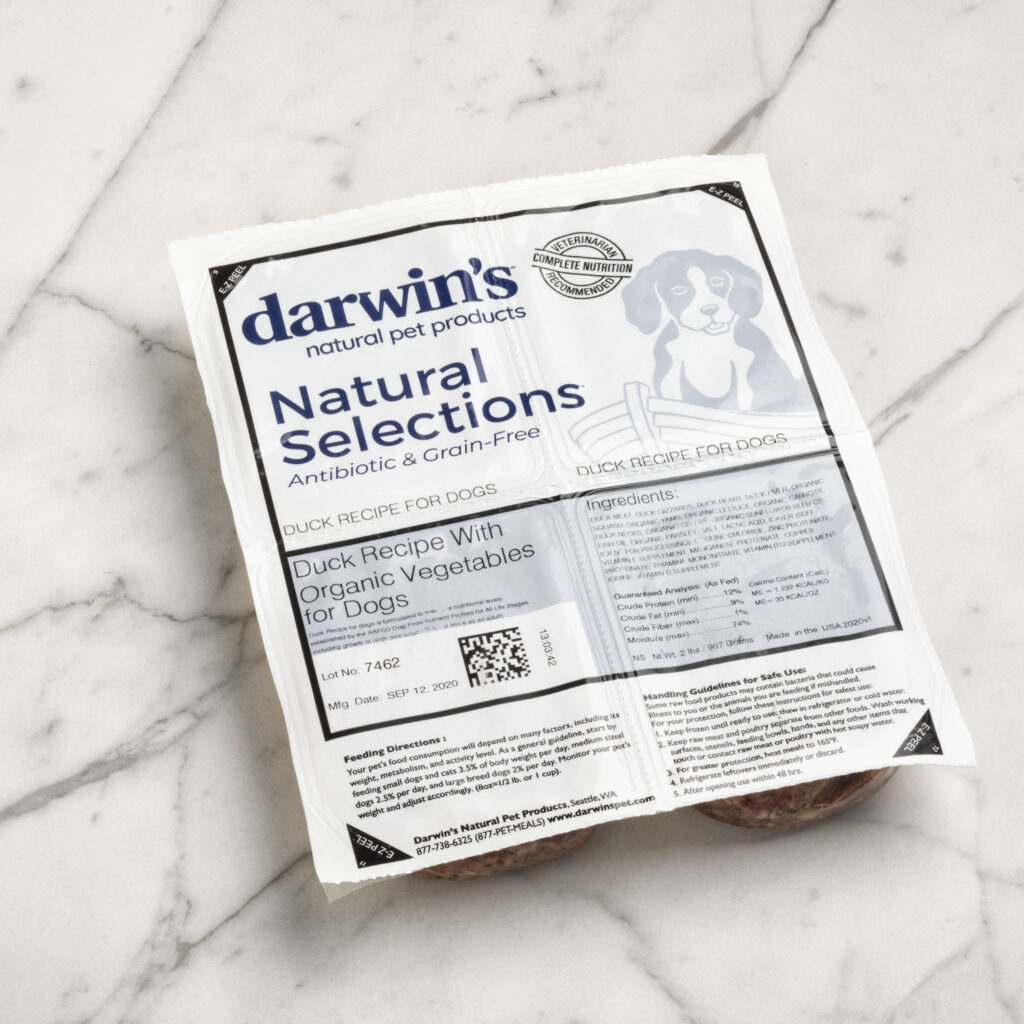 Natural Selections Turkey Meals
Antibiotic-free meat: 74.64% (turkey, livers, hearts, necks, and gizzards)
Organic vegetables: 24.66% (lettuce, carrots, sweet potato, celery, parsley, and squash)
Nutrient mix (oils): 0.77% (flaxseed oil, cod liver oil, zinc, iron, and copper proteinate, vitamin E, thiamine, manganese, and iodine)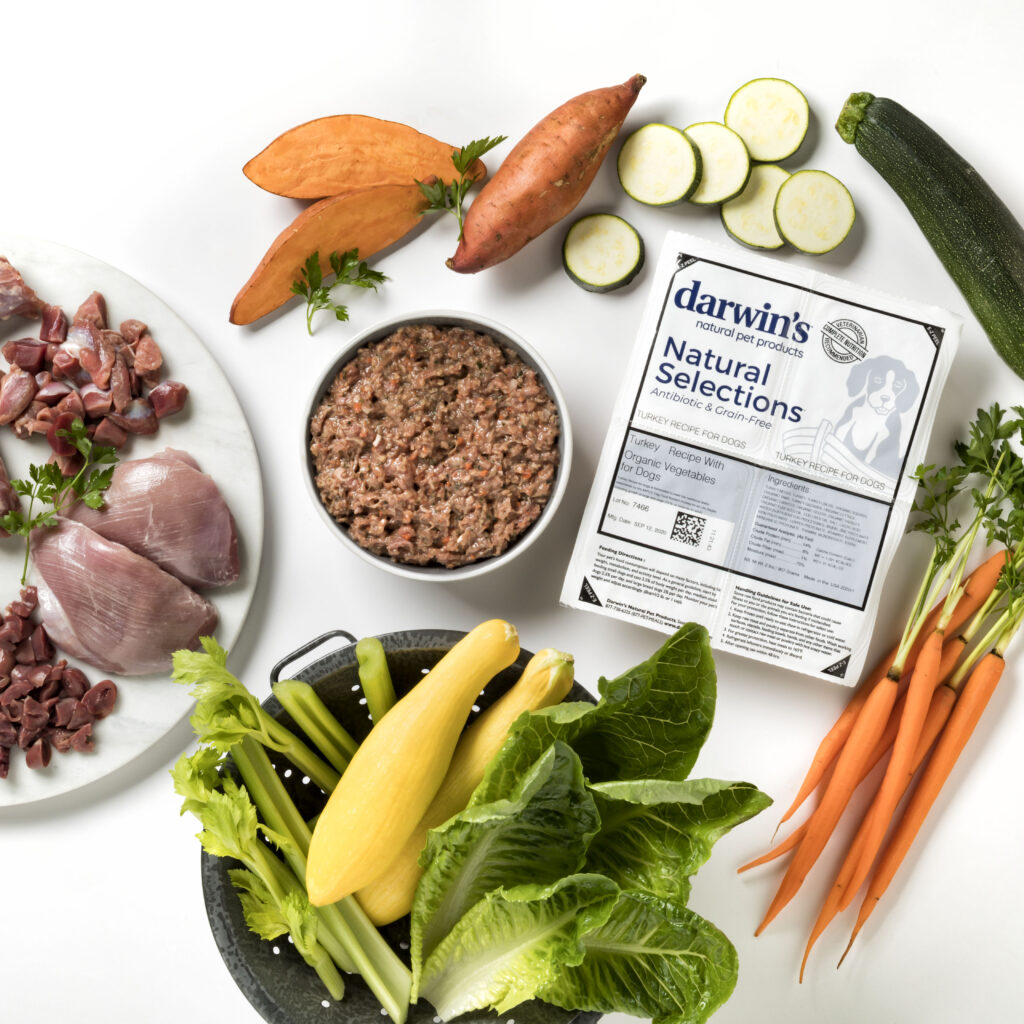 Natural Selections Beef Meals
Antibiotic-free meat: 72.41% (lean beef, heart, and liver)
Organic vegetables: 24.43% (lettuce, cabbage, sweet potato, squash, and parsley)
Nutrient mix (oils): 3.19% (sunflower seed oil, cod liver oil, and vitamins and minerals)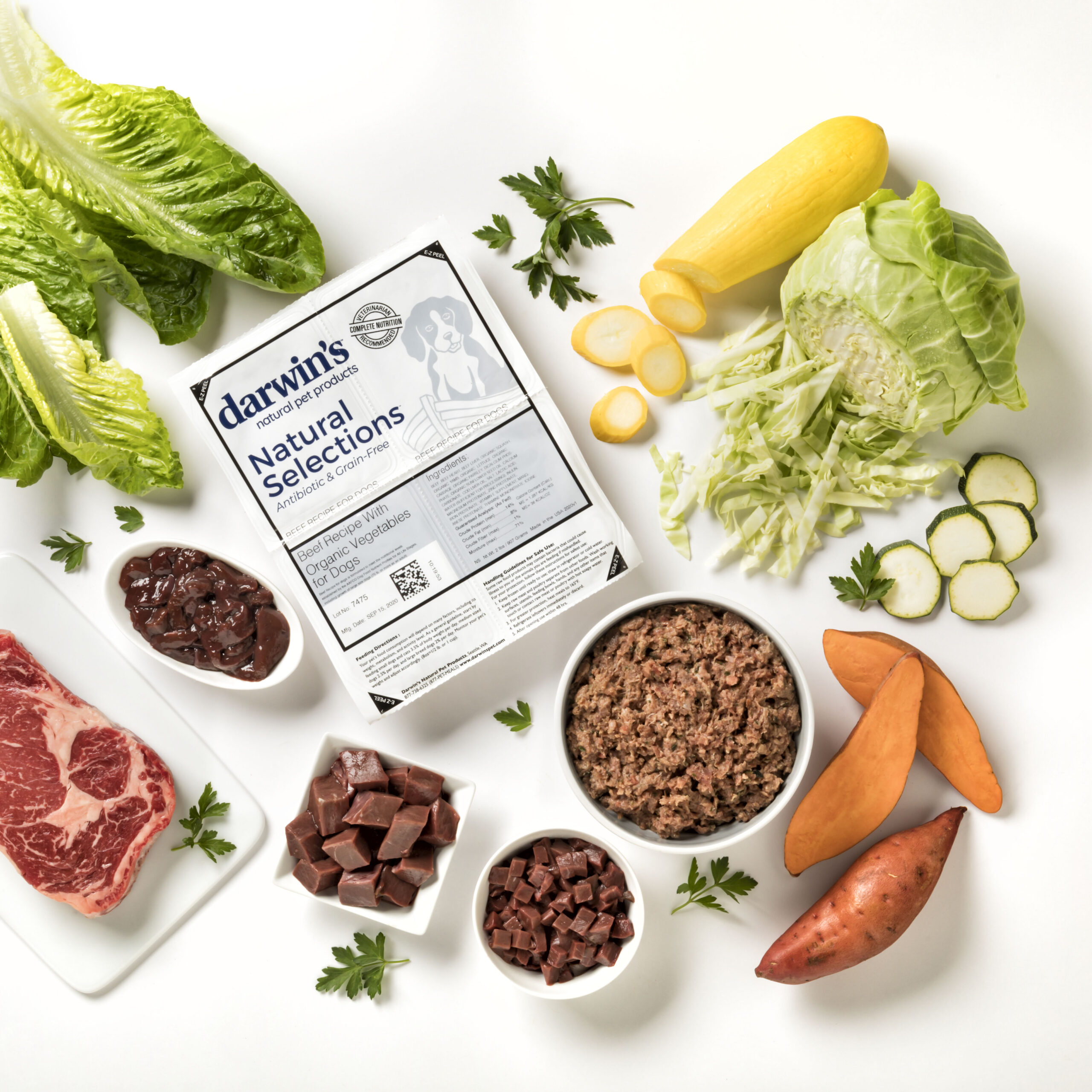 Natural Selections Lamb Meals
Antibiotic-free meat: 72.17% (lamb, heart, and liver)
Organic vegetables: 24.43% (squash, lettuce, sweet potato, parsley, and cabbage)
Nutrient mix (oils): 3.4% (sunflower seed oil, cod liver oil, and vitamins and minerals)
Darwin's site has a handy pet food calculator, which helps you calculate exactly how much your dog should eat based on their breed, age, activity level, and ideal weight (which your vet might help you with).
You can also consult directly with the dieticians, and they will advise you on what meal options would be best for your dog's needs. Each of the meat-type meals offers unique nutritional values that may be better suited to a dog that needs to either lose weight or gain some weight.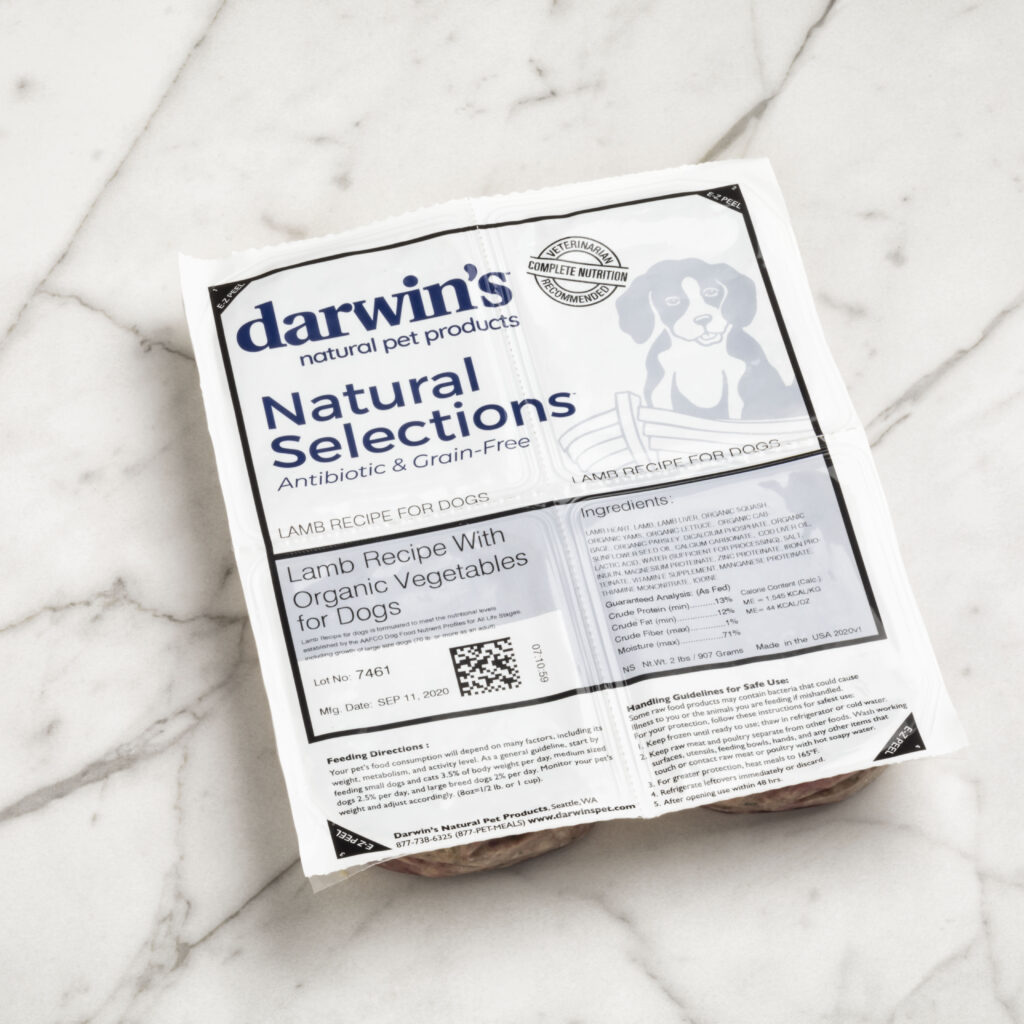 BioLogicals Raw Dog Food Range
If you need to stretch your cash, then the BioLogicals range is the best option. This range uses the same premium recipes as the Natural Selections range, but the meat is sourced from conventional meat suppliers. The meat is still of human consumption grade, so you will be feeding food-grade meat to your dog, which is still better than some other dog food companies use.
While the meals are still grain-free, the meat may have been sourced from animals reared on a grain-fed diet. This may not be suitable for dogs with unique dietary challenges such as diabetes and kidney failure. However, the meals are still made with hormone and steroid-free meats.
The BioLogicals range offers chicken, beef, and turkey meat-based meals. These are priced somewhat more affordably than the Natural Selections range, with an average price difference of around $1.50-2.00 per pound.
Intelligent Design Formula
Should your dog have a unique dietary challenge such as weak joints, poor bone health, or urinary incontinence, then the Intelligent Design Formula is the range to try. You require a veterinary prescription for these meals, but you can order the meal that will best suit your dog's health requirements once that is cleared.
Some of the standard packages that are available in this range include the kidney support formula, liver support formula, cancer support formula, and the joint and musculoskeletal formula. Within these, your vet can also request some changes. The meat of choice in these formulas seems to be fish, which requires careful processing as raw food.
Ordering From Darwin's Dog Food Service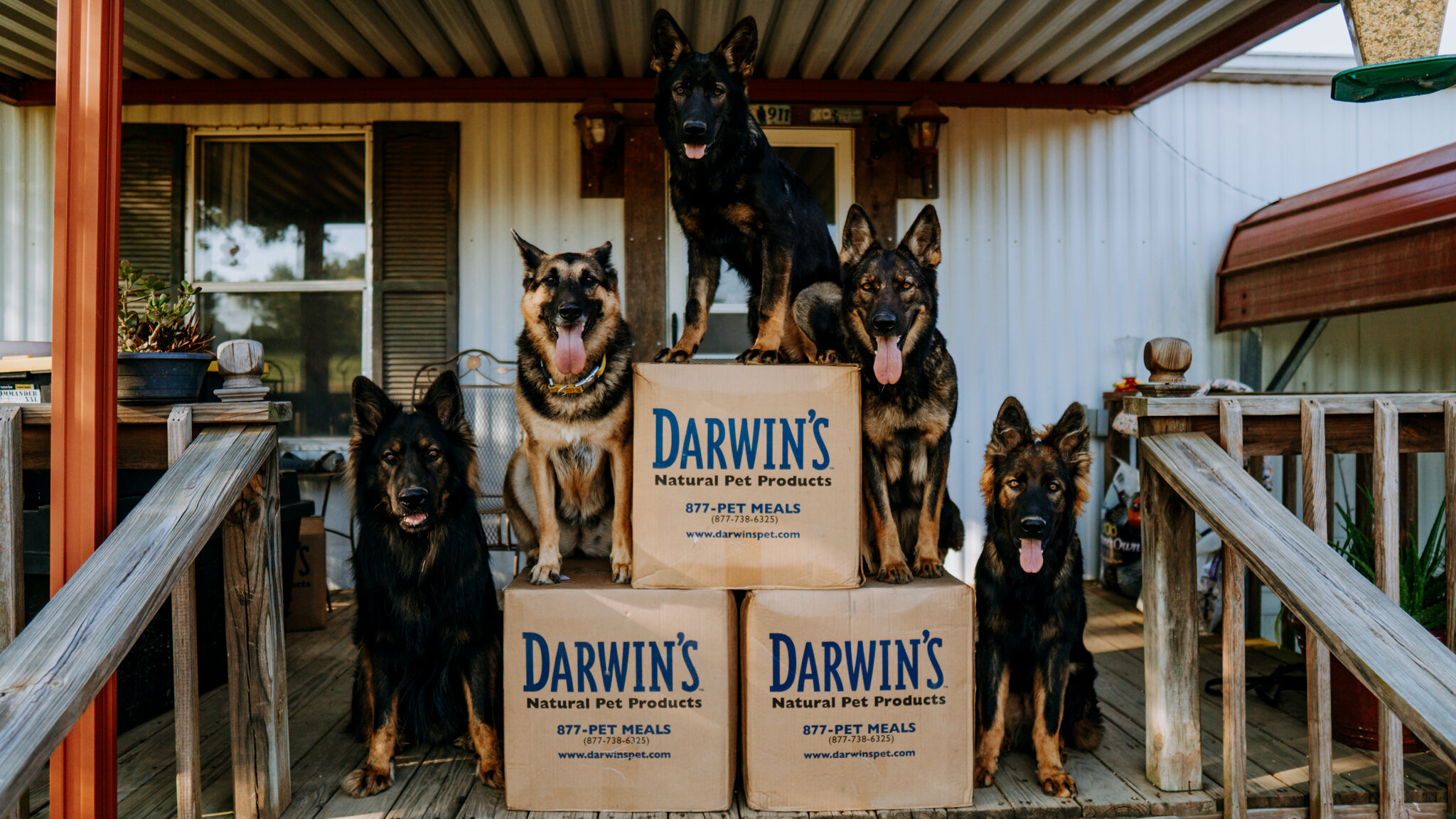 If you are ready to order your first Darwin's meal hamper, you will qualify for an introductory offer, which gives you a 50% discount on the first 10 pounds you order. This is a great way to dip into raw food without buying the cow (so to speak).
Pros
High-quality meals, balanced by nutritionists, and scientifically evaluated
Raw food that is free from preservatives, colorants, and artificial flavorings, which is more natural for your dog
A great raw food option that has been carefully tested and regulated by governing feed authorities
Excellent nutritional support for unique dietary needs that your dog may have
Made with organic, fresh ingredients in USDA processing facilities
Regular site inspections by Darwin's officials to their suppliers for quality control
Regular FDA sampling to ensure health standards are met
Cons
Darwin's has had several product recalls, which raises concerns about the quality and safety of raw food (and other raw food suppliers have had the same issues)
Handling raw food can be challenging as there are certain precautions to follow, such as thawing the food in the fridge, not outside, and preparing food requires that it be thawed 24 hours before (if you're forgetful, this can be a challenge)
More expensive than traditional kibble dog food
Meals are packaged by weight, not by your dog's calorie needs
Keeping left-overs can be challenging
Transitioning your dog can be messy if they don't like cold food
Without the harder food that kibbles offer, your dog will require more chew toys to maintain their teeth
Why Feed a Raw Food Diet to Your Dog
There are many reasons why people would shift from feeding traditional kibbles to fresh raw food. Knowing why you want to change your dog's diet will help you decide whether Darwin's is right for you and your dog.
Pros
Raw food is closer to the natural diet of dogs and cats
Nutrients are consumed in their natural format, with no interference from heat or processing methods
Meals are free from preservatives, colorants, and artificial flavorings
Dogs naturally love the fresh flavor of raw foods
Raw food improves dog digestion, making for more compacted stool and less stool.
Raw food can help manage health conditions like kidney failure, joint disease, and aging-related concerns.
Cons
Raw food can be harmful if not correctly stored
Leftovers can be a challenge to keep fresh
Daily washing of dog bowls is required to avoid bacterial contamination
Defrosting the fresh meals can be a challenge
Some dogs don't like the taste of vegetables and may be reluctant to eat the fresh meals.
Transitioning to a Raw Food Diet
As with any new food, you should transition your dog to Darwin's fresh food meals. Fortunately, Darwin's makes it really easy to transition. Each first box of meals comes with a handy information guide, where it is carefully explained how to transition your dog to Darwin's fresh foods.
To start, you should give your dog a quarter of their meal as fresh food and three-quarters as kibbles (what they used to eat) for the first three days. You should feed your dog half of their old food and half fresh food from day four to six. Day seven to nine is a ratio of three-quarters fresh food and a quarter kibbles, with a full fresh food meal given from day 10 and onward.
Should your dog not cope with the change in diet at any stage by having digestive issues, simply go back one step for another day or two until they adjust. A patty of fresh foods is equal to a cup of dried kibbles. Your dog should eat two to four percent of their body weight per day in fresh food.
Risks of a Raw Food Diet and Darwin's Product Recalls
One of the main concerns with fresh food diets for pets as opposed to dry food diets is the freshness and safety of such food. Fresh food doesn't have preservatives, and it can easily spoil if it thaws while in transit.
Salmonella contamination is one of the main concerns plaguing any fresh meats company, whether for human consumption or animal use. The FDA randomly checks samples from all fresh meat processing companies in the U.S. It is quite common that samples may have some trace amounts of salmonella bacteria.
As a safety precaution, companies like Darwin's Dog Food Service will recall batches of products. Mostly, these batches can be sautéed to kill off any potential bacteria and germs, making them safe for animal consumption.
Darwin's also recommends that very young dogs or puppies are fed a diet of soft-heated or sautéed fresh meals as pure raw foods have a risk of bacterial contamination that puppies may be susceptible to.
As a whole, Darwin's Dog Food Services take every possible precaution to ensure that only fresh and uncontaminated raw food meals arrive at your door. Deliveries don't get scheduled over weekends as this would lead to a delay and possible loss of cold storage.
When the meal box arrived, I found the patties to be icy cold, and there was even some impressive supercooled air coming out of the container from the dry ice that they use to pack the patties in. In my books, the risks don't outweigh the potential benefits of a healthy, balanced, and nutritionally complete meal for my dog. I feel assured that Darwin's take every possible precaution to only ship the best quality and ensure a great delivery cold-chain management.
Darwin's Dog Food Service FAQs
Question: How Much Does it Cost to Feed Darwin's?
Answer: Darwin's raw food comes in patties, equating to an 8-ounce cup of dry kibble food. You would, therefore, feed one patty per meal, twice a day, depending on your dog's size. You should feed about 2-4% of your dog's body weight per day. Prices of the patties range from under $10 for a package of 4 to $18 for a pack of the special kidney support formula (which is the most expensive product line).
Question: What Grade Meat is Used in Darwin's Fresh Raw Foods?
Answer: Darwin's uses human-grade raw meats. This means the meat used in the raw food patties is of the same quality as the meat used for human consumption.
Question: Can Darwin's Raw Foods be Cooked?
Answer: Yes, you can cook Darwin's raw foods, though it isn't advised to do this continuously. The only instance where it is recommended to lightly cook Darwin's raw patties is when you are introducing a young puppy to the raw food. This is to ensure there are absolutely no bacterial contaminations in the raw patties, which could be lethal to a young dog.
Cooking Darwin's raw meat patties will reduce the nutrient value, and this is only done when you need to be extra certain your puppy gets contamination-free foods as their immune system is not yet fully functional. Once the dog is older, they can comfortably process a slight bacterial presence in their food.
Final Verdict
When I initially read about the FDA's five major recalls of Darwin's raw food products, I was concerned. Like any dog owner, I only want the very best for my dog. Darwin's Dog Food Service has invested a huge amount of research into the benefits of a raw food diet. The company goes above and beyond to ensure the freshest ingredients are chosen for their meal formulas.
Judging by the packaging, the flavor, and the COLD temperature of the package when it arrived, I have to say that I feel confident that Darwin's raw food patties are safe and nutritionally ideal for my dog. I also found their service department to be very responsive, and they were able to answer any questions I had. Crafting a meal specifically designed for my dog's unique body type and weight was as easy as a few questions and a speedy response from the in-house dietician.
While I was concerned that I would forget to thaw a patty for my Butch every morning, which meant I would have to take it out the night before and put it in the fridge, I soon discovered a way around that too. Darwin's patties can last up to a day in the fridge when thawed, so I thaw them two at a time, being sure to note which patty is older and feeding this.
Now, if I can just remember to put coffee in the coffee maker for myself the night before, then we'd both be sorted for breakfast!
Continue reading:
The 13 Best Dog Bones for Aggressive Chewers