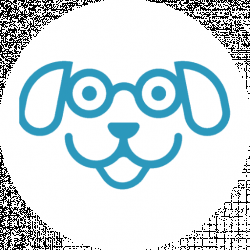 Latest posts by Scout Knows Team
(see all)
Tired seeing your buddy itching like an army of lice just invaded his coat? Perhaps his eyes turn red and watery shortly after a sumptuous chicken meal?
Worse, he spews vomit all over the floor. Even worse, he poops all over your precious carpet.
If that's the case, your pooch might have developed a chicken allergy. And a change of diet becomes a matter of necessity to keep him healthy.
Of course, we don't want to jump into any conclusions. You should visit your vet to confirm it's a chicken allergy or the cause is from other foods.
However, if you just take a fancy to dog food without chicken, you can go right ahead.
Here's what I did to make shopping a chicken-free dog foods a lot easier:
I researched and compiled a list that includes premium and affordable options and even a quality option with grains. So regardless of your taste, you'll find the right dog food for your fur friend.
But before you pick from the best chicken-free dog foods, you can learn more about chicken and food allergies in the value section.
When It's Time To Get Your Dog Off Chicken
Chicken is an inexpensive and nutritious source of lean protein for dogs.
So, unless your pooch is showing recurring allergy symptoms, there's no reason to cut off chicken from his diet.
Some of the possible symptoms are
Intense itching
Recurrent skin and ear infections
Teary eyes
Vomiting and diarrhea
Hair loss or patchy coat
To be sure he's allergic, transition your pooch to his previous food. And watch everything that goes in his mouth for a day or two. Lastly, consult a veterinarian to be sure chicken is the culprit.
Once it's been confirmed that your pooch has allergies, your vet may prescribe a bland diet that doesn't contain chicken. After the symptoms subside, you can reintroduce chicken to see if they'd resurface. Subsequently, you'll know it's time to find your pooch a chicken-free dog food if the symptoms persist.
On the other hand, you can opt for an allergy test. It wouldn't take long to find the allergen at all, but the service fee can be steep for many pet parents.
Can Chicken Fat Cause Allergies in Dogs?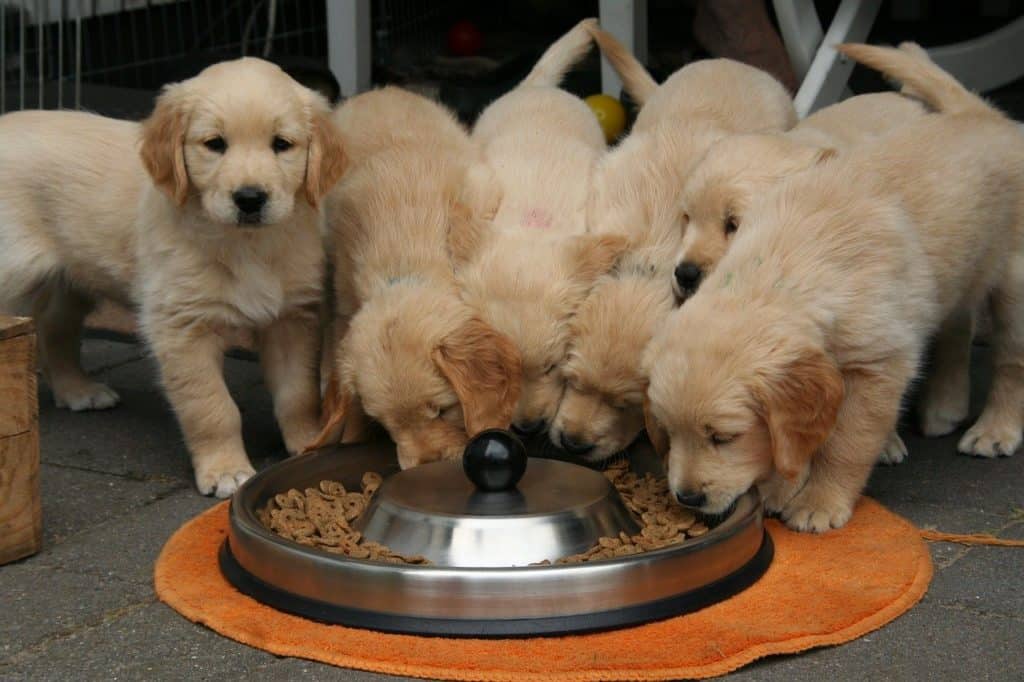 Typically, your pooch would only be sensitive to chicken protein.
All things being equal, you shouldn't expect any allergy symptoms from a dog food that has chicken fat but no chicken meat.
In theory, this would be true. It will be no problem if the chicken fat is retrieved properly.
But in the real world where most dog food companies can't boast of the processing of their ingredients, you can't take the chance.
Besides, some dogs can be allergic to not only chicken meat, but all of its byproducts and poultry in general.
So, yes, chicken fat may also cause allergies.
Grain-free and Chicken Free Dog Foods
Animal proteins, such as chicken, may not be the only suspects if your buddy shows allergy symptoms. It could be from the other ingredients in the formula, more specifically, grains.
It's common for dogs to become allergic to regular grains, like wheat, corn, and so on. In this case, a grain and chicken free dog food becomes inevitable for your fur baby.
Fortunately, you'll find more than enough grain-free options for your pooch in this review.
The Best Tasty Animal Protein Alternatives To Chicken
As you already know, you'll need to find a new source of protein other than chicken for your pooch. And this also means dog food without chicken fat and other chicken byproducts.
But for now, we'll focus on healthy protein substitutes for chicken in your buddy's diet.
Red Beef
Beef is easily the most common chicken alternative for dogs. This is because of its easy availability and relatively affordable price.
Also, red meat is not harmful to dogs, like when humans eat it in excess. Instead, the high content of fat is converted to energy that makes your pooch more active and playful.
But the thing is, it's also a common allergen. And your fur friend may develop an allergy to it over time, especially if it's of low quality. So finding a high-quality product or one from a reputable brand becomes a necessity.
A good example would be one that specifies the source of its red meat. Whether it's from a cow or ox, or where it's bred, for instance.
Sea Food
Fish is probably the best alternative to chicken meat.
It's not only a rich source of protein, but it also supplies your pooch with essential omega fatty acids. This helps her maintain a lush coat, improved cognition, and better overall health.
And there are lots of healthy fish meats on the market today such as trout, mackerel, and salmon. But there's also a slim chance that he may not like the scent or taste of fish in his kibble.
Needless to say, it would make a great alternative to chicken.
Poultry Meats
There's no denying that poultry meats, like turkey and duck, are good sources of protein. It might seem antithetical in this situation, but it isn't.
Your pooch can be allergic to chicken, egg, and all its byproducts, but may still be able to gobble down other poultry meats. It's even advisable to switch to another poultry meat if your pooch finds it hard transitioning to a beef or fish diet.
Duck meat, in particular, is rich in B vitamins, zinc, iron, selenium and even fatty acids. It also has more fat, so it can be a better option if your buddy is energetic. But turkey is more affordable since it's more readily available.
Novel Meat
Novel meats are the best alternatives to chicken in dog foods. Your pooch is unlikely to develop an allergy because he would be unfamiliar with most of these meats.
For this reason, they are the go-to food choice if a pooch still develops an allergy weeks after switching to beef, turkey, or other common animal meats..
Some of the novel meats you would find available for your pooch include kangaroo, venison, goat duck, and ostrich. You may even get a hold of weird exotic meats like pheasant, catfish, or even an alligator.
If you want to kill the chances of an allergic reaction, use a new source of carbohydrate too. For instance, if you used to feed your little one turkey and potatoes,
Top 6 Dog Foods Without Chicken
In this roundup, you'll find several quality options for your pooch, ranging from dog foods with novel meat, grains, or grain-free options.
Instinct Limited Ingredient Diet Grain-Free Recipe with Real Lamb Freeze-Dried Raw Coated Dry Dog Food
Key Ingredients
Lamb meal
Lamb
Tapioca
Canola oil
Pea protein
Instinct is a company that aims to help more pet parents give their babies pure and healthy nutrition from raw foods.
And this is evident in their LID Grain-Free Lamb Recipe. The kibble is garnished with freeze-dried raw lamb meat, which makes it tasty and highly nutritious.
More importantly, it only contains one animal protein (lamb) and vegetable. Even better, the lambs used are supposedly grass-fed and not the ones bred with antibiotics and chemicals that can later trigger allergies.
It also contains pea protein, but thankfully, it doesn't make up a large part of the formula. Else, it would be nothing but a filler. Plus, adding other sources of animal protein would defeat its purpose.
Tapioca and peas among the first five ingredients are the main sources of carbs in this formula. Despite this, it's not stuffed with excess crude fiber, which may affect digestion.
This LID lamb recipe uses canola oil and coconut oil that supply essential omega-6 and omega-3 fatty acids. This can put a shine on your buddy's coat or fill up bald patches from his previous allergies.
In general, it has a relatively high level of fat compared to most dog foods, if not the highest. And this is awesome because your buddy would be energetic till his next feeding time.
As promised, this formula contains a lot of raw lamb goodness mixed with the kibble. It serves not only raw lamb meat, but also its kidney, spleen, liver, and other highly nutritious organs.
Pros
Contains montmorillonite clay for better digestion
Freeze-dried raw lamb parts for better nutrition and palatability
Great for athletic or energetic dogs
Enough fatty acids for better coat health
Cons
Pea protein is one of the main ingredients
May be expensive as a staple diet
Takeaway
Instinct LID Grain-Free Lamb recipe is as good as you can get for dog food without chicken. Plus, it's grain-free and also contains no poultry ingredients.
The single source of animal protein and limited ingredients give you better control of what goes in your fur baby's belly.
If you prefer something other than lamb meat, you have the option salmon, rabbit, duck, and, and turkey. Your pooch would find it hard to resist the rabbit recipe.
Key Ingredients
Real salmon
Ocean fish meal
Sweet potatoes
Potatoes
Peas
Taste of The Wild is one of the most popular dog food brands, and it didn't happen just by chance. They offer your pet friend a flavorful taste of his ancestral diet at an unbeatable price.
Unsurprisingly, the TOTW Pacific Stream recipe delivers real smoked salmon for that unique, tasty nutrition. Your pooch would also enjoy the extra protein from ocean fish meal with little risk of triggering an allergy, not to mention the salmon meal and smoked salmon in the recipe.
The carbs in the formula are mainly from sweet potatoes, potatoes, and peas. All of which are highly digestible, palatable, and, and nutritious for a pooch with allergies.
Unlike some other high-quality recipes, it contains potato fiber. Pet parents who believe pea protein and fiber are fillers would prefer this option.
Canola oil supplies the bulk of fat. It would have been perfect if TOTW used fish oil, which would make sense given it's a fish-based recipe. Plus, fish oil contains more essential fatty acids.
Needless to say, the Pacific Stream recipe has a good amount of omega-3 and omega-6 fatty acids for better coat and brain health. And antibiotics from fruits, like tomatoes and blueberries, would boost your buddy's immune health.
Pros
Tasty and flavorful smoked salmon
Lots of fish protein
High-calorie diet
Good bang for the buck
Improves skin health and energy levels
Cons
Could have easily used fish oil instead of canola oil
Takeaway
If you want a premium dog food without chicken with the most value pound for pound, and you can rest assured its smoky fish flavor would grow on your pooch.
Key Ingredients
Deboned venison
Sweet potatoes
Peas
Pea protein
Venison meal
American Journey is known for its affordable dog foods, but this chicken-free recipe isn't one of them.
The American Journey LID Venison and Sweet Potato recipe use venison as its only source of animal protein. Using rare meat like venison makes this formula expensive, but also close to impossible for your pooch to resist or develop allergies.
Venison meal is also the second protein ingredient, so your pup enjoys a concentrated source of protein. But the protein level of this dog food is the lowest so far.
However, it makes up for it by providing other essential nutrients, like omega-6 and omega-3 fatty acids, selenium optimally. The only thing is, they are sourced from plant-based oils – flaxseed and sunflower oil.
Regardless, it has a high level of omega-3 fatty acid, which can clear up your bald patches on your dog's coat and stop itching.
Sweet potatoes, peas, and chickpeas are healthy sources of carbs in this recipe. But it also contains pea starch, which is likely a filler. As a result, this dog food has low calories and suspiciously high fiber content.
All in all, it's an affordable limited ingredient diet that can help a pooch with chicken allergies. It's even cheaper when you opt for another source of animal protein, like lamb or salmon
Pros
Good value
Good for healing flaky or damaged coat
Venison is unlikely to become an allergen
Contains fish oil
Easily digestible carbohydrates
Cons
Low calories
High fiber content
Not the best for active breeds
Takeaway
American Journey LID Venison and Sweet Potatoes recipe is an excellent chicken-free option if you're on a budget. You can get an even better deal on animal meats like lamb, turkey, and salmon.
It provides all the necessary vitamins and nutrients, especially omega-3, to bring back the fluffy and sweet-scenting coat of your fur friend.
Key ingredients
Duck meal
Pumpkin
Tapioca
Sunflower oil
Flaxseed
The Earthborn Holistic LID Duck Meal and Pumpkin is one of the best protein-carb mixes you'd see in any dog food. And this is not just because duck meal is a superb source of chicken-free protein for any dog.
But also because pumpkin is a great source of carbohydrate, vitamins and minerals. Unlike peas and other leguminous carbs, it has a limited amount of protein. This way, the protein proportion wouldn't be inflated by non-meat sources.
Earthborn boasts that the duck meal is gotten from ducks raised and bred under human conditions on French farms. This is great for an allergic dog, as even ill-gotten novel meats can later become an allergen.
What's even better:
It has flaxseed oil and sunflower oil among the first five ingredients. These ingredients are rich in omega-3 and omega-6 fatty acids, and a high concentration can only be good.
Consequently, this would improve not only your pup's coat and mental health but also his immune system.
A striking feature of this dog food is its BPA-free PlasticBag. It's a plant-based plastic that's made from about 30 percent sugarcane.
But the downside to this dog food is it is that it only has an average level of fat. Apparently, it makes up for it with its high fiber content to ensure your fur friend gets enough energy.
Pros
Top-quality ingredients
Leading levels of omega fatty acids
Rare carbohydrates
Eco-friendly (plant-based) plastic bag with ziplock
Great for allergy-related skin issues
Cons
Expensive `
Fat content could be better
Takeaway
If you have a pooch that's severely allergic, the Earthborn Holistic Duck Meal and Pumpkin might be just what he needs.
The ducks used in the recipe are bred in good conditions. And pumpkin and tapioca are high-quality carbs that are unlikely to cause any reactions in your pooch's tummy. But the price tag on this recipe is hefty.
Key Ingredients
Trout
Salmon meal
Peas
Chickpeas
Sunflower oil
Zignature is one of the few dog food brands that specialize in making chicken-free formulas. As a result, you'll have a plethora of meat options to give your pooch a happy tummy.
Aside from this highly nutritious Trout and Salmon Formula, you can put him on a kangaroo, venison, trout and salmon, turkey, and even a catfish diet from Zignature.
If the Kangaroo flavor weren't out of stock, it would be my first choice. But trout and salmon are equally highly nutritious lean protein alternatives, loaded with B vitamins, selenium, and so on.
For one, it's packed with the heart-friendly Omega-3 fatty acids. In fact, the proportion of these amino acids in the formula is like none I've seen before. So it would go a long way if your little one already has an irritated coat, such as tear stains.
But be prepared for the fishy scent once you open the bag. It can be a hit or miss.
The LID is free of protein and instead uses peas and lower-glycemic chickpeas. And it's also free of other common allergens, like wheat and corn.
The rest of its high protein is gotten from alfalfa meal. It's a natural grass that also supplements calcium, fiber, and niacin to your pooch's daily needs.
But like most dog foods, the source of fat is plant-based from flaxseed oil and sunflower oil. Not an abysmal option, though, since they provide essential fatty acids that would improve your little one's fur texture and shine.
Pros
Great for coat health
High protein is a good choice for active breeds
Relatively affordable
Moderate fiber levels
Cons
Takeaway
All in all, the Zignature Trout and Salmon Recipe is value-packed for its price. This is especially when you compare it to other novel meat options from the Zignature line.
Also, it's high in protein and omega fatty acids, which would make it a great choice for active dogs with skin issues.
Key Ingredients
Lamb meal
Brown rice
Cracked pearl barley
Rice bran
Peas
The Canidae Lamb Meal and Rice Formula is one of the best chicken-free dog foods with grains that you'd see on the market. The selection of ingredients is even better than that of some prescription diets.
First, lamb is a suitable chicken alternative, and it has lamb meal as its first ingredient. And then, lamb meat is added down the line in the recipe. The result is a formula that provides optimum protein, but nothing more.
This makes it the perfect choice for senior dogs that aren't as active as when they were younger or a dormant breed.
The selection of grains is free of common allergens and fillers, like corn and wheat. Instead, it contains highly nutritious and vet-recommended grains, like brown rice and cracked barley.
It also uses salmon oil in addition to its plant-based sources of essential fats from flaxseed, sunflower oil and canola oil. This provides a quality source of omega-3 and omega-6 that would groom a healthier coat.
Many helpful vitamins, antioxidants and supplement probiotics are naturally occurring from the fruits and vegetables in this formula. Glucosamine and chondroitin sulfate, for instance, would improve your buddy's hip and joint health.
The best part about this formula is that it's super-affordable, despite the lineup of premium ingredients. But be sure to start your buddy on the small-sized pack to gauge his interest.
Pros
Affordable
On-recipe-serves-all for households with multiple dogs
Premium quality of grains
Contains both fish and plant-based oils
Rich in omega-6 fatty acids for better coat health
Promotes hip and joint health
Ideal for senior dogs
Cons
Inconsistency in kibble quality
Takeaway
If you cringe at the thought of your furry baby suffering canine dilated cardiomyopathy (DCM) from a grain-free diet, this is the best chicken-free option for you.
Canidae Lamb Meal and Rice Formula contains only top-quality grains and lamb meat that put the risk of allergies to the barest minimum. For its value, you can't pass up the price of this dog food.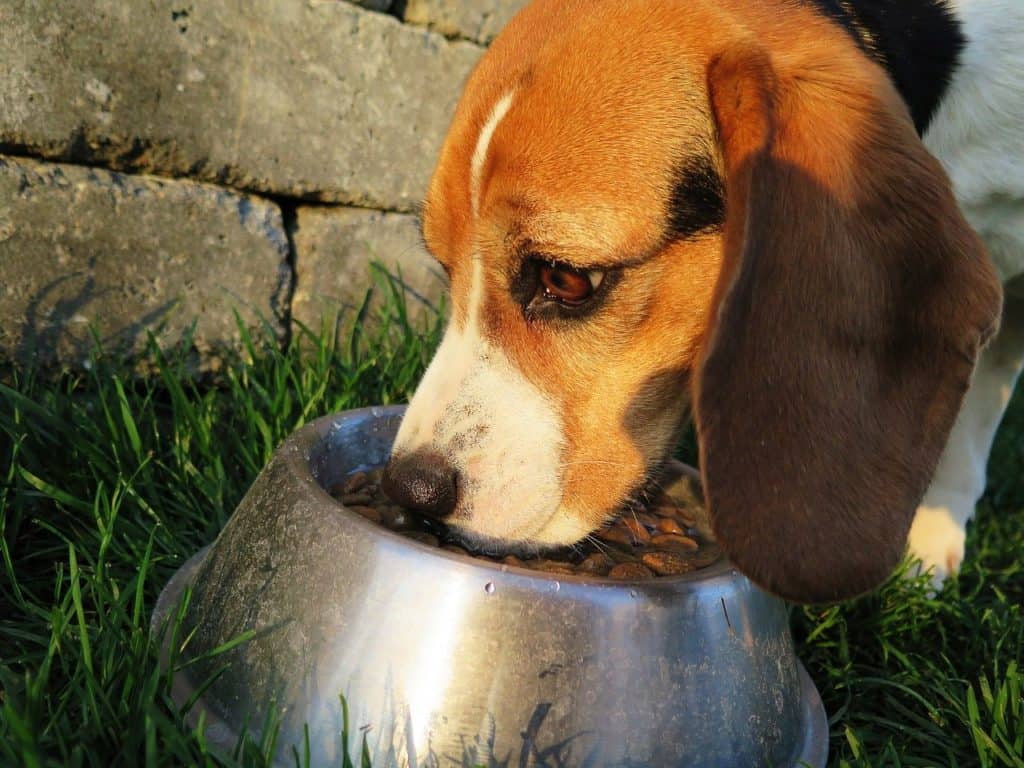 Wrapping Up
Chicken is one of the cheapest and most common animal protein in dog foods.
But there are also many tasty options for your fur baby if she's allergic to chicken.
Hopefully, you've found one that you think is right for her and within your budget in our review of the best chicken free dog foods.
If you haven't yet, you can give our favorite pick, Instinct LID Grain-Free Lamb Recipe a try. It's a premium dog food made with lamb meal, lamb, freeze-fried lamb organs, and other nutritious ingredients.
As a result of its leading levels of crude fat, it'd make a perfect fit if your pooch is playful and energetic.
Continue reading:
Your Dog Ate Chicken Bones, What To Do? Here Are 5 Important Steps To Follow