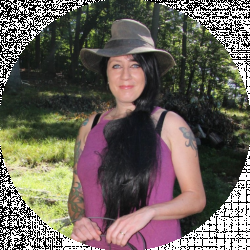 Latest posts by Samantha Biggers
(see all)
Our Recommendation
Valient Pet Nutrition Raw Frozen Medallions is a premium dog food suitable for adult dogs. If you want to feed your dog a raw diet and are short on time, this is an option. For us big dog parents it is way too expensive. At $8 per pound, it would be cheaper to buy ground meat and add some veggies yourself.
There is no question that this is a quality brand but it is only available through Chewy.com, so if shipping is delayed or you run out, it may take a few days to get your food. It is frozen the whole time during transit so you just transfer to your freezer and then unthaw as desired. The convenient medallion size makes it easy to grab the portion you need. I can see how this would be a good food for dogs that are recovering from surgery and need something soft and highly nutritious to heal and regain their strength.
Valiant contains very minimal ingredients so it is suitable for dogs that have sensitivities to a lot of commercial dog foods.
Kelp powder adds important vitamins and minerals.
Chia seeds add important Omega-3 fatty acids.
No grain, gluten, fruit, soy, or potatoes.
Valiant Pet Nutrition Raw Frozen Medallions Adult Dog Food is available at Chewy.com.
Ingredients
Beef, Beef Heart, Broccoli, Green Beans, Coconut Oil, Chia Seeds, Red Cabbage, Sunflower Seeds, Beef Liver, Calcium Carbonate, Kelp Powder, Zinc Amino Acid Chelate, Vitamin E, Vitamin D3.
Nutritional Analysis
Pet food ingredients, nutritional values, and the way they are labeled for consumers are monitored by several organizations in the United States including the Food and Drug Administration (FDA) and the NGO, Association of American Feed Control Officials (AAFCO).
Each year the AAFCO publishes two sets of nutritional minimum standards for dog food intended to help specify if a food is suitable for:
1. Dogs in the growth & reproduction phases of life
2. Adult dogs maintaining a healthy weight and activity level
Caloric Content
2,000 kcal/kg, 57 kcal/oz, 15 kcal/medallion
Guaranteed Analysis
| Nutritional Component | Value | Meets AAFCO Growth & Reproduction Standards | Meets AAFCO Adult Maintenance Standards |
| --- | --- | --- | --- |
| ____________________________ | ____________________ | ____________________ | ____________________ |
| CRUDE PROTEIN | 12% min | – | – |
| CRUDE FAT | 14% min | – | – |
| CRUDE FIBER | 4% max | – | – |
| MOISTURE | 70% max | – | – |
* – indicates not yet analyzed
Feeding Amounts
Depending on your dog's size and activity level, they may need more or less food in their daily feeding amounts.
| Weight | Daily Feeding (Cups) |
| --- | --- |
| _______________________ | _______________________ |
| 5 LBS | 5 Medallions |
| 20 LBS | 20 Medallions |
| 50LBS | 50 Medallions |
| 80 LBS | 80 Medallions |
Feeding Guidelines
Each medallion is 15 calories.
When starting your dog on Valiant Pet Nutrition's beef recipe, you may initially wish to feed your dog 15 calories per lb of body weight per day. Daily calories per lb of body weight can be adjusted up or down depending on your dog's body composition, activity level, and nutritional needs.
Transition Instructions
Gradually replace your dog's current food with Valiant over the course of 10-14 days depending on how sensitive your dog is to diet changes.