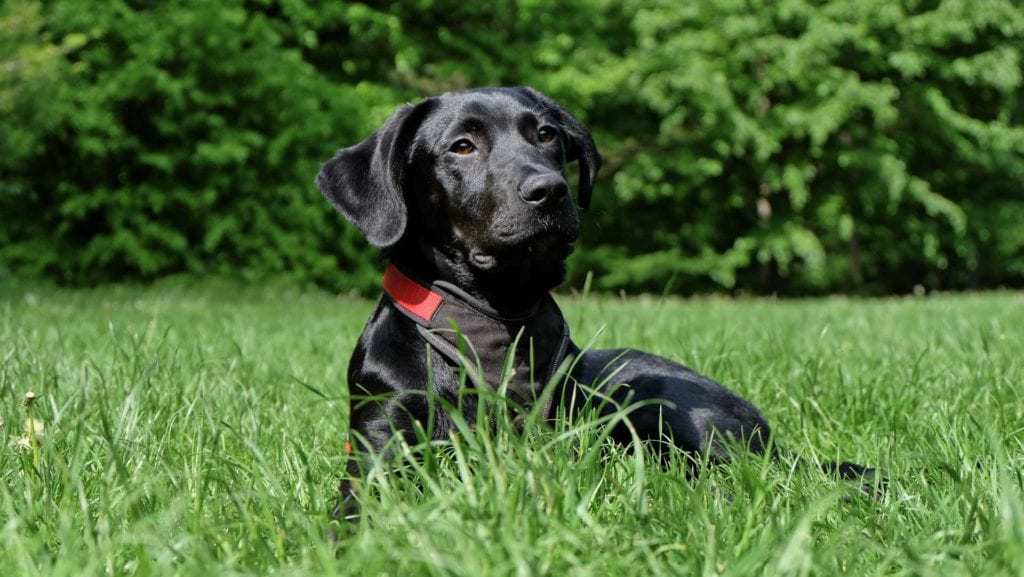 Dog's ear infections are more common than one would think. An inner ear infection can be painful and cause your pet to feel uncomfortable and not act themselves. The cause for that could be a number of things – allergies, ear mites, yeast, and more. Chronic ear infection cannot be avoided, though they can be prevented. That's why we've taken a look at the best dog food for ear infections.
Top Choice
If your pup is prone to getting ear infections – for example, canines with floppy ears tend to have ear problems more often than not – then your veterinarian might suggest changing your pet's diet to prevent the infection. There's a variety of pet food that helps prevent infections in dogs.
Top 5 Rated Best Dog Food For Ear Infections
Top Choice
Wellness Natural Pet Food is a wonderful brand that has a wide variety of anti yeast dog food as well as wet food and treats. They have various recipes for those old and young as well as large breeds and small breeds. Wellness Simple Natural Limited Ingredient Dry Dog Food has nothing but the health of your pooch in mind. This product is a grain-free diet, which is great because it contains more protein and allows for easy digestion.
This particular pet food is our top choice because not only does it have limited ingredients that are the best for your pup's health, but also because it caters to various ages and breeds of canines. If you have a puppy who's prone to ear mites or if you have an older pup who comes down with infection with age, Wellness Simple Natural Limited Ingredient Dry Dog Food is a great choice to try.
Key Features
Limited ingredient with salmon as the main protein
All natural ingredients – no gluten or wheat, corn, soy, dairy, or eggs
No artificial additives, preservatives, colors, or flavors
Comes in 10.5-lb or 24-lb bags
Limited flavors but has canned options as well
You can save money by subscribing and having a recurring order
NUTRO is a well-trusted brand and the one I personally feed my pet. NUTRO Limited Ingredient Diet Adult Dry Dog Food is made for pets with food sensitivities. Similar to our top choice, this pet food is a grain-free diet and only has natural flavors. It's Non-GMO; however, there is a warning with that due to cross-contact.
Key Features
Comes in four flavors – one flavor catering to small or large breeds
Limited ingredient with 10 ingredients as well as vitamins and minerals
Bags come in 4-lbs, 11-lbs, or 22-lbs
Save money by having a recurring order and delivery
Comes with a warning of possible traces of genetically modified material due to cross-contamination at the manufacturer
Purina ONE is another well-known brand. The Purina ONE Natural Dry Dog Food helps with dog ear infection but also fortifies the immune system as a whole as well as supports joint health. This product is a great option since it's on the less expensive side and it's great for your pet's body all around.
Key Features
Affordable
Rich in protein with no supplements
Comes in a variety of sizes such as 4-lb, 8-lb, 16.5-lb, 31.1-lb, or 40-lb bags
Three flavor options – one flavor catering to smaller breeds
Not a grain-free diet
A common cause of dog's ear infection can be allergies or sensitive stomachs or skin. Purina Pro Plan Sensitive Skin is a great dry dog food that helps with just that. This product is great as it takes care of the bacterium found inside your pup's body allowing for healthier digestion making your dog's diet that much easier. If your pup suffers from chronic ear infections, your vet may recommend this pet food.
Key Features
No corn, wheat, or soy
No artificial colors or flavors
Contains antioxidants, Omega fatty acids, and zinc to ensure a healthy immune system, skin and coat, and strong joints
Comes in three flavors – one catering to smaller breeds
Comes in bag sizes 4-lb, 5-lb, 16-lb, 24-lb, 30-lb, and 41-lb
Can save money by having a recurring order and delivery
Not a grain-free diet
Natural Balance has a vegan option should you choose a vegetarian diet for your pup or if they have food allergies. This product is healthy and gives your pet's diet natural protein through green peas without the meat. In addition to preventing ear problems, your pooch will be energized and have a healthy coat and skin through high fiber and protein as well as Omega-6 and Omega-3 fatty acids.
Key Features
Only comes in one flavor containing brown rice, oat groats, barley, and green peas
Comes in three bag sizes of 4.5-lbs, 14-lbs, and 28-lbs (which also has the option to come with canned food)
Can save money by getting a recurring order and delivery
Not a grain-free diet
---
Buyer's Guide
When it comes to deciding what food is best to feed your pup, there are a lot of factors to think about. Keeping in mind your pet's health, it's always a good idea to do thorough research on the ingredients that the food contains and its origin. It never hurts to consult your vet either, especially if you're switching food.
When looking for a new diet for your pup to aid with their chronic ear infections, you'll be looking closer at what ingredients there are and how those ingredients can affect your baby's health. You'll also learn a lot more about ear infections than you thought you knew.
Ear infections are painful and make us uncomfortable. There are different types of which is why the symptoms vary. At times, you'll see the clear signs of an infection and be able to prevent it, but other times, the condition can be quite tricky and hard to spot.
Types Of Ear Infections In Dogs
There are three different kinds of ear infections, each one affecting a different part of the canine ear. These infections are known as otitis externa, media, and internal. All are fairly common, though more so in breeds that have floppy ears.
The otitis externa ear infection is in the cells lining the outer part of the ear canal. Media infection is in the middle of the ear canal while the internal infection is in the inner ear. Most often than not, media and internal are caused by the otitis externa spreading.
If not caught and treated early enough, these ear infections can become worse for your pet – such as lack of coordination, becoming deaf, and more.
How To Choose The Best Dog Food For Ear Infections
Ask Your Vet
It's important to consult your veterinarian before changing your pup's diet or adding something new. Consider how your pet has been in the past with old food and how they respond to change in general – even things as subtle as food. When switching your pup to a grain-free diet or searching for food that will aid their chronic ear infections, your vet will have the best idea for what to do.
Questions To Ask Your Vet
Do you think the food could be the cause of chronic ear infections or allergies?
Should I get dry dog food, wet food, or both?
Given my pet's health and medical history, do you think switching to a grain-free diet would be worth a try?
If you have a certain brand in mind, ask your veterinarian if they think it'd be right for your pet.
Check The Ingredients
Some canines have a sensitive stomach or have certain food allergies. This can be caused by a variety of ingredients such as dairy, eggs, wheat, gluten, or more. Allergies are a common symptom of ear infections in dogs which is why most of the pet food on this list omits those certain ingredients.
Most food to help with ear problems have limited ingredient and or a grain-free diet. This soothes any food sensitivities your dog may have by allowing them to easily digest which, in turn, helps fight against ear infections and other bacteria.
Consider Your Dog's Tastes
One thing most of these products on this list have in common is that the number one protein ingredient is salmon. Make sure to pay particular attention to your dog's taste preferences. Of course, there's no better way to figure out what they like and dislike than just taking a chance and having your pup try the food.
However, I bought my dog "ocean fish" flavor food before, and she wouldn't go near it with a 10-foot pole – meanwhile, my cat was all over it. Needless to say, before you buy in bulk, make sure your dog will enjoy the flavor, or else the food will go to waste.
Keep In Mind What Food You Feet Your Pet
Personally, I allow my pup to snack on her dry dog food throughout the day and she gets canned wet food for dinner each night. However, my friend doesn't feed her pup with wet food. Instead, she only gets dry food throughout the day. It seems like people have opposing ideas on how to feed their pooch, and they do what's best for their pup.
Dry and wet food do different things – wet food is more flavorful and has more nutrients while dry food helps build strong teeth and jaw muscles. Both certainly have their pros, but dogs also have a preference. When picking out new dog food to battle ear infections, keep in mind whether your dog may prefer dry dog food or wet food. It may not be a good idea to mix wet and dry of two different brands. This can hurt their stomachs and have the opposite effect.
Frequently Asked Questions
What causes ear infections in dogs?
There are many causes of ear problems. A few include bacteria, yeast, viruses or other infection, mites, wax buildup, or allergies that can be caused by skin or food sensitivities.
What are common symptoms of ear infections in dogs?
There are a variety of signs to look out for ear infections, though there are some more common than others. These may include odors, smelly discharge, redness and swelling of the ear, itchiness, or head shaking. You should seriously consider giving your pup regular look-overs so that you can catch these symptoms as soon as they occur. Don't forget that their ears should be clean, so don't skip the ear cleaning routine at all. In case you spot any of thee symptoms in your dog, it's best to call your vet right away.
What's a grain-free diet?
When a pet food is grain-free that means it contains more protein and fewer carbohydrates. This allows for easy digestion for your dog and benefits your dog's health in many other ways such as a healthier coat and skin, more energy, reduce allergies and infections – which helps the ear infections a lot. It will also give your dog better breath as well.
How do I switch my dog's food?
If your vet recommends switching your dog to a new food to reduce ear problems, it's best to switch the food gradually. Most food comes with a "meal plan," if you will, suggesting ways to slowly change over your dog's diet. This may be giving 25% of the new food mixed with 75% of the old and gradually increasing the new and decreasing the old food.
Also, your vet may have a suggested meal plan for your pooch. Sudden changes may affect your dog's digestive system, so it's always a good idea to check with your veterinarian first.
Other Dog Food For Ear Infections We Reviewed
Canned Food
Blue Buffalo Basics Limited Ingredient Diet, Grain Free Natural Adult Wet Dog Food | Amazon
Ideal for dogs with food sensitivities, BLUE Basics wet food is a limited-ingredient diet that features a single animal protein source. Grain free and made with real duck as the first ingredient plus garden vegetables and fruits this recipe features the finest natural ingredients enhanced with vitamins and minerals.
Buy at Amazon.com
We earn a commission if you click this link and make a purchase at no additional cost to you.
10/16/2021 01:52 am GMT
Wet food is one of the best ways to get nutrients in your dog's body. Some canned food is healthier than others, and Blue Buffalo Basics is one of the better ones. This product is a grain-free diet with limited ingredient making sure your dog only gets the best. Blue Buffalo Basics contains no corn, wheat, soy, dairy, or eggs, which are common food allergies, in turn fighting ear infections in dogs.
Key Features
Comes in four flavors
Grain-free diet
Supports healthy skin, digestive system, and immune system through Omega-6 and Omega-3 fatty acids
Affordable – comes in packs of 12 cans
Save money by having a recurring order and delivery
Wellness Simple Natural Wet Canned Dog Food is a great choice to feed your pup. This particular product is a limited ingredient for dogs with food sensitivities, allergies, and ear problems. It's a grain-free diet and is easily digestible with a single protein and other carbohydrates. This product goes along with the Wellness Simple Natural Dry Dog Food, the top choice on this list. If you decide to give that one a try, then be sure to take a look into the wet canned food.
Key Features
All natural ingredients – no gluten, wheat, or artificial additives
Easy to digest, made with food sensitivities in mind
Will energize your dog and boost their immune system fighting off chronic ear infections
Comes in four different flavors
Affordable – cans come in packs of 12
Save money by choosing recurring orders and deliveries
Treats
We all need a snack once in a while, and our dogs are no different. Whether you're training a puppy, rewarding good behavior, or simply giving your pup something special, treats are a great way to show some extra love to your pooch.
Natural Balance Limited Ingredient Dog Treats are just the thing to give your dog if they need a grain-free diet. This product serves as a healthy snack that's easy to digest with no corn, soy, or wheat. If your dog's diet is for sensitive stomachs, ear problems, or other infections, this is a good treat to have on hand without worry.
Key Features
No artificial preservatives, colors, or flavors
Supports healthy skin and coat
Suitable for canines of all ages
Packages come in various sizes such as 8-oz, 14-oz, 28-oz, or 56-oz
Six different flavor options
Crunchy texture
Conclusion
Ear infections in dogs are not uncommon. In fact, some breeds may be more vulnerable to them than others. The key is to keep an eye on the potential signs of an ear problem as well as keep your dog's ears as clean as you can. This list is the best dog food for ear infections to take preventive measures against ear infections making sure your pup is happy and healthy.
Does your dog suffer from chronic ear infections? What preventive measures and dog food have you tried?