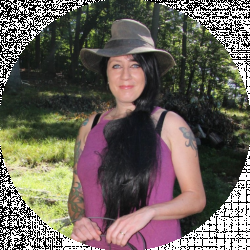 Latest posts by Samantha Biggers
(see all)
Great Danes and other Giant Breed dogs are very large and powerful.
Finding a good quality collar that can withstand regular use can be challenging if you don't understand what to look for.
Here are our top picks and some things you should consider when picking out the perfect collar for your giant breed dog.
One basic things to keep in mind before we get into it is that extra large male and female dog collars don't differ a whole lot in terms of size or design.
Most giant breed males and females don't differ a whole lot in overall size, with fully grown females usually averaging only slightly smaller than a full grown males.
5 Top Rated Collars for Great Danes & Other Giant-Breeds
Top Pick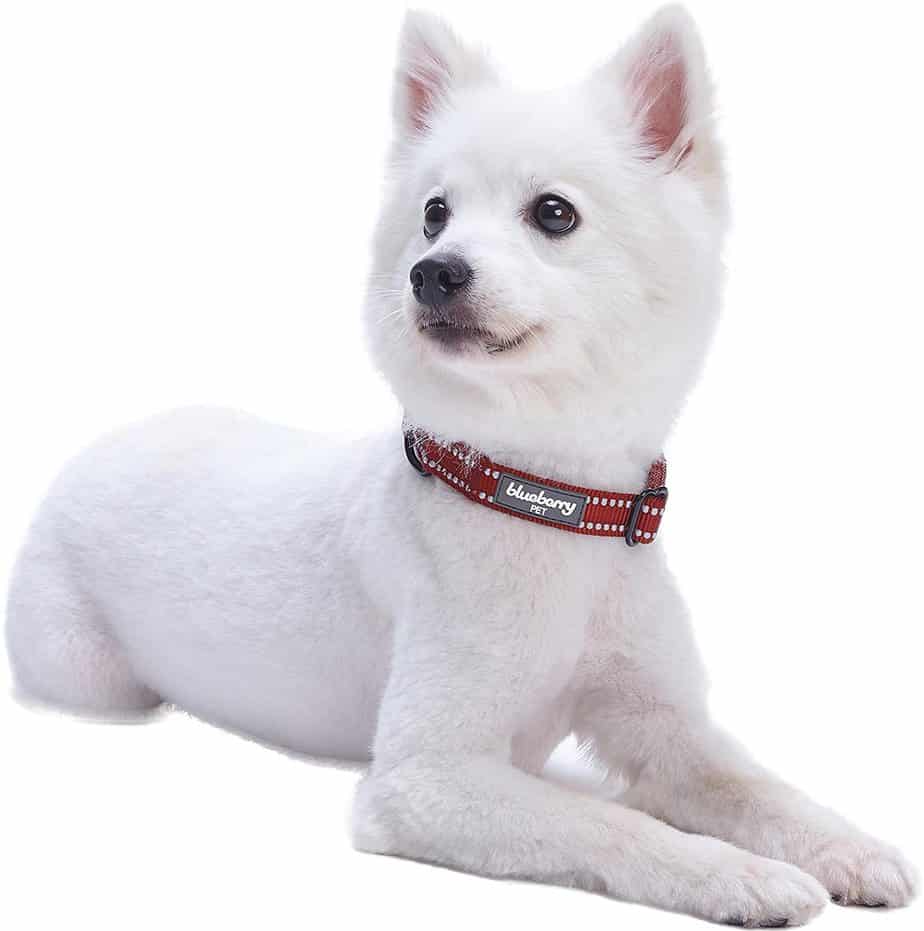 We love Blueberry Pet collars because they are tough, stylish, affordable, and adjustable.
This collar fits neck sizes from 18″-26″ which means you can get one when your Dane is a young adult and it will expand plenty to meet their future growth needs.
The fun selection of colors and the 3M reflective striping make this a practical collar for those that like to take their dog for walks or just want to make sure that they are visible in case they get loose and get in the road.
Our Runner-Up Pick
If you have considered a custom leather collar for your dog but are worried about rubbing and chaffing, then this soft padded one is just what you and your Great Dane need for durability and comfort.
This is a mid-priced collar but it offers very high quality and comes in a variety of colors. These are so stylish that you may want to get one of several colors so you can mix it up once in awhile!
Overall we find a leather collar and leash are a great value for what you get in durability.
This adjustable collar fits necks 18-26″ making it a good choice for large Great Dane puppies and young adult dogs. It comes in 20 different colors and is made in the USA.
Overall this is a great basic collar for your Great Dane or Giant Breed Dog.
Best Collar For Great Dane Puppy: Max and Neo
The Max and Neo Collar is great for puppies because it offers a very secure buckling set up. You have a double buckle to make sure that this collar doesn't come loose during play or when your Great Dane sees that pesky squirrel on your daily walk.
This nylon collar has reflective properties for safety, and you can get a wide range of sizes. The XL is affordable and fits a 22″-26″ neck.
Every purchase of a Max and Neo includes a donation to a rescue charity!
Collar Size for Great Dane Puppies
Even giant breed puppies can have large necks compared to a medium and large size breeds. We recommend going with 18-22" as the low end of sizing for your giant breed puppy. This should fit the puppy's neck and if this is the low end for the collar it should expand larger as your puppy grows.
Read more about measuring your dog's neck and Giant Breed neck sizes below later in this article..
Walking a Great Dane Puppy
When it comes to walks, you'll need a collar that can control but not irritate your puppy. We like the Max and Neo collar because the wide fabric reduced rubbing on your puppy's neck and the reflective nature makes your puppy easy to see if you're walking your dog at night.
When looking for any collar (and especially for a puppy) one thing to make sure of is that whichever one you end up with has a good quality leash attachment.
Best Great Dane Collars For Training
Mighty Paw Martingale Nylon Training Collar | Amazon
Our Martingale-style, modified cinch collar is made from premium nylon and reflective stitching. Unlike standard choke collars, ours is safe but effective. It tightens under tension, but it's controlled and subtle so that there's no risk of injury to your dog. Your dog will thank you (probably with doggie kisses)!
Buy at Amazon.com
We earn a commission if you click this link and make a purchase at no additional cost to you.
09/23/2023 12:21 pm GMT
We like the Mighty Paw Martingale collar most overall for training because the martingale tightens as your dog pulls and loosens when they stay close, teaching your dog by experience to stay close to you when walking.
We like the Mighty Paw Martingale because the fabric material is more comfortable for your dog than a choke chain version and the modified cinch on the collar allows you to loosen or tighten the overall capacity of the collar for more precise training.
Great Dane Leash Training
Leash training is a big part of any training regime. There are several training collar designs you can choose for leash training but we like and recommend the martingale above other designs like shock collars because it's self experiential – meaning the dog can test and learn how far away from the walker starts to get uncomfortable.
The other big piece of equipment for leash training is the leash. Check out our recommendations for the best Great Dane leashes and other large dog leashes here.
Best Great Dane Puppy Training Collar
Training a dog is easiest and best when they're a puppy. The smallest size of the Mighty Paw Martingale Nylon collar is 22" which should be small enough for your Great Dane or any other giant breed puppy.
Best Training Shock Collar for Giant Breed Dogs: Pet Union PT0Z1 Premium
Best Shock Collar for Giant Breed Dogs
Pet Union PT0Z1 Premium Dog Training Shock Collar | Amazon
This waterproof dog training collar comes with four training modes including beep, light, vibration, and shock. The PetTech complete training collar system includes a remote with an LCD screen that can reach a range of 1,200 feet.
Buy at Amazon.com
We earn a commission if you click this link and make a purchase at no additional cost to you.
09/23/2023 10:42 am GMT
Some prefer a shock collar when training because the flexibly in settings allows for a wide range of training uses.
If you're going for a shock trainer we recommend the PetTech PT0Z1 Premium Collar because it has a wide array of settings which can be used to correct barking, train walking, leash Training, sitting, aggression, and other behavioral obedience.
This specific collar is fully waterproof and has a range of up to 1200 feet.
PetTech is a great brand we would recommend overall.
I've been asked before 'Do shock collars work on Great Danes – and the answer is yes, if you get the right gear it will work for any dog you're training.
Gotags embroidered come personalized, so you don't have to worry about ID tags falling off. These are great for dog owners that don't like tags making noise or for dogs that play rough and tend to lose their tags.
These Great Dane collars come in many colors and sizes and they are a bargain for any Great Dane no matter what age they are!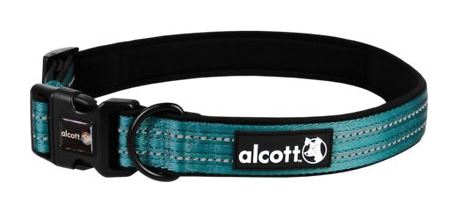 ---
Alcott understands what your furry friends mean to you therefore they put their all into every product they produce. The Adventure Reflective Dog Collar is no exception. Measuring 1-½" thick and available in seven fantastic colors, this simple but stylish collar will suit any fashionable pooch.
The stitching in these collars is reflective, so even if you're going for a nighttime stroll with your giant friend, you'll still be able to catch sight of them if they wander off slightly. To ensure your pet is comfortable at all times, this collar is padded with cushy neoprene material. This collar is manufactured to stand the test of time and it'll adjust from 22-30-inches so you can keep it from pup to adolescence and on to adult life
Black Rhino Comfort Collar | Amazon
Constructed for all breeds the Comfort Collar intentionally maintains a lightweight design but is built specifically with heavy-duty hardware that is tough enough to resist forces from the most energetic dogs.
Buy at Amazon.com
We earn a commission if you click this link and make a purchase at no additional cost to you.
09/23/2023 07:36 am GMT
Black Rhino has created this collar with durability and functionality in mind. They've chosen strong materials and tough hardware that'll withstand the excitement of even our giant fur babies. It's not just about being tough though, and Black Rhino has used a super soft neoprene material inside the collar to keep your pooch comfortable at all times.
You may be concerned about using a fabric collar like this because it isn't waterproof and what happens if they wear it for a long time, won't it smell? The answer is no! Black Rhino has used a special material that is odor resistant and also dries super quick so even if your buddy wants to go swimming morning, noon and night, this collar will still be standing and won't be retaining any wet dog smells!
The XL option for this collar will fit pups with necks from 23-27-inches so it may not be suitable for our extra-large Great Danes out there. If you want a collar unique to your dog, you can choose from 10 color combinations, all of which come with reflective stitching for that added nighttime protection.
Buyer's Guide
Below are some things to consider when making your choice on which collar is right for your Giant Breed friend.
Measuring & Giant Breed Neck Size
Measure well and allow for some fast growth if your Great Dane is a puppy or young adult dog.
During the first 12-18 months of life, your dog is going to grow a lot and at a very fast rate too! If you buy a collar that is too exact of a fit you will find that they outgrow it quickly.
The best way to measure your the neck is to roughly measure where the collar would normally rest and then slide two fingers between your dog's neck and measuring tape. The extra room allowed for by your fingers will ensure the collar is secure but not too tight.
Overall a collar for a full grown giant breed should be between 19 to 30 inches (19″ – 30″).
Price
Don't pay a lot for puppy collars. Since they grow so fast, during puppyhood is not the time to invest in designer gear. If you like that type of thing then wait until their growth slows down a little or they are basically grown.
Don't get them the least expensive Great Dane collars because that is probably not going to be strong enough to hold up over time.
Harness vs. Collar
Consider a harness if you want more control. Some dogs respond better or are just more comfortable with harnesses. This is true especially if they travel in a car regularly and have to be buckled in.
If your dog pulls a lot, a harness can help with training and stop all that wheezing that can happen when they really want to go and won't keep a good pace with you. I like harnesses far better than choke collars that seem to be ineffective with too many dogs.
Read our review of the best Great Dane harnesses here.
Leashing Your Dog
Finding a leash to go with the collar is important. A collar that is tough and durable is only half of the equation. You need a leash that can handle a giant dog. Remember that Great Danes are not small for long! Scout has a great post to help you find the best leash for a large dog.
Collar Needs Change Over Time
Remember to occasionally check your dog's collar to make sure it is not causing any skin or hair issues. If you are forced to use a choke chain style for training or bark collar, try to get your dog trained so that you can switch to a regular collar.
Remember that training gear is really intended just for that and is not the best long-term solution if you can do something to avoid it.
You may have to try out several different collars or harnesses before you find a style that you and your dog are both comfortable with. Having a larger dog also means more adjustments may be needed during major growth phases.
Other Dog Collars We Reviewed
Wide collars
Thick collars
Padded collars
Ruffwear makes some extremely high-quality gear for dogs. If you need a harness for life's adventures with your dog then this harness is a bargain that will last a long time and provide supreme comfort.
If you are always being pulled by your Dane this harness can help you maintain better control and encourage them to give up the habit altogether. There is a pocket for tucking in your dog's ID.
The strong aluminum rings on the top and the chest give you options for attaching your dog's leash or restraining when traveling.
2 Hounds Design Freedom No Pull Nylon Dog Harness & Leash | Chewy
Make leash training a walk in the park with the 2 Hounds Design Freedom No Pull Dog Harness and Leash. The patented design works by discouraging what's known as the "opposition reflex," which is the reflex that encourages dogs to pull against pressure caused by traditional harnesses.
Check Price
Buy at Amazon.com
We earn a commission if you click this link and make a purchase at no additional cost to you.
This is an alternative to a padded harness. If your dog prefers wearing less then this harness can take care of that. Just make sure that you adjust it well after he or she wears it for a 10-minute walk.
Of course, you should also pay attention to any indication that something is uncomfortable for them at any point. This gives you a chance to stop any rubbing or chaffing ahead of time before they decide they don't like the harness you bought.
The easy clip-in buckles save time while the sturdy top ring allows you to attach your favorite leash and employ the nylon ring attachment to gently yet firmly control your dog.
Downtown Pet Supply 2" Wide Large Premium Leather Dog Collar | Amazon
Go out in style with this premium genuine leather collar. It is adorned with silver studs designed for fashion-conscious dogs. It features five adjustment holes and nickel-plated hardware. Durably stitched and thick to resist wear and tear. Featured in two stylish options - studded or spiked.
Buy at Amazon.com
We earn a commission if you click this link and make a purchase at no additional cost to you.
09/23/2023 12:11 am GMT
While this 2-inch wide leather design with studs looks like a super-premium, it is very affordable. For those that want a punk or tough dog look for their Great Dane, these Great Dane collars are a steal.
A thicker design lends more strength and control generally. Just be sure that a collar this thick doesn't rub their fur too much.. This is suited for dogs that are not in the water very often.
If you get this collar just make sure to have one that is not leather for when you hit the lake, river, or ocean with your giant pooch!
Creation Cores are super comfortable and feature 3M reflective striping. The variety of collars and sizes as well as the quality make these a great choice as Great Dane collars for puppies or adults.
The soft mesh is easy on your dog's skin and it dries out fast if they decide to splash around outside or take a dip with you on a hot weekend.
While you can get this model in black, it comes mostly in bright colors that help keep you and your pooch safe while you are out and about.
This eye-catching collar is made in a military tactical style that is used for training. The double hole design and sturdy nylon construction and stitching are made to hold up to dog's that like to stay busy outside.
If you hit the trail a lot with your dog and want a collar that can stand up to long trips and swimming while providing padded comfort, then this is the one for you. The XL size fits a neck up to 25 inches.
Top Pick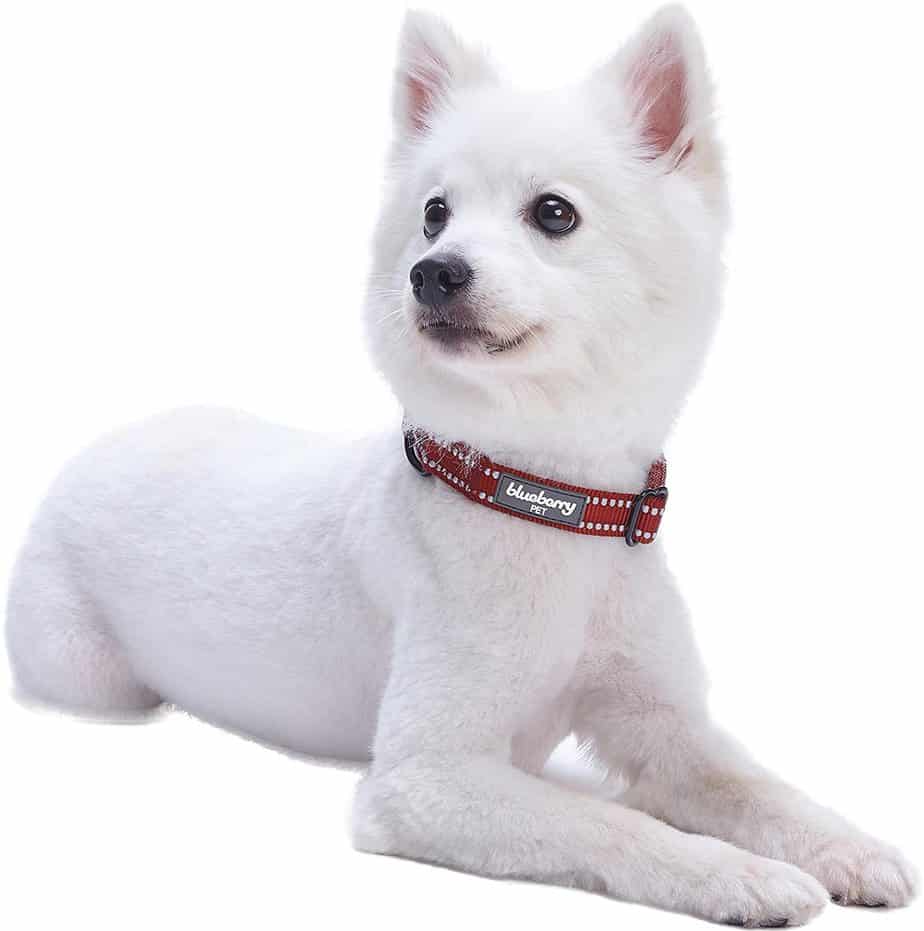 Continue reading:
Best Great Dane Collars For For Your Gentle Giants & Their Puppies
Top Rated Glow In The Dark Dog Collars (Buyer's Guide 2022)