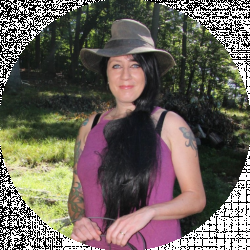 Latest posts by Samantha Biggers
(see all)
Finding the right collar for your dog doesn't have to be hard. There are a remarkable number of collars in all sizes, colors, styles, and materials so finding one to meet the needs of your unique dog won't take that much time. This article focuses on flat dog collars, so-named because they lay flat against your dog's neck (as opposed to spike or training collars, for example). Scout has thought of some of the things you need to consider when searching for the perfect flat collar for your dog.
Looking for leather collar for your dog? Check out our list of the best leather dog collar.
Top Pick
Our personal favorite is the Personalized Dog Collar with Custom Hi-Def Text and Art, An Embroidered Dog Collar Alternative. The wide range of sizes available, an affordable price point, and fast delivery are just the start of the features you get with this collar. Having ID text and a fun graphic to go with it directly printed into the fabric means you get the classy look of an embroidered collar without having to worry about fraying.
Everyone's needs are different though, so keep reading for the rest of our picks that might suit you better.
What to Consider When Making Your Selection
Size and breed of your dog.
Bigger dogs require more substantial collars, especially if they are very active. Smaller breeds can often use a cat collar. Not all collars are available in very small or very large sizes, so this can limit your choices. Collar width is also important since a thicker collar may be uncomfortable on some dogs' necks.
Activity level
If your dog just hangs out around the house a lot or is not that active then a minimal collar with ID is about all you need. Dogs that are very active and hard on their collars are best with something more durable. Bright collars and reflective stripes are a plus if you are really active with your dog because they help both of you stay safe.
Durability
Sometimes fancy fashionable collars are not as durable as some. If your dog likes to romp around a lot then this means you need something that is going to perform well. Embroidered collars are popular but if your dog runs through the woods a lot or likes to rub around on the ground a lot then you might at least want to opt for a collar that has a metal tag.
Price
There are plenty of collars out there in a wide range of prices. If you like to switch up collars a lot then you might consider an affordable yet durable collar like the nylon ones offered by Blueberry Pet. If a collar includes personalized ID in the price then that is something to consider. Getting tags printed for your dog separately can easily be $10 alone.
Overall comfort
Padded collars can be a comfort to some dogs with sensitive skin or that often try to remove their collars. Just make sure that during the summer that padded collars don't cause discomfort from the heat. Even on larger dogs, a thinner band can work if it is strong. There is really no need for collars that are much over an inch in width unless there is a special reason such as an extremely large dog like a Bull Mastiff or a dog that tends to pull and tug more than you would like.
Training styles
There is some controversy on the use of some types of collars for training. Metal collars with spikes on the inner part are sometimes used for teaching more hyper or aggressive dogs to behave better. Some pet owners are choosing to use versions of these with plastic spikes that are not as sharp and more naturally mimic the type of nipping a mother dog uses with a puppy.
Sorting through the wide selection of collars that are available out there can take a long time. As a responsible dog parent, you are going to of course want to find the one that your dog seems comfortable in and that meets lifestyle needs. Here are 10 flat collars that Scout found which have proven to please both dogs and their parents.
Best Flat Collars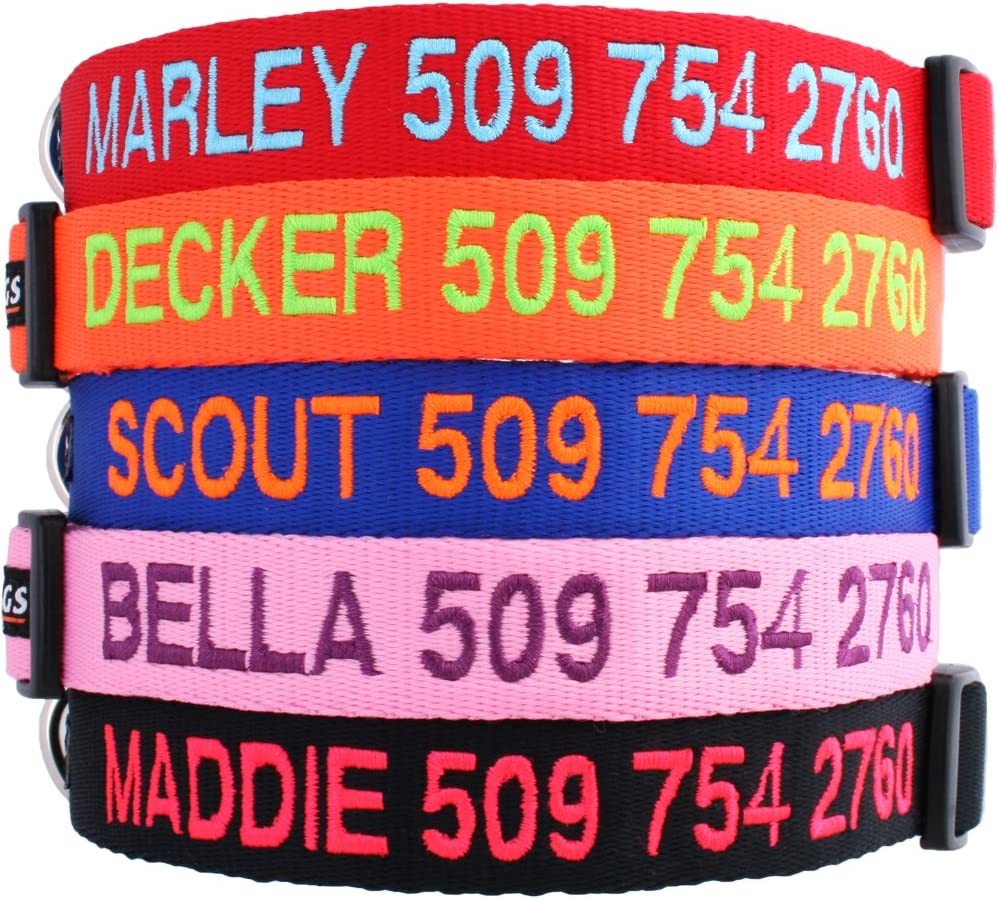 Available in sizes to fit dogs with 8″-26″ necks
It is easy to see why this is the most popular basic collar on Amazon. This collar allows you to put your dog's name and your phone number where it is highly visible and cannot fall off like a traditional name tag. The highly visible colors help keep your dog safe. The easy to use snap closure makes it simple to take on and off for cleaning or if you need to for bathing or grooming. No buckles to struggle with. It takes a little longer to get this collar delivered to you because each one is custom embroidered.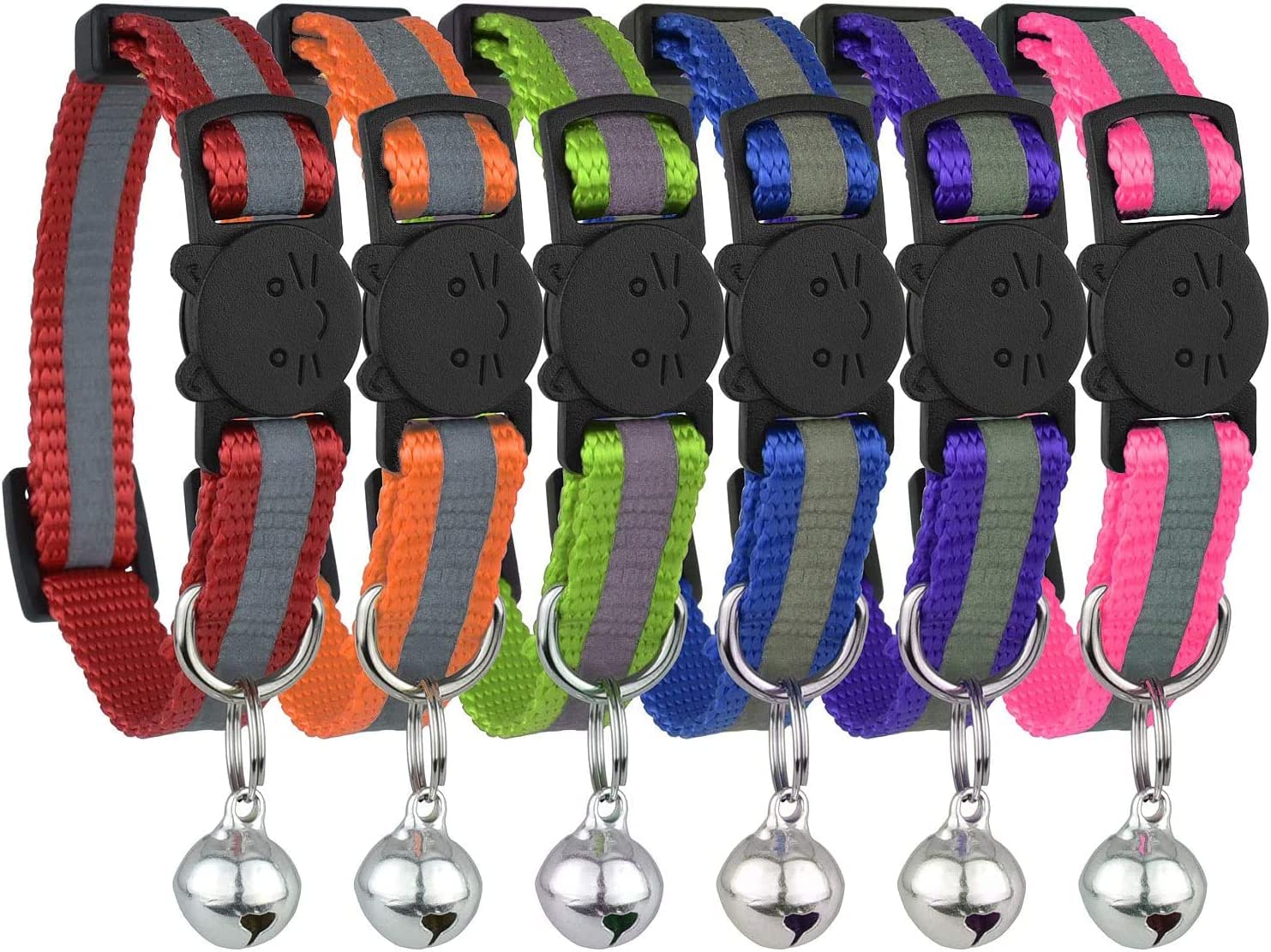 Fits 7″-11″ necks
These collars are definitely labeled for cats but small dog lovers seem to like them a lot. These collars come in a lot of collars and the multi-packs mean you can afford to be fashionable. The clasp is in the shape of a cat head but at this price, dog parent's don't seem to care. These would be a good choice for those with toy breeds that want a good value. The one disadvantage is if your small dog does get caught on something and loses their collar with ID tag then it might be hard for someone to find out who they belong to.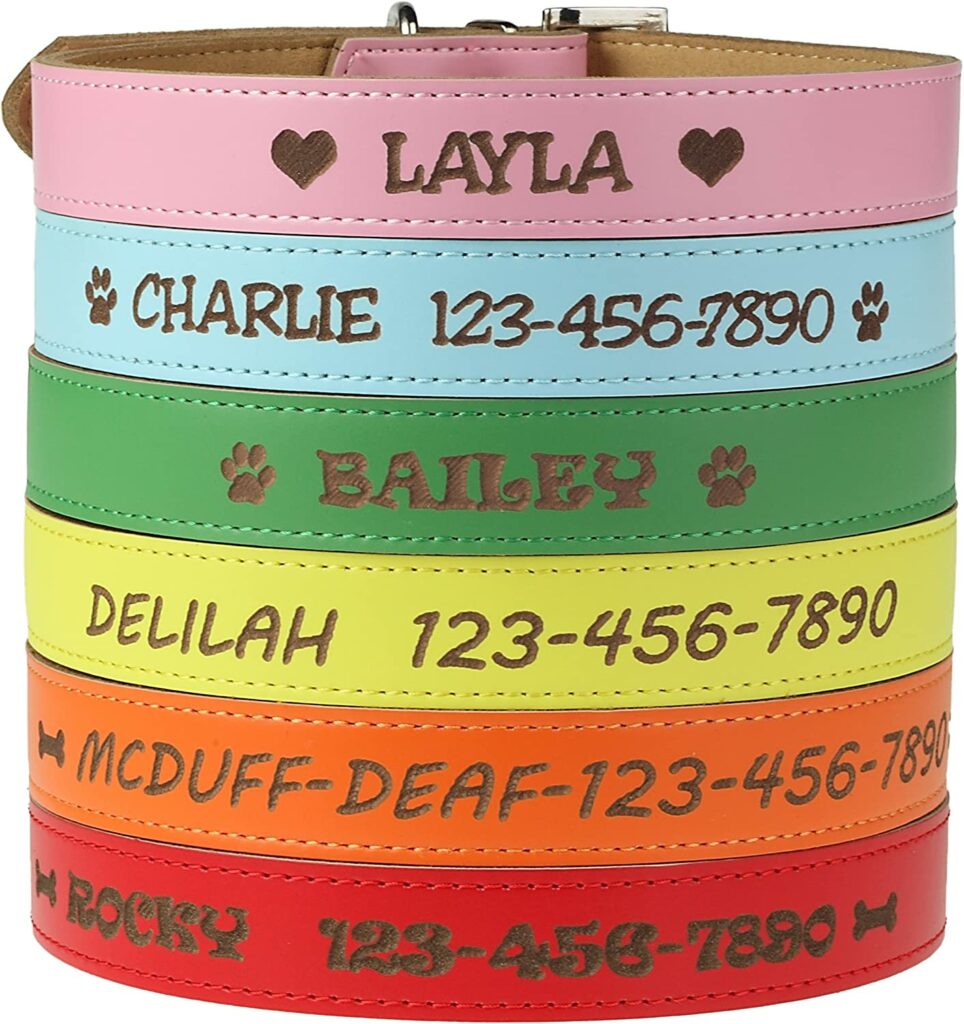 Available in sizes to fit 8.5″- 22″ necks
This classy looking collar allows for your dog's name and phone number to be permanently embossed into your choice of colored leather. Choose a bone or heart to be embossed as well for no additional cost. You can even choose from a few different types of text for a truly custom look. These collars a really good value considering they are real leather and you don't have to buy a separate ID tag. These collars ship fast from Vermont so no waiting for your collar for weeks.

Top Pick
Available in sizes to fit 8″-28″ necks
While embroidered collars are great and very popular, if your dog is very active or runs around a lot they can become frayed and rough looking resulting in replacement sooner than you would like. This custom collar from USA-made Yellow Dog Designs uses a process to print the ink right into the fabric of the collar for an embroidered look that doesn't fray. Scout loves that these collars come in such a wide size range. If you have a giant breed dog, this is such an affordable choice for a collar that doubles as an ID tag as well.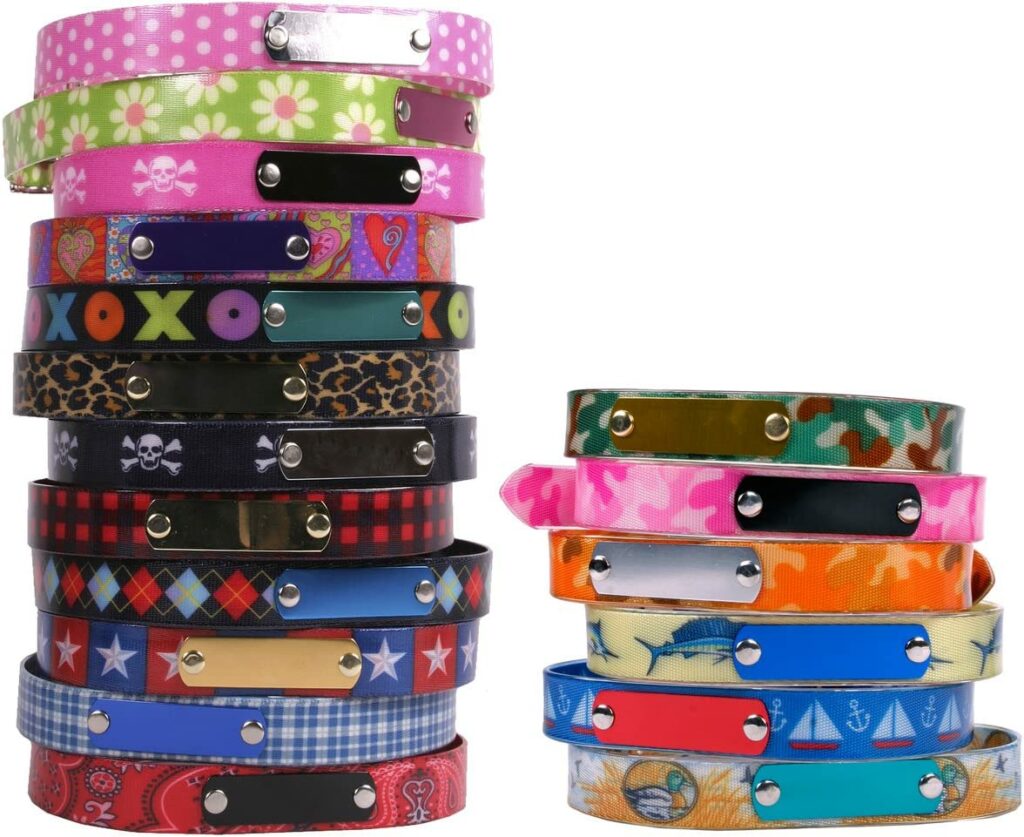 Available in sizes to fit 10.5″-24″ necks
This rugged collar is exceptionally fashionable. Polyurethane coated nylon and a custom laser engraved nameplate means this collar is built to last and offers visible and classy ID for your dog. You have to love the wide array of designs such as polka dots or lumberjack plaid. These collars are not the best fit for toy breeds since the tag makes them a bit rigid and they do not come in an 8″ size. For most dogs thought this is a stylish solution to collar and ID. In fact, you may want more than one so your dog can make a fashion statement whenever you want. These collars are fab for special events or photo sessions.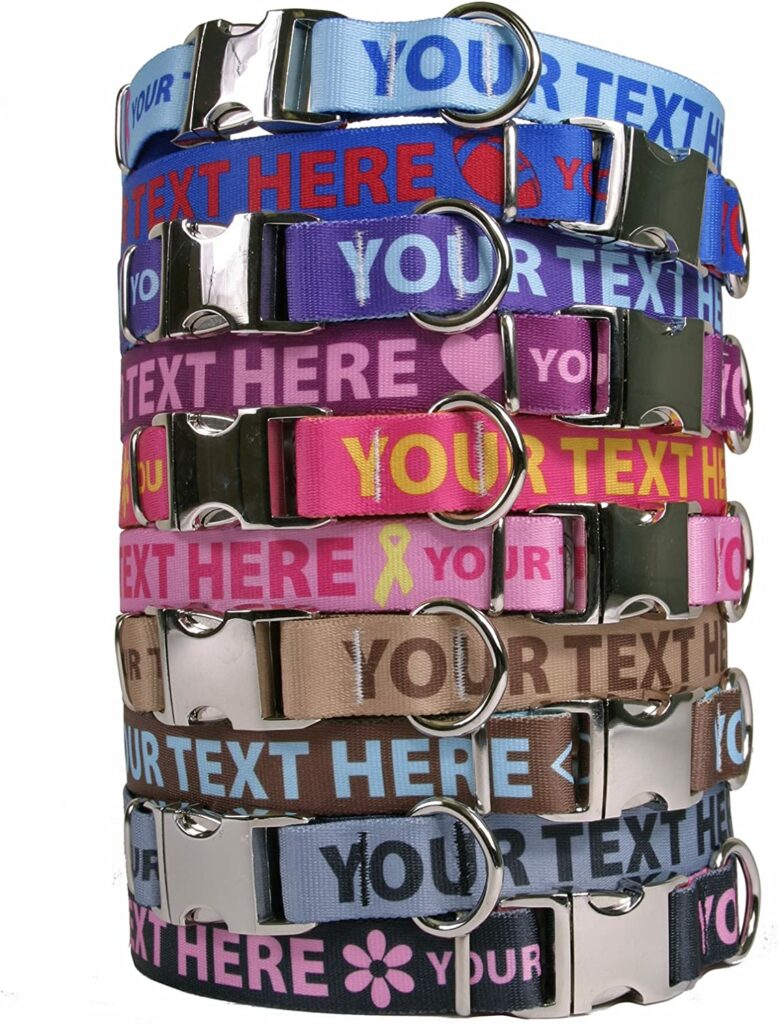 Available in sizes to fit 10″- 28″ necks
You have to love Yellow Dog Design and the creative yet durable approach they take to crafting dog collars. It is no wonder that many of the top sellers on Amazon are from this Greensboro, NC-based company of dog lovers. This collar features space for up to 24 characters that are computer generated as part of the fabric so ID never comes off. The quality metal clasp is easy to take on and off when needed. The metal ring makes it simple to attach other tags if needed or your favorite leash. They offer a really big discount if you order multiple collars at the same time.
Yellow Dog also allows you to choose a fun icon to incorporate into your dog's collar. Below is what you can choose from: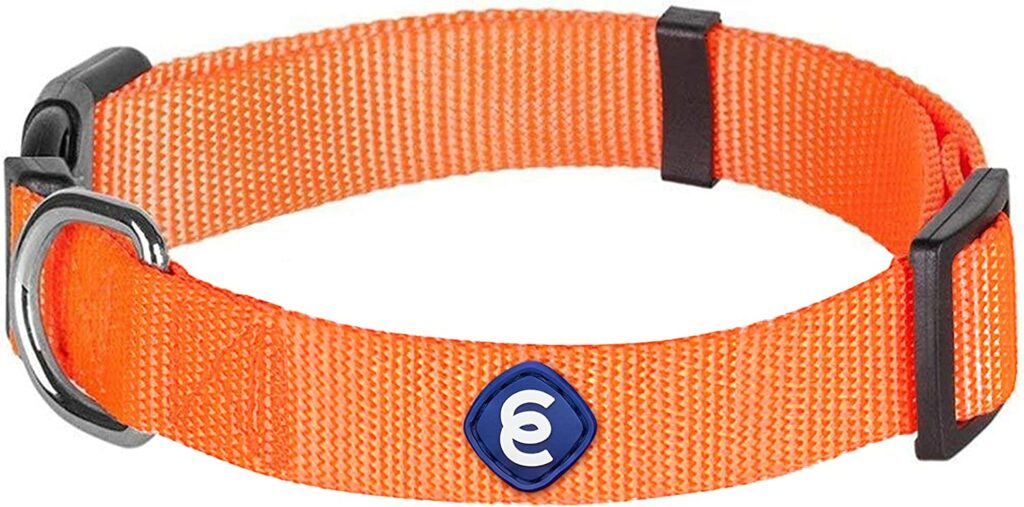 Available in sizes to fit 7.5″-26″ necks
These collars are very popular for a lot of reasons. First of all there are a lot of colors to choose from that offer high visibility. The logo makes this look like a major designer label so if you are into fashion it is a nice touch. The price tag is right at $10. Unlike a lot of collars you can get Blueberry Pet collars in an extra small size as well as a very big size so no one gets left out. The durable nylon is comfortable for your dog to wear and long lasting. A personalized embroidered option is available but ups the cost of the collar to $16. The easy to use snap makes this great for those that don't want to struggle with buckles.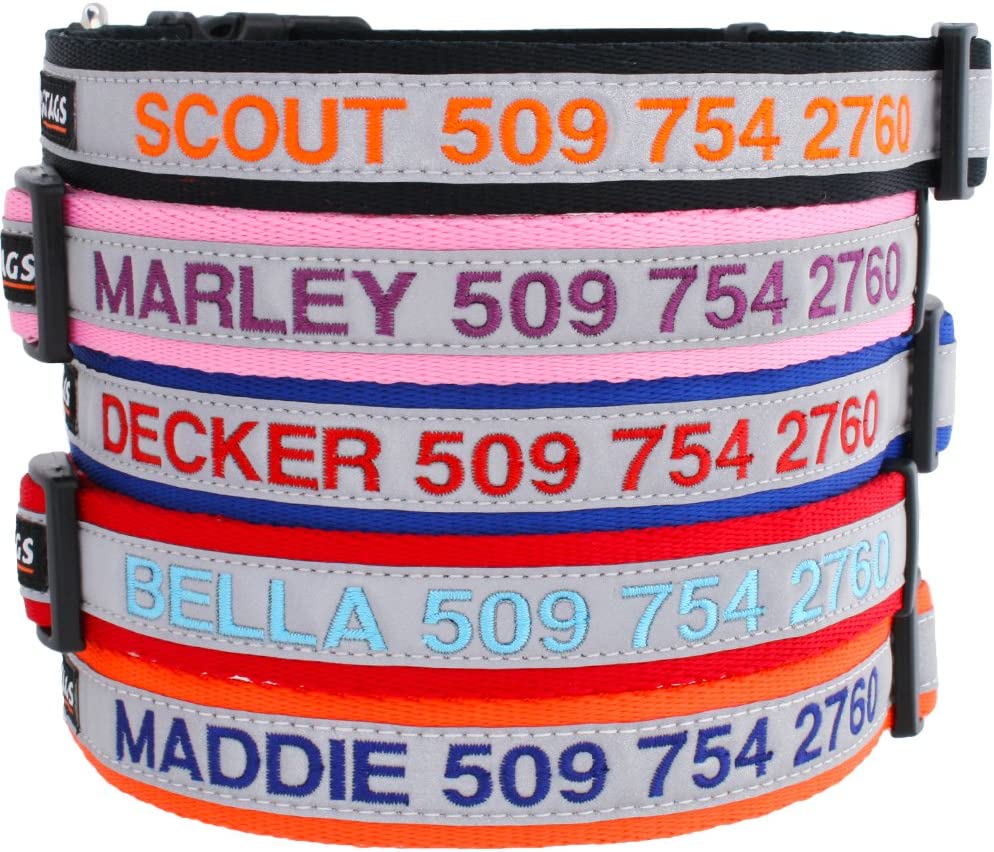 Available in sizes to fit 11″-26″ necks
Making sure your dog is highly visible can be a very important thing when it comes to safety. In fact, having your dog's collar be very visible helps protect you as well when you are out walking. This attractive collar features a safety stripe and custom ID that will make sure your dog is very easy to identify, This collar is a good choice for those that like having a reflective stripe but also like the look and permanent ID of an embroidered collar. The metal loop makes it simple to snap on a leash.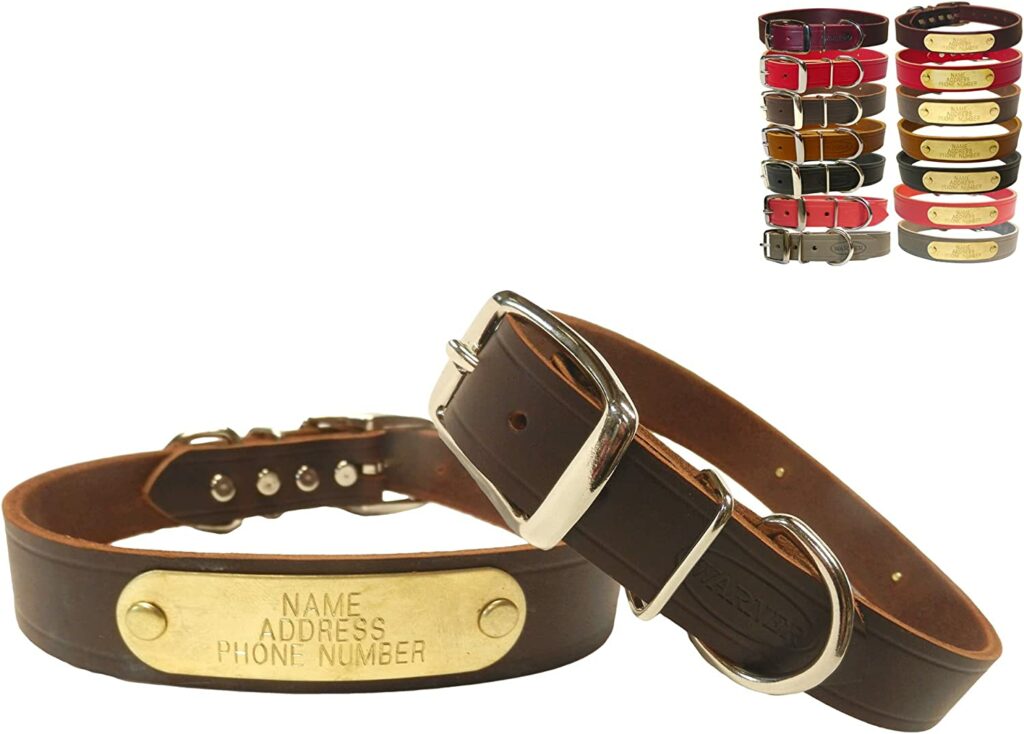 Fits 19″ – 25″ neck
Leather collars are a great alternative if you're looking for something with a little more longevity than nylon. They're also great for dogs with sensitive skin or short, thin hair, since they may cause less irritation than stiff nylon. Like many of the other collars listed here, each Warner collar comes with a customizable brass ID plate mounted directly on the collar.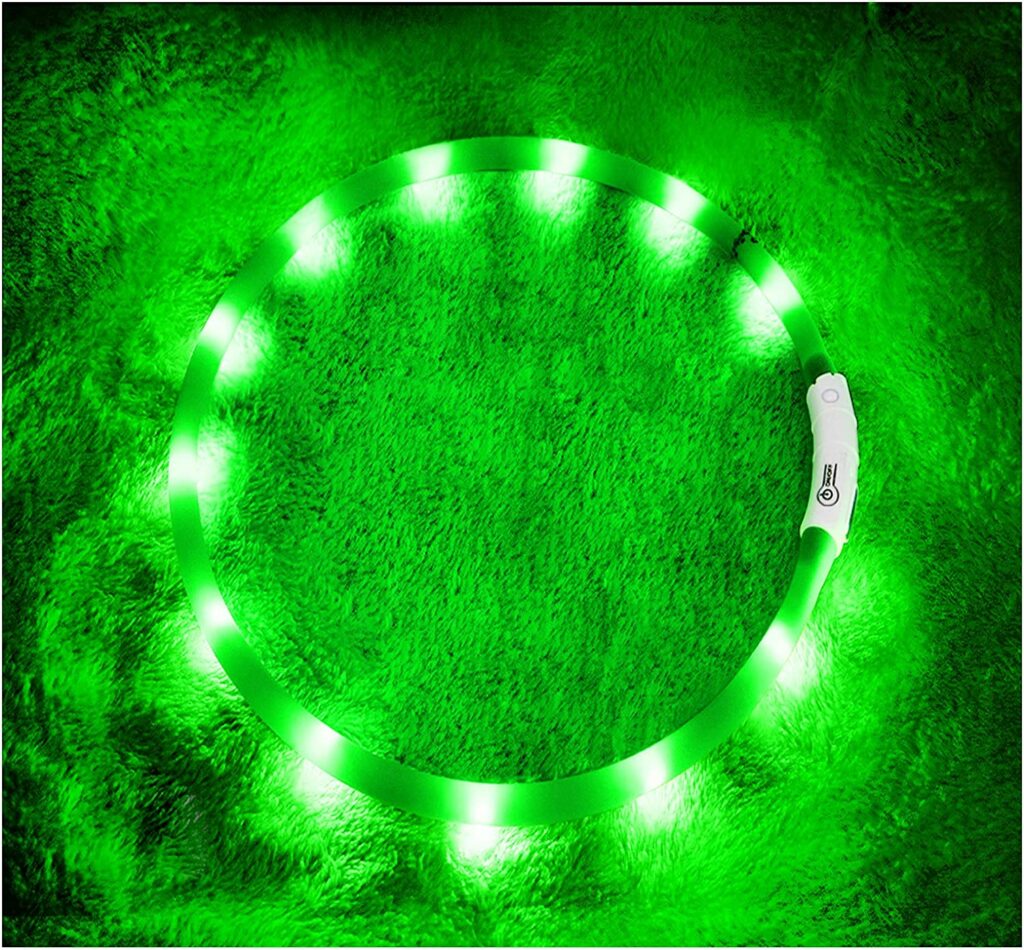 Completely adjustable
LED dog collars are not as popular as you might think but this one does get good reviews due to its adjustability and the fact that it lasts for 3 hours on a single charge. This company was smart to make this collar so it charges via USB like so many of your other electronics. You get a big discount for buying multiple collars so if the 3 hour glow time is not enough then just switch it out for another. The collars only come in one size but you cut it to the size you want with scissors. As long as your dog's neck is not more than 26″ you are good to go. These collars are great for those that want to keep track of their dog at night and prevent accidents. If you walk your dog at night then this collar can be a great way to stay safe and can be worn in addition to the standard collar. These are not made for leashes so this is not a replacement for your regular collar.
Signs Your Dog Needs a New Collar
Excessive Scratching at the Collar Line
Collars that have stretched out or become too worn can make your dog itch and just irritate them. If scratching seems localized then this is a sign that a collar might be worn or just doesn't fit well anymore.
Cracks, Splits, or Fraying
Even a small crack or split can cause a collar to fail. If your dog's ID is part of the collar then that can cause a major problem if your dog wanders off. There are a lot of inexpensive collars out there so if you start noticing any type of weakness in a collar then it is best to just make the change.
Smelliness
While some collars can be cleaned more easily than others, a smelly collar is a good reason to just replace the collar, especially if your dog has had it for a long time. Cloth collars can absorb odors more than others. If your dog ever gets sprayed by a skunk or anything stinky, it is often easier to just replace. Plastic coated cloth collars can become cracked and that can allow bacteria and smelliness to invade a collar.
Continue reading;
Best Great Dane Collars For For Your Gentle Giants & Their Puppies
Top 14 Designer Dog Collars & Best Luxury Brand Bestsellers