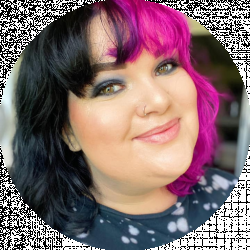 Latest posts by Alizabeth Swain
(see all)
As humans, we know how important it is to take a shower or bath. It helps us to get rid of all of the dirt and oil that our skin carries and keeps our stinky BO at bay. Just as you need to ensure you're taking care to practice proper hygiene for yourself, you need to make sure you're doing this with your dogs too.
Even though your pup may be hyperactive or afraid of water, it doesn't mean you need to completely give up on making sure they stay clean. If you've ever tried to give your dog a bath by yourself and have used bar soaps or liquid soaps for bathing them, you're probably already aware of the challenges these items cause. Not only is it very difficult for these types of soap products to get underneath the thick fur coat your dog has and get onto their skin, but it's also hard to rinse all of the soap off of them too.
That's why dog dry shampoos are AMAZING for grooming your pup. There are so many advantages that come with using dog dry shampoos that you're going to give up your current bathing routine for your dog once you read through this article. Not only are they easier to use, but they help to save you money, time and even cut down on how much water you're using!
Plus, you'll still see the same high-quality results with dog dry shampoo that you would see with any other type of liquid or bar shampoo. That's why I'm here to break down the best dry shampoos for dogs that you'll find in today's market. Keep reading to learn more!
How do Dry Shampoos for Dogs Work?
There are many different ways dry shampoos for dogs can work. How each individual dry shampoo works depends on the active ingredients inside of the dry shampoo formula. However, there are a lot of manufacturers who don't reveal how their dry shampoos work because of inside information into the formula.
Despite the active ingredients that may be available in specific types of dry shampoos, they all generally work together in the same way. Dry shampoos for dogs are waterless and contain a type of ingredient that absorbs oil. By having an ingredient that absorbs oil, your dog won't have as much oil on their coat and their skin.
Also, some dry shampoos for dogs help to alternate the bacteria that's growing on your dog's skin. So, your dog won't smell as bad, and it'll keep your dog's skin healthy!
Keep in mind dry shampoos for dogs won't remove dirt in the same way that physically washing them with soap and water will. However, there are some formulas of dry shampoos that may bind to the dirt particles on your dog's fur coat, making it a lot easier for you to wipe the dirt off of your dog's fur with a cloth or with a brush.
You can find dry shampoos for your dog in gels, sprays, and powders.
Our Criteria
Before we get too far into this guide, I want to point out the criteria I used to make the selections I'm recommending to you. All of these products have been carefully tested out to ensure they not only work but they're amazing enough to make it into this "best of" list.
Here are the criteria I used for all of the product recommendations I've made in this article:
Affordability
I made sure that no matter what, these bottles were affordable. That doesn't mean they're necessarily cheap, but if they are a pricier dry shampoo, there's a reason for the additional cost.
Ease of Use
I also made sure that the dry shampoos I've recommended here are easy to use. You won't be experiencing any additional hassle with these shampoos!
Positive Customer Experiences
I had a positive customer experience with all of these dry shampoos. However, I also carefully researched to make sure I wasn't the only person with a positive experience with these products.
What to Look for When Choosing a Dry Shampoo
Before you go shopping around for dry shampoo for your dog, there are a few things you need to keep in the back of your mind. You should pay attention to certain pieces of information while you're going to choose the best dry shampoo for your dog. These include:
Ingredients
There's a lot of information about ingredients that aren't highlighted by the manufacturer. You should still pay attention to what the basics are for the ingredients listed on the guide. Whenever possible, you should always opt to choose ingredients that are friendly to your pet and natural.
Scents
Certain scents may irritate your dog's skin health. If your dog has certain smells they hate, make sure to avoid any dry shampoos that contain these scents.
Flea treatment
Before you invest in a specific type of dry shampoo, you should really make sure there aren't any ingredients in the formula that are going to interact with any flea treatment you're using on your pooch. You can always consult with a vet to ensure the dry shampoo you're considering using is safe.
Size
If you have a small dog, you won't need to have a huge bottle of dry shampoo. However, if you've got a large dog, you'll want to get a dry shampoo that contains more formula to ensure you get a longer lifespan out of the bottle you're using. Or you could always invest in several jars of dry shampoo to make sure you don't run out.
Skin sensitivities
If you know your dog has sensitive skin, you should talk to your vet before deciding on anything. Your vet will help you to bypass any possible allergic reactions or irritations certain brands of dry shampoo may cause.
The Best Dry Shampoo for Dogs
Wahl No Rinse Dog Shampoo
This is a foaming dog dry shampoo that contains a mixture of chamomile and lavender scent. This is their "calming formula" and it works to clean, detangle, condition, and moisturize your dog's fur. And if you're super familiar with dog hygiene products, you may recognize the brand name of their famous hair clippers. This dry shampoo doesn't contain any PEG-80, alcohol, or parabens either!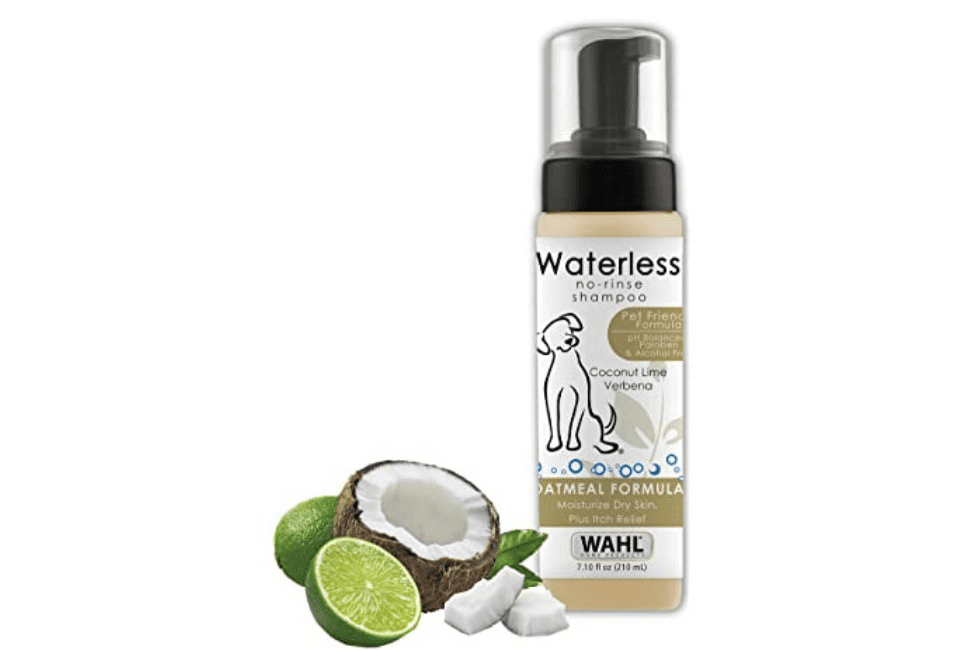 Pros
pH balanced shampoo, which means that this dry shampoo cleans your dog's fur effectively but gently
Highly trusted brand, recommended by vets
It contains lavender and chamomile, natural ingredients that help to calm your dog down
Cons
I've seen some people complain about feeling a greasy residue on the dog's fur after using this
Burt's Bees All Natural Waterless Shampoo Spray for Dogs
If you've ever used lip balm, soap, or shampoo in your life, you've probably heard of Burt's Bees before. This waterless shampoo spray for a dog doesn't require any rinsing – all you have to do is spray! It doesn't contain any colorants or sulfates.
I love that this formula is jam-packed with ingredients that are natural, such as honey and apples. In addition, it contains pH balancing, which makes it a great dry shampoo to consider if your pup has super sensitive skin.
If you're looking for a dry shampoo formula that will help to moisturize their skin, remove odors on their fur, keep the fur strong, and give them a beautiful shine, look into this dry shampoo. Plus, this dry shampoo formula is super affordable.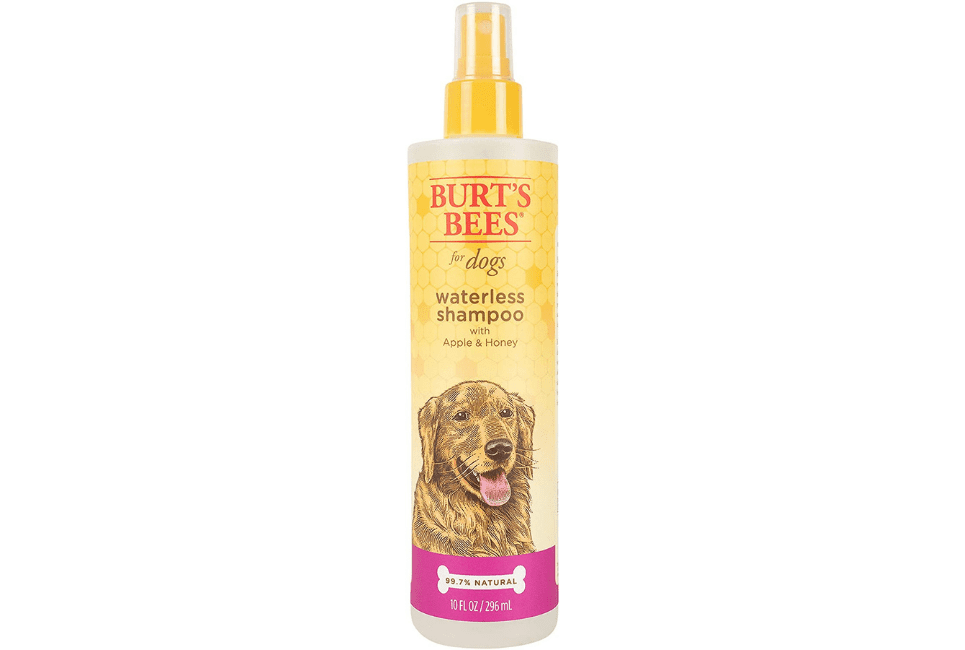 Pros
Contains balanced pH
Filled with natural products
Affordable
It makes your dog's coat super beautiful and soft
Cons
You need to be careful to ensure no spray product gets in your dog's eyes
Fresh Dog Dry Shampoo Powder
Does your dog hate the spray bottle? Don't worry, I totally understand. The Fresh Dog Dry Shampoo Powder is a great option to try if your dog is super skittish. All you have to do is sprinkle some powder on your dog and then brush their fur. You'll want to brush the powder out of their fur. The scent of this dry shampoo powder is lavender rosemary.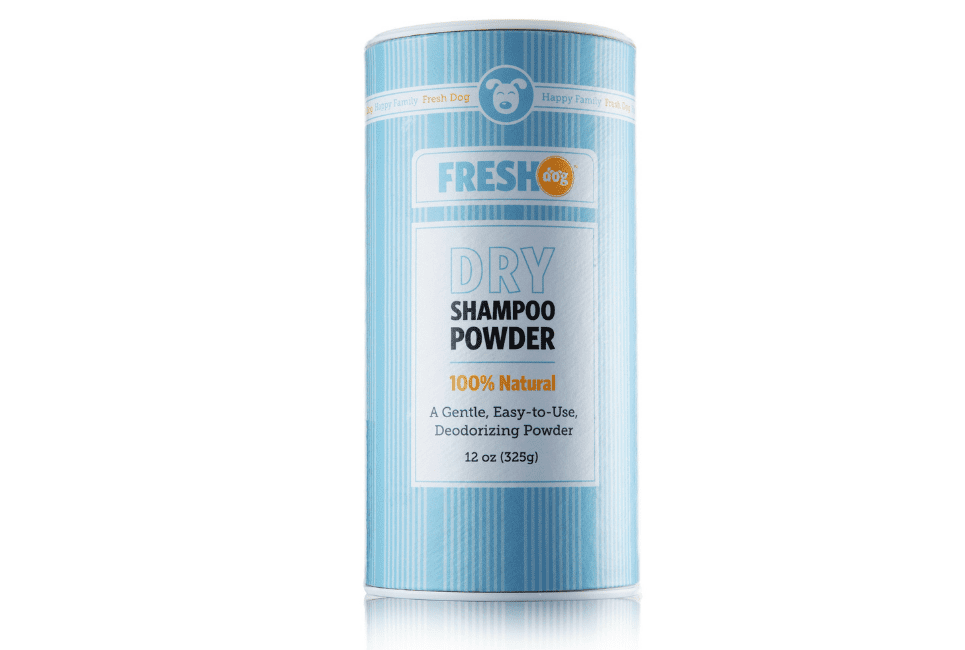 Pros
Great to use if you want to also deodorize your carpets or any pet bedding
It contains completely natural ingredients, like essential oils that are safe for your pets, corn starch, and baking soda
Cons
Paw Choice Foaming Mousse Dog Shampoo
This dry shampoo is a mousse, so it's great to use on all different types of fur. This dry shampoo works to clean both their fur coat and their skin. Plus, it's a coconut-based foaming mousse shampoo, so your dog is going to smell absolutely lovely after you finish cleaning them with this shampoo. The scent is mango and fresh pomegranate, but I could still get a little bit of that coconut smell from this formula.
What I personally love about this formula is that the mousse style of this formula makes all of the hair I brush off of my dog clump up. So, it makes brushing my dog a lot less messy than it normally is.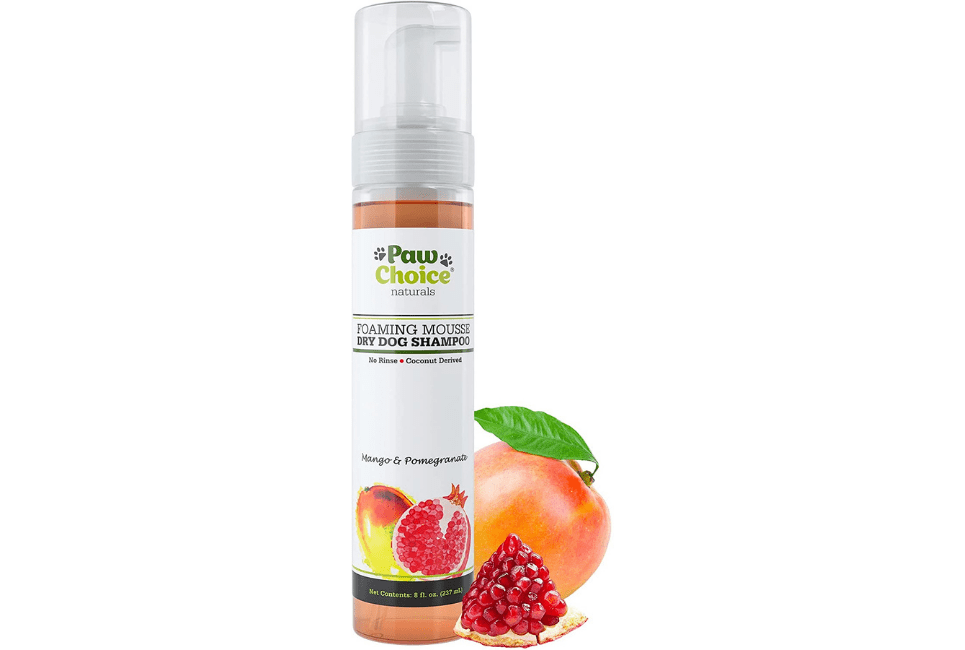 Pros
Made in the USA
A great option for dogs that have sensitive skin
A small list of ingredients that are mostly natural
Cons
A few people didn't like the scent of this mousse shampoo, even though it appears the majority of people do
Lillian Ruff Waterless Dog Shampoo
I love how easy it is to use the Lillian Ruff Waterless Dog Shampoo. All you have to do with this formula is spray it in your dog's coat, and that's it. You can leave it in their coat, and you don't have to worry about rubbing it off or brushing it out!
This dry shampoo has both coconut and lavender oil in it, which helps to naturally keep both ticks and fleas away. Also, it contains other ingredients in the formula, like aloe, that help to soothe your dog's coat and skin. Plus, it's a great formula to use for dogs that have sensitive skin.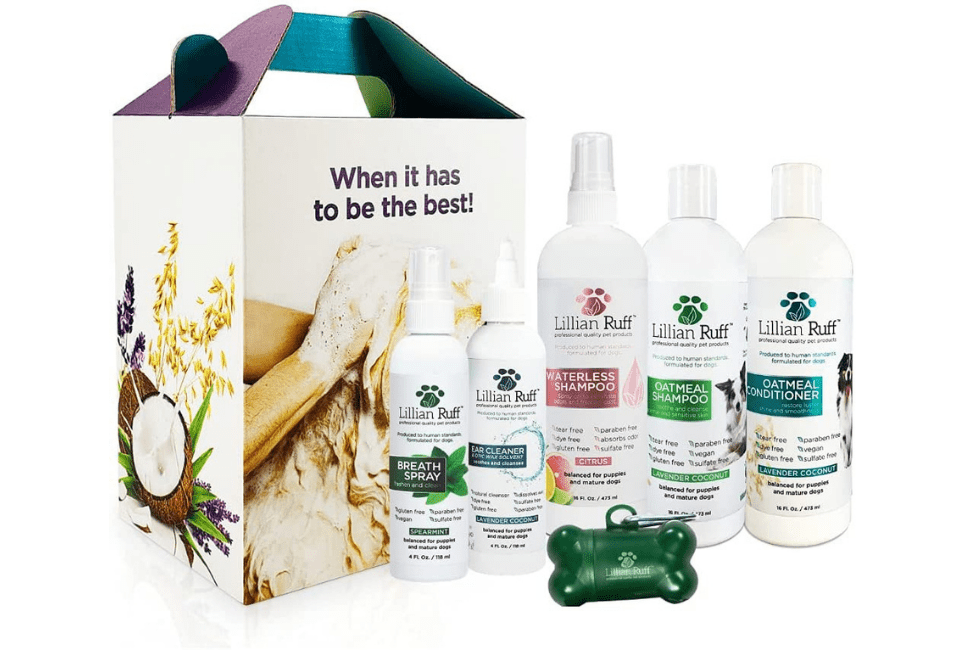 Pros
Vegan formula
It contains aloe and coconut, helping to smooth and condition your dog's coat and skin
No brushing or rubbing out required
Made in the USA
Cons
May interact with your dog's current anti-flea external medicine, so double-check with your vet
FAQs
Now that you've read through all of the dry shampoos for dogs that I'm recommending, it's time to break into your FAQs! Here, I'm going to answer some of your most frequently asked questions so you can get a good idea of whether or not dry shampoo for dogs is the right hygiene investment for you and your pooch!
Question: Why does a dog need dry shampoo?
Answer: You should always have a bottle of dry shampoo available for your dog and their grooming needs. There are a lot of unique situations where having dry shampoo would be a lot more beneficial than washing your dog down with soap and water.
If your dog is afraid of water and always fights you getting into the shower or bath, you can extend the time in between their bathing by using dry shampoo. Or, if you noticed your dog is super smelly today, you could always spray them down with dry shampoo to help them smell better.
In addition, if you've recently taken your dog to the dog park and they've gotten dirty- dry shampoo will help. It'll make it easier for you to clean up your dog before you put them in your vehicle. Lastly, if your dog is feeling under the weather or is injured, you can still stay on top of their hygiene by using dry shampoo.
Question: Can you use human dry shampoo for dogs?
Answer: No, you can't use human dry shampoo on dogs. Human grooming products often contain alcohol in them, which isn't safe to put on your dog's skin or fur. If your dog licks itself, there's a chance the ingredients in the human dry shampoo will make your dog very sick.
Question: Does dry shampoo for dogs work?
Answer: Yes, it does work! It'll make your dog feel (and look) a lot cleaner after using dry shampoo on their fur.
Wrapping up
There are many different types of dry shampoos for dogs out there on the market. Before deciding on a specific formula, make sure to do your research and chat with your vet if you have any questions. However, out of all of the products I recommended to you today, I would highly recommend the Wahl No-Rinse dog shampoo.
Not only is the formula for this waterless shampoo pet-friendly, but it's also calming. In addition, it does several things for your dog's coat inside of just focusing on cleaning it. I loved the way my dog felt after I used their product, and she smelled great for several days after I finished cleaning her up!
Are you looking for more advice on how to care for your furry friend? Check out our website to learn more today.
Continue reading:
11 Best Shampoos for Golden Retrievers
Top 9 Antifungal Shampoos For Your Dog in 2022