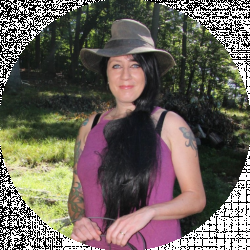 Latest posts by Samantha Biggers
(see all)
Hot spots in dogs are a common skin affliction that causes a lot of pain and stress to dogs and their parents. They are normally caused by licking, scratching, and biting. These actions can be caused by a lot of different things. Dogs may have a flea allergy or an allergy to their food or something else in their environment. In a lot of cases, the area appears red, swollen, and there can be a loss of hair. If hair is longer it may become matted to the irritated skin. Because the hair can cover the problem, it is easy for even attentive dog parent's to miss a hot spot or the irritation that can quickly lead to one.
It is very challenging to keep dogs from licking, scratching, or biting the area, so hot spots can grow in size quite rapidly. This, of course, means that medicines that are applied are often licked or rubbed off. If your dog is particularly agitated you may need to take measures to keep them from being able to reach the spot.
It is critical to treat hot spots as soon as possible and also to pay attention to any redness or irritation you notice on your dog. A small issue can become a much larger one or even an infection in little time. Dogs that are most prone to skin conditions and longer haired dogs in hotter climates are the most likely to get hot spots.
Hot Spot Prevention Tips
There is a lot you can do to prevent hot spots from ever occurring. Here are Scout's top tips for keeping your pet's skin in top condition at all times.
Groom your dog regularly
Dogs need to be brushed and groomed regularly to avoid hot spots. Mats and tangles trap moisture and bacteria close to the skin and as a result are a major cause of hot spots and skin irritations. Detangling sprays are helpful if you have a dog with a high maintainance coat.
Consider a shorter hair cut for your dog in the summer
Shorter hair means less heat and itchiness for a lot of dogs. It is not advisable to cut the hair or shave some breeds of dogs so consult your veterinarian or a reputable resource dedicated to your breed of dog to make sure. Too short of a cut can mean you need to give your dog more protection from the sun at times.
Treatment Of Hot Spots
Trim back hair
You need to be very careful when removing hair especially if your dog is really tender. Simply trim back hair with a small set of scissors with a blunt tip for safety. Even well behaved dogs may jump or squirm if you start messing with any area even remotely near their hot spot. Shaving may be too much and irriate their skin further so if you have to use clippers be very careful.
Clean the area throughly
The area needs to be cleaned regularly and throughly. Use a gentle soap and rinse with warm water. If the area is very irritated then you may actually need your veteranarian to take care of this for you the first time.
Keep it dry
Hot spots happen frequently during periods of high humidity and moisture. If your dog has hot spots then try to keep them out of water and make sure indoor spaces are not high humidity. This means no running off to play in the creek or sprinkler time with the kids until they are healed!
Find the cause and treat accodingly
Some dogs get hot spots from anxiety induced biting, licking, and chewing. If this is the case then making sure they have something to occupy their time. Healthy chews and toys may be the solution you are looking for.
Even if you are using a flea and tick treatment, there is a chance that it is not working well for your dog. In fact your dog may be allergic to the medication or it may not work well enough to keep a single flea from biting them. Some dogs are so allergic to fleas that a single bite turns into a major issue.
Dog foods can also cause allergies. Switching to a grain free dog food solves some issues. There are breeds of dogs that require more oils in their diet for a healthy skin and coat. If your dog is a mix of one of these breeds or full, then you might supplement with Alaska Salmon Oil or a similar supplement to combat the problem.
Over the counter topicals
Since hot spots are so common there are topical solutions that can be applied to the affected area after hair is cut short or shaved. These help cool and soothe the area and kill the fungus and bacteria that are causing the hot spot. The downside is that dogs can lick it off so you may need to use a Cone collar so they cannot reach the spot until the condition improves.
Creams, Ointments, and Sprays

Life Line Wild Alaskan Fish Oil, 128-Ounce
This gallon size of pure Alaska Salmon Oil will make sure that you have plenty of skin soothing and moisturizing Omega 3 and 6 Fatty Acids for your dog. Not only will skin and coat be left shinier and with less issues, your dog will get some health benefits for their brain, heart, and eyes since Salmon Oil is a fabulous source of DHA. This brand is quality tested for purity and the safety of your dog. For those looking for a great economical supplement, this is the answer.
NEW All Natural Pet Hot Spot Spray | Soothing Plant Based Dog Treatment | Healing Allergies Anti Itch Dry Skin Relief for Dog | PROFESSIONAL GRADE QUALITY – Made in USA – 1 Bottle 8oz (240ml)
This all natural spray helps take the heat and pain away from your dog so they can get on being the great pooch they are. Lemongrass, clove, peppermint, eucalyptus, alcohol, and allantoin naturally soothe and cools without the use of steroids and antihistamines. Scout advises getting the larger size to have on hand for any skin irritations that might come up.
Sulfodene Wound Care Ointment, 2-Ounce
This natural oil based remedy is inexpensive and works well to relieve hot spots and help them heal. The ointment treats a variety of skin conditions that are bacterial or fungal based. Ingredients such as tea tree oil naturally soothe skin irritations while emu oil helps heal and restore your dog's skin.
SENTRY Hot Spot Skin Remedy for Dogs, 4 oz
Sentry Pet is a well known brand of hot spot remedy. This formula uses Benzocaine to soothe and treat hot spots. Fungal and bacterial issues are eliminated. There is something to be said for time-tested, readily available, and effective. Dogs that are suffering from a variety of skin irritations can benefit from this formula that is proven to kill even skin viruses.
Hot Spots Can Happen to Any Dog
Even if your dog is older and never had a hot spot before, they may still develop one or more at some point in their life. Flea bites and tick bites that become irritated can lead to hot spots. A change in your dog's environment can also trigger allergies. For example, if you move 1000 miles away and the climate is very different then there may be something your dog is allergic to.
Shampooing
The right type of shampoo can make all the difference when it comes to treating your dog for hot spots and other skin irritations. In fact your dog's current shampoo could even be causing some of the irritation they are experiencing!
There are a lot of different types of shampoos to choose from out there but Scout has found a few that get good reviews from the owner's of some itchy pooches!
Natural Dog Shampoo. Anti-Bacterial-Anti-Fungal- Anti-Itch , Promotes Healthy Hair and Skin, Helps Hot Spots. Shea Butter, Neem and Argan Oil, Aloe Vera and Bentonite. Concentrated-Organic by Moosh
Moosh dog shampoo combines shea butter, neem and argan oil, aloe vera, and bentonite clay. The clay works to dry up hot spots and draw out impurities such as fungi and bacteria. Neem and argan oil soothes and leaves behind a shiny coat and healthy skin. Dandruff and flaking are eliminated. This natural formula is safe to use on virtually any dog out there.
EarthBath Hot Spot Relief Shampoo Tea Tree Oil & Aloe Vera 16 fl. Oz.
Earth Bath soap free shampoo uses aloe and tea tree oil to eliminate bacteria and fungi while providing a healthy dose of soothing moisture to your dog's skin. The biodegradable formula is safe to use on puppies as young as 6 weeks old. Earth Bat created this formulation to be gentle enough to not wash off your topical flea medications either so you can rest easy.
Antibiotics
For some hot spots, your dog doc might prescribe antibiotics. This should be your last resort or at the very least only used if conditions don't improve with a topical. Sometimes antibiotics are used as a precaution while the actual cause of the problem is treated. A change in diet takes time for example or a flea allergy may take some extra time to heal.
If you can treat hot spots another way then it is advisable. Antibiotics should only be used when absolutely necessary
Using the "Elizabethan Collar"
No dog seems to like having a collar like this on their neck. At the same time, you got to stick to your judgment if your dog is suffering from hot spots. These collars will make your life easier as a pet parent, especially if you have to be away during the day or have a dog with repetitive and severe hot spots. How long your dog has to wear the Elizabethan collar definitely depends on how bad the problem is and what you are doing to prevent it from ever happening again.
Even if your dog is really upset about the Elizabethan collar, you have to remember it is for their own good. Some extra treats and attention can go a long way towards making the whole thing nicer for your dog and to distract them from the whole hot spot issue entirely.
FOREYY Recovery Pet Cone E-Collar for Cats and Small Dogs – Comfortabe Flower Pattern Elizabethan Collar Made From Easy to Clean Fabric and Sponges(Multi-colored,M)
This comfortable and soft flower petal style E-Collar provides the restriction needed for healing with no uncomfortable hard plastic. The three straps can create a more custom fit than collars with a single strap. Collar stays out of the way when dogs are eating or drinking. The soft sponge-like material provides padding while your dog is sleeping so they can rest a lot easier than the E-collars that are hard flexible plastic.
This collar is really only for smaller dogs. The sizes are odd. A small fits necks as small as 4.5 inches so it is a good choice for young toy breeds or puppies. The XL is not as big as it sounds at a maximum neck size of 13.5 inches.
KONG Cloud E-Collar, Dog Collar, Large
This inflatable E-Collar is the #1 Recovery Collar On Amazon and for a lot of good reasons. For starters, you can get this collar in sizes to fit from the smallest to the largest dogs. While it provides a buffer so your dog cannot lick, bite, or chew itself. it doesn't get in the way of their vision as much as collars that extend out a lot. The soft design will not scratch surfaces or get in the way of your dog enjoying food and beverage. Of course, your pooch can enjoy the comfort of this fabulous Elizabethan collar when laying down. No more discomfort from ill-fitting or hard E-collars for your good dog!

NEW Anti Itch Oatmeal Spray for Dogs and Cats | 100% All Natural Hypoallergenic Soothing Relief for Dry, Itchy, Bitten or Allergic Damaged Skin | Vet and Pet Approved Treatment – 1 Bottle 17oz (503ml)
Bodhi Pet is a great company for producing natural products for your dog. This anti-itch oatmeal spray helps treat the itching and scratching your dog tends to do when being treated or recovering from a hot spot. This soothing and easy to apply spray gives instant itch relief and has some fantastic healing properties to help your canine pal get rid of redness, irritation, and more.

Buy from Amazon
Remedy and Recovery Hydrocortisone provides fast itching relief and also promotes drying of hot spots. It is proven to reduce inflammation and redness caused by a variety of skin conditions. This 4 oz bottle is specially formulated for dogs and can be applied by massaging it gently onto the affected area.
Best Dog Foods for Preventing Skin Conditions That Lead to Hot Spots
If your dog seems prone to skin conditions then they may have allergies. Some dog foods contain ingredients that dogs might be sensitive to. Corn, wheat, and soy in small amounts often doesn't cause too much of a problem but a lot of dog foods have a high proportion of these fillers. There are an increasing number of dog foods that are being made grain free or with rice or barley as their main grain instead of the cheaper wheat, corn, or soy. Here are a few dog foods that can help. Of course, you can also get on board with the trend of cooking or putting together your own rations. Just be sure to use a trusted recipe or consult with your vet for advice on designing a home cooked diet for your dog.
Buy from Amazon
Taste Of The Wild is definitely a dog parent favorite. This affordable grain free dog food comes in a variety of flavors and bag sizes to meet your dog's dietary needs. Their line of dry and wet foods contain ingredients such as bison, salmon, wild boar, venison, lamb, and duck. Probiotics and quality fruits and vegetables round out this kibble. Since this is high protein food you may find your dog needs less of this ration then their previous brand. Good levels of Omega 3 & 6 fatty acids from natural sources help with skin and coat health.
Nutro Max Grain Free Formulas are another great option for dogs with sensitive skin or allergies. You can choose between lamb, salmon, or chicken flavors. Beans and potatoes take the place of corn, wheat, and soy in this quality affordable dog food. It is nice that multiple sizes are available as well. There is even a mini chunk chicken recipe that works well for smaller dogs.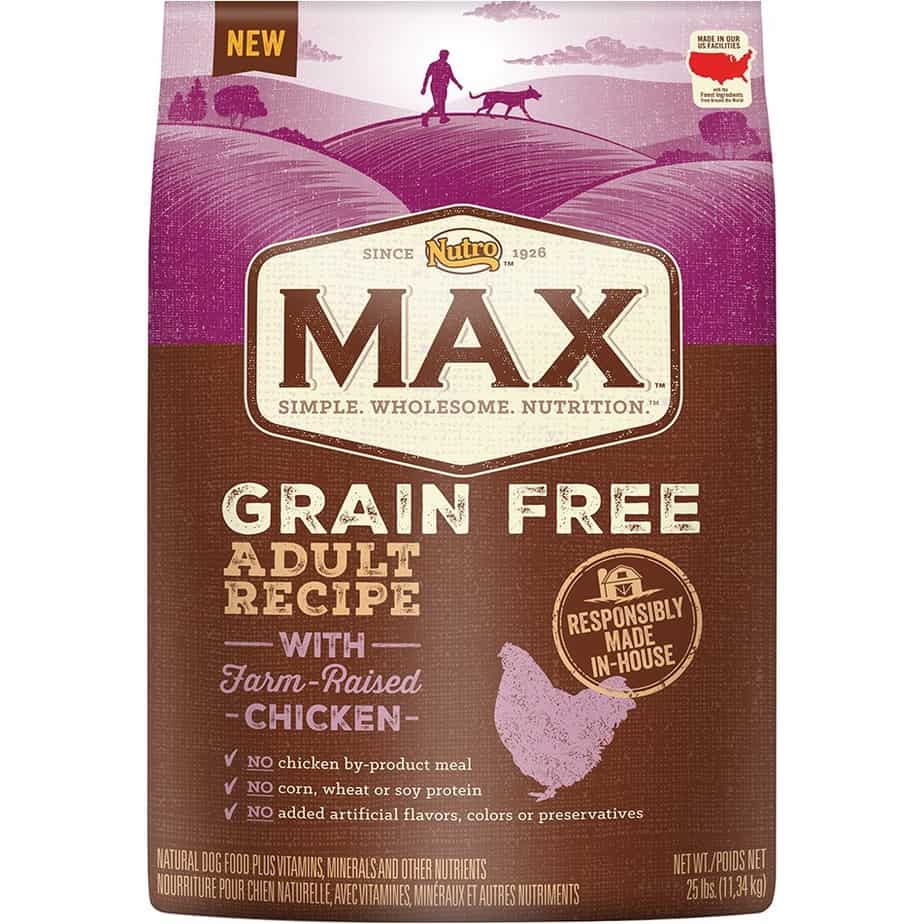 Buy from Amazon
Purina Pro Plan Salmon and Rice Formula was created for dogs that have sensitive stomachs and/or skin allergies. This formula from the trusted folks at Purina. Real salmon is the #1 ingredient and also contains easily digestible rice, Oomega 3 and 6 fatty acids, and zinc. Natural Prebiotic Fiber promotes digestive health so dogs have less gastrointestinal distress. The 30 lb bag is definitely the best deal per pound but they offer smaller sizes if your pooch is smaller and doesn't go through dog food fast.
Natural DIY Solutions for Hot Spots
You can easily make salves that can help your dog recover from hot spots. Here are some ingredients that are helpful and you can use more than one.
Coconut Oil
Coconut oil has antibacterial properties and provides soothing relief. If you want an oil that is sprayable you can get liquified coconut oil or simply let it warm up a bit if you have the solid stuff in a jar.
Tea Tree Oil
This affordable and easy to find essential oil is great for dogs with all types of skin conditions. The antibacterial and antifungal properties mean it can take care of some pretty nasty spots on your dog. In fact, a lot of commercial topicals for hot spots contain tea tree oil. Add a few drops of coconut oil and smooth on the hot spot.
Tea Bag Compress
To help dry out a hot spot you can dip a standard sized tea bag in hot water. Let the tea bag cool and then place on the hot spot for a couple of minutes. You can do this several times a day until the spot starts to heal.
Sea Salt Soaks
Use 1/4 tsp sea salt dissolved in 8 ounces of warm water to make a solution, Use a cup sized plastic tumbler or similar full of this solution to soak the hot spot. To do this quickly tip the cup up and onto the spot or have your dog stand up and then lay down so you can get the glass filled with sea salt onto the hot spot. Soak it for 10 minutes if you can. This promotes healing, reduces swelling, soothes, and helps remove pus and crustiness. You can do this once a day until the skin starts to heal. Don't do it more often or use more salt than 1/4 tsp per 8 ounces of solution or you can cause irritation and reduce the healing rate.
Tips During Treatment
Hot spots are very irritating and painful. Even really sweet and good dogs may get grumpy or seem down. Make sure to let kids know why their dog is feeling bad and what they can do to help. Some medications may make a dog feel bad or they may simply not like being restricted from activities they enjoy or wearing an E-collar. Treats, toys, and attention can all go a long way to getting your dog through a hard time. Set aside a little extra time for your dog and you will help them have a much easier recovery.
If your dog is up for it a good walk around the park or neighborhood could be a welcome distraction. If they are wearing an E-collar you may want to limit play time with other dogs because some dogs will pull or latch onto the collar all in good fun.
Continue reading:
The Dog Days of Summer: Keeping Your Dog Safe in Hot Weather
Best Dog Cooling Mats & Dog Cooling Beds (Updated 2022)