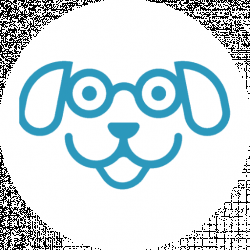 Latest posts by Scout Knows Team
(see all)
If you're looking for a dog food fit for a superhero pup, Gentle Giants has all the makings at first glance. Created by a superhero sidekick with a passion for rescuing and rehabilitating dogs, their food packaging looks like a comic book and they have some impressive doggie ambassadors. Here you'll find a comprehensive Gentle Giants dog food review that covers all you should know before making your decision.
At A Glance
Parent Company: Gentle Giants Rescue
Started: 1994, but began making food in 2008
Headquartered In: Norco, California
Where to Buy: Walmart, Chewy, Petsmart, pet stores
Types of Food: Dry dog food, canned dog food
Real Meat in First 5 Ingredients? : No (meat meal)
Ever Recalled? : No
A Deeper Dive Into The Brand
The Gentle Giants brand started off as a rescue foundation in 1994. Burt Ward (some might know him as Robin from the 60s TV show Batman) founded Gentle Giants with his wife Tracy. After living with and observing thousands of rescued dogs, they committed themselves to creating a healthy, life-extending dog food (that is suitable for dogs of all sizes, not just giants!)
They claim that a diet consisting of Gentle Giants food can double or even triple the life range of large and giant breed dogs (whose lifespans are generally shorter than smaller pups). While the science behind this is not quite certain right now, they have garnered some publicity and been featured on the Ellen show and various other high-publicity news sites.
Care & Feeding Program
In addition to their food, which was developed by nutritionists across the USA over a few years, they have a Gentle Giants feeding and care program and have seen good results from it. The feeding program is designed to teach dogs to self-regulate how much they eat so that they never overeat. This goes hand in hand with their food, which is designed to be easily absorbed and nutrition-packed.
Their care and feeding program is available on their site for you to check out and follow for free. There are also a few pups on their website that have become "brand ambassadors", and point to the effectiveness of the Gentle Giant food for extending lifespan. Tara (now around 27 years old) is one of these pets.
While the science here is once again controversial, there are customers that swear by it. One of the Gentle Giant food trademarks is a lower-than-usual fat content, which they point to as one of the reasons their dogs live longer than others. There are also plenty of accounts of how this food has helped pets overcome allergies, so it's clear they are doing something right!
What Is the Variety Of Foods They Produce?
Gentle Giants' main food is a dry dog food in two different flavors, one grain-free and one containing grains. They also have canned foods, all of which are grain-free.
Recall History
As of yet, no Gentle Giants foods have been recalled. This does say good things about their quality, although they are a relatively young brand.
Best Gentle Giant Dog Foods
The Gentle Giants dog food brand only has 6 different foods in total. We've decided to review both their dry dog foods and two of their canned foods, to paint a good picture regarding the quality of both types.
Although some of their products are available on Amazon, these are through various sellers and not from Gentle Giants themselves. They state on their site that they no longer sell through Amazon as they disagree with their business practices. It's absolutely your call as to where you choose to buy, but be aware that sellers on Amazon are not the real company.
First 5 Ingredients:
Chicken Meal
Pearled Barley
Brown Rice
Oatmeal
Dried Plain Beet Pulp
Other Notable Ingredients:
Chicken Fat
Tomato Pomace
Menhaden Fish Meal
Vegetables (sweet potatoes, carrots, spinach)
Fruits (cranberries, blueberries, apples)
Taurine
Chelated Minerals
The most noticeable first impression of this food is that it contains no real meat. Chicken meal is ingredient number one, and while this is higher in protein than fresh chicken, nothing can quite be an effective substitute for real, raw ingredients. The rest of the protein count is made up of fish meal and dried egg product, which are not bad sources.
There are three different grains in the first five ingredients, so if your dog is one whose sensitive stomach doesn't like grains, this may not be for you. Barley and brown rice are not of great nutritional value, so although they are higher-quality grains than corn or wheat, they are not adding very much of use to your pup's nutrition.
This food does contain a good amount of fresh fruits and vegetables, which are easily absorbed and healthy carbs containing good nutrients for your dog's body. Other ingredients to note are tomato pomace, which is a controversial food, and taurine, which has been linked to heart disease in pets.
According to the website, this food also contains vitamins, minerals, and probiotics and prebiotics to aid in digestion. They also contain New Zealand Green Mussel, which provides natural sources of Omega-3 and -6 fatty acids, as well as natural glucosamine and chondroitin to provide joint support (this is essential in foods for seniors, or giant and large breed dogs prone to hip dysplasia).
Specs:
358 calories per cup
Protein: 22% min
Fat: 9% min
Fiber: 4% max
Moisture: 10% max
Vitamin E: 250 IU/kg min
Vitamin C: 60 MG/KG min
Glucosamine: 600 mg/kg min
Chondroitin: 300 mg/kg min
Omega-6 fatty acids: 1.5% min
Omega-3 fatty acids: 0.5% min
Our Verdict:
This biggest disadvantage of this food is the absence of real meat, despite the good protein content. Meat meal is high in protein but is always less effective than whole, raw food. The protein is on the lower side when compared to some other dog food brands, as is the fat content. This isn't a bad thing to say, though, and is still perfectly adequate for a healthy diet.
The carbohydrate content is good and made up of healthy, high-quality foods. Added vitamins and minerals are great for promoting your dog's health, and added glucosamine and chondroitin mean that this food is suitable for all pups even up to giant breed dogs. These joint supplements are also greatly useful for senior dogs to maintain joint health and activity.
This is a good, high-quality dog food if you're looking for something geared to giant breeds, or simply a little lower in protein than others. You can read a bit more of a comprehensive review here!
First 5 Ingredients:
Salmon Meal
Whole Dried Potatoes
Whole Dried Peas
Tapioca
Salmon Oil
Other Notable Ingredients:
Dried Vegetables and Fruits
Taurine
Glucosamine Hydrochloride
Again, there is no real meat in this food, but the protein sources are still decent. Salmon meal and salmon oil mean that your dog is not only getting good protein but also a good dose of fatty acids, which go a long way towards giving your pup a healthy coat-shine!
While this food is grain-free, it makes use of tapioca, which is regarded as a low-grade filler due to its lack of nutritional value. The rest of the carbs are fairly high-quality and contain a good variety of fruits and vegetables. This one also contains taurine, which is more common in grain-free foods than others.
The main carbohydrate in this food is potato, which some dogs don't react well to. If this is true for your dog, you might have to opt for a different grain-free food.
Specs:
368 calories per cup
Protein: 24% min
Fat: 10% min
Fiber: 5% max
Moisture: 10% max
Calcium: 1% min, 1.5% max
Phosphorous: 1.1% min
Glucosamine: 600 mg/kg min
Chondroitin: 300 mg/kg min
Omega-6 fatty acids: 0.5% min
Omega-3 fatty acids: 1.1% min
Our Verdict:
This is a great grain-free option for giant breed dogs. It contains a decent amount of protein, despite the absence of real meat, and has a dose of glucosamine and chondroitin for promoting healthy and stable joints.
If you aren't happy with your pup eating potatoes or you don't like the addition of tapioca, then it may be best to look around. You can find more info on this particular food here.
First 5 Ingredients:
Chicken
Chicken Broth
Chickpeas
Natural Flavor
Sweet Potatoes
Other Notable Ingredients:
Agar-agar
Dried Green Lipped Mussels
Real meat as the first ingredient makes this a high-quality canned food. It contains a good amount of vegetables and fruits in addition to the meat, which means that your pooch will be getting real, healthy ingredients in every meal.
Green-lipped mussels add that little dose of glucosamine and Omega-3 and -6 fatty acids, so your pet will not only have a healthy, shiny coat but also string and supple joints. Agar-agar is an all-natural gelling agent used to thicken and create consistency in pet food and is definitely one of the healthier options to perform this purpose.
Specs:
364 calories per can
Protein: 9% min
Fat: 7% min
Fiber: 1.5% max
Moisture: 78% max
Omega-6 fatty acids: 1.25% min
Omega-3 fatty acids: 0.2% min
Our Verdict:
Real meat is ingredient number one, and that is followed by quality carbs. Green-lipped Mussels once again add a dash of joint-strengthening glucosamine, and agar-agar is a healthy gelling agent that is perfectly acceptable in dog food.
One thing that really stands out about this food is that it lacks carrageen. This is a highly controversial thickening agent that is an ingredient in many of today's wet dog foods and is not good for your pet's health. Leaving it off their ingredient list earns these guys a thumbs up! Chicken meal and by-products are also absent, so this should be a great option for pups with allergies or sensitive stomachs.
No products found.
First 5 Ingredients:
Turkey
Turkey Broth
Liver
Dried Whole Eggs
Chickpeas
Other Notable Ingredients:
Agar-agar
Dicalcium Phosphate
Chelated Minerals
Here we have another quality product, simply in a different flavor. Two real meat protein sources and a host of natural vegetables and fruits makes this a healthy meal for your pup.
Dicalcium phosphate is another ingredient that inspires mixed feelings in dog owners. It is worth doing a bit more in-depth research on if it's something that you feel might sway your decision, but in small doses, it should be okay for your pet to consume. If you are likely to be feeding this to your pet as a full meal instead of a kibble-topper, you may want to research a little more.
Chelated minerals are found in most canned dog meals, and are simply organic materials that are bonded with other organic minerals in order to make absorption easier. These are perfectly normal, and you can identify them on ingredient labels because they end in words like chelate, proteinate, and glycinate.
Specs:
423 calories per can
Protein: 10% min
Fat: 7% min
Fiber: 1.5% max
Moisture: 78% max
Omega-6 fatty acids: 1.25% min
Omega-3 fatty acids: 0.2% min
Our Verdict:
All in all, we can recommend this wet food as a topper for your dog's meal. It contains good protein sources, high-quality carbohydrates, and all-round healthy ingredients!
Gentle Giants Dog Food Review – What Customers Are Saying
Gentle Giants dog food reviews definitely slant more towards positive than negative. Bear in mind that reviews regarding delivery problems often come from different suppliers and not the actual company. If you are likely to be buying from a store and not online, it is worth doing a bit of reading up on the products before purchasing!
What Do Gentle Giants Dog Food Review Suggest People Like About This Brand?
The Gentle Giants products (dry and canned) have a multitude of good reviews. There are positive comments on weight loss, energy levels, and how much pets enjoy it. The quality of ingredients can also not be disputed, despite real meat not featuring in their protein list.
My 13-year-old order Collie is losing weight and his energy is like a puppy.

Amazon Customer
The grain-free salmon is amazing and my puppies seem to thrive on it.

Karina
I have spoken with Gentle Giants Rescue, and they are very particular on what their dogs ingest. My dog likes their products.

Heather Herbert
This is a great food for senior dogs who suffer from joint problems.

angel 0721
The kibble is in the shape of hearts and bones and is small enough for our medium and small dogs to eat it too.

Amazon Customer
The effects of feeding my dog this kibble were immediate. His mood has become more playful and he seems to have a smile on his face.

Devoted Amazon User
What Do Gentle Giants Dog Food Reviews Suggest People Dislike About This Brand?
The negative reviews seem to focus on quality (remember – if you are buying from a supplier that is not reputable, it's entirely possible that the fault could be with them and not with Gentle Giants), and the reactions of dogs to the food. It is important to note that not all pets will react the same way to the same food – they can be as particular as human when it comes to taste as well as how their bodies respond to certain ingredients.
This bag gave me a headache trying to figure out what was useful information and what was pointless.

Rach W. B.
My dog got the worst gas from eating this.

Kindle Customer
This food made my dog's ears itch. We switched to a different brand and after about a month he was fine.

Cynthia Smith
It didn't meet my expectations. It took more to satisfy them, so my girls didn't lose weight on this.

Christian
I fed this to my Jack Russell for a month before realizing it was upsetting his tummy.

Cynthia A. Hampton
My dog broke out in hives and lost a lot of hair. I've never felt like a worse pet parent.

Jo
Conclusion
Despite the name suggesting that this kibble is for giant and large breed dogs only, small breeds can benefit just as much from eating Gentle Giants. From puppy to older dogs, the ingredients in these foods are easily absorbed and beneficial to them all.
Pups with food allergies or sensitive stomachs might not like the grain-containing chicken dry food, but the salmon dry dog food and all canned flavors are grain-free and promote your dog's health. They are slightly lower in protein than some other brands, so if your pooch needs to be on a high-protein diet, this one may not be for them!
When it comes to making sure your dog's diet is a nutritious one, Scout's Gentle Giants dog food review would suggest that this is a good low-protein option! Will your dog live to be 27? We can't say. We can say that they'll be happy, healthy, and well-fed!
Continue reading:
7 Best Dog Bed Ideas For Great Dane (DIY Options)
What You Need to Know About Slow Growth Feeding Plans for Dogs