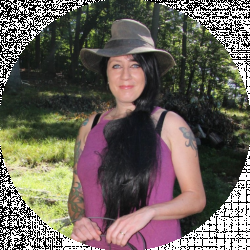 Latest posts by Samantha Biggers
(see all)
Automatic dog feeders are definitely a nice perk to have in busy households. There are a lot of choices out there that can help you out. No longer are you just limited to automatic dog feeders that continuously supply food. Timers and other mechanisms help your dog eat the right amount at the same time every day meaning more dog parents can actually use a dog feeder.
Our favorite to date is the New Petnet Smart Feeder because it feeds both Fido and our love for new gadgets. The Petnet allows you to control the release of food from an app on your phone, which is great for owners who don't free-feed or just like cool new tech. In addition to remote control, the app also provides feeding and nutritional advice customized to your dog.
The Best Automatic Dog Feeders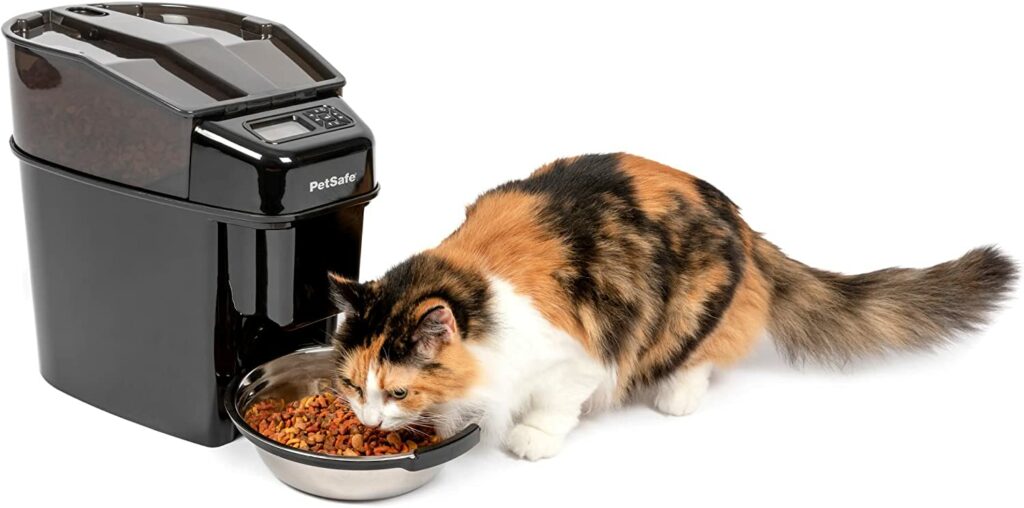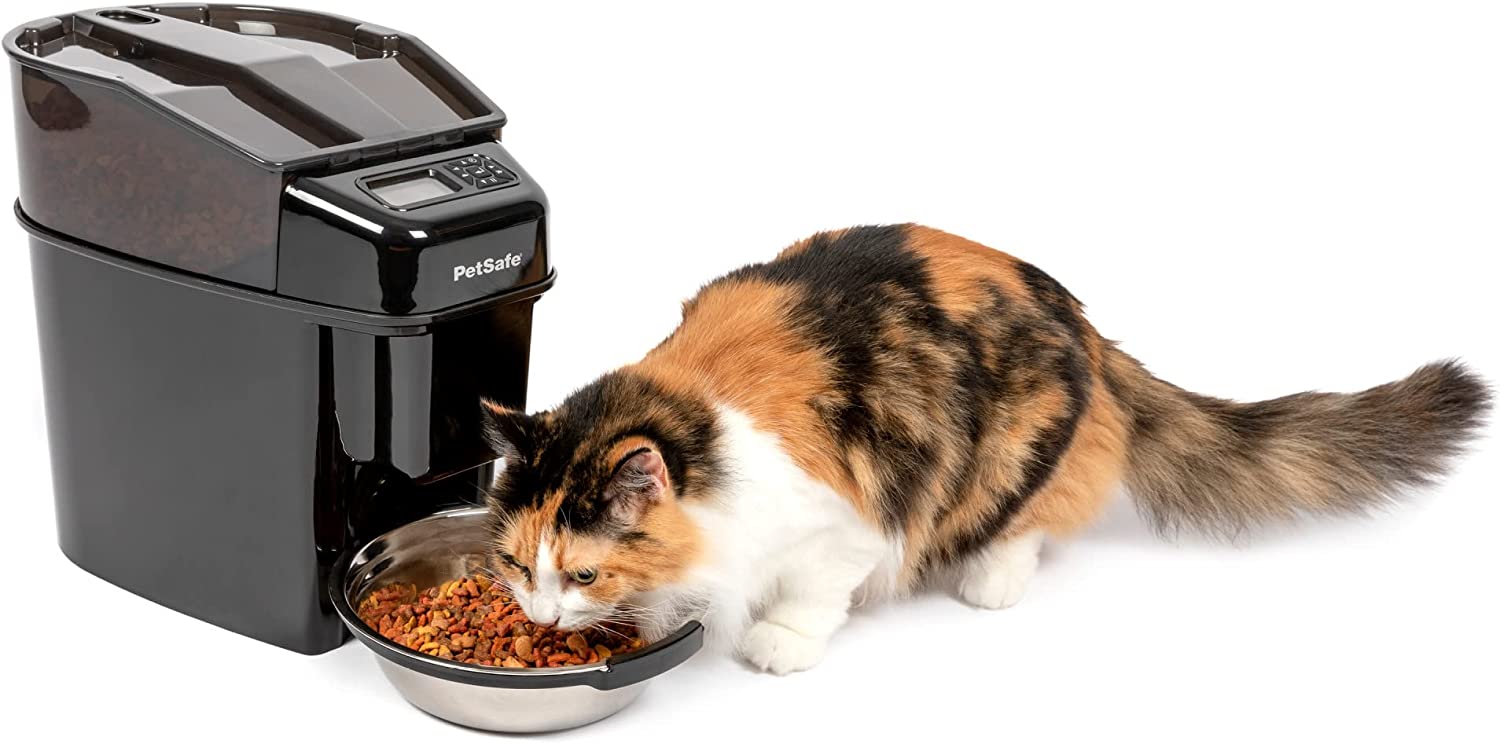 This sleek black automatic feeder offers a lot of options for dog parents. For starters, there is the anti-jam conveyor system that allows for effortless dispensing of dry and semi-moist foods. For the dog parent that wants dogs to eat slower or smaller meals throughout the day; there is the option to program up to 12 feeding times and portions sizes. Simply choose 1/8 cup to 4 cups per feeding. This range of portion sizes makes this an ideal feeder for the smallest to the largest dogs.
The removable stainless steel feeding bowl is easy to clean and is made to last. For those that have power chewers, the metal bowl is a good solution.
If you are a dog parent that struggles to feed a dog that eats way too fast and has stomach issues as a result then the slow feed mode is a standout feature. Meals that are portioned in a size greater than 1/8 cup are dispensed over a 15 time period so your dog is forced to eat at a reasonable pace.
The 24 cup capacity of this feeder means less refilling time. Even a larger dog eating 4 cups per day can get 6 days out of this feeder. At one cup per day, you have more than 3 weeks of hassle free perfectly timed and portioned feedings.
This feeder is powered by 4 D Cell batteries and the manufacturer claims that these will last a year with regular use. You can get a power adapter separately if you prefer it.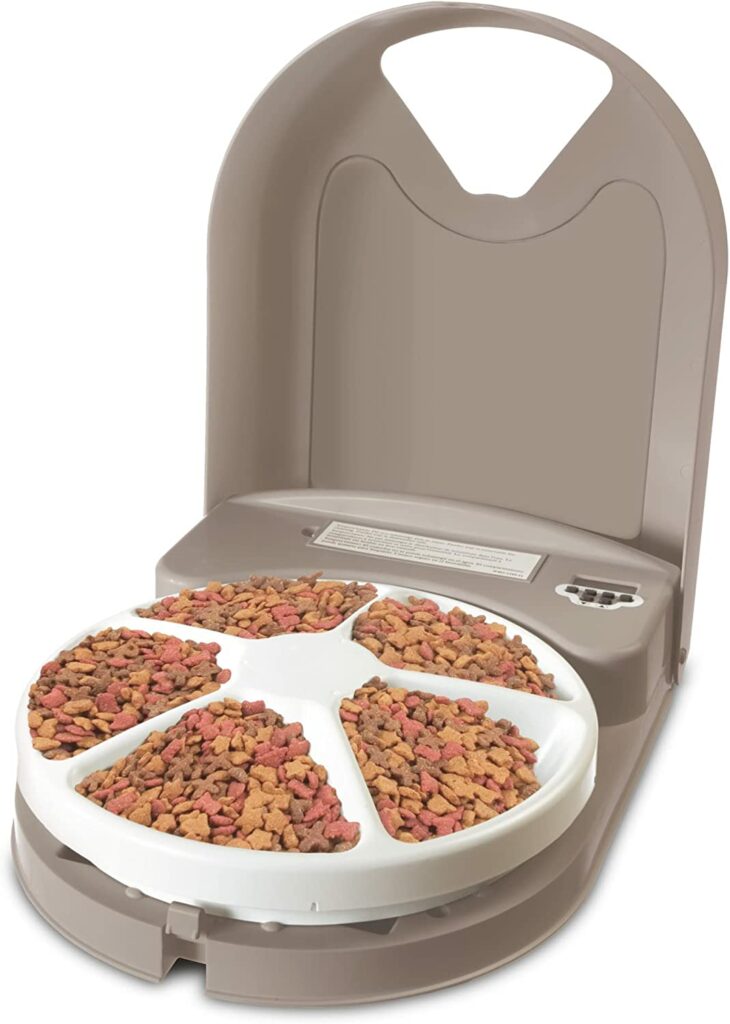 This low profile pet feeder is designed for smaller dogs and makes a fabulous affordable choice for those living in smaller spaces. Each compartment holds up to a cup of food. Each compartment revolves around at the time you specify. While this feeder has to be refilled more often than larger models, it is so discreet that plenty of people will never even think this is a feeder.
If you have a pet that eats too fast this feeder can help you schedule regular feeding intervals so your pet can have up to 5 small meals throughout a day. The feeding tray is easy to remove and clean. This is a battery powered device, using 4 D cells that last a long time with regular use so don't assume that you will be changing batteries a lot.
Scout likes this option for smaller dogs or their cat friends that have parents that want a discreet, affordable, and highly functional feeder. This is a good alternative to feed bowls that are made to slow down fast eaters. Your smaller dog or cat will be healthier with this feeder than gulping it all down at once.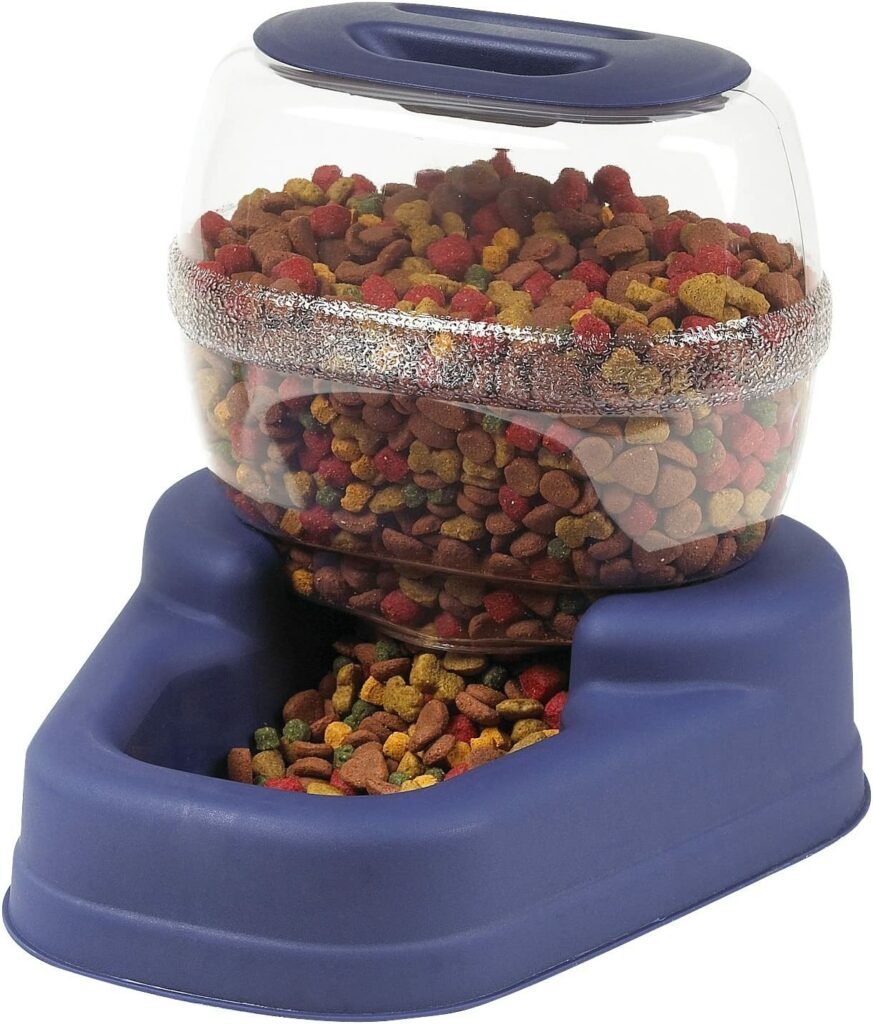 This is a very basic auto feeder at a budget price. For those with just a few small dogs that don't have an issue with hoarding or overeating, it is a good affordable option that is easy to use and lightweight. You can order various sizes depending on your dog's needs and the space you have available to dedicate to an auto feeder.
Amazon offers the options described above. Auto waters are good choices as long as you have a dog that doesn't like to splash water everywhere. If you do then an auto waterer is a recipe for disaster.
Bergan Gourmet feeders and waterers are made in the USA with BPA-free plastic so you can feel safe letting your dog use this daily. If you don't care about being able to program portion sizes or feeding times then this is a good choice. Scout doesn't recommend this feeder for outdoor use due to it being easy for wildlife to take advantage of and how there is always food in the bowl. This is not a dishwasher safe type of feeder but it is easy to clean.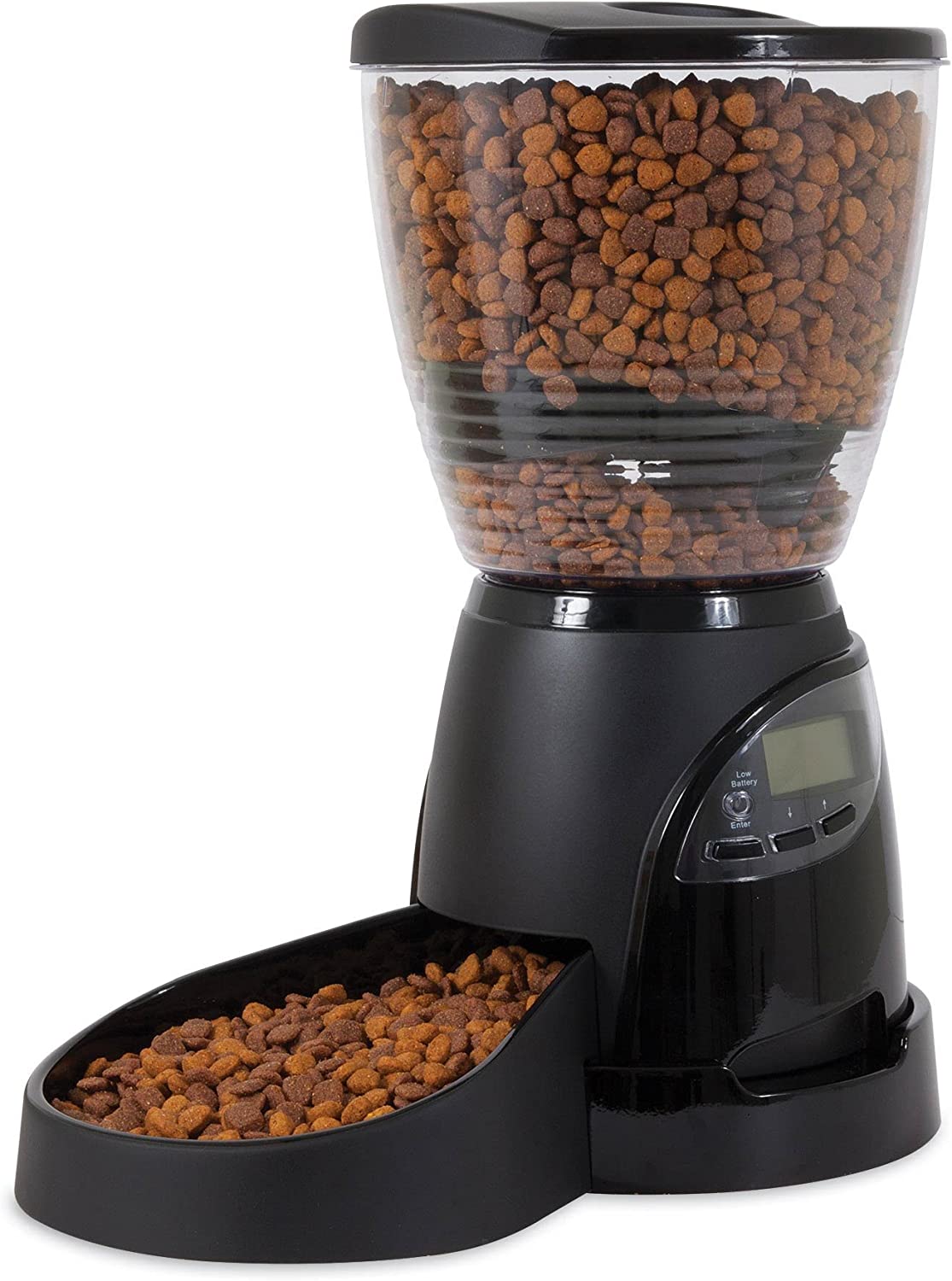 This is a popular choice with dog parents shopping on Amazon. This is a great programmable auto feeder for the price. If you have a small dog that only eats a half cup a day then you can get 36 days of feedings in one fill up or 18 days for the cup a day dog.
The LCD screen is easy to read and the design makes this fit into any décor with ease Up to three meals per day can be programmed into the dispenses so even dogs that eat too fast normally are able to have meals broken up into more reasonable sized portions throughout the day so their appetite stays satisfied. The feeder runs on 3 D-cell batteries that last for quite a long time.
Portion sizes can be adjusted in ¼ cup increments up to 3 cups at each feeding. If you want a larger amount dispensed all at once then you can set the timer to deliver more food in a shorter time period. Say your Great Dane likes to eat 4 cups in the evening, you can set the timer to dispense twice in a short time period. You can only program this feeder for three times per day, so 9 cups of dog food per day is the most it will dispense.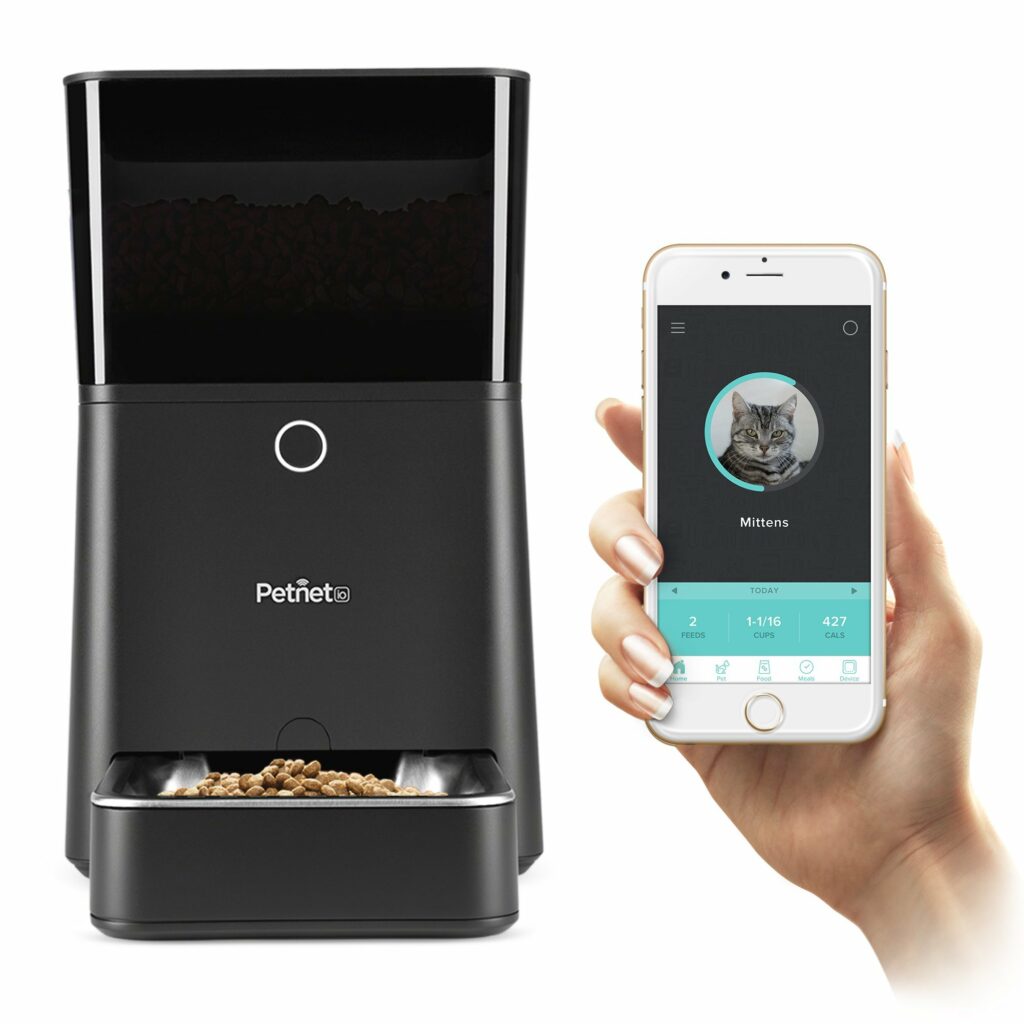 If you have a busy lifestyle then a smart feeder may help you be a better dog parent. This feeder actually allows you to feed your dog from anywhere that has a cell phone signal or wifi. When you get stuck in traffic or delayed your pet doesn't have to do without nor do you need to find someone to go feed them. This innovative feeder combines with an app that helps you choose the best dog food for your dog and you can even set up dog food to be auto delivered. Reminders that your feeder is low on food can be sent to your phone. For those that love gadgets and want to make sure their pet is always satisfied, there is something to be said for this feeder. The price tag is a bit much for those on a budget.
Bonus: it also works with Nest.
This is a very simple style feeder that has a low profile and is suitable for small dogs and cats. The 6-feeding limit means that you have to refill this one fairly often, but it is versatile in that you can really break down feedings into small increments. Some users report freezing wet food in some of the compartments so that by the time the feeder rotates, the food is unfrozen.
Scout loves that this cute pet feeder has a feature that allows pet owners to record a 6-second personal message. Now your dog can hear how much you love them or what a great dog they are at each feeding even if you are not around at the time.
Buyer's Guide
An automatic dog feeder is a food dispenser for dogs and works either on electricity or gravity. It has a food container that you can fill up with the dog food of your choice. The feeder then metes out this food into a food bowl for your dog to eat. If you have a gravity-operated dog feeder, a serving of food is dispensed only after the earlier serving in the bowl has been finished. If you have an electronic dog feeder, you can program it to serve a certain amount and type of food at a certain time.
Reasons To Use An Automatic Dog Feeder
As mentioned, an automatic dog feeder can be a boon to busy pet parents. If you have to be away from home or even when you are at home, you can set up an automatic dog feeder and be easy in your mind that your dog is going to get fed at the right time.
Elderly pet parents and disabled pet parents will find an automatic dog feeder convenient as it can save them from having to get up and get the food every time they need to feed their dog. With an automatic dog feeder, you can regulate the amount of food you want your dog to eat at a particular time. So there will be no question of your dog over-eating and becoming overweight as a result.
You can select the type of dry, moist, or semi-moist dog food you want to feed your dog and load that up in the dog feeder container. Since the meals can be spaced out at set times, your dog can have the chance to digest a meal properly before the next scheduled feeding, causing fewer cases of your dog vomiting half-digested food.
Concerns About Automatic Feeders
Most of us live with dogs for their companionship, and this factor shouldn't get overlooked in all the conveniences provided by new technologies. Take care that feeding your dog doesn't become a chore assigned to a machine. When you are at home, feed your dog yourself and let mealtimes become happy, bonding events.
Power cuts frequently happen in many areas, and if your automatic dog feeder doesn't have a battery backup, your dog may miss out on their meals when the electricity is gone.
Types Of Automatic Dog Feeders
Gravity DogFeeders
This is the simpler type of dog feeder that operates via gravity. The dog food from the container fills up the food bowl
and then stops releasing more food until the contents of the bowl have
been depleted. The plus point of a gravity feeder is that it doesn't
need electricity to operate, so you don't have to be concerned about
your dog going hungry in the event of a power failure. On the other
hand, your dog can learn to game the system and feast from dawn to dusk
all days of the week.
Electronic Dog Feeders
Electronic dog feeders are popular with many pet parents as these feeders can be programmed to dole out a certain amount of food at a specified time. This ensures that your dog will not miss out on any of their meals and will not overeat. The advantage of this is obvious, your dog will avoid the risk of obesity and eating small portions at regular intervals will benefit their digestive system.
The negative aspect is that electronic dog feeders are dependent on electricity and programming, and power outages and programming glitches can mess up your and your pet's meal schedule. Yes, some automatic dog feeders do work on backup batteries, but batteries can run out too. This can be hugely problematic if you are away and are dependent on the electronic dog feeder to feed your pet.
Whether you pick a gravity dog feeder or an electronic dog feeder, it is advisable to always have someone check on your pet while you are away. Never leave your dog completely alone for extended periods of time.
Features Of An Automatic Dog Feeder
The main feature of an automatic dog feeder, of course, is its ability to dispense food automatically, either by a gravity-operated process or an electronically-operated process. Having the feeder dispense food to the dog can be time-saving and convenient for many pet parents.
Some automatic dog feeders contain multiple trays that you can fill up with dry, semi-moist, and moist food, and which you can program with a timer to be dispensed at the time of your choice.
Some automatic dog feeders allow you to adjust the rate at which the food is dispensed. This is good news for pet parents with over-eager dogs that have the tendency to lunge for the food the minute it appears. They will have to slow down and wait for the food, and you won't have to worry about them choking on the food in their haste or getting indigestion from eating too quickly.
Some automatic dog feeders can be programmed with your smartphone or via your computer. Of course, you will still need to be around to fill the container with dog food. Some automatic dog feeders have installed cameras and voice devices, so that, if you are away, you can still watch your pet eat and talk to them while they are eating.
Selecting An Automatic Dog Feeder
When selecting an automatic dog feeder, here are some things to consider:
How often are you going to use the automatic dog feeder? If you are going to make frequent use of the feeder, you may want to get one that accommodates a larger amount of dog food. Some containers can store dog food supply for several weeks.
What will be more convenient for you, a gravity operated dog feeder or an electronic dog feeder? An electronic dog feeder has more features that a gravity dog feeder.
What is your budget for the dog feeder? Gravity dog feeders, since they are simpler, are less expensive than electronic dog feeders.
Is the automatic dog feeder made of durable materials? Some dogs, once they realize that the food is in the container, may try to speed up the dispensing process by gnawing open the container itself.
Are you able to easily program the dog feeder to the feeding schedule, the dog food type, and the dog food portion you want to set up for your pet?
Does the dog feeder have extra features such as a camera, a voice device, and other useful apps?
Questions to Ask When Buying an Automatic Feeder
Does my dog like to chew?
Some auto feeders are very basic and made of hard plastic so some power chewers may just think they can chew in and get all the good stuff when you are not around. Stick to sturdier built feeders and supervise your dog the first few times that they use the feeder so you can see the reaction and have a healthy pet.
Is your dog food-obsessed?
All dogs like to eat delicious things! Don't you? Just like with us, too much of a good thing can cause weight issues and stomach or digestive issues if your dog overeats. Dogs that will always go overboard with food given the opportunity will need an automatic feeder that portions out their food daily and leaves no more. Classic feeders that just keep food sitting in front of your dog are not the best option.
How big is your adult dog or how big is that puppy going to get?
Automatic feeders come in a lot of different sizes. If you have a large dog then you can use smaller ones but you are going to have to refill a lot more often. Larger automatic feeders can take up too much room in small living arrangements or for those that like to feed their dog's inside.
How many dog's are you feeding?
Prices vary a lot with automatic feeders so it is important for multiple-dog households to consider the cost since in most cases you'll need a feeder for each dog.
Where is the feeder going to be placed?
Most automatic feeders are either made for or do best when used in a covered area. Auto feeders that keep food continuously in a bowl can attract wildlife. Birds are notorious for stealing dog and cat food that is left unattended outside. Rain and moisture can find its way into feeders that are not specifically designed for outside use. No one wants to get a bag of $50 dog food ruined this way.
How important is appearance?
Automatic dog feeders are not all just plastic bottles with a bowl attached. There are a lot of sleek options out there in black or steel or other colors that blend into a lot of decors. If appearance matters a lot or you have a smaller place where the dog feeder is going to be very obvious then definitely consider how your feeder is going to look.
Getting Your Dog Used to an Auto Feeder
Some dogs get used to using an auto feeder easily while some present more challenges or it is discovered that they just are not going to do well with an auto feeder in general. Here are a few behavior profiles and situations to watch out for.
The Hoarder
If your dog is the type that likes to hide food then an auto feeder is going to be challenging if you are not careful in your approach. If your dog has enough food to hide and hoard then the feeder is dispensing too much. Dog parents should also know that they can have a lot of decaying food around the house if they have a hoarder on their hands. Pay attention and adjust portion sizes and amounts as needed. Scout had a Chihuahua friend that would guard just a few pieces of well-hidden food all day!
The Guard
Some dogs are really into guarding food. Just because you have a fancy dog feeder that dispenses only at certain times doesn't mean they won't want to guard the reservoir of food that they know is there but out of reach. Limiting access to food areas can help. A Great Pyrenees, for example, has been bred to be out in the field a lot guarding other animals which means they can be more prone to guarding food.
The Extremely Determined Dog
You know you have seen this dog before. This is the dog that just has to get into things and will not give up. Your well-designed auto feeder can take some abuse but not as much as some dogs can dish out. This dog will require a lot of patience and some training if an auto feeder is ever to be used. Starting off with an inexpensive model may be the best way to go during the training phase if you have a particularly destructive dog.
Multiple Dog Household Challenges
Using auto feeders in multiple dog households presents its own set of challenges. Each dog will need its own auto feeder and they probably need to be placed a decent distance away, especially if one dog gets more food than another due to size difference or other factors. A smart littler dog may try to horn in on the larger dog eating or go and eat any leftovers. This is all very dependent on the variety of your dogs and their personalities. Autofeeders can work with multiple dogs but you got to work through issues.
Making the Switch to Auto Feeding
Scout hopes that this article has helped you find the best auto feeder for your pet and lifestyle. Most dogs and cats get used to using an auto feeder very fast but it can help if you put the feeder next to the bowl and in the area where your pet normally eats. You can always move it later if necessary. Auto feeders can help your home be a happier and healthier place for you and your dogs.
Training Your Dog To Use An Automatic Dog Feeder
Most dogs are creatures of habit and are happier if you keep them on a schedule. After a few practice runs, they will quickly pick up what the dog feeder is there for, and will make tracks for it whenever it is time for their next meal. You may even find them loitering around the feeder a good while earlier, hoping their presence will get the machine to cough up. For such eager beavers, an electronic feeder is the best option; they are likely to never depart from gravity feeders until the entire container is emptied.
Other Automatic Dog Feeders We Looked At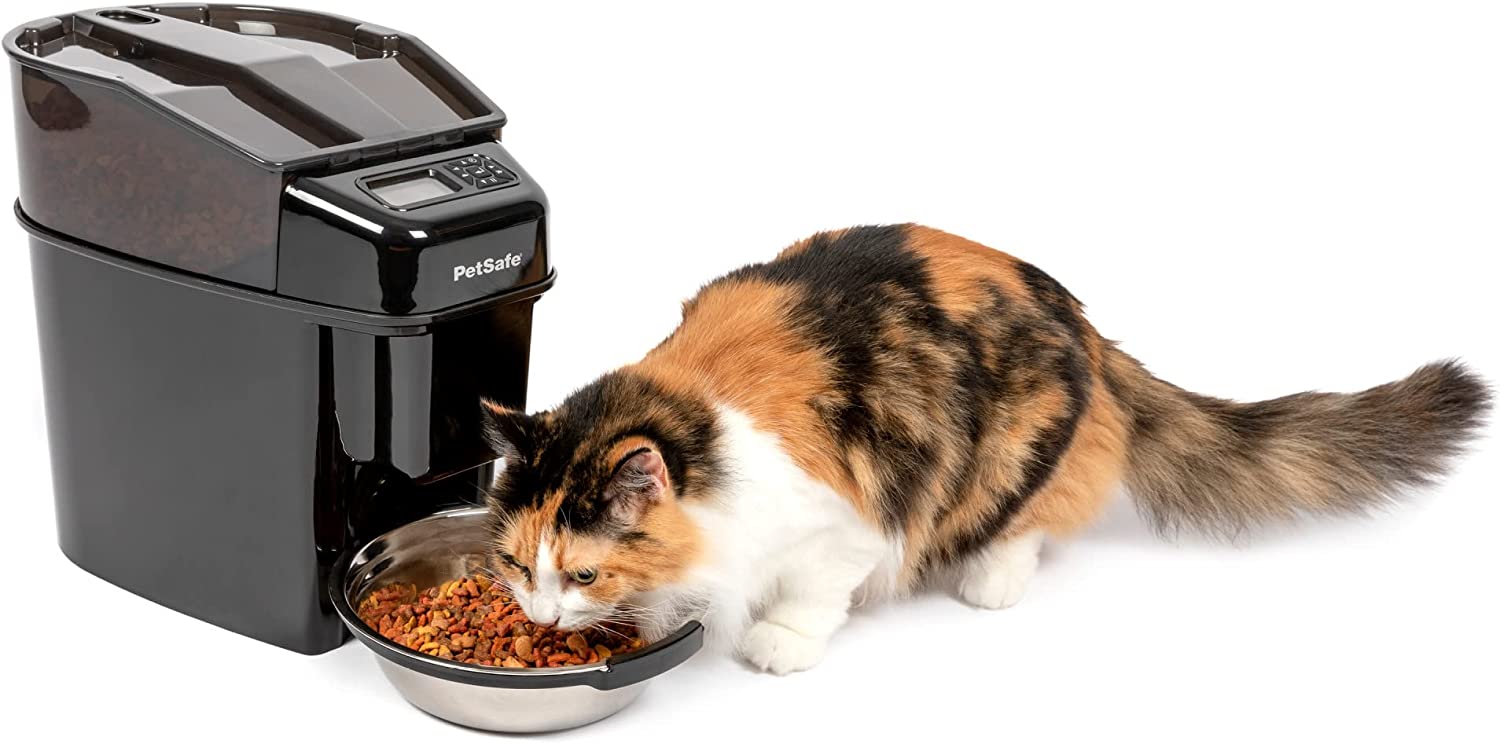 No products found.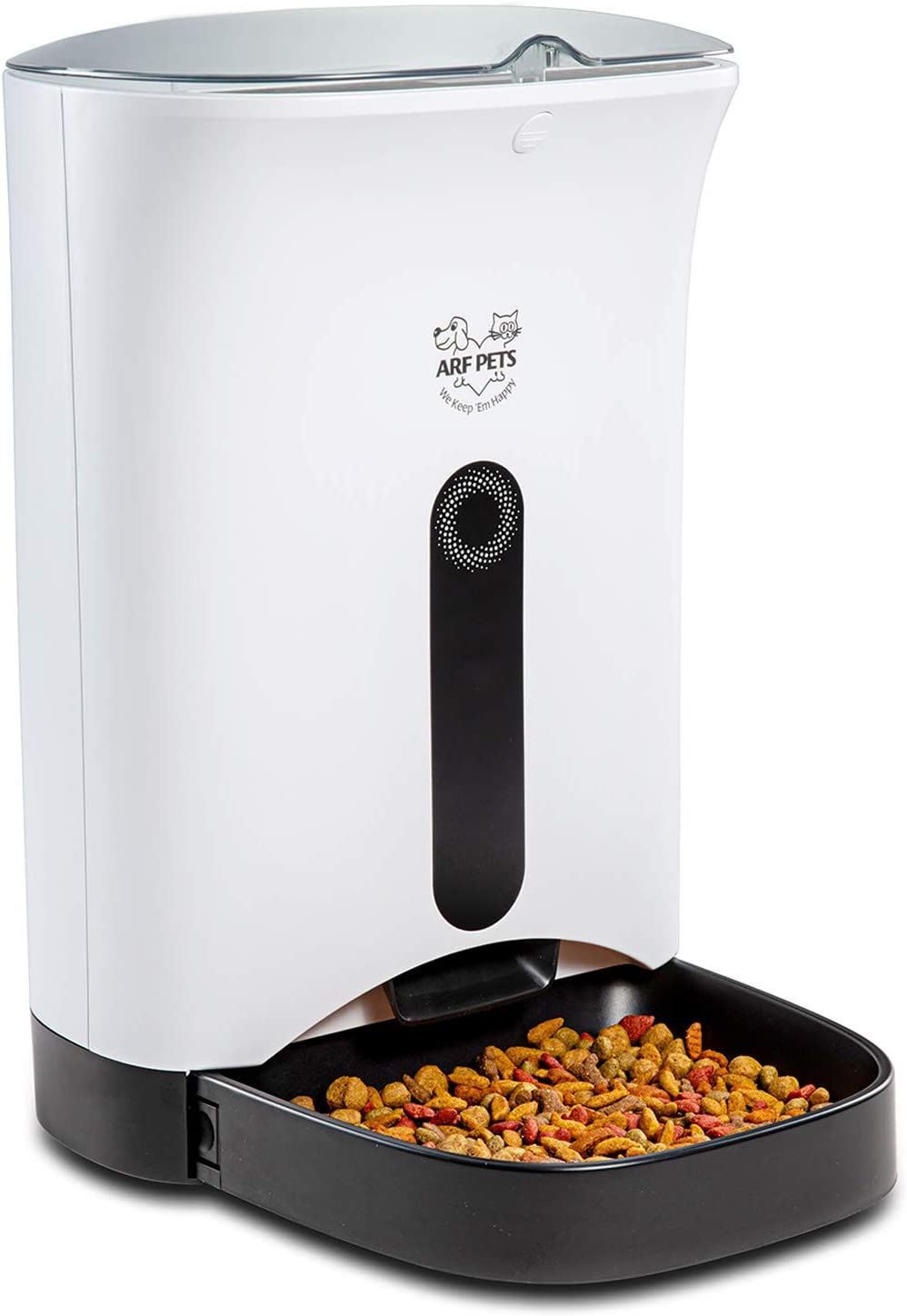 No products found.
No products found.
The Bottom Line
Are you a busy pet parent with a hectic schedule that leaves you with less time than you would like to have with your pet? Do you have to be away from home frequently and have to rely on pet-sitters to feed your dog? Are you concerned that your pets may not be getting the proper amount of nutrients in your absence?
Ideally, if you are a pet parent, you want to be around at meal times to feed your pet yourself, but busy work lives and work schedules can often run interference with this. Having an automatic dog feeder that can be relied upon to feed your dog their meals on time can alleviate your concerns to a great extent. You don't have to worry about your dog going hungry while you're away, and your pet doesn't suffer the anxiety of wondering when their next meal is coming.
Automated technology can help to ease your mind. You can get an automatic pet feeder and program it to dole out set portions of dog food to your dog at the time of your selection. You can also record your own voice, calling your dog to come and eat as you usually do when you are at home, so that your pet won't miss you too much and will know that their meals are still being served on schedule. Some dogs refuse to eat if their pet parents are not around, and hearing your voice can comfort them and encourage them to finish their food.
You can get various types of automatic pet feeders in the market, with different designs and features. Here is one of the best automatic dog feeder that is available:
Continue reading:
20 Best Dog Water Dispensers (Updated 2022)
Best Electronic and Automatic Dog Doors
Buying a Dog House: Complete Buyer's Guide & What You Need To Know