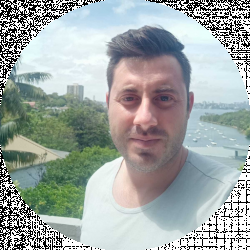 Latest posts by David Borgogni
(see all)
I'm always on the lookout for the best cow ears for dogs! My dog loves treats, and I like that cow ears are relatively low in calories. They're pretty healthy, and the thicker treats keep him occupied. As a beagle/blue heeler mix, he's always hungry, so the longer a treat lasts, the better.
Not all cow ears are equal, however. Some dog treats have added ingredients and preservatives, which I try to avoid, and I like to know exactly what I am giving my dog to avoid upset stomach issues. This article will provide you with the lowdown on my top five best cow ears for dogs, including their pros and cons. Plus, I'll give you some tips on what I look for and answer some frequently asked questions about them, too.
Bottom Line Up Front
If I had to pick just one, I'd probably go for the K9 Warehouse Jumbo Cow Ears with Bully Dust. While they have a downside (bully dust doesn't smell amazing), they're perfect for my dog and thick and chewy enough to last a while.
Plus, I agree with the ethos of the company. I like that their ingredients are easy to source, have a transparent supply chain, and have natural ingredients. It's reassuring to know that no hidden, added ingredients or preservatives are involved at any point in the manufacturing process.
Best Cow Ears for Dogs – My Top Picks
In a rush? Here are my top picks and why I've chosen them in a quick list format:
How to Find the Best Cow Ears
I know what it's like trying to pick treats for your dog. I'm fussy about my dog because I'm so wary of accidentally feeding him something that will upset his stomach.
Here are the key things I would focus on when looking for cow ears:
Sizing/Breeds
Some cow ears are bigger than others! Larger breeds will enjoy the biggest cow ears you can get and will enjoy thicker treats to chew on to give them more of a challenge (and to make the treat last longer).
If you've got a particularly large breed, go for cow ears with the words 'jumbo' or similar on the packaging to ensure they'll be big enough for them to enjoy properly.
Additives and Preservatives
I hate looking at packaging for dog food and not being able to decipher what's actually in it! The same goes for treats. So many natural, healthy dog treats don't have added fillers or ingredients, so I pick those every time.
The fewer ingredients, the less likely it will be that my dog's stomach will react badly to new treats. Plus, even if he does react badly, it's much easier to single out the 'trigger' ingredient to avoid in the future.
Free Range/Grass Fed Cows
If the cows are free range, the company will probably advertise this, so you should be able to tell if this is important to you.
Grass-fed beef has more omega-3 fatty acids than beef grown commercially, and that's great for dogs because they can't produce it on their own.
Bones
The last thing you want to worry about is your dog choking. Make sure the cow ears are bone-free so you (and your dog) can relax.
Selection
Some companies hand-pick their cow ears, inspecting them before they reach the packaging stage. This is great if you want to ensure that each one is pretty uniform in size and shape.
Cleaning
Look for cow ears that are not cleaned with bleach. Cow ears should be naturally cleaned without being soaked or rinsed with harmful ingredients.
Added Extras
Some cow ears come bundled with other treats, which is an excellent way to switch things up for your pet.
Others have special additives, like bully flakes. Made from cow protein, these will taste the same as bully slices and add a little extra flavor to the cow ears (as well as a decent boost for nutrition). They can smell, however, so they may not be a good option if you hate having that sort of smell in your house!
My Top 5 Cow Ears for Dogs
In no particular order, here are five cow ears for dogs I would recommend, along with their pros and cons, so that you can find the best ones for your beloved pet!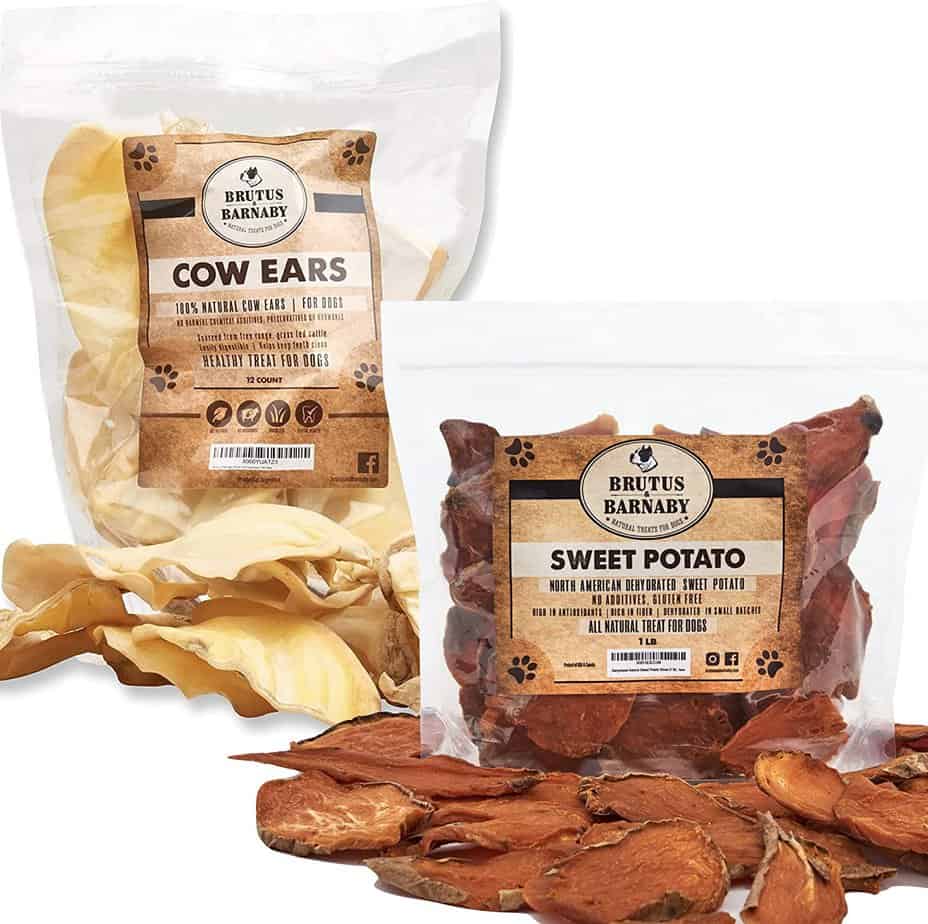 Brutus & Barnaby Cow Ears come in a pack of 12 and are bundled with some sweet potato treats, which is a nice bonus. I like Brutus & Barnaby as a brand. They're a family-owned business selling all-natural products for dogs. It's reassuring to know that Brutus & Barnaby treats don't have any extra hidden ingredients, and they inspect every cow ear by hand before packaging them. That added layer of reassurance is excellent.
The cow ears are naturally cleaned, with no bleach involved. They're bone-free, so they should be safe to eat. The sweet potato treats are super-healthy too.
I guess if I had to pick a downside, it's that they are a little thin. Suitable for smaller dog breeds, but larger dogs might quickly demolish these.
Pros
Great family-owned company
All cow ears are inspected before they go in the bag
No bones
Cleaned safely without bleach
It comes with sweet potato treats
Cons
A little thin/small, which may not be suitable for larger dog breeds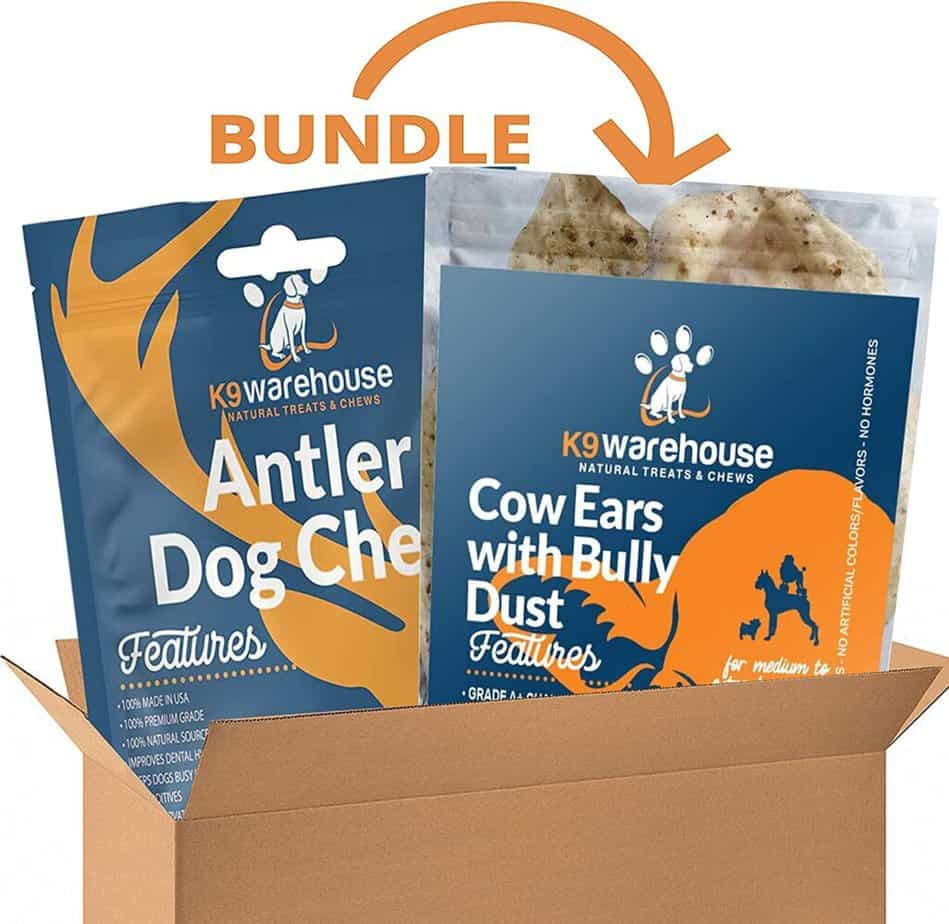 K9 Warehouse Jumbo Cow Ears come in a pack of 10, along with one whole large elk antler. K9 is another good brand, one that I trust with my dog. Freshly made in New Zealand, their treats are made from natural, wholesome ingredients. The supply chain is transparent, too. All the ingredients are sourced in New Zealand, and the animals are grass-fed and free-range.
These are thick, large cow ears. Larger dogs will love getting stuck into these, and it will give their teeth a workout. They come coated with bully dust, which is a nice bonus, although bully dust doesn't smell particularly good! Bully dust is good for dogs, though, especially for their teeth.
The large elk antler is a nice bonus too. It's another large, chewy treat that will keep bigger breeds occupied.
Pros
Freshly made in New Zealand with traceable ingredients
Thick and large, ideal for bigger breeds
Coated with bully dust for extra nutrition
Comes with an elk antler too
Cons
The bully dust doesn't smell great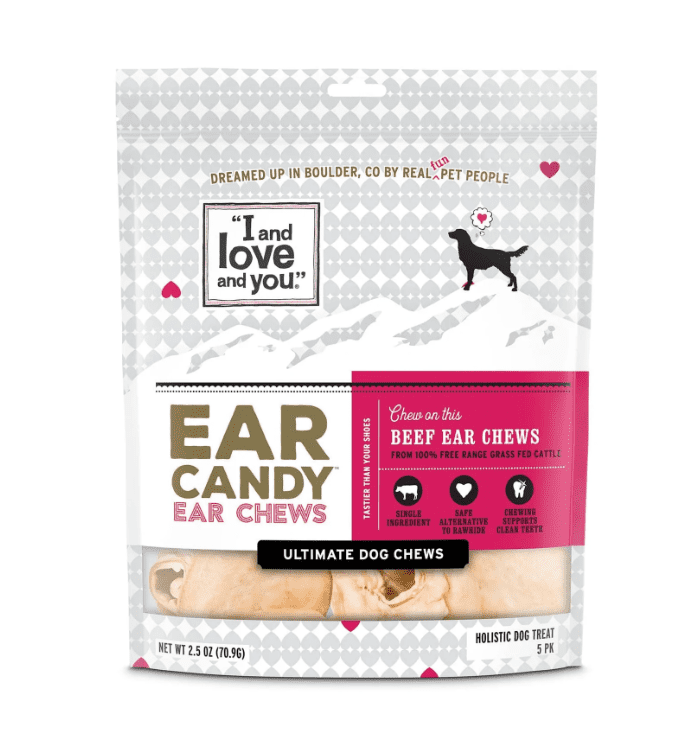 The "I and Love and You" Ear Candy Ear Chews come in a pack of five, and sizes may vary. That's pretty helpful if you have multiple dogs of different breeds, but it also makes it hard to track how many calories they're taking in.
While the company name is a mouthful, it is a good brand. You can tell they care about pets with no fillers and only real ingredients. In addition, their treats are designed to be gentle for dogs' stomachs, which is ideal for anyone dealing with a poorly dog.
These ears come in varying sizes, but they're thick enough to keep dogs occupied for a while. Plus, they don't smell bad, which is a good bonus if you have a sensitive nose. They have no added ingredients, so you'll know exactly what your dog is eating.
These are pretty simple, and you can sign up for a subscription plan if your dog loves them (which they probably will).
Pros
Plain and simple with no added ingredients
A trusted brand that cares about pets
Thick enough to keep your dog occupied for a while
Can sign up for a subscription plan to make life easier
Cons
Varying sizes, so it may not include the best size for your dog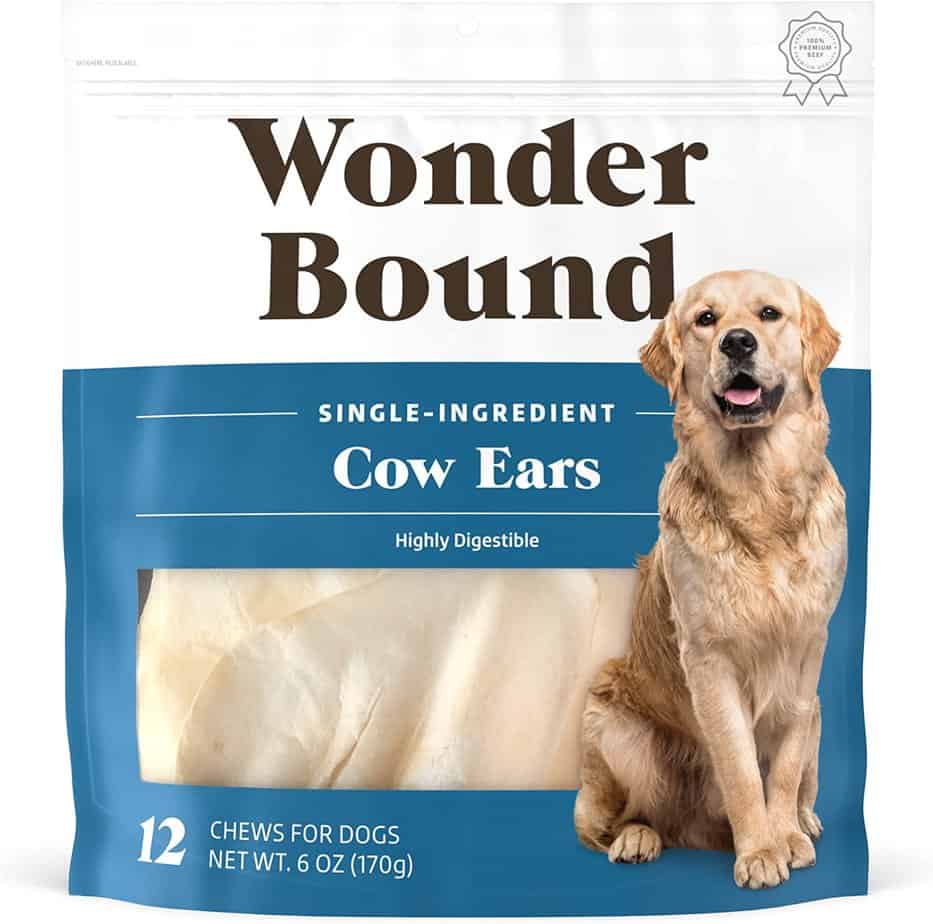 Wonder Bound Cow Ears are a good choice if you just want plain, simple cow ears. They come in a pack of 12, but they're not the biggest out there. They may be better for smaller breeds, as larger breeds will get through them quickly.
Wonder Bound is a good brand, and they don't use any unnecessary additives or fillers. The brand isn't as clear about the origin of its ingredients, so you may not end up with cow ears from grass-fed cows, for example. These are very clean cow ears, meaning they don't smell, which is ideal for humans. They're suitable for dogs with sensitive stomachs, as they're unlikely to cause any digestive issues.
Pros
Simple and plain
No unnecessary additives or fillers
They don't smell
Good for dogs with sensitive stomachs
Cons
Not the biggest out there, so many not be suitable for larger breeds
The company is not so clear about the origin of the ingredients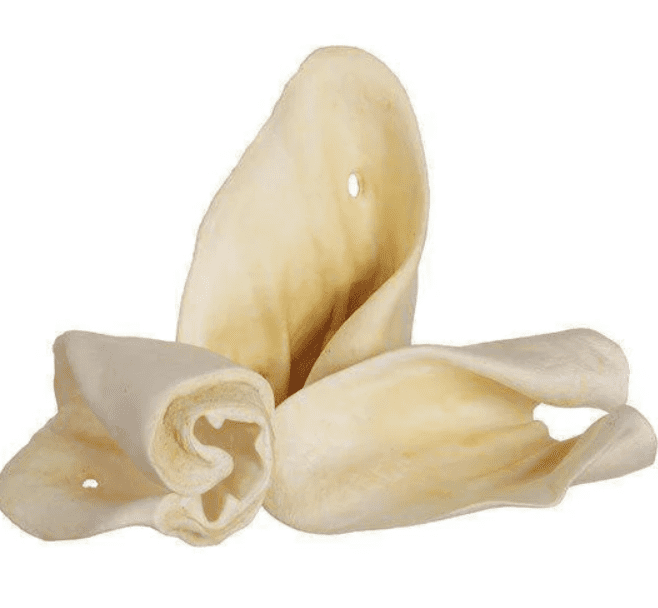 Pawstruck Cow Ears for Dogs come in different package sizes (20, 50, 100, or 200 ears). If you have a lot of dogs in your house (lucky you!), you can bulk buy to save a little money. They're big and thick, ideal for larger breeds, but they're not uniform in size, so it's worth bearing in mind that you may end up with some smaller cow ears in the package too.
Pawstruck is a good brand because they're dedicated to creating natural dog treats after their CEO, Kyle, couldn't find simple, unprocessed treats for his dog. All the treats are simple, with minimal added ingredients, and they're committed to reducing waste.
The cow ears themselves are pretty good. I'd buy these for my dog because they're just the right size to give his jaws and teeth a good workout. They don't smell bad, but they're not bleached, so I can trust that they will be safe for him to eat.
Pros
Decent size and thickness
A trusted brand
Can be bought in bulk
Natural and unbleached
Cons
Not all are uniform in size, so some may be smaller than others
Frequently Asked Questions
Before you go, here are some questions you may have about cow ears for dogs:
Question: Can Cow Ears be Bad for Dogs?
Answer: Not usually! Cow ears are not considered to be bad for dogs. The main problem is if they get too small, they could become a choking hazard. If you're worried, you can remove them once they get to this stage.
Some dogs may have a sour stomach after eating cow ears for the first time. This doesn't necessarily mean that they can't eat them. It could just mean that they're getting used to them. You can check with your vet if you're worried.
Finally, some dogs have a beef allergy. This is unusual, but obviously, cow ears should be avoided in this case.
Question: What are the Benefits of Cow Ears for Dogs?

Answer: There are a few benefits, including:
Dental health. Cow ears can help to prevent plaque from forming on your dogs' teeth and are good for helping them to have strong teeth and jaws.
Chondroitin. The cartilage in cow ears is packed with this super ingredient, which will improve your dogs' joint cartilage.
Entertainment. Cow ears, particularly the larger, thicker ones, will give your dog something to enjoy for a while!
Question: What's the Best Way to Introduce Cow Ears to my Dog?
Answer: As with any new dog food, taking things slow is best. Try to give your dog a cow ear in the morning, as it will give them energy for the day. After their first cow ear, give it a couple of days to see what happens with their stomach.
If all is well, you can incorporate cow ears into your dog's diet more regularly!
Most dogs love cow ears, so it's tempting to give them one too many (especially if your dog is constantly nagging you for treats like mine). But as with all treats, you can't overdo it, as you'll give your dog too many calories. Cow ears are considered pretty low-calorie, but they still have some calories and are not nutritionally balanced enough to make up a large part of your dog's diet.
Question: Why are Cow Ears Sometimes Tattooed?
Answer: Sometimes cow ears have numbers tattooed on them. This is nothing to worry about, as it shouldn't harm your dog. It's just standard practice by some farmers to be able to identify their cows easily, and your dog won't come to any harm by eating these cow ears, so don't worry.
My Final Thoughts
I hope this has helped you to find the best cow ears for dogs! Personally, for my dog, I'd go with the K9 Warehouse Jumbo Cow Ears. I like that the bully flakes add extra protein, and they're large enough to keep him going for a little while. The company ethos is excellent, too.
However, if you've got a smaller or less active dog, I'd probably recommend something like Wonder Bound Cow Ears. They're smaller and thinner, but they're still very simple so that you can avoid any upset stomachs.
If you're ever unsure about introducing new food to your dog (or if they seem to have an adverse reaction to a new food), it's worth checking with your vet for advice. They'll be able to give you the all-clear. On the whole, though, cow ears are considered a pretty healthy and wholesome treat, and they seem to be beloved by dogs across the globe!
Continue reading:
The 13 Best Dog Bones for Aggressive Chewers
Your Dog Ate Chicken Bones, What To Do? Here Are 5 Important Steps To Follow