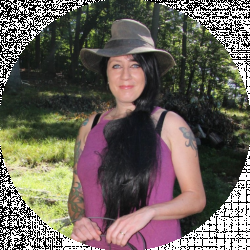 Latest posts by Samantha Biggers
(see all)
If your dog has been having trouble with their stomach, then they might be one of the many dogs out there with a sensitive stomach. Scout doesn't like it when our dog friends are feeling yucky, and we know you don't either. Here are some hints and tips for determining if your dog has a sensitive stomach and what type of food can help solve the problem and get your pooch back on track and loving life.
Signs Your Dog Has A Sensitive Stomach
Gas
If things seem a bit smelly around your house, then your dog may be experiencing some distress. Another major sign that their stomach is having issues is this happening right after a meal.
Diarrhea
If your dog is running for the door more often than usual, or you find yourself cleaning up messes more than usual, then stomach issues may be playing a role.
Vomitting
We have all been through something we ate not agreeing with us. Your dog is the same as you in this respect. All too often people assume that dogs can eat anything or have stomach's made of iron, but that is just not true. While puppies sometimes just vomit, if it is happening often, a change in diet should be considered.
Nervousness
Dogs that are naturally nervous can have stomach problems as a result. Creating the most calming environment for your dog will help, but it is just not always possible. Rescue dogs who have been neglected or abused can be particularly nervous in certain situations, like meeting someone new or a lot of noise from a construction project next door. Seeing someone that reminds them of something bad is another example when a dog may just be nervous.
Fast Eating Dogs = Sensitive Stomach
There are some dogs that love their food so much that they eat it much faster than is healthy. When food is not chewed properly, the stomach has to work harder to digest it. Another important thing to remember about well-chewed food is that the saliva in the mouth contains bacteria and lubricates to help break down food. A harder working stomach is more likely to be irritated.
There are ways to help your dog slow down at meal times. Special bowls are available that make it harder for dogs to eat quickly. The compartments and shape force your dog to slow down. If you have a small toy breed you may just feed them by hand if it gets them to slow down enough.
Ootdpet Fun Feeder Dog Bowl Slow Feeder is an inexpensive solution for a dog who eats too fast and gets upset stomachs and bloating.
Outward Hound Fun Feeder comes in a large size that holds up to 4 cups but they have a smaller 2 cup version as well.
Ootdpet Fun Feeder Dog Bowl Slow Feeder | Amazon
It seems all dogs eat too rapidly, which unfortunately can cause bloat, discomfort, and other digestive problems. The slow feed dog bowl promotes healthy slow eating, helping prevent obesity, bloat, regurgitation and overeating.
Buy at Amazon.com
We earn a commission if you click this link and make a purchase at no additional cost to you.
06/07/2023 12:14 am GMT
Outward Hound Fun Feeder | Amazon
Outward Hound uniquely designed Fun Feeder dog bowls feature meal-lengthening ridges to help slow down your dog's eating time by 10X!
Buy at Amazon.com
We earn a commission if you click this link and make a purchase at no additional cost to you.
06/07/2023 12:17 am GMT
Natural Supplements Can Soothe
Some dogs need a little extra help when it comes to a healthy gut. An easy-to-add natural supplement can provide relief while still being cost effective as well. There are a ton of choices out there and Scout encourages you to discuss them with your veterinarian if your dog has special needs and concerns. That being said, here are a few to consider for your dog at any life stage.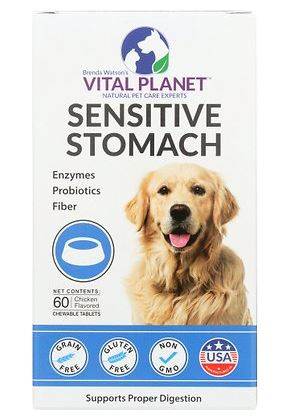 These daily pills contain probiotics, beneficial enzymes, and fiber to help your dog with digestion. Even if you are feeding a dog food that claims to have a lot of probiotics, it doesn't hurt to add some more to your dog's diet if they have a lot of stomach issues. These chicken flavored tablets area easy to give. In fact, you can just sneak them into a lot of dog's kibble without them noticing. If you have been disappointed with having to hide pills and supplements in treats, then a great tasting chewable treat is going to be a lot better for you. This supplement is probably best for those with medium to smaller dogs because 60 tablets will only last a large dog a mere 20 days.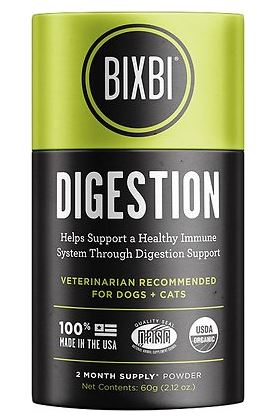 BIXBI is Certified Organic and is a powder that is easily added to dog or cat food. Scout likes that this can be used for cat household members with sensitive stomach as well because it means pet owners have the convenience of just buying one product and not worrying if a pet accidentally eats some of the other's food. Organic mushrooms are the main ingredient and have been shown to contain high levels of polysaccharides that supports prebiotic action that is necessary to get the most our of probiotic activity. This supplement pairs well with dog foods that contain probiotics. This complete approach might be just what your dog needs to soothe their irritated stomach and digestive tract.
Switching Dog Foods
Switching dog foods is often best done gradually. However, if your dog is having problems keeping a certain brand down, then making the switch all at once is best. If stomach upset seems severe then consult with your veterinarian so that they can rule out anything else that may be causing the stomach issues. Sometimes dogs have allergies or sensitivities that can be hard to figure out, but you owe it to your dog to try. Don't be surprised when the dog food your dog tolerates best is not the cheapest out there. All too often, cheaper dog foods contain inferior ingredients that can upset the stomach of sensitive dogs.
Best Dog Foods For Sensitive Stomach Puppies
Puppies can have sensitive stomach issues that they sometimes outgrow. However, when it is happening and you have a lot of messes to deal with, it can seem overwhelming.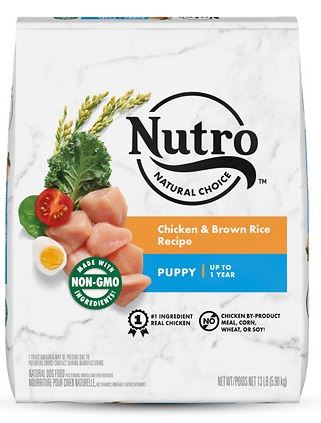 Nutro Wholesome Essentials Puppy Dry Dog Food | Chewy
This dry dog food is made with tasty chicken as the very first ingredient, providing a high-quality source of protein. It's made with the special dietary needs of puppies in mind, including omega-3 fatty acids to support brain and eye development.
Check Price
Buy at Amazon.com
We earn a commission if you click this link and make a purchase at no additional cost to you.
Chicken, Brown Rice, and Sweet Potato
Nutro does a great job at offering Non GMO pet foods that offer balanced nutrition from meats, fruits, vegetables, and whole grains. Scout loves that NUTRO takes into consideration the size of the breed of your puppy and creates formulas that ensure healthy growth rates and weight levels. Large breed puppies have a longer growth period than smaller dogs but growing too fast can affect development. Chicken is the #1 ingredient in this food with brown rice and sweet potatoes taking the place of the corn, wheat, and soy that lower quality puppy foods rely on for calories and additional protein. Fish Oil helps dogs that have skin issues such as dryness or flaking. Beet pulp, brewers rice, and chicken fat are some of the other delicious ingredients along with carrots and blueberries which provide immune system support and have an antioxidant effect.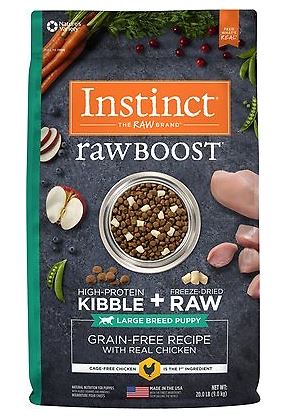 Nature's Variety is a good choice for those that are into the idea of a rawer or more primal based diet for their dog but don't want the hassle of having to put together balanced rations themselves or source ingredients. This formula contains freeze dried meat that more closely matches the natural primal diet of a dog. Probiotics help with digestion while the high levels of Omega-3 and Omega-6 fatty acids create good skin and coat. Dried Chicken, Turkey, and Fish will make this a puppy food that any puppy will gobble up.
While at just over $3 per pound this is one of the more expensive dog foods out there but you have to understand the level of quality nutrition you are getting. Since their are no cheap fillers a bag lasts longer than you might think. This is truly the safe way to do a raw or primal diet for your sensitive puppy. The reasealable bag makes it a big easier to keep this food fresh.
There are smaller bag sizes available if you have a really small breed and are concerned about freshness or just want to try it out with your puppy before committing to a larger bag but the cost per pound for smaller bags is substantial.
Best Dog Foods For Sensitive Stomach Adult Dogs
Adult dogs with sensitive stomachs need a kibble that offers good levels of calories and nutritional for moderately active to very active dogs. The good news is that there are plenty of quality affordable foods out there that can help your dog be their best.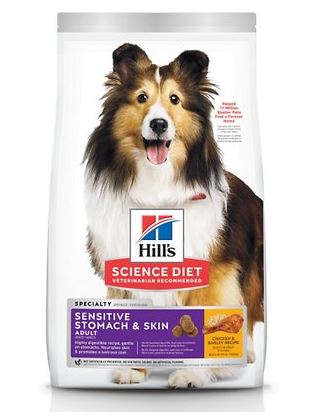 Hill's Science diet is particular about custom formulated blends so it is no surprise that they have two different sensitive stomach & skin dry dog foods. You can choose between the regular size dog variety and one formulated for small & toy breeds. Ingredients include prebiotic fiber to promote better digestion while Vitamin E and other nutrients help promote a glossy coat and helps out dogs that have sensitive skin types or allergies.
IAMS Sensitive Naturals Adult Ocean Fish and Rice Recipe Dry Dog Food
Iams is a very affordable high quality option for adult dogs that have some stomach distress. If your dog is one of those that likes cat food then they will love this natural Ocean Fish and Rice flavor. Vitamins and antioxidants help support a healthy immune system without causing any internal distress. Fruits and vegetables help balance out this food and makes for easier digestion and better overall health for your adult dog. Pet owners that have dogs that have skin allergies may see a major improvement in the sheen of their dog's coat.
Best Senior Sensitive Stomach Dog Foods
Senior dogs have special nutritional needs. At advanced ages dogs often don't have the energy level they once had so they need less food or a food that has reduced calories so they stay at a healthy weight. A sensitive stomach can even happen at an older age even if your dog has always tolerated their food well. Here are two quality choices under $2 per pound that can help your senior dog with a sensitive stomach.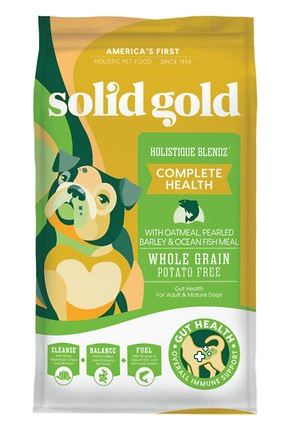 Solid Gold Holistic Senior Dog Food with Superfoods | Chewy
Attract your furry friend to his bowl with Solid Gold Holistique Blendz with Oatmeal, Pearled Barley & Ocean Fish Meal Sensitive Stomach Dry Dog Food. It features a balance of ocean fish meals with healthy whole grains like brown rice and pearled barley for a taste your pup won't be able to resist.
Check Price
Buy at Amazon.com
We earn a commission if you click this link and make a purchase at no additional cost to you.
It is hard not to notice this dog food with its very artistic design and declaration about being holistic. This premium senior dog food combines a lot of great proteins, fruits, and vegetables, and whole grains that include carrots, pumpkin, cranberries, blueberries, broccoli, almond oil, kelp, lentils, pearled barley, and oatmeal. This lower calorie and fat dog food still has 18% protein and does a good job at keeping the weight down on less active dogs. Probiotics help with digestion and supports a good population of healthy flora in the digestive tract so stomach issues are far less likely to occur.
Iams Premium Protection Senior Plus Dog Food
Iams has been a trusted brand for a long time and it is easy to find which makes it a good choice for a lot of dog parents out there. We love that this formula is specially designed for very old dogs. According to Iams this is for dogs 11 years and older! Beta-carotene and Vitamin E help boost the immune system of very senior dogs. The size and consistency of the kibble is designed to clean teeth and prevent the heavy tarter build up of a senior dog. Although the size of the package is small it is not any more expensive than a lot of better quality dog foods. Just remember to buy or order 3 or 4 bags at a time to keep a good supply for larger dogs. On the plus side the small size means you don't have to worry about it going stale as fast if you are feeding a medium or larger dog.
Progress In The Right Direction
A sensitive stomach can have a lot of underlying causes. Switching diet is usually part of solving the problem but you need to take other steps as well. Making sure your dog doesn't have access to table scraps, compost bins, etc is another thing that has to happen. Regular checkups at the vet's office will help you rule out other issues that could be causing stomach distress. Scout hopes that your dog is already starting to feel better!
Need more dog food ideas? Here's a list of dog food for senior dogs. You can also check out review of Merrick Backcountry Raw Infused Large Breed Dry Dog which is also perfect for dogs with sensitive stomachs.
Continue reading:
How to Keep Your Senior Dog Active and Loved
Blackwood Chicken Meal & Rice Recipe Lean Diet Adult Dry Dog Food Review