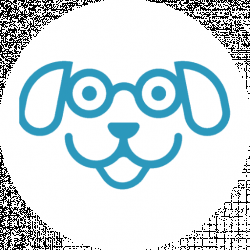 Latest posts by Scout Knows Team
(see all)
Ever thought poodles were just show dogs? Wagging their tails and flaunting a fancy haircut in front of a crowd?
Well, they are that, and more.
Poodles were originally bred in Germany for royal families as a water retriever. While they may no longer be working dogs, they remain energetic, loyal, and wickedly smart.
They are one of the most intelligent dog breeds on the planet, second only to the Border Collie. So, don't let their regal look fool you – they can be goofy.
It's no wonder they rank as the seventh most popular dog breed, after years of claiming the top spot. If a poodle already stole your heart, the best thing you can do in return is to feed him the quality dog food.
To do so, you'll need to seek some advice from your breeder or vet based on certain factors, like size and activity level. However, you still have to find him the best dog food among a ton of options.
I've helped you do some heavy lifting by compiling a list of the best dog food for poodles regardless of breed (standard, miniature, or toy). Also, you'll learn how to pick and feed your pooch if you're a first puppy owner or parent.
Let's get to it…
P.S. Most "poodle-specific" dog foods have a surprisingly inferior ingredient list and supposedly designed kibble. Needless to say, none of these products would be listed in this review.
Top 6 Best Poodle Dog Food Reviews
Key Ingredients
Turkey meal
Chicken meal
Peas
Dried egg
Pea starch
Wells Earthborn may not ring a bell as one of the famous brands you know, but they crafted a premium dog food that's worthy of attention.
Earthborn has been producing wholesome and nutritional pet food for almost a century. In their journey, they've taken environmental issues seriously, and seem to target pet owners in the same philosophy.
Enough, about the brand, Earthborn Holistic:
Their Primitive Natural Grain-Free Dry Dog Food is a quality recipe formulated with high-quality animal protein sources and necessary ingredients that would better your poodle's health.
It contains three sources of animal protein: Turkey meal, chicken meal, and whitefish meal. A picky poodle may enjoy dog food since it uses turkey as its first ingredient rather than the cheaper chicken source.
However, it contains a way larger concentration of peas, than its whitefish meal.
But a handful of fruits and vegetables, like carrots, apples, peas, and spinach provide essential nutrients and vitamins to help your poodle flourish.
The l-carnitine supplement is sufficient to help your poodle convert fat to muscle and maintain a royal look. Better yet, you should see a better glow to her coat thanks to the potent dose of omega-6 and omega-3 fatty acids in the formula.
Doxoahelysic Acid (DHA) can promote the brain and heart function of your pooch. This would keep him as a smart and quirky doggy.
The fruits also produce antioxidants that aid digestion.
As your pet-friend enjoys the nourishment of his meal, you also enjoy the pleasure of planting a tree through Earthborn's UPC's for Trees Today environmental program.
A bag of this dog food isn't the cheapest, but it's well worth the price of its protein, nutrients, and supplement levels. So, for its level of nourishment, it's economical per serving.
Pros
Great value for the money
Turkey is the first ingredient, instead of cheaper chicken
Essential fatty acids and supplements for shinier coat and high energy levels
Uses nourishing fruits and vegetable to aid digestion
More protein concentration than carbs
Payment from your proceeds forwards the course of reforestation
Cons
Takeaway
If you are looking for the best dog food for standard poodles and don't mind paying more for it, this dog food is a worthy choice. It serves high-quality protein and contains essential ingredients that would improve your poodle's overall health.
Key Ingredients
Chicken
Cracked barley
Wheat
Corn
Sorghum
Hill's Science Diet Large Breed Chicken and Barley recipe is an incredibly affordable and quality dog food.
The only thing is, the formula consists of mainly grain ingredients. So, if your canuche is allergic to grains or has a sensitive stomach, this dog food is out of the picture.
Regardless, chicken is used as the first ingredient, which is a decent source of protein. The rest of the main ingredients are cracked barley, whole wheat, whole corn, and sorghum.
Results of its large grain concentration manifests, as it has a lowly 20 percent crude protein content. But most grains in the formula, such as cracked barley, brewers rice, and sorghum are wholesome and nutritious.
Also, it contains flaxseed and other sources of fat ingredients that boost omega-6 fatty acids. This would keep your canine friend's coat shining and well-groomed.
More so, it provides essential supplements, like chondroitin sulphate, calcium, and glucosamine, to aid stronger and healthier joints.
It also contains a good selection of fruits and vegetables. However, the amount used in the formula is too little to make a reasonable effect.
All in all, the 35-pound bag of Hill's Science Diet large breed dog food has the best quality I've seen for the price.
Pros
Good bang for the buck
Premium quality grains
Contains omega-6 fatty acids for a beautiful coat
Chicken is the first ingredient
Promotes healthy joints
Cons
Low protein level and mostly made up of plant-based sources
Absurdly low levels of fruits and vegetables
Contains gluten
Takeaway
If you want the best affordable dog food for a standard poodle, consider the Hill's Pet Science Diet chicken and barley recipe. But only if your pooch can tolerate grains and chicken.
Key Ingredients
Deboned beef
Lamb meal
Sweet potatoes
Peas
Potatoes
Toy poodles are "miniature" or tiny dogs, so they'll benefit from eating small breed dog foods. And the Merrick Lil Plates is a perfectly fitting dog food, with small-sized kibbles for your toy poodle
It's an all-natural recipe that has high-quality animal protein sources, with deboned beef as the first ingredient. Also, it contains other protein source meats like lamb meal and salmon meal, which is great if your pooch has a sensitive tummy.
The rest of the energy-serving protein and carbs are sourced from sweet potatoes, peas, and fruits and vegetables. It's no surprise it contains a remarkably high 38 percent crude protein level.
Better yet, its impressive fat sources, like salmon oil, pork fat, and flaxseed supply leading levels of nutrients and supplements in the industry. The amount of chondroitin sulphate and glucosamine sulphate in this dog food is about two times what's found in regular ones.
The same applies to its omega-6 and omega-3 fatty acids level. This guarantees your little pooch would groom a lush and shiny coat when served this meal over time.
If she can't tolerate beef, there are other protein choices like real salmon, lamb, and chicken that may not trigger any allergies.
Pros
High-quality animal protein sources
Contains 70 percent protein and fat sources
Leading levels of bone and joint-enhancing nutrients
Grain-free and all-natural ingredients
Good supply of fruits and vegetables
Probiotics for better digestion
Cons
Expensive as a staple meal
Plant-based source of omega-3 fatty acid
Takeaway
Like most of their products, Merrick's Lil Plates Grain Free Texas Beef and Sweet potatoes kibble is a premium dog food. It contains some of the best ingredients collection that provide super levels of nutrients and ingredients.
For the level of nourishment in each serving, it couldn't cost any less. So if you're willing to pay extra to serve the best in your toy poodle's bowl, it's a great option.
Instinct Raw Boost Small Breed Grain-Free Recipe with Real Beef & Freeze-Dried Raw Pieces Dry Dog Food
Key Ingredients
Beef
Chicken meal
Whitefish meal
Peas
Chicken fat
The Instinct Raw Boost Small Breed Grain-Free recipe is not only a superb poodle food but one of the best dog foods on the market.
It's highly packed with animal protein (highest crude protein level in this review) and even has bites of freeze-dried raw meat mixed with the kibble.
Seriously, it features what's likely to be the best protein sources compared to other good food. Aside from beef as the first ingredient, it also includes; chicken meal, and whitefish meal (pacific whiting, pacific sole, and pacific rockfish).
And that's not even all of it. So, it's not a surprise that it contains a whopping 38 percent crude protein. What's more, it's an "all-stage" formula, which means you don't need to bother about transitioning your toy poodle, or any type at that.
All of these, coupled with a tremendously high crude fat level, makes the right food for an energetic poodle.
As expected, it features probiotics and antioxidants for improved digestive and immune health. Your pooch would also enjoy a beautiful shine to her coat with the many animal sources of fatty acids.
Surprisingly, Raw Instinct doesn't supply joint-promoting nutrients, like chondroitin sulphate.
Finally, it costs way more than your regular dog food for obvious reasons. Fortunately, it has a high-calorie content, so your dog won't eat as much.
Pros
Tasty recipe
Combines freeze-dried raw beef with kibble
Mainly animal-based list of ingredients
Great for older poodles
Provides essential omega-6 and omega-3 fatty acids for better skin health
Remarkable quantity and quality of protein sources
Cons
Pricy
May cause diarrhoea or gassing for some dogs
Takeaway
If your poodle struggles to eat, there's a high chance she would gobble up the Instinct Raw Boost small breed dog food as soon as it gets in her bowl.
It's tasty, highly nutritious, and even mixes raw beef with the kibble. Your little girl should become energetic and have a coat that's flourishing in no time – as long as you're ready to pay the relatively high price.
Key Ingredients
Deboned turkey
Chicken meal
Salmon meal
Oatmeal
Round brown rice
Wellness Complete Health Grain-Free is a premium dog food with a top-notch quantity and quality of ingredients to promote a healthy body weight.
It uses deboned turkey as the first ingredient and main source of protein. Even better, it's supplemented by other wholesome sources, like chicken meal and salmon meal. This guarantees that your favourite animal is getting its protein from the best possible sources.
Since it's grain-free, carbs and antioxidants are mainly legumes, like peas, chickpeas, and lentils. Moreso, it contains fruits and vegetables like sweet potatoes, cranberries, carrots.
Personally, I think the concentration of fruits and vegetables in the Wellness Complete Health is one of the best you'll find on the market. It's just much more sufficient, in terms of quality ingredients than many other products that are considered premium or top-quality.
At the end of the day, your pooch would enjoy a healthier digestive tract and enough energy to goof around the whole day.
It's rich in omega-6 and omega-3 fatty acids that are gotten from both plant-based sources and fish (salmon) oil. This helps your furry friend to stay cute and cuddly as she grows a smooth and soft skin.
The percentage of chondroitin sulfate and glucosamine in the formula is high. So, your pooch would not only maintain healthy joints but even see improvements if she had past issues.
If she has any underlying food allergies or stomach sensitivity, the Wellness Core Recipe is an alternative well-suited for that.
Pros
Great value for the money
Abundant and rich sources of protein
Good source of fatty acids
Sufficient fruits and vegetables
Cons
Takeaway
The Wellness Complete Health small breed dog food is formulated to help your pooch maintain healthy body weight. Coupled with this, she would see a better glow on her coat, healthier joints, and overall better health.
In short, if you want the best dog food for miniature poodles, this is easily one of the top options.
Key Ingredients
Chicken
Chicken by-product meal
Corn
Wheat
Chicken fat
The Eukanuba Small Bites is a super high-quality formula that's crafted for small breeds at a great price. In fact, Eukanuba claims that ingredients in their dog foods go through about 120 quality tests before distribution. But of course, I can only take their word for it.
Small Bites adult formula, has chicken and chicken meal as its first ingredients. Then the rest of the protein is gotten from grains. Perhaps, this is why it's so inexpensive.
But 25 percent crude protein level isn't the best you'd see in premium dog food. Fortunately, it also has small amounts of glucosamine and chondroitin sulphate to help your furry friend stay in shape. Plus, lower protein levels would be a good choice for less active dogs, like senior poodles.
The high number of grains, some chicken fat and fish oils would be more than enough to keep her active and agile.
I just don't like that corn is the primary grain in this recipe. There are plenty of other grains that would have made better options without being too expensive.
Some level of Docosahexaenoic acid (DHA) and Vitamin can be found in the formula. This can help your pooch maintain a sharp and healthy mind. But it's not enough to see any significant improvements.
It has a considerable amount of dried beet pulp that's more than I've seen in other dog foods. So, it might help your dog enjoy smooth and easy digestion and better stools.
Pros
Small bite-sized kibble for more natural chewing
Highly affordable
Enough protein to keep a lean muscle mass
Plenty of grains for energy and
Helps to maintain dental and mental health
Cons
No fruits and vegetables
Corn is the primary source of carbs
Takeaway
If your pooch isn't sensitive to grains or chicken, the Eukanuba Small Bites recipe is as cheap as they come.
For its price, it provides some other essential nutrients such as DHA, glucosamine, chondroitin sulphate and so on. However, not in impressive quantities.
If all of these aren't worth bothering about with you, Small Bites would make an excellent inexpensive miniature poodle dog food.
Buying Guide
This section would walk you through all you need to know about feeding and buying the right dog food for your poodle.
How Much Should You Feed Your Poodle?
As a passionate pet owner, it's normal to worry about your furry friend's feeding schedule. But there's no one size fits all answer.
Yes, there might even be a feeding guideline on your dog food, but that's only a generalization. And as you may already know, the calorie content of dog foods vary as well.
And not to mention the nutritional difference in low quality and high-quality recipes.
But for the most part, the amount of food your poodle should eat per serving depends on:
Age
Activity level
Rate of digestion
Health status
At first, you may need your vet or breeder to give you a rundown of his needs at the get-go. Then, you can proceed from there onward.
Younger poodles, for instance, are likely to be healthy and active, expending more calories on an average. Therefore, you'll need to feed him more to keep up.
On the other hand, senior poodles would have a slower metabolism, be inactive, and may have underlying health issues. So, they'll require fewer calories than an adult or even puppy poodle.
If you are feeding your four-legged companion commercial dog food, you can follow the feeding guideline on the back of the pack. But ensure to measure servings using her exact weight rather than just an estimate by a few pounds. Just a few pounds can cause your pooch to become overweight or bloated.
How Often Should You Feed A Poodle
As a passionate pet owner, it's reasonable to worry about your furry friend's feeding schedule. But there's no one size fits all answer.
As a puppy under 3 months old, it's advisable to free-feed your poodle. Since many poodles can be picky eaters, it can lead to malnourishment on a feeding schedule. In the process of free-feeding, ensure you put out only fresh food at all times.
Right about 6 months old, you can start him off on 3 meals per day. For some pooches, starting scheduled meals may be tough at first, but it should work out eventually.
At adulthood, you can cut down to 2 meals or stay at 3 meals per day. You would know which choice is preferable, depending on your dog's weight and activity level. Ironically, the more giant standard poodles have better tolerance to fewer meals than their little cousins.
Of course, you would also feed your pooch treats or dog snacks in between meals to reach his daily caloric goals.
What To Look For In Choosing The Best Dog Food For Your Poodle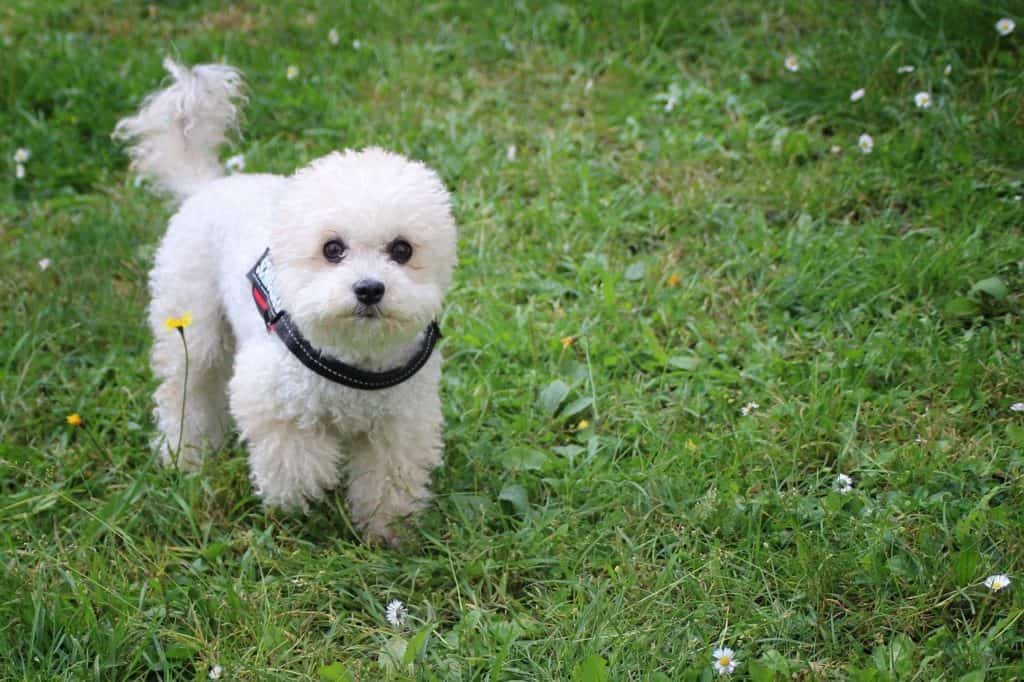 Wholesome Ingredients
First and foremost, your poodle's dog food must have edible meat sources as its main ingredient. This usually includes chicken, beef, turkey, lamb, and almost any type of fish you'll find.
Keep in mind that your senior dog wouldn't need a recipe with as much protein as a younger one requires. So, the highest crude protein isn't always the best.
That said, your pooch would also enjoy the nutrients and vitamins from a dog food with fruits and vegetables.
Byproducts
Contrary to what you might think, animal byproducts aren't as bad for your little companion. For instance, the liver is a good source of Vitamin A, and that's just one of many nourishing parts.
If your dog had an opinion about byproducts, he would be in total support.
But I won't recommend dog foods with extreme byproducts like hooves, hair, and beaks… Sticking to cleaned intestines, brains, kidney, and spleens would be preferable.
Flavoring and Preservatives
It's simple.
Stay away from dog foods with artificial coloring, flavourings, and preservatives.
When you opt for dog food with artificial additives, it becomes hard to know which ones are detrimental to your furry companion's health.
Ingesting artificial flavoring, like MSG, for instance, can cause severe allergic reactions. That's why it's better to go for a natural ingredient dog food instead.
Balanced Grains
It's no news… Some poodles need to stay grain-free or run the risk of stooling all over your fancy carpet from allergies. Worse, he may writhe in pain for a while if he consumes any shitty grain.
But for poodles that can survive on grains, you want to ensure that they are from quality sources. Some quality grain ingredients include quinoa, oatmeal, rice, and other non-gluten grains.
Added Nutrients and Vitamins
Ideally, your poodle's diet should provide essential fatty acids for good skin and coat health. Since the coat of a poodle is easily the most admirable trait, this perhaps, is the most important vitamin to look out for in a poodle dog food.
Glucosamine and chondroitin sulfate would help her maintain healthy joints. And docosahexaenoic acid (DHA) helps her stay sharp and in the right frame to learn new tricks.
Most dog foods would also contain some form of probiotics and antioxidants for improved digestion.
Wrapping Up
A poodle is one of the most intelligent dog breeds on the planet. And a cute and cuddly one at that.
While that would be more than enough reasons to own one, it comes with a lot of responsibilities.
One of which is getting your poodle the best nutrition he deserves. Finding the best dog food for poodles is a great place to start if you want a well-nourished and healthy pooch.
By now, you should have picked one of our many recommended products. If not, our top pick, Wells Earthborn Holistics Primitive Natural Grain-Free dog food. It contains quality sources of meat protein and to help grow lean muscle and boost your pooch's energy levels.
Also, the recipe includes some fruits and vegetables, optimal fatty acids, and chondroitin sulfate and glucosamine for all-around health improvement.
Since it's an all-stage adult dog food, the formula is mainly for standard poodles. But a toy or miniature poodle can still enjoy the benefits whole or mashed.
More importantly, it's a great deal for its price.
Continue reading:
Dog Dental Insurance: The Best Plans and Why You Need It
Top 10 Dog Toys for Great Dane in 2022