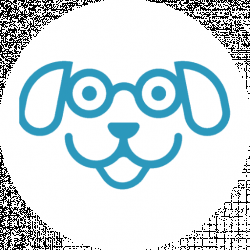 Latest posts by Scout Knows Team
(see all)
Tear staining, or epiphora as people often call it, is a condition in which marks appear under dogs' eyes. The specific color can vary from dog to dog, but the appearance is definitely not a pleasant one.
There are many potential causes of tear stains.
Diet is a major one – feeding your pet the best dog food for tear stains is often an effective first step to healing the condition.
Beyond just the physical appearance, tear stains are often a symptom of major health problems which can become very severe and debilitating, if left unchecked.
Here are the food products we recommend to help your pet begin the healing process:
Top 5 Rated Best Dog Food for Tear Stains
| Recommendation | Best Dog Food For Tear Stains |
| --- | --- |
| Top Choice | No products found. |
| Runner Up | No products found. |
| Budget Choice | No products found. |
| Best Vegan Dog Food for Tear Stains | No products found. |
| Best Dog Food for Sensitive Stomachs | No products found. |
Top Pick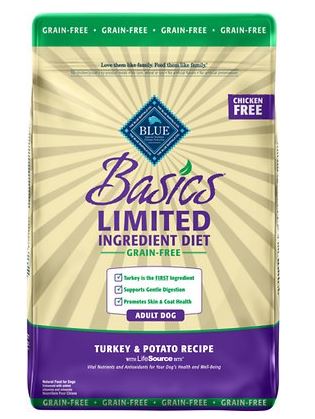 Our top pick is a BLUE limited ingredient product which has a short ingredient list but still manages to cram in all the essential nutrients your pet needs for a healthy life. You can buy it in a couple of flavor options (duck, lamb, salmon, and turkey). That's great if your pup has a preference or is allergic to any of them.
After the primary ingredient and protein source, the next ingredient in all of the flavor options is potato. It's a much healthier alternative to wheat and some of the other grains which many other products are made with. It'll provide the energy for your canine to stay active and energized throughout the day.
The limited ingredient list and lack of common food allergy triggers are helpful for tear stains. That's because, in many dogs, staining is a symptom of allergic reactions. You can buy this product in a range of sizes. It's really convenient to purchase and portion out over time without worrying about it going stale.
Pros
Available in multiple flavors
Premium protein sources
Tight ingredient list to prevent tear stains and other food allergies
Healthy carb sources
No by-product content
No artificial flavors, colors or preservatives
Available in many bag sizes
Promotes immune system health
Contains omega fatty acids
Contains proprietaty Lifesource Bits
Cons
From Natural Balance, this food is made primarily from high-quality venison, and sweet potato. They supply protein and carbs respectively, and the careful balance of proportions is clearly the work of stellar nutritionists. Your pup will be getting a healthy mix of protein for muscle growth and maintenance along with energy for even the most active lifestyles.
The formulation is great for correcting tear staining because the ingredients were chosen to make the meal easy to digest. That reduces the strain on the digestive system and organs generally, thus reducing the amount of impurities which need to be processed and expelled by your dog's body.
Apart from doing great for the innards, this product is also helpful for developing healthy skin, hair and coat, so your pet will look healthier, even in the face area where tear staining occurs.
Pros
Contains a healthy balance of nutrients
Contains Essential amino acids
Highly digestible
Extensive quality assurance procedures
No artificial chemical content
Grain-free food
Multiple size options available
Cons
For our budget pick, we chose this product from Wellness due to its limited-ingredient, low-calorie, but still highly nutritious formulation. All the ingredients are high-quality as one would expect from Wellness, and there are no artificial colors, flavors or preservatives.
The primary ingredients are deboned chicken and peas. The peas are a great alternative to the usual filler ingredients in dog food products at this price point. They keep your dog feeling satiated for longer and reduce the likelihood of overeating.
With regard to tear stains specifically, the ingredients are ones that most dogs are able to eat and digest conveniently. They are minimally processed to promote nutrient retention and reduce allergy risks. In addition, the recipe has a significant amount of omega 3 & 6 fatty acids, along with probiotics which help to promote gut health.
Pros
Affordable price
High fiber content
Grain content is from whole grains
Well-balanced nutrient proportions
Contains essential vitamins and minerals
Low-caloric content
Great for weight management
Cons
The options that exist for pet parents who have their dogs on a vegan/vegetarian diet can be quite limited. When it comes to vegan food that can also help to remove tear stains, the list is even shorter. This product from Natural Balance ticks both boxes. It's made from a range of premium ingredients which provide a balanced diet to your pup.
Brown rice, oatmeal, and peas are the most prominent ingredients. Your dog will find the entire recipe highly digestible and full of energy for all his activity.
Potato protein is also high up on the list, providing a healthy alternative to meat sources. All the vitamins and minerals your pup needs are present as well, ensuring that even though meat is absent from the formulation, no essential nutrient is left out.
Pros
Healthy protein alternatives
Contains essential vitamins
Highly digestible
High energy content for active dogs
Available in multiple sizes
Cons
If your pet ordinarily suffers from food allergies or a sensitive stomach in addition to tear stains, your best bet would probably be to go for a hypoallergenic product. These food products use an even smaller number of ingredients than normal limited-ingredient products and the manufacturers also choose the least potentially allergic ones.
There are just 6 main ingredients in this meal, with lamb meal being the first on the list for healthy protein supply. In addition, there are healthy carb sources such as brown rice and beet to provide all the other nutrients your pup needs.
It contains no artificial colors, flavors or preservatives, and has no gluten, soy or filler ingredients which are often problematic for dogs with sensitive stomachs. You can buy it in a range of sizes from 5 pounds to 24 pounds.
Pros
Very limited diet
High nutritious and balanced diet
Contains all essential vitamins and minerals
You can get it in different bag sizes
Completely natural ingredients
No filler ingredients
Cons
---
Buyer's Guide
To be able to tackle tear staining properly using diet changes, it'll be important to understand what it is and what causes it. Here's all you need to know about the condition:
Causes of Tear Staining
Genetics
The first possible cause of tear staining in certain dog breeds is just their physiological makeup. In the course of selective breeding to create new breeds and improve old ones, some modifications have happened which result in tear stains naturally.
For instance, with the Maltese and other small breed dogs like the Shih Tzu, selective breeding changed the structure of their faces to have shorter noses and eyes which protrude outward. That abnormally narrowed their tear ducts and makes it impossible to store tears properly there. In addition, brown stains are more visible on the fur of white dogs and those of lighter color generally.
Medical Conditions
In some other cases, tear staining can occur due to health issues specific to your pet. Common ones include abnormally small tear ducts or abnormally large glands, ingrown eyelashes, eye infections, yeast infections, and other similar conditions.
Environmental Toxins
Sometimes, environmental toxins can also be the cause of tear staining. Cleaning products, pesticides, lawn chemicals and the like often cause reactions including tear stains, skin issues, and even seizures.
Tap water can also cause eye strain when there's a high mineral count in it or when specific chemicals are present in sufficiently large quantities. You can use distilled water or a filter like the Aquagear Water Filter to provide safe drinking water for your pets.
If your pet's tear staining starts shortly after a change in environment or after you introduced a new product around the home, you should reverse things and see if the stains go away. Also, check online to see if other pet owners have reported similar reactions after using that product.
Poor Diet
Your dog's diet is a major consideration too. A poor diet can tamper with the normal bodily functions of your pet and cause tear staining. A higher quality diet has often had the effect of reducing the quantity of porphyrin (dye molecules which discolor your pet's coat due to their iron content) produced in canines.
Even if your pet's tear staining is not caused directly by a poor diet, improving the diet will certainly be beneficial in the management of the other causes. That's why our list of best dog food for tear stains contains products which provide a healthy, balanced diet in addition to their anti-tear staining properties.
How to Treat Tear Stains
The first thing you need to do if you notice tear stains on your pet's face is to reach out to a veterinarian (ideally, you should visit a veterinary ophthalmologist, but if there's none nearby, you can go to a general practice vet) for a diagnosis. The vet will be able to tell you if the staining is as a result of your dog's breed or any medical condition. If either of those is the case, you'll have to start your pet on medication, and you might even need to take him in for surgery.
If she rules those out however she'll probably advise you on proper grooming for your pet as well as diet improvements.
When it comes to improving your dog's diet to eradicate tear stains, the key thing is to go for products which help the body detoxify and relieve organ stress. As you can see from our list, limited ingredient food products are ideal for that purpose. Ones that are protein-based and completely natural without any chemical additives in the form of flavors, colors or preservatives also work well.
Frequently Asked Questions
What Ingredients Cause Tear Stains?
For tear staining caused by food allergies, the specific ingredient at fault will differ from pet to pet. If you notice the stains after changing your canine's diet, check to see which ingredients are in the new food which wasn't in the old one.
You could also try experimenting with different products to see if there's a change. Generally though, the lower the number of ingredients in the food, the lower the risk of allergic reactions generally. In this list, for instance, the majority of the products are made specifically to keep the ingredient list short. Go through the list, and you'll likely find one that works for your pup.
Can I Use Whitening Products
Yes, you can, as long as you're using safe ones which your vet has endorsed.
There are a lot of home remedies on the internet which try to use everything from yogurt, coconut oil, apple cider vinegar, and corn syrup. Most of them aren't really effective beyond momentary cleaning.
Some boric acid and hydrogen Peroxide-based stain remover products can have lasting effects, but you shouldn't use any without having your vet them -pun intended ?.
Can I Use Antiobiotics
Antibiotics have been known to be effective for very acute conditions, but they should only be used as a last result and under medical supervision.
When antibiotics like Tylosin are used too often, it can result in drug-resistance in the dog and even the humans around them, making your pet more susceptible to infection from various sources.
Other High-Quality Dog Food for Tear Stains We Reviewed
Healthy Treats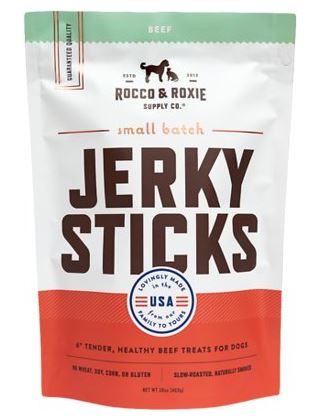 Some pet parents make the mistake of feeding their canines healthy meals while supplementing it with treats which are not so healthy and counteract the therapeutic effects of the main meals. These jerky sticks from Rocco & Roxie are great alternatives for a completely healthy diet.
Made from beef, chicken or turkey, and without including any filler ingredients or artificial chemicals, the treats are chock full of healthy nutrients for your pet to enjoy and stay healthy.
They are also highly palatable, which is essential for treats. Owners have given rave reviews about how much their canines enjoyed them. Even if your pet is a picky eater, this will be a great option.
Features
Completely natural ingredients
No residue
Highly palatable
Great chewy texture
Ideal size for training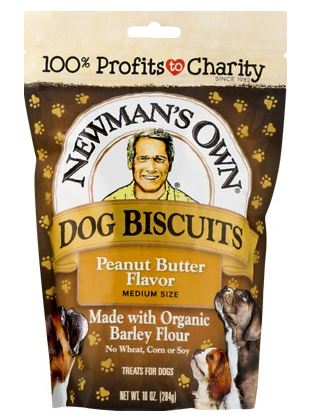 Another healthy treat option, these Newman's biscuits come in a wide combination of ingredients. You can choose chicken, peanut butter or turkey and sweet potato. You can even choose between medium and small size biscuits, so there's no way you won't find something your pup loves!
All the ingredients are natural, which ties in with the goal of reducing potential allergens in your canine's diet. There are no chemical additives or filler content either.
The shape and texture of the treats are designed to make them easy to eat and digest. That'll put less strain or your pooch's organs. It'll also make it even more effective for use in training.
Features
Unique, convenient shape
Easy to digest
Organic nutrients
No artificial additives
Free from gluten and soy
Raw Food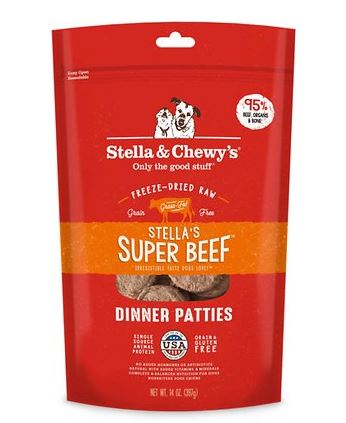 Few other dog food products have flavor options as diverse as this one from Stella & Chewy. You can choose from beef, chicken, duck, salmon, turkey, venison and even combinations of those. That's great for experimenting and finding which one your pooch loves best.
The recipe is prepared to start with up to 95% meat and bone content (it's reduced after processing). That makes it extremely rich in complete animal protein and also very palatable for your pup to enjoy. The rest of the recipe comprises of organic fruits and vegetables to supplement the protein with all the other essential nutrients.
As one would expect, there are no chemical additives whatsoever, and no grains or filler content either. If you want to give your pooch a truly raw, natural and healthy meal which is also great for reducing tear stains, look no further than this.
Conclusion
Having a pet that suffers from tear staining can be a very difficult experience. Knowing that your pet is likely in a lot of discomfort is already painful. Having to see the rust-colored streaks on your beloved pet's face daily can't be easy for any pet owner.
The good thing is that you can help your pet beat the condition. Beginning from his diet, you can make changes to reduce and eliminate the stains. The best dog food for tear stains on this list is ideal for that purpose. Order one and try it out to see if there are changes. Odds are, you'll be providing your pet with much-needed relief from the condition.
Top Pick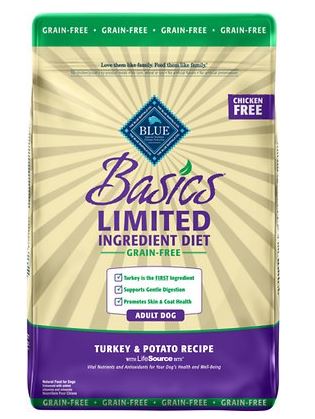 Continue reading:
Top 7 Best Dog Foods with Glucosamine For Joint Health
Best Senior Dog Food for Sensitive Stomachs (Top 5 Picks)