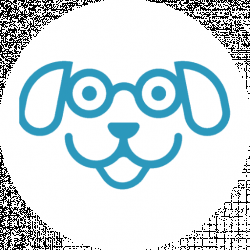 Latest posts by Scout Knows Team
(see all)
If you have a puppy then you may have already run into the problem of excessive chewing. If you haven't then you need to prepare yourself for what is to come. Here are a few things to remember about puppy teething time to make it easier for the both of you. Scout's favorite puppy teething toy is the Classic Kong in various sizes. It will last virtually forever and you can customize it with fun treats.
Puppies are going to chew on something. There is no point in trying to keep a puppy from chewing entirely. Chewing is part of their natural process for getting through the pain and discomfort of getting their teeth. Trying to prevent a puppy from chewing entirely is a lost cause.
If you don't give them something to chew they will find something. It is up to the dog parent to provide a puppy the toys and chews they need to satisfy their needs. If you don't give them something you think is okay for them to chew on, they will find something seeking relief from their teething issues.
Pet owners should know how to choose the right toys for your pet. Our favorite is the Kong Extreme Large Rubber Chew Toy, which is ideal for both puppies and strong chewers in general.
Scout Knows
The Importance of Chew Toys
It doesn't take much chewing up of boots or belongings to add up to a substantial amount of money for a replacement. Providing toys will alleviate the stress of watching out for your puppy chewing up your possessions. Things that smell like you or remind them of you can be comforting, especially when you are away during the day.
When it comes to teething toys it doesn't necessarily mean rawhide. Teething toys are made from a lot of different things that don't mean your dog has to ingest or digest anything at all. If you have heard bad things about rawhide then don't make the mistake of not realizing there are a lot of teething toys out there that are safe and healthy for all types of dogs. If a dog doesn't have the right size teething toy it can be hard. They may either ignore it or become very frustrated. Over the full course of puppy hood, you may need several different sizes of teething toys to get you and your pooch through those moments!
A good teething chew also helps eliminate plaque and tartar and can have a freshening effect on your puppies breath. This means that your dog will have better overall dental health and be more pleasant to be around given the proper chews. Chewing especially after meals is a good idea for puppies and older dogs as well.
Teaching Good Chewing Habits
It is not always as simple as putting out a teething treat. As a pet parent, you need to show your puppy the best way to handle the urge to chew. Here are some tips for showing your puppy what is and what is not okay.
Breed, size, and personality all are major components of chewing behaviors. Boredom can cause destructive behaviors to emerge or get worse. It is important to pay attention to your puppies chewing style. Some pooches take a lot longer to grow off than others so they may have puppy style chewing habits for a lot longer, this is especially true for big dogs that have a lot bigger teeth to worry about. Small dogs with fast growth rates may become major power chewers briefly and then ease into a more normal range of chewing behavior.
Start out right by having chew toys on hand before teething. Not being prepared for chewing can allow time for a bad habit to develop. When you know you are getting a puppy, buy some good teething and chewing toys. You will not regret being prepared for the upcoming chew fest you are about to endure.
Correct chewing habits immediately. Don't take a moment to think that a puppy chewing on a shoe, even an old one, is cute or okay. A firm "No" or "Bad puppy" and then giving them a toy that is okay to chew on is a good plan. This is a good balance of positive and negative rather than just getting mad and not giving your puppy what they need.
Having another dog can also help, believe it or not. Puppies are just like people in that they learn habits from those around them. If you have a well trained older dog then your puppy will learn a lot of good behaviors from them in a lot of cases. Having a dog to play with a puppy can also prevent boredom and loneliness that can cause puppies to do things like "chomp pillows" or attach furniture when you are gone. It can actually be easier to raise a pair of puppies than a single one because they help occupy each others time quite well.
The most important thing to remember is consistency. Puppyhood is a confusing time for a dog. One of the biggest training problems that puppies experience is lack of consistency that makes it difficult for them to learn what is wrong and what is right. This happens a lot in households where no one has discussed the rules for the puppy. It is quite easy to show kids and other family members how to encourage good choices and how to correct bad ones. If everyone does it the same way with the puppy you will be amazed how fast they learn.
There is a variety of popular dog chew toys to introduce to your pet. Here are a few of them.
Best Chew Toys for Your Dog
Our Top Pick: Dog Rope Toys Set
Why get one teething toy when you can get a dozen for cheap? This assortment of rope toys, squeakers, and more will satisfy your pooches tugging and chewing instincts all while you have a lot of fun. This affordable assortment features such toys as a frisbee, assorted rope bones, a squeaky rope duck, and more. There is sure to be something in here to satisfy any chompy and chewy pupster in your household.
Runner Up Pick: Nylabone Just For Puppies Ring
Runner Up Pick
Nylabone has long been a leader in the chew toy business. Their affordable teething toys are cute and effective. This teething ring is inexpensive and offers your puppy a healthy outlet for all their chewing needs. For the ultimate chewing experience, it is difficult to go wrong with Nylabone. This toy is available as part of Amazon's add on program making it more affordable than ever and a great choice for the new puppy parent.
Best Budget Pick: KONG Just for Puppies Rubber Chew Toy
Scout Knows
Kong classic shaped dog toy comes in a lot of styles to suit your pooch. Fill the Kong with something tasty and your pup is sure to be entertained for a long time. Kongs are practically indestructible, easy to find, and the range of sizes is fabulous and in a price range where you can afford to buy multiple Kongs for two pooch households or to get you through different sizes of puppy hood and chewing stages.
Other Good Chew Toys for Your Dogs We Reviewed
Another affordable assortment that gets great reviews on Amazon. These rope toys take care of chewing and also allow you to play fetch and tug with your dog. If you have more than one dog then prepare for some fun times when they both get to tugging on the same toy. This is a great pack for gifting to a friend or family member that has just got a puppy.
Pet parents should not be surprised to find another Kong toy on our list of best teething toys. This fun rubber and nylon reinforced fabric toy is perfect for throwing and fetching. A lot of pooches love to throw this toy up into the air all on their own! Choose from 4 fun sizes and let the good times roll! This is another toy that is an affordable add on to any Amazon order you are doing. Scout advises getting a few of these so you are all stocked up on fun teething toys for your puppy.
Fetchy puppies will swoon over this soft rubber ball that you can shove treats into. The give in the ball soothes and stimulates the gums of your puppy so they get some relief from pain and other issues. This ball is sized to be great for puppies and large dogs. For those that find a lot of puppy toys are far too hard, this is a good bet and is appropriate for households with more than one dog.
The Nylabone just for puppies bone is a good choice for those that want an indestructible puppy chew. Nubs all over the cute bone massage your pup's mouth and this is a toy that is very easy to carry around. The nubs also help clean plaque and tarter from your pupster's mouth so they have fresher breathe and healthier teeth and gums.
This cute teething stick has an outer layer that when frozen provides cooling and soothing relief to puppies that are starting to get their teeth. If you live in a hot place then this can also provide a way to help your puppy beat the heat and have a more comfortable summer experience as well.
Petstages, Dental & Teething Dog Chew Toys
This cute teething stick has an outer layer that when frozen
provides cooling and soothing relief to puppies that are starting to
get their teeth.
Check Price
We earn a commission if you click this link and make a purchase at no additional cost to you.
06/09/2023 12:16 am GMT
You have to love the name of something like this. This chew has a treat compartment that you can put snacks in or you can fill it with water or flavored broth, etc. and have a chilled bone treat that is sure to soothe and pamper tender puppy gums and teeth. Tarter and plaque are eliminated with the chewing action on the nubs.
While so far this list has included just toys that are for chewing and treat insertion, this is our first entry of edible teething treats. While you want to monitor how many of these your puppy consumes, they are a fabulous way for pooches to get a delicious and nutritious flavorful treat while soothing gums and teeth that are emerging.
Scout just cannot get over how cute this teething toy looks. Leave it to the fine folks at Kong to come up with something that combines
their classic tough and durable teething toys with a fun twist that everyone is going to find super adorable.
Scout Knows
Kong Puppy Tires are a tire you will never get tired of seeing your puppy chomp! These cute teething rings are made to provide the
highest level of comfort and chewing satisfaction for your dog. You can fill the inside of the tire with treats, peanut butter, or treats
specially made by Kong.
This textured nubby bone is flavored for maximum attraction. You can get different delicious flavors like bacon, chicken, peanut butter, and liver. Scout suggests getting one of each flavor so your puppy has a lot of choices when it comes to soothing chewing action. If you have a grown dog you should get them one too!
This teething ball with flexible rings looks like something from your last science class but the shape is what make it so great for puppies that are trying out what they can chew on and what they can't. You have to love the colors too because you can see it well so when your puppy hides things or drags them off, you can help them find their toys.
Pet parents will love this pack of teething toys for pooches. The first toy is filled with water and freezable. The soothing nubs and cold effect will help prevent the yelping and pain noises that puppies can make when getting those important little chompers in! The other toy helps clean teeth and massages. These toys are easy to pick up and throw around when playing with your puppy.
A lot of pet parents are raving about how great antlers are for their dog's chewing habits. These chews don't smell or splinter so you can feel good about being able to use them in your house as well. The antlers come from wild deer. Every year deer naturally shed antlers and then they are picked up and cleaned up to be sold for decoration or dog chews. These treats come in smaller packs or get the 1 lb value pack so you are stocked up well.
Runner Up Pick
This is a perfect tugging ring for playing with a small puppy. The soft material soothes and massages while you play with your new puppy. You should be sure to add this on to your next order and let the good times start happening with your pupster.
Scout likes this assortment of rope toys because they are shaped into fun animal shapes so they are cute and a good compromise between a stuffed animal toy and a mere rope. This 5 pack of dinosaur, giraffe, duck, panda, and elephant gives your puppy variety and something that is fabulous for tossing around.
Chewing Precautions
During this whole chewing phase your puppy is going to go through you might want to figure out a way to make sure they are polite about chewing. This means showing others how to stop a puppy from chomping hands or stealing items to chew on.
Puppy proofing is a good way to start. While you want to teach your puppy to ignore your possessions when it comes to chewing, you also might want to make an effort to put up anything you care about that is in reach. Training takes time and if you don't have anything around that they can get to and damage with ease then they may very well just chew on what you give them.
While we do live in a world where there is a lot of wireless devices, we all have some power cords or chargers around the home. Puppies sometimes resort to chewing these. Electrical shock is a possibility but it is more likely that they just ruin your cord. Sprays that have a bitter flavor can be applied to power cords and other objects you want to protect. If you can minimize how visible and accessible cords are to puppies, it might be a good idea for all.
Having a variety of toys to keep your puppy happy and occupied is a good idea. It is also very important to remember that a lot of puppies have some big jumps in size so you are probably going to need toys of various sizes over time. You may find that your puppy has some toys or brands that hold up to their chewing better than others. Kong, for example, has some toys that are made for extreme chewers that have a tendency to destroy other toys.
Continue reading:
How To Pick Out Toys For A Puppy
The 13 Best Dog Bones for Aggressive Chewers
Dentastix vs Greenies Review: Compare Which Dental Chew To Get Your Dog