Mastiffs are known as the gentle giants of the doggie world. And quite literally too.
Why?
They are the kind of pooch – okay, maybe, giant pooch – that would always steal eye stares and compliments. And many flights from non-dog persons too.
It's obvious why this happens:
Mastiffs can weigh a whopping 130 to 220 pounds on average. And reach about 27 – 32 inches — for clarity, that's up the hip of many dog owners.
Of course, there's that "fierce-looking" face too. English Mastiffs have wrinkled rectangular snouts with dark markings, like Boerboels.
Despite their monstrous size and mean demeanor, Mastiffs are calm and friendly. But they aren't the most mobile and tend to be overfed. In fact, they mostly enjoy being around people, just relaxing.
Sadly, but not surprisingly, they only live between 6 to 10 years. And that's more reason attention should be paid to any health-related concerns. Furthermore, putting your Mastiff on the best possible diet becomes paramount.
Fortunately, there are quite a number of quality dog foods for Mastiffs. You just need to know which fits your dog's body type and health status.
That's why I've compiled a comprehensive list of the best dog food for Mastiffs. They are of wide-ranging prices and formulas. So you'd find a match for your giant pooch.
Nutritional Profile
Protein: 32%
Fat: 13%
Fiber: 7.0 max
Omega-6 fatty acids: 2.25%
Omega-3 fatty acids: 0.75%
Glucosamine: 700mg/kg
Chondroitin Sulfate: 550mg/kg
Top 5 Ingredients
Deboned chicken
Chicken meal
Peas
Tapioca starch
Menhaden fish meal
Blue Buffalo Wilderness nature's evolutionary diet, is one of those dog foods specially crafted for giant buddies like your Mastiff.
It is a high-protein recipe with deboned chicken as the very first ingredient and complemented by the usual chicken meal. However, a good amount of menhaden fish meal is also added to this dog food.
Not only does this help in building lean muscle mass, but it also provides a good source of omega-3 fatty acid. This, in addition to its healthy dose of omega-6, ensures your pooch has a good-looking coat.
The Wilderness kibble is mixed with smaller LifeSource Bits that contain antioxidants and essential vitamins. Supposedly, they are selected by holistic veterinarians to support your dog's immune health and growth.
A handful of English Mastiff parents have experienced satisfaction with their pet's digestion and overall health on this diet. This is most likely so because of its high level of fiber.
And best of all, it's not too expensive to feed your Mastiff. Yes, it's higher than the average but definitely practical and worth the money.
Pros
Good value for the money
High-protein recipe
Helps digestive issues and runny stool
Good for revamping skin health
Supports healthy bone and joint growth
Cons
High amount of carbs
May be hard for a picky eater to get used to
Takeaway
This is the best dry dog food for an English Mastiff pound for pound. It's packed with protein and other key nutrients including glucosamine, chondroitin sulfate, EPA.
Most importantly, it's not priced off the mark and would sit with most dog owners' budget.
Nutritional Profile
Protein: 26%
Fat: 15%
FIber: 4.0%
Calories/cup: 472 kcal
Top 5 Ingredients
Chicken meal
Oatmeal
Brown rice
Dried beet pulp
Chicken fat
Consider Dr. Gary's Best Breed dog food if you are in search of a top-quality grained option. It's holistically made for all dogs weighing over 50 pounds and has a few Mastiff owners who only have good things to say.
It has chicken meal as its first ingredient. This isn't bad but indirectly might mean skimping on the manufacturer's part. However, that isn't the case. Happy pet parents have affirmed Dr. Gary's Best Breed compatibility with picky and sensitive eaters.
However, it really doesn't come cheap but is priced decently for its value.
The recipe also complements chicken meal with menhaden fish for a premium protein supplement. This also provides a source of essential oils.
Plus, it uses some of the best grain ingredients to get your pooch a good dose of fiber. And improve his digestion and intestinal function with the aid of probiotics.
In addition, it has glucosamine with green-lipped mussels, which aids steady growth and mobility. And an impressive calcium phosphorus ratio (1:3:1) that's safe to feed giant breed puppies if it's served in the right proportion.
On the other hand, the amount of nutrients like glucosamine and omega fatty acids aren't specified. This begs a few questions to the manufacturers.
Pros
Animal and plant sources of fatty oils
Contains green-lipped mussels that help with arthritis
Uses the best possible grain ingredients
Can be served at all life stages
Great for an energetic Mastiff
Cons
Doesn't list the percentage of fatty acids and glucosamine openly
Takeaway
Dr. Gary's Best Breed large breed dry dog food is one of the best in its category. It's packed with calories and nutrients from premium animal and plant sources. And its grains are top-of-the-line selections unlikely to cause allergies.
Nutritional Profile
Protein: 32%
Fat: 18%
Fiber: 4%
Omega-6 fatty acid: 2.8%
Omega-3 fatty acid: 0.3%
Calcium: 1.6%
Phosphorus: 1%
Top 5 Ingredients
Buffalo
Lamb meal
Chicken meal
Sweet potatoes
Peas
Taste of the Wild is an astonishing brand that offers high-quality pet food at ridiculously decent prices.
Their High Prairie is just one of many options to pick for giant dogs like Mastiffs. It's mid-priced dog food with a high 32% protein that's gotten from the finest of ingredients – rather than using byproducts to spike up numbers and reduce manufacturing costs.
The first ingredient is buffalo. But the best part is it contains other delectable novel meats, like lamb, bison, and venison. With buffalo, chicken meal, and lamb meal in the first three ingredients, there's no doubt its high protein comes from ingredients of superb quality.
Not to mention it has incredibly high fat. And of impeccable quality too. It has multiple animal sources like chicken fat and ocean fish meal. They are supported with plant sources that give omega-6 and omega-3 fatty acids.
It would have no issues keeping a Mastiff's short fur in perfect health.
Pros
Barrage of meat protein sources
Super-high protein level and quality
Good bang for the buck
Cons
No glucosamine and chondroitin sulfate
Takeaway
Taste of the Wild High Prairie is could be the best dog food for your Mastiff. It's extremely rich in protein and fat and has a good calcium-phosphorus ratio to support steady and healthy growth.
Nutritional Profile
Protein: 34%
Fat: 12%
Fiber: 6%
Omega-6 fatty acids: 3.25% Omega-3 fatty acid: 1.0%
Glucamine: 750mg/kg Chondroitin sulfate: 250mg/kg
Beta carotene: 5mg/kg
Top 5 Ingredients
Deboned chicken
Chicken meal
Turkey meal
Lentils
Dried ground potatoes
Wellness is one of the pioneers of holistic nutrition. This grain-free large breed formula speaks well of their tradition.
The kibble is nutrient-dense with thoughtfully selected ingredients and a remarkable nutrient ratio. For one, it's protein level is sky-high, yet sourced from mainly premium animal meat — the first three ingredients are chicken, chicken meal, and turkey meal.
Even better, glucosamine and chondroitin, are obtained from the chicken meal and turkey meal, respectively. Your Mastiff would grow well with essential joint support nutrients like these ones supplied by animal sources.
Wellness Core also contains a range of fruits and vegetables that supply fiber, beta carotene, Vitamin A, and many other vitamins.
However, this dog food is expensive. It has always been, but now, you get less for the same price. If your pooch refuses it (which is possible with any kibble), giving it up would let the average pet parent down.
Pros
Super-high protein from meat
Puts a good luster on your dog's coat
Fosters healthy development
Cons
Takeaway
Wellness Core is a super-nutritious formula made specifically for adorable giants like your Mastiff. But its tremendous protein quality puts its price on the high side. If you can afford it, it's great dog food.
Nutritional Profile
Protein: 24%
Fat: 14.50%
Fiber: 4%
Omega-6 fatty acid: 3.70%
Omega-3: 0.50%
Top 5 Ingredients
Chicken meal
Turkey meal
Lamb meal
Brown rice
White rice
Canidae Multi Protein recipe can serve a home with different dog breeds. The size of Mastiffs makes this more concerning. The "trick" is quite simple. This dog food is packed all-around with key nutrients that are good enough as a nutritious diet for dogs of any size or age.
But I won't recommend feeding a Mastiff puppy on this diet since it doesn't have DHA. It's not compulsory, but I find it essential for pups.
That said, chicken, turkey, and lamb, and ocean fish meals, as key protein sources, are superb. These quality meat sources also supplement other essential nutrients.
This includes fat. It's densely rich in fat. Salmon oil and flaxseed supply the Omega-6 and 3 fatty acids effectively that is sure to keep a Mastiff's coat soft and silky.
Also, the grains in the recipe are top-notch, and less likely to trigger allergies. The bounty of legumes, fruits, and potatoes supplies a hoard of important nutrients. More importantly, they supply chondroitin and glucosamine that can help Mastiffs reach full growth without musculoskeletal issues.
All in all, it's a high-quality dog food, with a matching reasonable price for a 44-pound bag. But hold off buying for a month or two. The manufacturers seem to have had quite a number of quality control issues with their current batch.
Pros
Saves cost of buying separate bags for different breeds
Variety of animal protein sources
Exceptional fat supply
Serves healthy whole grains
Cons
Takeaway
All in all, it's a high-quality dog food, with a matching (but reasonable) price for a 44-pound bag. But hold off buying for a month or two. The manufacturers seem to have had quite a number of quality control issues with their current batch.
Nutritional Profile
Protein: 26%
Fat: 15%
Fiber: 5.0%
Omega-6 fatty acid: 3.0%
Omega-3 fatty acid: 0.30%
Glucosamine: 800mg/kg
Chondroitin sulfate: 800mg/kg
Top 5 Ingredients
Organic chicken
Organic chicken meal
Organic sweet potatoes
Organic chickpeas
Organic peas
Castor and Pollux Organix is one of the highest quality dog foods I've come across. Not only does it have a potent dose of essential nutrients but it uses organic high-quality ingredients.
There's no doubt your Mastiff would gobble up the kibble without a fuss. But more importantly, it's the perfect dog food for a Mastiff with a sensitive stomach or intestinal issues.
However, I won't recommend it for any less – as a staple diet. It costs twice as much as the average dog food. And Mastiffs don't go little on food. But if you can afford it, your four-legged friend would thank you.
It has free-range organic chicken and chicken meal for supplying the bulk of its high protein level. And a host of other organic plant protein sources as well. That's just remarkable.
Even better, it uses organic legumes such as sweet potatoes, chickpeas, and peas to supply carbs. Actually, the whole recipe contains 95% organic ingredients.
It's no surprise it has chondroitin and glucosamine, in addition to the essential omega fatty acids. And in industry-high doses too. A breed such as your fast-growing Mastiff would benefit from the joint, bone, and skin support of this potent combination.
Pros
95% organic ingredients
Great for active English Mastiffs
High dose of fatty oils
Supports bone and joint development
Cons
Great, but painfully expensive as a staple diet
Takeaway
Castor and Pollux Organix is arguably the best dog food for every English Mastiff owner but can be unnecessarily costly to feed as a staple diet. But if your 4legged friend has allergies or a sensitive stomach, it's definitely worth a try.
Nutritional Profile
Protein: 26%
Crude fat: 14%
Crude fiber: 4.0%
Omega-6: 1.5%
Omega-3 fatty acid: 0.1%
Top 5 Ingredients
Chicken
Chicken meal
Dried peas
Soybean meal
Whole ground corn
Rachael Ray Nutrish is whole dog food made with farm-raised chicken as the first ingredient. It's complemented with veggies, healthy grains, and fruits to make the recipe a balanced diet.
Perhaps what sets the Rachael Ray recipe from most is its inexpensive cost per pound.
But more importantly, it's edible and nutritious. Its main source of protein, chicken, makes its 26% sourced from animal meat.
Also, brown rice, beet pulp, and a few other grains are good sources of probiotics and fiber. This ensures your English Mastiff won't experience runny stools.
It even uses animal fat (chicken fat), which is amiss in many higher-priced dog foods. This also provides necessary omega-6 and omega-3 fatty acids for better skin health.
Only thing is, they are comparably low amounts. But that might not bother your Mastiff much if she doesn't have skin issues.
Pros
Inexpensive option
Lineup of healthy grains for improved digestive system
No artificial coloring, preservatives, or poultry by-products
Cons
Low amounts of essential fatty acids
Takeaway
If you are on a tight budget, this is the best dog food for your English Mastiff. It supplies all the important doggy nutrients in reasonable doses. But like with even the best of the best kibbles, your pooch may not like it right off the bat.
Nutritional Profile
Protein: 23%
Fat: 12%
Fiber: 5%
DHA: 0.05%
Calcium: 1.5% Phosphorus: 1%
Omega-6 fatty acid: 2.25%
Omega-3 fatty acid: 0.75%
Top 5 Ingredients
Lamb meal
Oatmeal
Ground brown rice
Dehulled barley
Rice
The Eagle Pack puppy food is a special-blend diet that supports lean growth. The recipe includes multiple sources of protein, fats, and carbs to meet this end.
It has lamb meal as the first ingredient. But it's the only source of animal protein among the first five ingredients. Chicken meal only comes after a handful of carefully selected grains.
Speaking of which, the kibble has good fiber. And more than a few pet parents appreciate that pups on this diet have healthy stools.
Unfortunately, fish is nowhere to be found on its list of ingredients, as specified. But salmon oil is included, and it would keep a Mastiff's coat shiny and healthy with the production of fatty oils.
More importantly, it contains DHA, which would help a Mastiff pup grow up smart. And, of course, glucosamine and chondroitin sulfate, which are necessary for healthy joints.
Overall, this could be the best dog food for your Mastiff pup. It has the perfect calcium-phosphorus ratio and decent protein and fat for healthy growth.
Pros
Decent dose of nutrients for steady growth
Perfect dose of bone-building nutrients
Boosts mental health
Only quality whole grains
Would groom a healthy coat for Mastiff puppies
Cons
No fish meal among ingredients
No whole protein
Takeaway
The Eagle Pack Giant Breed Puppy food is right up there as one of the best puppy food for Mastiffs. It may not seem much, but its stated nutrients are gotten from only high-grade ingredients which makes them more potent.
Nutritional Profile
Protein: 26%
Crude fat: 13%
FIber: 4.0%
DHA: 0.1%
Calcium: 1.6% max Phosphorus: 1%
Glucosamine: 80mg/kg Chondroitin sulfate: 200mg/kg
Omega-3: 0.7% Omega-6: 3.5%
Top 5 Ingredients
Chicken
Chicken meal
Whole brown rice
Brewers rice
Whole grain oatmeal
Nutro, though, not the most popular brand, is a reputable brand that has produced pet food for almost a century.
Their Ultra Large breed puppy dog food lives up to the expectation of such a rich history. And, of course, would make a great fit for a Mastiff puppy for up to 12 months.
The formula combines chicken and lamb as the main sources of protein. It's not at a sky-high level, but it's just enough for large dogs like Mastiffs.
What's better, the chicken and lamb meal is also a natural source of glucosamine and chondroitin sulfate. This speaks well of the quality of this dog food.
Nutro Ultra contains quite a number of fruits and vegetables, in addition to its remarkable line up of grains. The result: a dog food packed with antioxidants, vitamins, and minerals.
Particularly, it has a relatively high dose of fatty acids, as it combines with fish oil. This is more than enough to keep a Mastiff pup safe from skin issues.
It's an even better quality puppy food than the Eagle Pack on many levels. Better yet, it's up at a discount at the moment, so also slightly cheaper.
Pros
Well-rounded recipe for all-life stages
Boosts cognitive health of pups
Rich in fatty oils for better skin and coat
Cons
Low glucosamine and chondroitin sulfate supplement
Takeaway
The Nutro Ultra puppy dog food is currently a steal at its price. In fact, it'd easily be the best dog food for an English Mastiff puppy if she doesn't mind grains.
Buying Guide
For the most part, the best dog food is no different than regular dog food. It's the quality, size, and way you feed it that really matters. So to put you in the know, I've explained a few crucial points to ensure your Mastiff gets the healthy nutrition he deserves.
Few Things To Watch When Shopping For The Best Dog Food For English Mastiff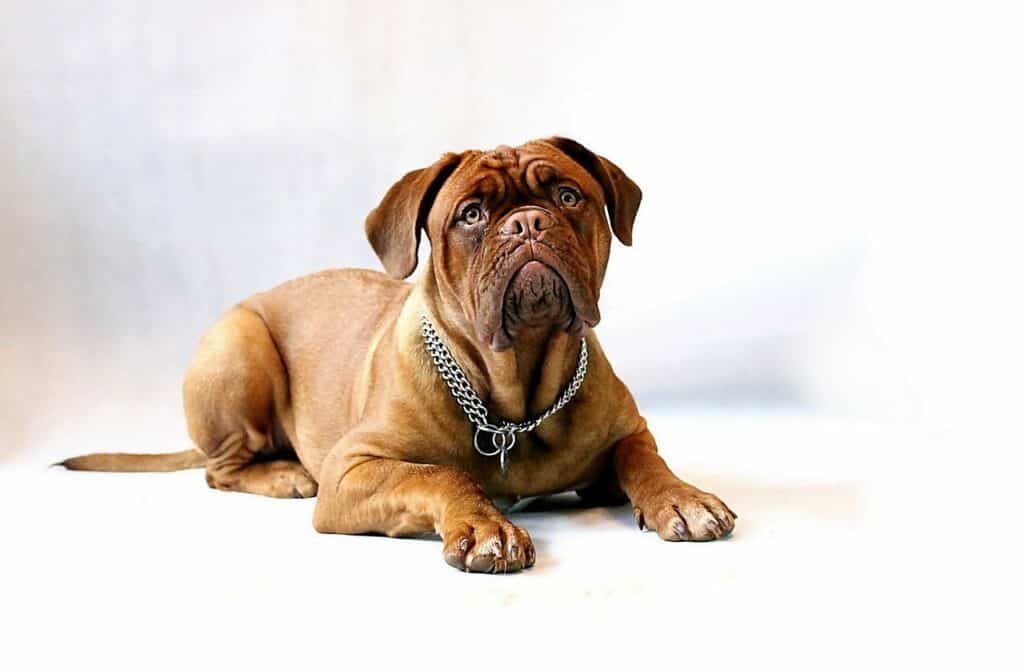 Regardless of the Mastiff breed in your care, they'd need these basic nutrients for healthy growth.
Protein
As you might already know, protein is crucial to any dog's diet. More importantly, ensure the bulk of it is from animal sources. In fact, the best dog food for Mastiffs has to be one with meat as its first ingredient.
Then, it can be balanced with other types of meat or plant protein sources to help your Mastiff build lean muscle. The crude protein level should be no less than 18%.
Fat
Fat is the core source of energy for your giant pooch. In this case, lean protein should be given more priority. Too much fat can make her overweight since she isn't as active as other dog breeds.
Dog food with crude fat between 5-10% would suffice for a Mastiff. What really matters is how much you feed her and their activity level.
And, sometimes, inactiveness could be a sign of health-related issues, so be watchful.
Fiber
Contrary to popular opinion, high-fiber dog food can be great for your Mastiff. In fact, it can help prevent weight gain by filling up the belly easier while eating less.
But intake should still be moderated to around 3-5% fiber.
Supplemented Nutrients
Most quality dog foods would come packed with lots of nutrients other than protein and fat. But with of all them, you need to pay attention to a specific few for it to be a great dog food for Mastiffs.
Glucosamine, chondroitin sulfate, calcium, and phosphorus are the most important. These nutrients support joint and bone health, which are crucial for a fast-growing breed, like your Mastiff.
Probiotics would also be supplemented by any good dog food to aid digestion. This is quite crucial as Mastiffs are prone to bloat. Luckily, all the brands in the review include all these vital nutrients in their kibble formula.
Feeding Your Mastiff Puppy The Right Way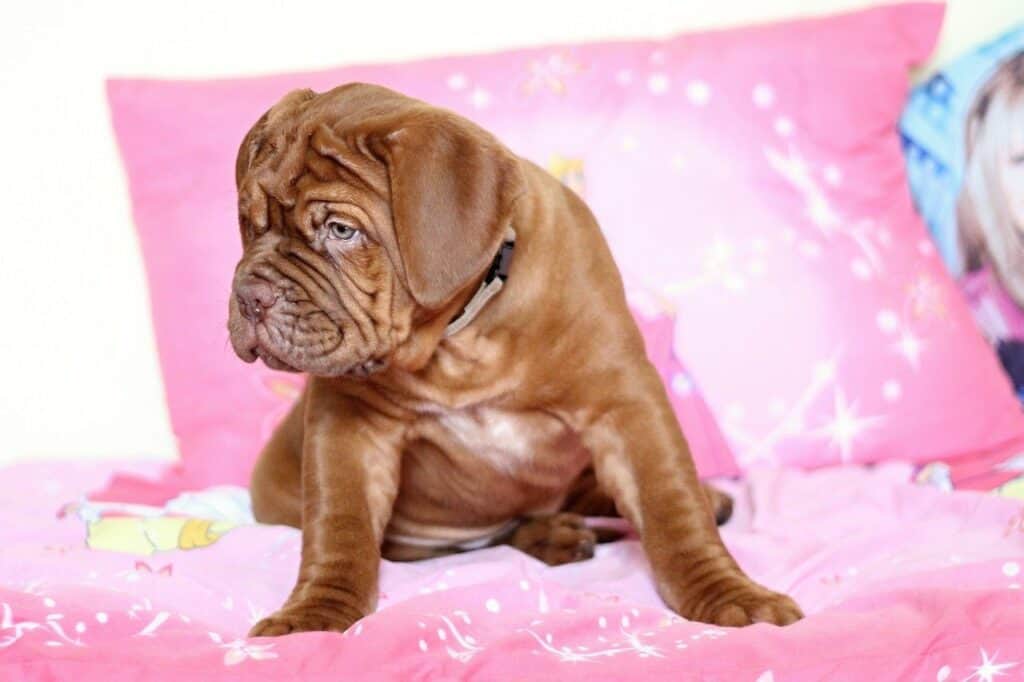 Mastiffs puppies are known to grow for around 2 years before they reach full/adult size.
For this reason, it becomes easy to overfeed them, which puts unnecessary strain on their joints. This can cause chronic issues like osteoarthritis, or diabetes.
As a result, if you are looking for the best puppy food for Mastiffs ensure to check the calcium/phosphorus ratio – It's more important if the food has high calories.
Expert breeders recommend a ratio of 1.2.1 as what works for Mastiff puppies.
Alternatively, you can start your Mastiff puppy on adult dog food with no more than 26% protein and the recommended calcium/phosphorus ratio.
Feeding A Mastiff
Mastiffs have a tremendous growth rate. But it doesn't necessarily mean they can be stuffed with food every time. In fact, it's easy to overfeed this breed of this size without you having it noticed.
In short, stick to a feeding schedule for your giant pooch. Of course, you can serve him treats and table scraps, but they should make up only about 10% of his diet.
How much you feed your Mastiff would depend on his current size, age, and activity level.
Be careful when feeding high-calorie dog food to your Mastiff, as they can easily cause weight gain with even a few extra kibbles. A kibble with less than 350 calories is considered ideal, but you're more likely to get more.
Now let's have some fun watching Dogzilla react to nearby sirens as he drives around with his dad before we get this into a wrap:
Wrapping Up
There you go, you don't have to try out the whole store to find the best dog food for an English Mastiff.
You can sift through the list of dog foods in this review and hook your giant pooch up with a quality product.
Be sure to check with your vet that his tummy can handle the ingredients or nutrient level. Our pick for best dry dog food for an English Mastiff is the Blue Buffalo Wilderness Large Breed Formula. It is densely packed with all essential nutrients, including fiber. For the value contained in a bag of this quality dog food, it's well-priced and within the budget of many Mastiff owners.
Continue reading:
Blue Buffalo Wilderness Grain-Free Canned Dog Food Review
The Boxsky (Boxer Husky Mix): All You Need To Know About This Breed & Its Puppies