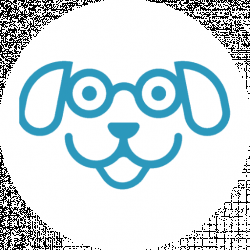 Latest posts by Scout Knows Team
(see all)
If you're a Yorkie owner, you'll understand how this pup got its nickname, "The Tomboy Toy"! These fluffs' larger than life personalities make up for what they lack in size. Despite being no bigger than a teddy bear, it is important to make sure you're feeding them the best dog food for Yorkies so they can keep up with their bouncy tomboy lifestyles!
No products found.
For most dog parents, these little furballs are not simply pets, they're part of the family. If we wouldn't feed our kids sub-par food, our pets should get the same treatment! Let's have a look at the best dog food for Yorkies on the market, why it's good for them, and what you should consider when buying.
Top 5 Rated Best Dog Food For Yorkies
| Recommendation | |
| --- | --- |
| Top Choice | No products found. |
| Runner Up | No products found. |
| Budget Choice | No products found. |
| For Yorkie Puppies | No products found. |
| Best Wet Food | No products found. |
Our Top Pick: Instinct Nature's Variety Raw Boost Toy Breed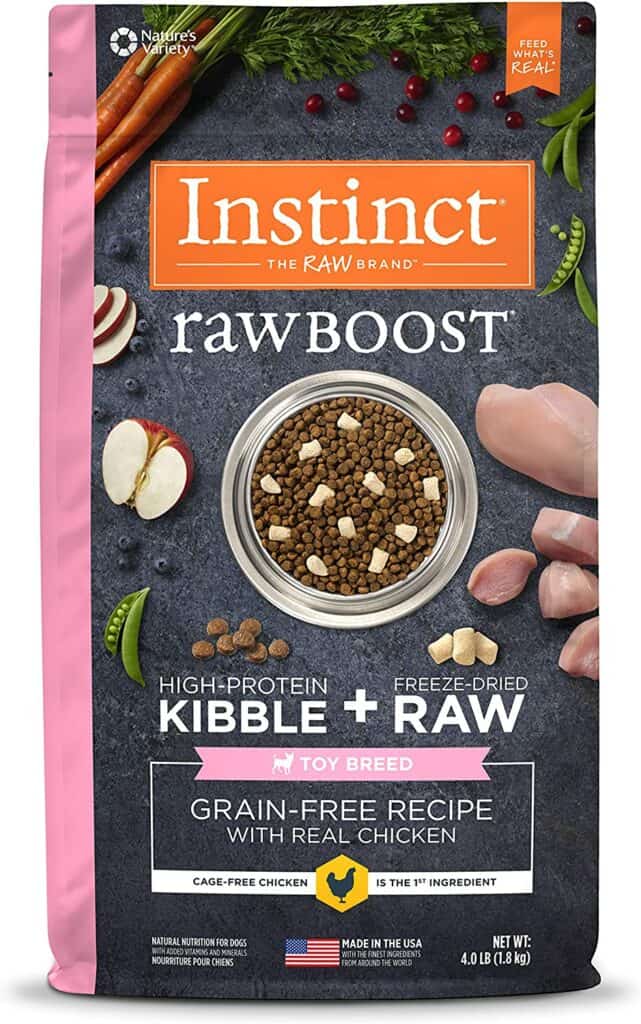 Instinct is a great brand, and they understand how a dog's diet contributes to their health. Their grain-free, high-protein kibble is around 0.4 inches in diameter, making it perfect for your Yorkie's little mouth to get around!
Of course, their ingredients are superior quality as well, with real meat and whole foods being the focus. The thing your pooch will love the most, though, is the freeze-dried raw chicken bits scattered throughout. This provides a little extra protein and a lot of extra taste and enjoyment. Your pup doesn't have to be on an exclusively raw diet to get a taste of raw, protein-packed meat.
With added probiotics, vitamins and minerals, omegas, and glucosamine for joint health, you can rest assured your pet is eating the best when they eat Instinct.
Pros
High-quality whole-food ingredients
High in protein
Yorkie-sized kibble
Grain-free
Real meat and veggies for easy digestion
Raw chicken pieces for extra nutrition and enjoyment
Added probiotics and vitamins and minerals
Glucosamine for strong joints
Cons
Only comes in 4lb bag
Be sure to choose a reputable stockist – some less well-known ones can provide tainted food
Also, make sure to select the "Toy Breed" option on the buyer's page!
Our Runner-Up Pick: Wellness Complete Health Toy Breed Dog Food
No products found.
Wellness Complete Health contains all the things the best dog food for Yorkies should. From real, quality protein sources, real vegetables, anti-oxidant rich fruits, healthy sources of fiber, and added healthy vitamins, you won't go wrong feeding your pup this food.
This formula contains oats, so it cannot be classified as grain-free dog food, but it contains no wheat, corn, artificial stuff, or meat by-products (which is important if pups are prone to food allergies!). Its carb content, in addition to oats, comes from veggies such as sweet potatoes, carrots, and spinach.
High in anti-oxidants, omegas, prebiotics, and probiotics, your pup will be healthy and well-fed after a meal of Wellness Complete food.
Pros
High-quality, real protein
Real vegetables
Added prebiotics, probiotics, and essential vitamins and minerals
No wheat, corn, or soy products
Contains no artificial flavors, colors, or preservatives
No meat by-products
Smaller kibble size
Cons
Not grain-free
Slightly pricier than some
Best Budget Pick: Blue Buffalo Life Protection Formula Natural Adult Small Breed
No products found.
Blue Buffalo is healthy, holistic, and tasty (so we've been told), as well as providing your pup all the essential nutrients they need. This food is formulated especially for small breed dogs' health and contains higher levels of protein and high-quality carbs in the form of brown rice, peas, carrots, blueberries, cranberries, and sweet potato.
It is also sprinkled with their specially made LifeSource bits – a blend of antioxidants, vitamins, and minerals to promote a strong immune system. No poultry by-products, corn, soy, or wheat, and free from artificial flavors and preservatives, this is a healthy, vitamin-enhanced meal for your pet.
Pros
Real meat is the first ingredient
Quality carb sources
Affordable
Added LifeSource anti-oxidant bits
No poultry by-products
Free of artificial stuff
Cons
Not grain-free
Make sure you buy from a reliable supplier!
Best Dog Food For Yorkie Puppies: Merrick Grain-Free Dry Dog Food
No products found.
Merrick is one of the most reputable dog food brands out there, and are known for their high-quality dog food. This food for Yorkie puppies is grain-free, has real deboned chicken as it's numero uno ingredient, and is suitable for all sizes and breeds.
Supplemental DHA helps brain and eye development, glucosamine is added (often helpful for large pups, but considering Yorkie's joint issues, this is a great addition!), and it contains good levels of omega-3 and -6 oils for a shiny, luxurious coat!
It's all-natural and contains carbohydrates like sweet potatoes, peas, and blueberries. This makes a big difference in digestion – Yorkie puppy stomachs can deal with whole food much better than processed!
Pros
Real meat as first ingredient
Healthy carbs
Reputable brand
Easily digestible
Grain and gluten-free
Small-sized kibble
All-natural
Cons
Slightly pricey
Some suppliers provide low-quality product – be sure to go with a reputable one!
Best Wet Dog Food For Yorkies: Wellness CORE Natural Grain-Free Small Breed Mini Meals
No products found.
Although it is not recommended to feed your Yorkshire Terrier only canned food, it can be a good (and tasty) addition for fussy eaters, sensitive stomachs, or those pups who have a hard time chewing dry kibble.
Wellness Core is a fantastic brand, and this wet dog food is protein-focused, grain-free, and comes in a variety of flavors, so your little one won't get bored. Made with quality ingredients and with an 8% protein content, you can count on Wellness Core to ensure your pup gets quality in every bite.
Pros
Respected brand name
Protein-focused
Many flavors available
Easy to chew
Easily digestible
Grain-free
Cons
Keep an eye on expiry dates of wet foods!
---
Buyer's Guide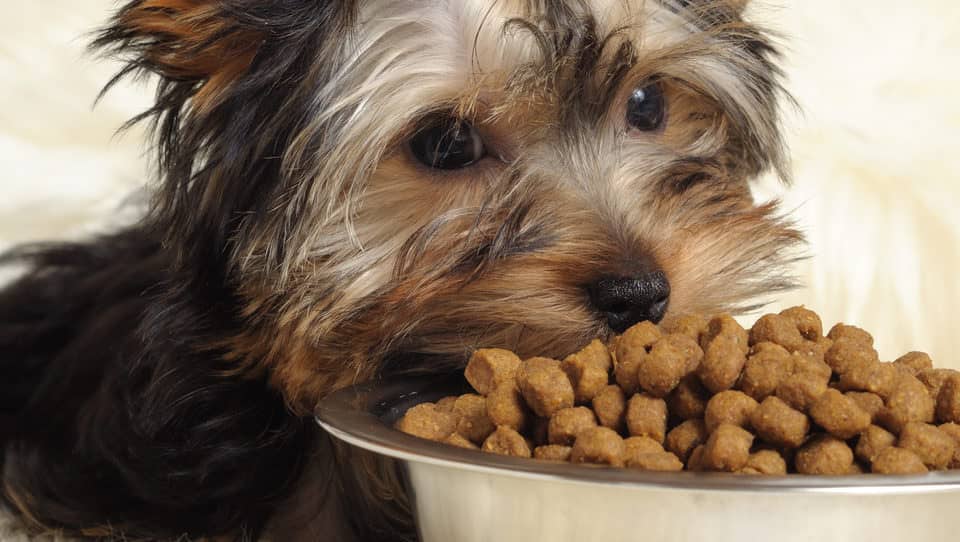 As with any pet-related product, you should conduct some thorough research before introducing your pup to anything new. Your dog's health can be greatly affected by low-quality products, so it is imperative that you know what you're getting and the effect it is likely to have on your dog's body.
If you are a new Yorkie parent or simply need a fresh reminder, here is some info on what Yorkshire Terriers need in dog food and some commonly seen health issues you might find yourself dealing with.
Yorkies' Nutritional Requirements
As with all breeds, Yorkshire Terriers need certain things in their food to ensure they are as healthy as possible. The best dog food for Yorkies should contain the following:
Around 200 calories per day (for active dogs, 150 for inactive) split between 3 or 4 meals
For puppies, about 400 calories to promote growth (provided they get regular exercise!)
Small size kibble
Easily digestible food
High-quality protein as the first ingredient
Healthy fats such as omega-3 and -6 or DHA (fish oil or flaxseed oil)
Fruits and veggies as carbs (grain-free is recommended as Yorkies' tummies are tiny and can be sensitive!)
Natural ingredients
Avoid artificial preservatives, colors, or flavors
Common Yorkshire Terrier Health Problems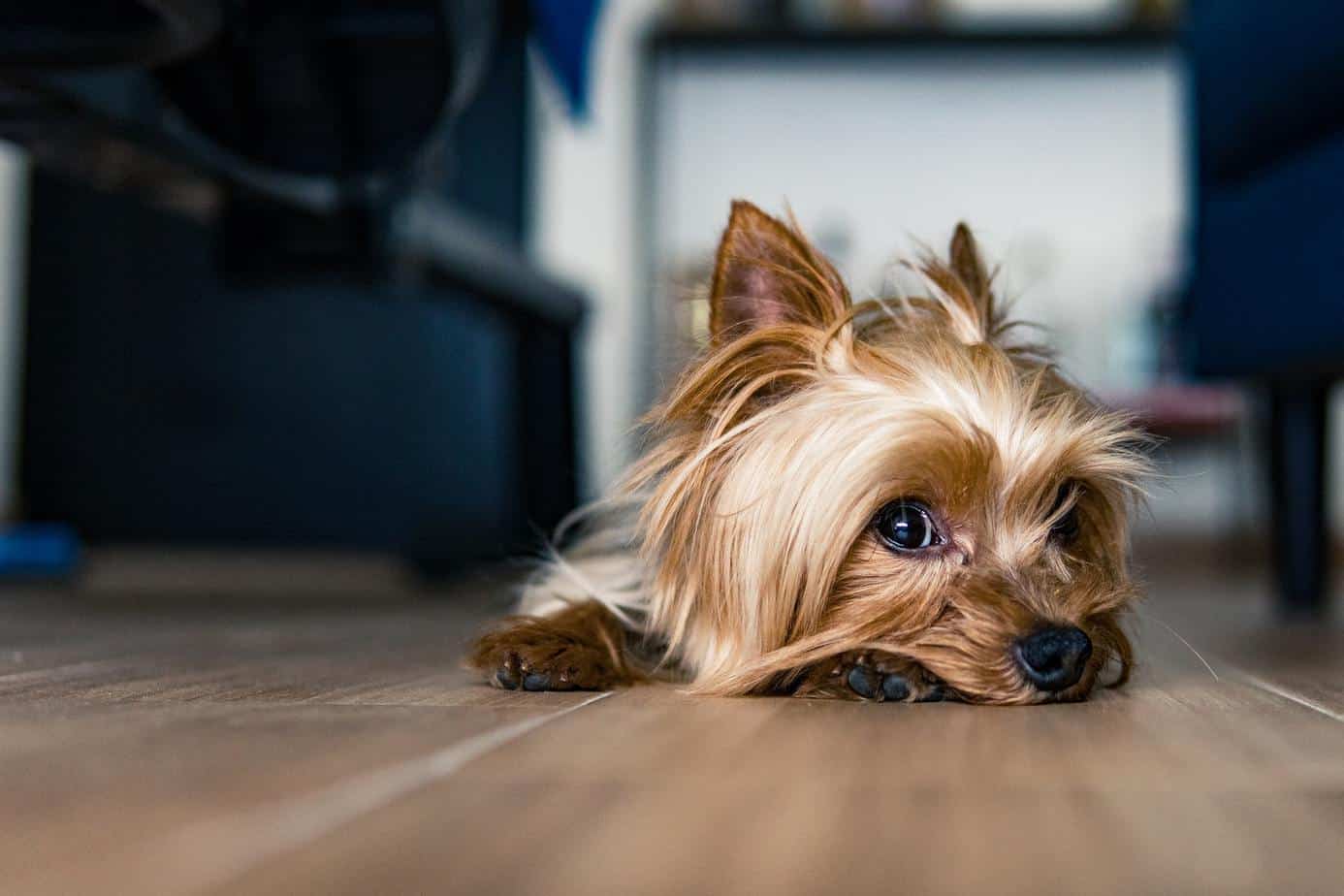 Just like any other breed, there are certain conditions that appear more frequently than others in Yorkies. We've identified and explained some of the most common health problems that Yorkie owners should be aware of.
Low Blood Sugar (Hypoglycemia)
These little guys (and other toy dog breeds) are prone to hypoglycemia, especially between birth and the age of four or five months. It's less common for adults to suffer from it, but it is possible. If your pooch happens to be having a hypoglycemic episode, they can be lethargic, weak, disoriented, drowsy, and may faint.
Although these pups are little, they still need a certain amount of energy to get through their day. If they don't get enough in, they can't be their usual bouncy selves. This drop in glucose levels in their body can be caused by not eating enough (sometimes due to other health issues), or the inability to regulate body temperature, which is more common in tiny pets such as these.
A vet's visit is always a good idea, but to perk your pup up from these episodes you can rub some honey on their gums to give them a quick dose of glucose (before the vet's visit!)
Skin Allergies
These pint-sized furballs can be susceptible to allergies, and their skin is especially sensitive. Skin allergies show themselves as itching, excessive scratching, rashes, and hair loss (not always all of these at the same time – if you notice one, you should keep a close eye on your pup!)
Usually, these allergies are caused by exposure to certain triggers, such as mold, pollen, dust, chemicals, or fleas. You can limit skin allergies by using soothing shampoos, but if the reaction is severe you should definitely take a trip to the veterinarian!
Dental Disease
Yorkies are small dogs, and as such, their jaws are super tiny. It's really easy for bits of food to get stuck in there and cause problems. If your pup's mouth is sore, it may lead to them eating less, which in turn can bring on the hypoglycemia we mentioned above.
It's very easy to remedy though – brush your pooch's teeth! It's not difficult to maintain your pet's dental health at home, and you may be surprised how an unhealthy mouth can affect a dog's body.
Retinal Dysplasia
This is another common Yorkie issue, as it is passed down genetically. Basically, a part of your dog's eye develops abnormally, which can lead to vision problems. This is usually enough to prevent breeders from using a dog to breed with, but is certainly nothing that will keep you from having a loving Yorkie pet in your home!
There is not much that can be done to prevent this, as it is an inherited condition. Some dogs won't be affected, others will develop small blind spots, and others may lose their vision entirely. You won't know until it happens, and it's important to help your dog adapt if they are affected by it. Here are some tips for making life easier for a pup who can't see so well!
Joint Problems (Legg-Perthes Disease & Knee Dislocation)
Another genetic disease to affect these little fellows, Legg-Perthes disease is when the head of the femur bone degenerates. If you notice your Yorkshire Terrier limping or favoring one side of his body over the other, this may be the culprit. An examination by a vet will be in order, and surgery is usually the best option to fix this problem.
Another common joint issue that these littlies can suffer from is a dislocation of the kneecap. This is often sudden, so if your pup yelps for no apparent reason or you notice they're suddenly in pain or limping, this is a possible reason. Your little one will nee an x-ray to see if it the problem, and vet's recommendations for treatment will vary according to the severity.
Liver Problems (Portosystemic Shunt)
This particular health issue is due to a faulty vein in the liver. It obstructs blood flow through the liver, and as a result, unfiltered blood, which may contain toxins, flows through the dog's body.
Symptoms can take a little while to present, so if you notice any of these you should get your pup medical help right away.
Loss of appetite
Weakness
Cognitive changes
Sudden and severe weight loss
Unexplained behavioral changes
Seizures (late stage symptom)
Loss of sight (late stage symptom)
Coma (late stage symptom)
Collapsed Trachea
This is common among small breed dogs and happens when the cartilage rings around the throat weaken. Dog collars and leashes can make this worse, so it's recommended you use a harness instead!
Symptoms include breathing noisily, gagging for no reason, labored breathing, and consistent coughing. Apart from avoiding collars, make sure your pup is away from irritants that can be inhaled. Depending on how severe this condition is, your vet may recommend surgery or stick to medication.
Pancreatitis
The pancreas is one of those things most of know nothing about. This organ produces digestive enzymes and insulin, which helps regulate your pet's blood sugar. Pancreatitis is inflammation of the pancreas – and it can be very uncomfortable for your pup, not to mention highly dangerous.
If your pooch shows one or more of these symptoms, get them to a vet for an examination:
Fever
Vomiting
Diarrhea
Dehydration
Signs of pain in the abdominal area
Increased heart rate
Sluggishness
Difficulty breathing
Frequently Asked Questions
What's the difference between a toy breed and a small breed?
There is no difference – a toy is a small breed. Even Yorkshire Terriers can be classified further – typical Yorkies, and then teacup Yorkies. Toy dogs are the smallest of the small, though. They are most often under 15 inches in height, and under 15 inches in weight.
How often do I need to brush my Yorkie?
If your Yorkshire Terrier has long flowing hair-fur, it's important to brush them every day! If you don't, knots can form and become impossible to brush out without hurting your little one (or shaving them!) Here is some advice on how to keep your Yorkie's coat well-groomed.
Other Best Food For Yorkies We Reviewed
Snacks Your Yorkie Will Love
Glucose Supplements for Your Yorkshire Terrier
Snacks Your Yorkie Will Love
Wellness CORE Petite Treats
No products found.
These all-natural, pint-sized pup treats are small enough for a Yorkie to chew happily, and are flavorful and contain no grains. Available in a few different flavor choices, as well as hardness (crunchy or soft!), these tiny treats will have your Yorkie begging for more!
Features
Yorkie-sized
150+ in a bag
Soft or crunchy
Grain-free
For small breed dogs
Pedigree DENTASTIX Fresh Toy/Small Treats
No products found.
Made for dogs between 5 and 20 pounds, these DentaStix are designed to freshen your pooch's breath while giving them something yummy to chew on. They also help clean teeth and prevent tartar build-up, which is especially important for dogs with tiny mouths.
Features
78 stix in a bag
Freshens breath and cleans teeth
Helps prevent tartar build-up
Formulated for small and toy breeds specifically
Glucose Supplements for Your Yorkshire Terrier
Pet's Choice Nutri-Vyte Nutritional Supplement
No products found.
Although this is a "nutritional supplement" rather than specifically a glucose supplement, this high-calorie gel is useful for giving your pup a little calorie boost when they have a hypoglycemic episode.
Simply put a dot on your finger and smear it on your Yorkie's gums. It will be absorbed easily, taste great, and provide some much-needed nutrients. be wary of giving them a taste of it too often – you don't want to inadvertently up their calories too much and have them put on excess weight.
Features
Excellent for sick, malnourished, or fussy pets who need calories
Additional source of energy
Can be used to increase blood sugar
Use sparingly!
Conclusion
When it comes to comparing foods (wet food, dry, grain free, etc.) to find the best dog food for Yorkies, you'll need to consider things such as your pup's age, level of activity, and if they have any health issues. The foods on this list, though, are all high-quality offerings from well-known brands that have a natural balance of carbs and fat, and you can be sure they will do good things for your tiny toy.
Continue reading:
Beneful Incredibites Food Review (2022)
Does Your Pooch Have Small Dog Syndrome?